BYOB is a fantastic way to save some money when dining out. Here are the best BYOB restaurants in Dublin.
Are you a student on a budget, or do you want to reserve some money for food? Or maybe you want to guarantee an excellent drink to go with your meal. Whatever your reason, Dublin is home to some fantastic BYOB options that are well worth a visit.
Bringing your own beverage (BYOB) is all the rage in modern restaurants. Whether you want to bring your tipple of choice or want to save a bit of money on buying drinks, BYOB is a great option for dining out.
So, if you're in the city looking for a dining experience to enjoy your own drink, these are the best BYOB restaurants in Dublin.
10. Lil Portie – for delicious Caribbean cooking
You need to head to the Lil Portie weekend pop-up in Square Fifty Two for fantastic Jamaican flavours and a delicious meal.
From classics like jerk chicken to tasty treats like feta fritters, this is definitely one of the best BYOB restaurants in Dublin.
Address: 250 Square coffee, Williams Park, Rathmines Rd Lower, Rathmines, Dublin 6, D06 KX90, Ireland
9. Keshk Restaurant – for a taste of the Meditteranean
With free corkage, no list of best bring your own restaurants in Dublin would be complete without mentioning the Mediterranean gem Keshk.
Located just off Baggot Street, Keshk offers a range of Egyptian, Greek, and Turkish dishes.
Address: 71 Mespil Rd, Dublin 4, Ireland
8. Basil Pizza – for mouthwatering pizza
If pizza is your meal of choice, Basil should top your list of options.
Corkage for wine costs €5 and €1 per beer bottle, making this an extremely affordable option. The woodfired pizzas served here are almost as good as anything you can get in Italy.
Address: 95 Ringsend Rd, Dublin 4, D04 R893, Ireland
7. Zakura Izakaya – one of the best BYOB restaurants in Dublin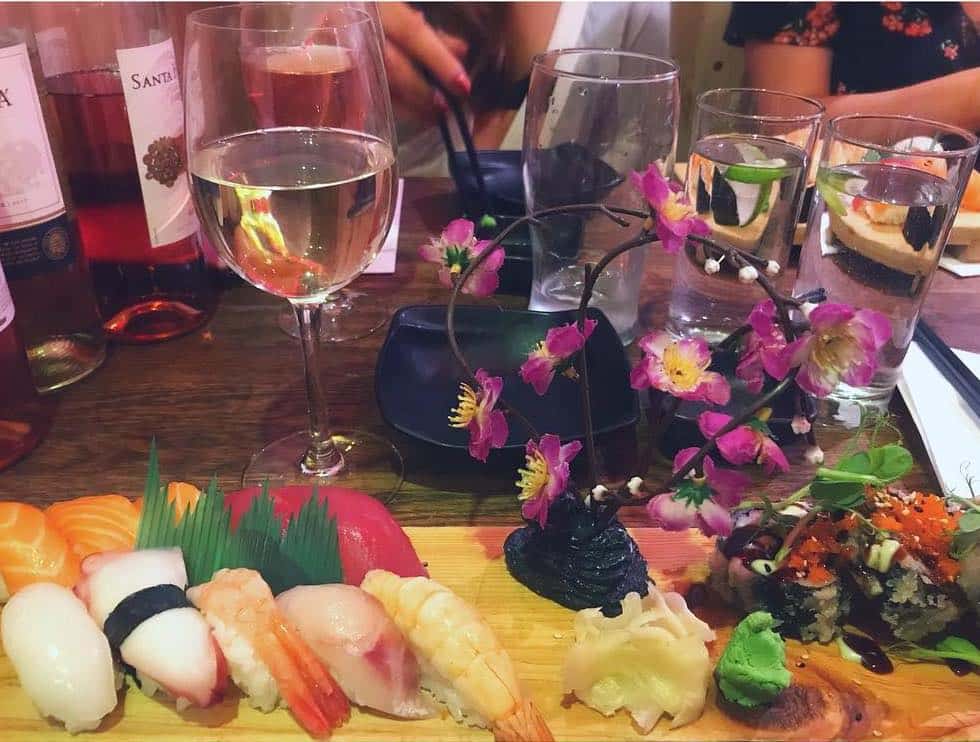 From ramen to gyoza to sushi, Zakura Izakaya on Baggot Street serves some of the most amazing Japanese food you'll ever try.
The laid-back environment and affordable €4 corkage make booking a meal here a no-brainer.
Address: 7 Baggot Street Upper, Dublin 4, D04 K7H1, Ireland
6. Jerusalem Restaurant – for impeccable Arabian cuisine
For the pioneer of Arabian cuisine in Dublin, operating in the city since 2009, you need to visit Jerusalem Restaurant.
Serving homemade hummus and falafel to delicious dishes like mansaf and makloubeh, combined with €3 corkage, this restaurant is one of our top picks.
Address: 77 Camden Street Lower, Saint Kevin's, Dublin, D02 XE80, Ireland
5. Café Oasis – one of the best bring your own restaurants in Dublin
Welcoming plenty of visitors every night, Café Oasis is undoubtedly one of the best BYOB restaurants in Dublin.
Serving Lebanese and Mediterranean food, a laid back feel, and corkage, this spot is perfect for the family as it offers something for everyone.
Address: 48, 59 7 King St N, Smithfield, Dublin, D07 EE76, Ireland
4. Rotana Café Lebanese Restaurant – for tasty Middle Eastern meze
This Portabello restaurant serves some of the most delicious Lebanese dishes you'll ever try.
Offering two courses of generous portions for just €21, combined with free corkage, this is the perfect spot for a meal out with friends when on a budget.
Address: 31 Richmond St S, Portobello, Dublin 2, D02 XN57, Ireland
3. The Dog House & Blue's Tea Room – for a hearty feed and cosy atmosphere
With €1.75 corkage per beer or €7.50 for wine, The Dog House and Blue's Tea Room in Howth is a must-visit for a great dining experience to remember.
Located in the quaint fishing town of Howth, this is the perfect way to wind down and enjoy great food and drinks after a day spent by the sea.
Address: Howth Dart Station, Howth Rd, Howth, Co. Dublin, Ireland
2. Dada – for food full of flavour
South William Street's top spot for incredible Mediterranean food prepared with only fresh ingredients will be sure not to disappoint.
With affordable corkage fees of €5 and food that offers a unique blend of flavours from all across North Africa, Europe, and Southern Spain. This charming spot knows how to use spices properly!
Address: City Centre, 45-44 William St S, Dublin 2, D02 WT04, Ireland
1. The Vintage Kitchen – for an authentic vintage feel
Topping our list of the best BYOB restaurants in Dublin is The Vintage Kitchen on Poolbeg Street.
Corkage is €4 with lunch and €5 with dinner. Customers are even encouraged to bring their own vinyl to play on the restaurant's vintage 70s record player to soak up the vintage atmosphere here thoroughly.
This is undoubtedly the best BYOB restaurant in Dublin to visit.
Address: 7 Poolbeg St, Dublin 2, D02 NX03, Ireland
Other notable mentions:
The Little Kitchen: This cosy spot offers dynamic dishes that use the freshest ingredients sourced from local suppliers. If you wish to bring a bottle of wine, you will only be charged €5 corkage per bottle.
Sova Vegan Butcher: This restaurant is easily one of the best vegan restaurants in Dublin city and one of the most favourite spots for those looking for an alternative restaurant where you can expect great plant-based dishes.
If you wish to BYOB you will only be charged €6 per wine corkage and only €1 per bottle.
Damascus Gate: Offering the best of Syrian cuisine infused with fabulous flavours and with live belly dancers on Thursdays, this is one restaurant you won't soon forget.
The restaurant has a wine-only policy in terms of BYOB, but the good news is that there is no corkage fee!

FAQs about the best BYOB restaurants in Dublin
What are the best BYOB restaurants in Dublin?
In our opinion, the most popular BYOB restaurants in Dublin are the Vintage Kitchen, Dada and the Dog House & Blue's Tea Room.
Are there many BYOB restaurants in Dublin?
Yes, there are dozens of BYOB restaurants to choose from in Dublin.
Are BYOB restaurants popular?
Yes, BYOB restaurants tend to be very popular with students and those looking for a budget-friendly dining experience where you can bring your own drink of choice.