Northern Ireland's capital city is known for its lively atmosphere and music scene. With talented music acts to witness and plenty of craic to be had, these popular spots will ensure you have a great night.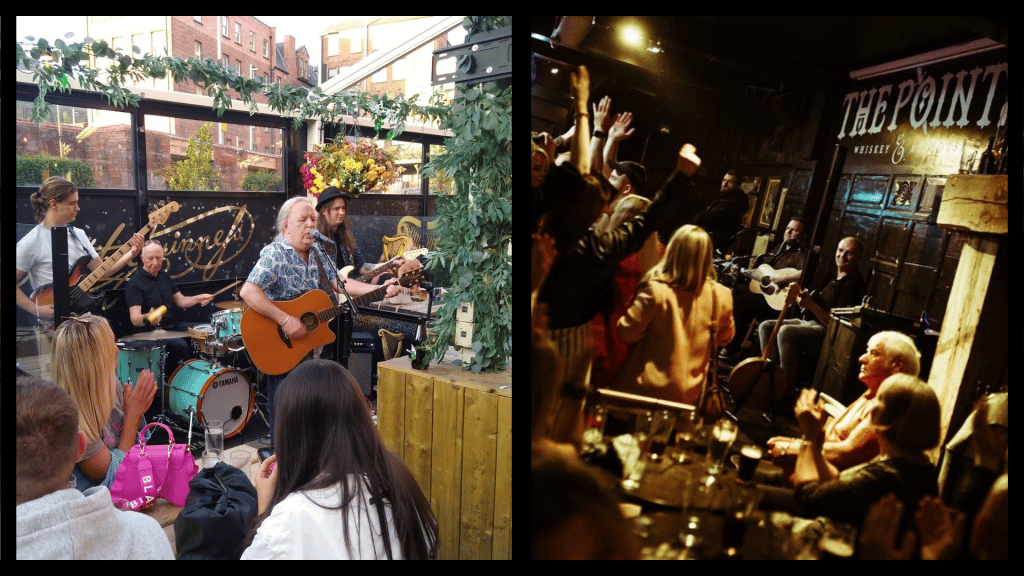 If you're looking for traditional Irish music sessions, the perfect pint, and a bit of craic, Belfast City Centre is the place to be.
Offering a great range of live music bars to be found all over the city, you'll be spoilt for choice when it comes to a great night out.
So, whether you're looking for the perfect place to spend the evening or are heading on a pub crawl, these are the best bars in Belfast for live music and good craic.
10. Voodoo – a great place to enjoy live music with friends
Located in the city centre, Voodoo is a fantastic bar and independent live music venue that should be on everyone's bucket list.
With a great offering of events every week, there is always something worth checking out here.
Address: 11A Fountain Street, Belfast BT1 5EA
9. The John Hewitt – one of the best bars in Belfast for live music and good craic
Located in the iconic Belfast Cathedral Quarter, The John Hewitt has been operating in the city since 1999.
A traditional pub with a modern twist, this is a great spot for a creamy pint, craft ales, and traditional music.
Address: 51 Donegall Street, Belfast BT1 2FH
8. The Dirty Onion – a popular spot in the busy city
Another popular spot in the Cathedral Quarter, the Dirty Onion is an absolute must-visit on any Belfast pub crawl as one of the best pubs and bars Belfast has to offer.
With a friendly atmosphere, a simple food menu, and local musicians often performing, you are guaranteed a great night out here.
Address: 3 Hill Street, Belfast BT1 2LA
7. The Duke of York – a laid-back city centre pub
Perhaps one of the most traditional pubs in Belfast, the Duke of York is located on the most photographed cobbled alleyway in the city.
For great pints, a lively atmosphere, and fantastic traditional music sessions, this beautiful location is a must.
Address: 7-11 Commercial Court, Belfast BT1 2NB
6. The Cabaret Supper Club – for something a little different
As the longest-running supper club in Belfast, it is undeniable that the Cabaret Supper Club at AMPM is doing something right.
Located in Belfast City Centre, guests can enjoy special events and mouthwatering dishes at this truly unique entertainment venue.
Address: 44 Upper Arthur Street, Belfast BT1 4GH
5. The Points – a lively and traditional atmosphere
Located on the Dublin Road, just outside the main city centre, The Points is a lively Irish whiskey and alehouse that always has lively Irish folk music performances.
For great Guinness, their signature dish of Irish stew, and a bit of banter, The Points should be included on any Belfast pub crawl.
Address: 44 Dublin Road, Belfast BT2 7HN
4. McHugh's Bar – the oldest bar in Belfast
Undoubtedly one of the best bars in Belfast for live music and good craic, McHugh's Bar hosts some of the best traditional music sessions in the city.
However, it's not just the music that keeps guests coming back time and time again. They serve a delicious range of traditional Irish dishes and plenty of drinks to choose from.
Address: 29-31 Queen's Square, Belfast BT1 3FG
3. Fibber Magee's – a must-visit for music lovers
Fibber Magee's is located inside the iconic Robinsons Bar on Great Victoria Street.
Inside, you will find a bar steeped in history and tradition, serving great pints, traditional food, and, of course, quality live music performances.
Address: 38-42 Great Victoria Street, Belfast BT2 7BA
2. The Sunflower Public House – the most loved among locals
If you ask a Belfast local where they love to enjoy a night out in the city, it's highly likely they will say the Sunflower.
This simple and laid-back bar is free from any gimmicks and frills. Instead, it just offers great live music, a fantastic selection of craft beers, and a relaxed beer garden, making it one of the best pubs Belfast has to offer.
Address: 65 Union Street, Belfast BT1 2JG
1. Kelly's Cellars – one of Belfast's best-loved bars
Topping our list of the best bars in Belfast for live music and good craic is the iconic Kelly's Cellars.
This traditional pub is much-loved among locals looking for a real, local feel, joyful trad music sessions, and a good pint of Guinness.
If you find yourself in the city looking for a lively night out, then Kelly's Cellars is the spot for you.
Address: 30-32 Bank St, Belfast BT1 1HL
Notable mentions
Hatfield House: Popular among students, this no-frills bar is known for its live music and energetic atmosphere.
Bert's Jazz Bar: If you want something more refined, head for a few cocktails and a live music performance at Bert's Jazz Bar.
The Jeggy Nettle: Located on the Stranmillis Road, just south of Belfast City Centre, the Jeggy Nettle is another popular spot for drinks and live music.
FAQs about the best bars in Belfast for live music and good craic
Can pubs have live music in Ireland?
Yes! Live music is very popular in Irish pubs.
Can you play your own music in pubs in Belfast?
Technically, yes. However, it should be organised beforehand, in case there are already musicians set to play.
What is the most famous bar in Belfast?
The Crown Bar is perhaps the most famous bar in Belfast and one of the most famous in Ireland.
Get featured on Ireland Before You Die
Do you want to get your Irish business more online exposure? Especially to those interested in travelling the best places in Ireland? Then why not get a dedicated feature on Ireland Before You Die. Find out more 
here.