There may be days when you want to cool off in the Irish summer sun, and it is not just the coast that can offer this. Here are some of the most beautiful waterfalls in Ireland you can swim in.
When it comes to natural beauty, Ireland has you covered. With stunning scenery on every corner of the island, it's no surprise that we have some amazing waterfalls.
When it comes to spectacular waterfalls, we have some fantastic natural wonders that are very inviting, especially after a long hike.
No matter where you find yourself in the country, there will be a welcoming waterfall awaiting you, so let us take a look at the absolute best of the best, perfect for a swim that you need to add to your bucket list.
10. Tourmakeady Waterfall, Co. Mayo − the waterfall that has it all
This waterfall is ideal for a swim considering it is on a short loop trail, which takes you to the falls within a few minutes.
On a warm day, this is a perfect spot for a leisurely stroll, a picnic and of course, a refreshing dip in the pool below the falls.
Address: Tourmakeady, Co. Mayo
9. Glenoe Waterfall, Co. Antrim − a natural Northern wonder
This picturesque waterfall is located in County Antrim. If you are travelling around the island, you will not want to miss this idyllic spot for a refreshing cold plunge.
The cold water will truly invigorate you as you go wild swimming. This is one of Northern Ireland's most stunning waterfalls.
Address: Waterfall Rd, Gleno, Larne, UK
8. Tullydermot Falls, Co. Cavan − a great option to cool off in Cavan
These incredibly picturesque falls are so beautiful to capture on camera, but they are even better to discover close up, so why not go for a dip?
This is a perfect place for a picnic, angling, or a magical way to cool off. It is easily reachable on foot from the nearby car park.
Address: Tullydermot, Co. Cavan
7. Clamp Hole Waterfall, Co. Laois − three tiers of beauty
This three-tiered waterfall is a sight to behold and will entice you into its refreshing waters. There are various pools suitable for children or deeper pools for adults.
Also, there is a choice of long or short walks in the area either before or after your swim.
Address: Glenbarrow, Co. Laois
6. Clare Glens Waterfall, Co. Limerick − an enchanting choice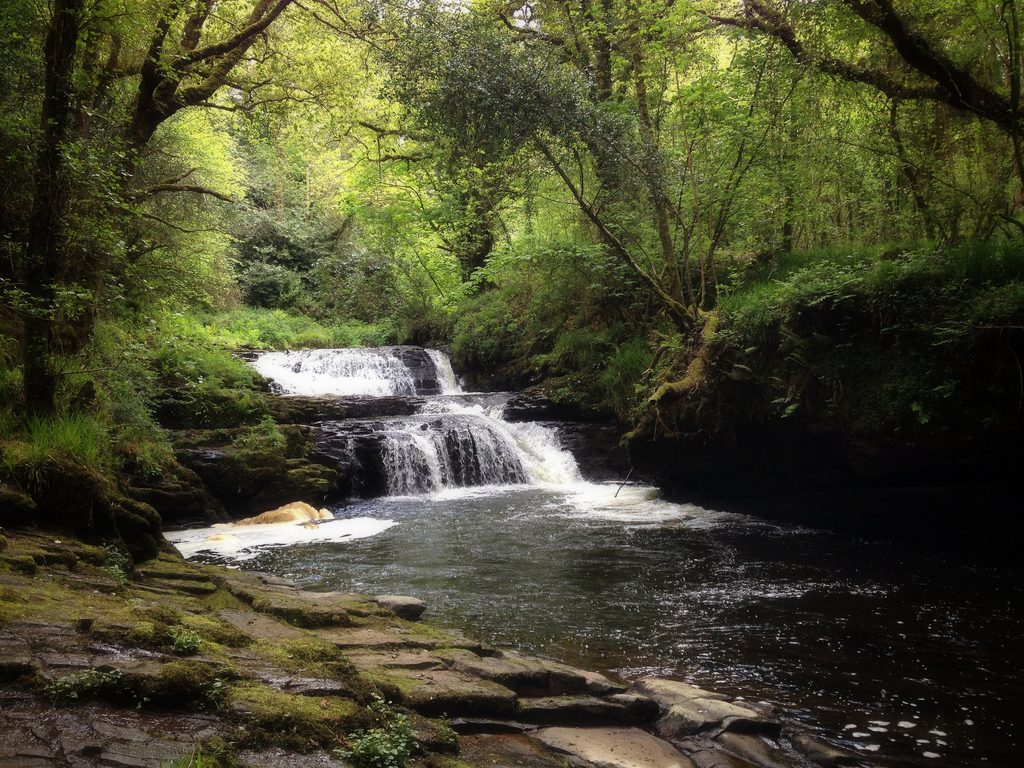 Straddling the border of Limerick and Tipperary, you will find an enchanting wooded area known as Clare Glens – home to the Clare Glens waterfall.
This is one of the most beautiful waterfalls in Ireland you can swim in, just as good as some of the most beautiful waterfalls in Northern California.
Address: Ashroe, Murroe Wood, Co. Limerick
5. Assaranca Waterfall, Co. Donegal − an ideally located waterfall
One of the most beautiful waterfalls in Ireland you can swim in is definitely Assaranca Waterfall in Donegal, a county well known for its outstanding beauty.
Also spelt Assarancagh Waterfall, it is ideally located close to Maghera beach and caves, as well as the town of Killybegs.
Address: Co. Donegal
4. Aasleagh Falls, Co. Mayo − a magical pool to bathe in
What can we say apart from the fact that this beautiful waterfall will blow you away when you set your sights on it.
Located on the River Erriff, this is an ideal spot for some wild swimming in fantastic nature, as well as canyoning, complete with a mountain backdrop to set the scene. It may not be as warm as the best hot springs in Arizona, but is a truly refreshing swim.
Address: River, Erriff, Co. Mayo
3. Torc Waterfall, Co. Kerry − a popular Irish destination
This is one of the most popular spots in Ireland and one of the best waterfalls in Cork and Kerry, so if you find yourself without the crowds, you should grab the chance to jump in for a swim, and why wouldn't you?
After all, this County Kerry waterfall is one of the most beautiful waterfalls in Ireland you can swim in.
Address: Cloghereen Upper, Killarney, Co. Kerry
2. Glenevin Waterfall, Co. Donegal − a stunning place for a dip
Another one of Donegal's most stunning waterfalls is, of course, Glenevin falls, which is the perfect spot for a family day out.
Here, you can enjoy the fresh waters of the 'ferment pool' below the cascades. This has to be one of the most beautiful waterfalls in Ireland you can swim in. Also, one of the most perfect wild swimming spots.
Address: Straid, Clonmany, Co. Donegal
1. Glencar Waterfall, Co. Leitrim − a Yeats favourite
As one of the many places that inspired W.B. Yeats, you can be sure that this is a mesmerising place.
This County Leitrim waterfall is certainly one of the most beautiful waterfalls in Ireland you can swim in, so if the weather calls for it, don't miss your opportunity.
Address: Formoyle, Glencar, Co. Leitrim
Other notable mentions
Kilfane Waterfall: Kilfane Glen and Waterfall is a pristine example of a romantic era garden dating from the 1790s.
Dunseverick Falls: A County Antrim waterfall that should be on your list.
Mahon Falls: Now, not one of the tallest waterfalls in Ireland, but it certainly boasts stunning views of the mountains and countryside.
Powerscourt Waterfall: Powerscourt Waterfall is a truly beautiful spot. It is the tallest waterfall in Ireland, located in Powerscourt Estate, County Wicklow.
FAQs about waterfalls in Ireland
Is Ireland a good place to swim?
Yes, Ireland is a great place to swim. As Ireland is a cold place throughout the year, prepare for some cold water!
How high is Powerscourt Waterfall?
Set at the foot of the Wicklow Mountains, Powerscourt Waterfall is Ireland's highest waterfall at 398ft (121 metres) high.
Where is the secret waterfall in the Mourne Mountains?
A lot of people unexpectedly stumble across the hidden Mourne Mountains waterfall! It is located somewhere on the way to Ben Crom Reservoir from Hare's Gap, right in the middle of the mountains. You'll have to go and find it!