Known as the culinary capital of Ireland, Cork is primarily known for its fantastic restaurants. However, the city is home to plenty of fantastic bars that have welcomed some famous faces through the years.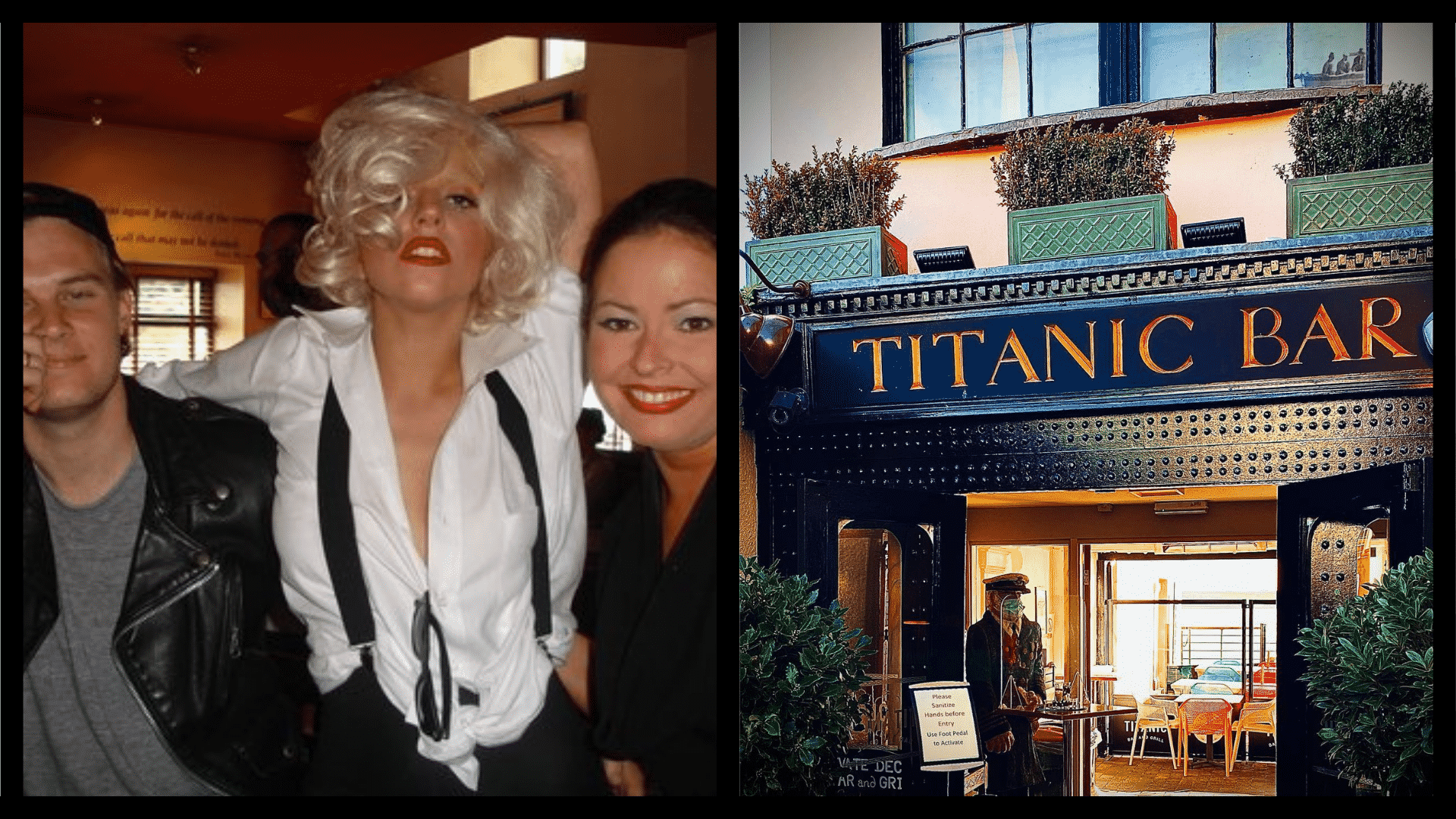 Ireland's second city, Cork, is an absolute must-visit for anyone travelling to the Emerald Isle.
The Rebel County is known for its prime position on the southwest coast of the Wild Atlantic Way. It, therefore, boasts breathtaking scenery, authentic Irish culture, and plenty of craic.
The county has produced some of Ireland's most prominent figures, such as Cillian Murphy and Rory Gallagher. And, with so much to offer, it is no surprise that Cork has proven to be a popular destination among the rich and famous visiting Ireland.
So, if you want to enjoy some celebrity-approved spots while in the Rebel County, read on. Here are the ten best bars in Cork that celebrities have been to.
10. Titanic Bar and Grill, Cobh – paying homage to the famous ocean liner
One of the most popular restaurants in Cobh, the fantastic Titanic Bar and Grill is a firm favourite with Cork's own Olympian Sonia O'Sullivan.
Hailing from Cobh, O'Sullivan is an Irish former track and field athlete. She won a Gold Medal at the 1995 World Championships and a Silver Medal at the Olympic Games in 2000.
Address: 20 Casement Square, Cobh, Co. Cork, P24 Y560, Ireland
9. The Hunted Hog (formerly Shortts), Castlemartyr – a top-end traditional Irish pub
Located within the five-star Castlemartyr Resort, the Hunted Hog is a traditional Irish pub with a unique modern style.
The Hunted Hog has been visited by a number of celebrity guests. Big names include Westlife (one of the best Irish bands of all time), Michael Flatley, Tommy Tiernan, Sinead O'Connor, Brad Pitt, Beyonce, Jay Z, and many others.
Address: Main St, Gortnahomna Beg, Castlemartyr, Co. Cork, Ireland
8. Deasy's Bar, Clonakilty – featured on a hit Netflix show
After 16 years of service in Clonakilty, Deasy's Bar decided to close its doors in 2019.
Prior to its closure, Deasy's Bar played host to Phil Rosenthal for a special Irish episode on his travel food show Somebody Feed Phil.
Former address: Ring Village Clonakilty, Co. Cork Republic of Ireland
7. O'Brien's Bar, Churchtown – a favourite spot for one famous actor
Actor Oliver Reed, best known for his role as Bill Sikes in Oliver!, was a big fan of O'Brien's Bar in Churchtown, County Cork.
He was such a fan of the Cork pub that, after his death, he was actually buried close to it in Bruhenny Graveyard.
Address: 5 Kerry Ln, Churchtown, Co. Cork, Ireland
6. The Corner Bar, Skibbereen – a popular local pub
One of the bars in Cork that celebrities have been to is The Corner Bar in Skibbereen. This cosy Irish pub is popular with locals and often acts as a gathering point for local celebrations.
Irish actor Domhnall Gleeson was spotted in the pub during welcome home celebrations for Cork's own Olympic Silver medallists, Gary and Paul O'Donovan.
Address: 37 Bridge St, Marsh, Skibbereen, Co. Cork, P81 X436, Ireland
5. O'Sullivan's Bar, Crookhaven – may the craic be with you
Star Wars actors Mark Hamill and Daisy Ridley were spotted in O'Sullivan's Bar in Crookhaven, County Cork, during the filming of The Last Jedi in Ireland.
This friendly family-run pub and ale house offers relatively cheap drinks and a great atmosphere, making it a firm favourite among locals.
Address: Crookhaven, Co. Cork, Ireland
4. Tin Pub, Ahakista – one of the bars in Cork that celebrities have been to
Cork native Graham Norton is a regular guest at the Tin Pub, or Ahakista Bar, located close to Bantry. With a home in the area, the comedian and TV presenter often pays a visit to the local pub.
Known for its lively atmosphere and good vibes, this quaint Irish pub is a great place to enjoy views of the bay on a sunny day.
Address: Reenacappul, Ahakista, Co. Cork, Ireland
3. The Ivory Tower Restaurant, Cork City – located inside a historic Georgian house
We know this isn't a bar. However, The Ivory Tower Restaurant in Cork City Centre is definitely worth a mention when it comes to spots celebrities have visited in Cork
Known for its great service, balanced menu, and creative dishes, this intimate restaurant was visited by chef Anthony Bourdain during an episode of his 2007 show Anthony Bourdain: No Reservations.
The Ivory Tower Restaurant was permanently closed in 2019. However, Cork is home to a wide range of Michelin-starred restaurants for you to enjoy.
Former address: First Floor, The Exchange Buildings, 35 Princes St, Centre, Cork, Ireland
2. Casey's Bar and Restaurant, Glengarriff – one of the top Irish restaurants and bars
Maureen O'Hara, Ireland's star of the silver screen, was known to be a frequent visitor of Casey's Bar and Restaurant in Glengarriff.
O'Hara is said to have celebrated her 80th birthday here. Indeed, it serves delicious seasonal menu complete with unrivalled flavour combinations and great service
Address: The Village, Monteensudder, Glengarriff, Co. Cork, P75 E925, Ireland
1. Rising Tide, Glounthaune – for great drinks and delightful seafood dishes
Topping our list of bars in Cork that celebrities have been to is Rising Tide in Glounthaune. The one and only Lady Gaga was a huge fan of Rising Tide when she visited in 2009.
Address: The Village, Johnstown, Glounthaune Village, Co. Cork, T45 CV91, Ireland
Notable mentions
The Montenotte Hotel: Sofia Vergara and Joe Manganiello visited the Montenotte Hotel in October 2021.
Castylemartyr Resort: Kim Kardashian and Kanye West honeymooned at Ireland's Castlemartyr Resort in 2014.
Finns' Table, Kinsale: Actor Bill Nighy paid a visit to Kinsale restaurant Finns' Table in 2019, during a holiday in the area.
FAQs about the bars in Cork that celebrities have been to
What is the oldest pub in Cork?
The Old Thatch in Killeagh is the oldest pub in Cork.
Does Cork have a good nightlife?
Yes! There are plenty of great pubs and nightclubs to enjoy across Cork city and county.
Is Cork a party town?
Cork is home to plenty of great nightlife for you to enjoy an amazing party.
Are there other good bars in Ireland?
Yes, there are great bars in Galway City, the Temple Bar area in Dublin, and also Grafton Street in the Irish capital.
Get featured on Ireland Before You Die
Do you want to get your Irish business more online exposure? Especially to those interested in travelling the best places in Ireland? Then why not get a dedicated feature on Ireland Before You Die. Find out more 
here.