Ireland is known for its natural beauty, its magnificent beaches and lush green landscape. But it may be lesser known for its equally fascinating built environment.
In this feature journalist, Ger Leddin takes a look at some Irish architectural gems that you simply must see.
From our vernacular architecture of thatched-roof cottages and traditional blockhouses through to our quaint village shop and pub fronts and from the remnants of our Stone Age dwellings through to our often controversially designed contemporary office blocks and conference centres Ireland has a built environment that is interesting, striking and as noteworthy as any other nation.
The building listed below may not be to everyone's taste but are a small selection of what Irish Architecture past and present has to offer and are worth debating.
1. Cliffs of Moher Visitor Experience
The Cliffs of Moher is one of Ireland's premier beauty spots attracting tens of thousands of tourist every year and as such when Clare County Council commissioned the design of a new visitor centre at the Cliffs they demanded that any new building enhance not distract from or overwhelm what is a dramatic landscape and area of natural beauty.
And so when architects Reddy Architecture + Urbanism came up with their what is now award-winning design, the building work was undertaken.
Reddy describes the design as one where "the concept of a subterranean building, taking its design and influences from the natural materials and forms of the area in order to minimise its impact and footprint in its visually prominent rural landscape setting."
Address: Lislorkan North, Liscannor, Co. Clare, Ireland
2.Titanic Belfast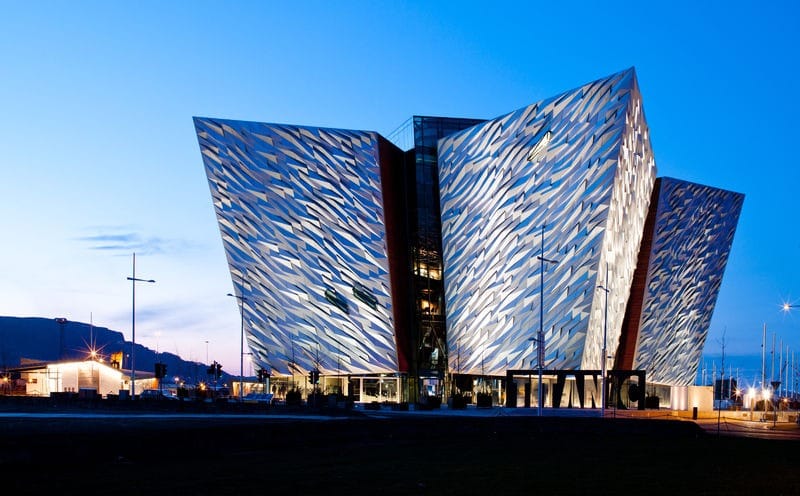 The Titanic Centre in Belfast was the result of a successful collaboration between the Concept Design Architects CivicArts/Eric R Kuhne & Associates and the Lead Consultant/Architect Todd Architects.
The building has a complicated geometry. It utilises a stand-out exterior façade, which replicates four 90 ft high hulls and is clad in 3,000 individual silver anodized aluminium shards, of which two-thirds are unique in design.
The Architects say that the five-storey central atrium was "inspired by the majesty of gangways, gantries, cranes that once filled the void between the Titanic & Olympic as they lay side-by-side upon the slipways."
Address: 1 Olympic Way, Queens Road, Belfast BT3 9EP
3. The Glucksman Library at the University of Limerick
Not only must a building enhance the surrounding environment but it must also excel at serving the needs of the people who will use for generations to come.
It is the sequence of open-plan, flexible, naturally-lit and ventilated interior spaces, each with a distinctive character to allow for mood change and multiple uses that characterise this new building.
From the quiet traditional reading and study areas to more vibrant and technology-infused group and collaborative spaces the Glucksman fills its role perfectly.
The Glucksman Library in Limerick is one of the biggest campus libraries in Ireland and one of the most digitally advanced in the world.
Designed by Architects RKD the building was completed during 2018.
Address: University of Limerick, Plassey Park Rd, Sreelane, Castletroy, Co. Limerick, Ireland
4. The Sean O'Casey Community Centre, East Wall, Dublin
Standing out like a "knot in the grain of the given pattern" this community centre within the heartland of Dublin breaks from the traditional practice of melting in with its surroundings.
The architects set out to provide courtyards with diagonal transparencies between the different social activities of the centre. This they say "connects old with young and relating passive and active recreations. An introverted organism, sub-divided in quarters for operational purposes, is expressed as a singular element in the local urban landscape."
Address: St Mary's Rd, East Wall, Dublin, Ireland
5. The Guinness Store House, Dublin
This building might seem an odd choice to include in this text but built in 1902 it was the first steel-framed multi-storey building in Europe.
It is an amazing design said to be shaped to resemble a Guinness glass the design was influenced by what was then referred to as the Chicago School of Architecture.
Address: St James's Gate, Ushers, Dublin 8, Ireland
6. Busáras Dublin
Located in Store Street Dublin the design of this building is nothing if not controversial. Designed in an International modern style by Michael Scott the building was completed in 1953 and dived the opinion of people from all walks of life.
A walk through today's building will still reveal original fittings and fixtures, including terrazzo floor tiles, timber wall panels and mosaic-tiled winged canopy.
Address: Store St, North Dock, Dublin 1, Ireland
7. The Bord Gáis Energy Theatre, Dublin
Yet another fine example of contemporary Irish public space architecture The Bord Gáis Energy Theatre Dublin and its contemporary, angular style perfectly blends with its surroundings — the ultra-modern Grand Canal area.
The designers cleverly used a theatrical theme by achieving a 'red carpet' effect with the use of bright resin-glass paving extending from the theatre and outlined with distinctive red angled light sticks.
Address: Grand Canal Square, Docklands, Dublín 2, Ireland
8. Céide Fields, Ballycastle
The geology of this part of North Mayo is unique and the task of designing an interpretive centre which would blend into the landscape fell to the OPW Architectural team lead by Mary McKenna.
The design criteria called for a building which would mark the entrance to a 5,000-year-old Neolithic habitation and houses not only interpretative exhibitions but an audio-visual theatre and restaurant.
Built in an unusual part limestone and part peat-clad method the pyramid-shaped peaked building seems to grow out of the bog to form a natural extension of the landscape and uses a glazed lantern apex for natural light.
The building was opened in 1993 by the Office of Public Works and was a joint winner of the inaugural Irish Building of the Year Award, organised by The Sunday Times with the Royal Institute of Architects of Ireland (RIAI).
Address: Ballycastle, Co. Mayo, Ireland
9. The Samuel Beckett Bridge, Dublin
The bridge was named after the Nobel Laureate Samuel Beckett this 123-meter span bridge was completed in 2009. Designed by Spanish architect Santiago Calatrava, the design successfully interprets an Irish harp lying on its side.
The bridge deck was fabricated in one piece in Rotterdam, Netherlands and then in a major marine engineering feat was transported by barge to Dublin.
10. Georgian Ireland
It would be remiss even in a short outline such as this not to mention the glorious examples of Georgian architecture that still stand in Ireland today.
Many fine examples of Georgian architecture exist throughout Ireland, Pery Square in Limerick being just one.
However, most people would agree that the city of Dublin is anointed with masterpieces of this period; from the cobbled Henrietta Street, lined with grand examples of Georgian homes, leading to the James Gandon designed King's Inn across the city centre Parnell Square, to St. Stephen's Green, Dublin has a multitude of beautifully designed houses of this period.
As I said in the opening paragraph Ireland has been blessed with the best of natural landscapes but we have also in the main been fortunate down through the centuries and into modern times to afford us a fascinating built environment.