The time is coming to pay homage to Ireland's most remarkable women, and here are just a few from over the years.
International Women's Day is coming up on 8 March 2022. So, it is very fitting to look back at some of the most memorable and truly inspirational Irish women who have both impacted their home country and the world.
From writers and actors to scientists and humanitarians, Irish women have truly made their impact on the wider world.
With that in mind, let us take a look at the top ten most amazing Irish women who changed the world.
10. Oonah Keogh – our inspiring stockbroker
This amazing lady became the first Irish woman to be a member of the Dublin Stock Exchange and was the first female stockbroker accredited on a National Exchange.
She became such an inspiration for women worldwide who had the same interests but thought it wasn't possible. For this, she was a true trailblazer, which is why we are naming her on our list of amazing Irish women who changed the world.
9. Kay McNulty Mauchly Antonelli – our maths whizz
One of the world's most famous mathematicians, Kay McNulty Mauchly Antonelli was one of the original computer programmers for the first general-purpose electronic computer.
She worked for the US Army and made substantial contributions to computer science, which impacted the world we live in.
8. Maureen O'Hara – our Hollywood star
Maureen O'Hara is a name everyone knows and a face that everyone is more than familiar with, considering the huge impact she had on the movie industry in Hollywood.
She starred in some major movies opposite some big names. She became such an Irish icon that many were inspired by her amazing achievements.
7. Daisy Bates – our humanitarian
Daisy Bates is famous for her extraordinary work in the Aboriginal Australian communities following her emigration from Ireland in 1882. This is something she devoted over forty years of her life to.
She worked as a journalist in Australia, documenting the lives of the communities. She focused a lot of time writing hundreds of articles about their beliefs, language, and culture and was awarded a CBE in 1934.
6. Lady Mary Heath – our aviation queen
This incredible woman made a huge impact on the world, quickly becoming one of the most famous Irish women thanks to her amazing achievements.
Lady Mary Heath was a star athlete, a bestselling author, the first woman to hold a commercial flying license in Britain, and the first woman to parachute from an aeroplane.
This certainly makes her one of the most amazing Irish women who changed the world.
5. Mary Robinson – our first female president and one of the most inspiring women leaders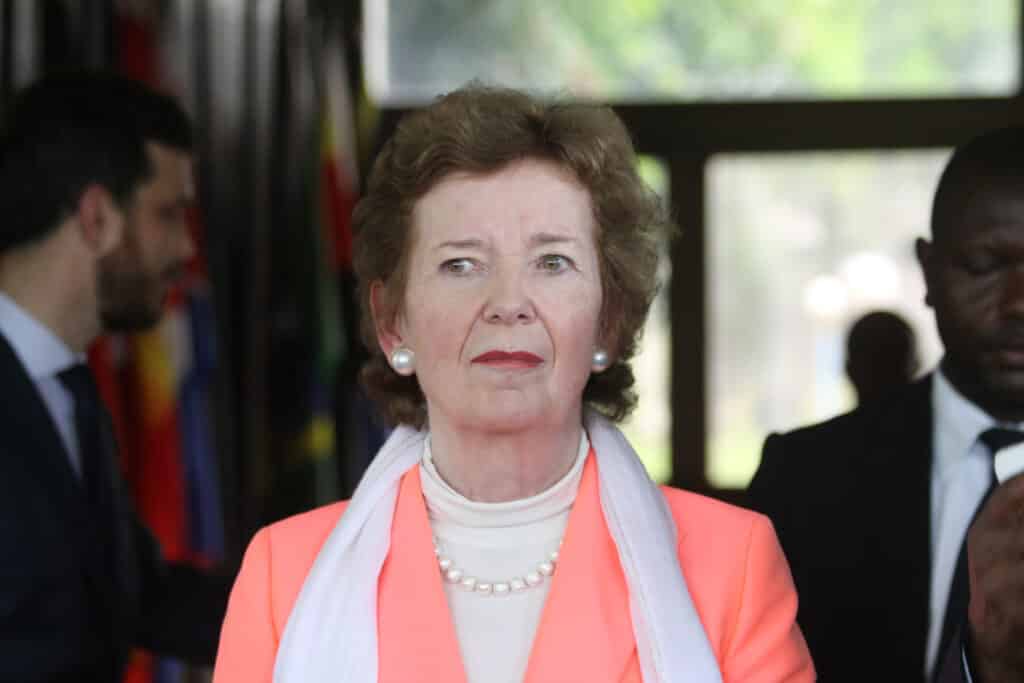 Mary Robinson was, of course, Ireland's very first female president, which makes her an absolute legend in general. Still, many other aspects of her life and career make her an amazing inspiration to many.
She was a huge advocate for gender equality, human rights, women's participation in peacebuilding, and climate justice. Mary Robinson is undoubtedly one of the most inspiring women leaders of all time.
4. Dr James Barry (Margaret Ann Bulkley) – our courageous doctor
By the name, you might not realize, but Dr Barry became the UK's first female doctor and performed one of the first known successful Caesarean sections in which mother and baby survived.
She is so world-renowned because she did all of this living as a man when women were not allowed formal education and were most certainly not allowed to practice medicine.
She did this to be gain a place in university and to be able to become a surgeon. This was a truly courageous act for a woman at that time. Her real name was Margaret Bulkley.
3. Constance Markievicz – our determined politician and one of the central rebel leaders
Constance Markievicz, or Countess Markievicz, is one of the most amazing Irish women who changed the world, having become the first woman to be elected to the Westminster parliament.
She also became the Minister for Labour and the first female cabinet minister in Europe. Hers is a name everyone knows and remembers for her incredible achievements.
2. Sonia O'Sullivan – our record-breaking athlete
Sonia O' Sullivan is definitely one of the most amazing Irish women who changed the world for many reasons. One of the highlights is her string of incredible achievements as a track and field athlete over the years.
She was also the first Irish woman to win a gold medal at the European Championships in 1994. She became an inspiration for many Irish and international female athletes.
1. Enya – an Irish musical icon
When it comes to the music industry, Enya has changed the world by becoming Ireland's bestselling Irish solo artist of all time.
Her songs are world-famous and appear regularly in movies and TV shows. She is still making music to this day, with the same passion she always has.
She has won countless awards and sold millions of albums worldwide, making her one of the bestselling music artists of all time. Now that is some title!
Other notable mentions
Anna Haslam: Born in Youghal, Anna Haslam was a suffragist and a central figure in the 19th and early 20th-century women's movements in Ireland. She is one of the most inspiring women leaders.
Anne Sullivan: Born to Irish parents in Massachusetts, USA, Anne Sullivan was a prominent teacher of those who were deafblind throughout the late 19th-century.
Lady Augusta Gregory: Lady Augusta Gregory was a formidable Irish dramatist, folklorist and theatre manager who worked alongside the likes of W.B. Yeats.
Dorothy Price: Dorothy Stopford Price was a prominent Irish physician throughout the early 20th-century. She was seminal in the elimination of childhood tuberculosis.
Sybil Connolly: Sybil Connolly was a prominent Dublin-based fashion designer throughout the 20th-century.
Grace O'Malley: Grace O'Malley was a fearless Irish pirate queen in the mid-16th-century.
FAQs about Irish women who changed the world
Who is the most famous Irish female?
Maureen O'Hara, a star of the silver screen, is perhaps one of the most famous Irish women of all time.
Who were some important women in Celtic history?
Queen Maeve of Connacht is one of the most famous women from Celtic mythology.
Who was the first queen of Ireland?
Queen Máel Muire ingen Amlaib is believed to have been the very first queen of Ireland.