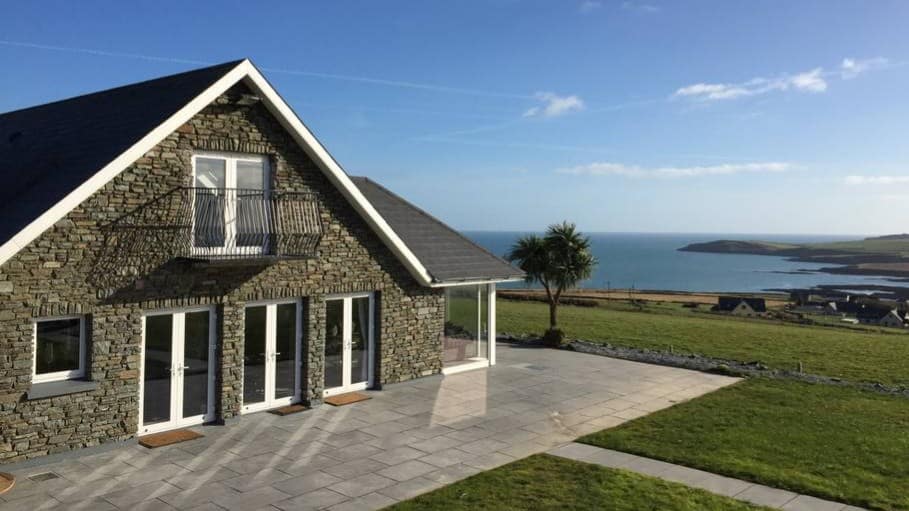 One of the most popular places to visit in Ireland is around the area of Kinsale. Kinsale is a beautiful town on the southern coast of Ireland, in County Cork.
It is a history town of strategic interest. Indeed, two 17th-century fortresses overlook the River Bandon: the vast, star-shaped Charles Fort to the southeast, and the smaller James Fort on the river's opposite bank.
Kinsale is called the gourmet capital of Ireland and the reason behind that, is probably to do with the town being full of amazing restaurants and pubs which have traditional Irish music played in most nights of the week.
Just outside of Kinsale Town you'll find one of the most beautiful houses you can rent out on Airbnb in the whole of Ireland, for a holiday or a special occasion. It is located on the Wild Atlantic Way, and it has far reaching views way out into the Atlantic Ocean for as far as you can see, as well as looking towards the world famous Old Head of Kinsale Golf Course.
The house is rented out by Ryan O'Leary who takes bookings via his web site kinsaleholidayrentals.org and via Airbnb at the following link https://abnb.me/yAuw6933nT
A House with loads of Children's Equipment and Facilities
The property has recently been interior designed to a high standard. The views are stunning.
The house has everything you need including Sky TV, Wireless Internet, a built-in coffee machine and beer tap in the luxury kitchen. The kitchen has a large island which sits eight people and a table which sits 14, the views from the dinner table are stunning.
Also, there is a luxury dining room which seats 20 guests which is perfect for family gatherings or special occasions.
There is a children's playroom with toys, books and a TV for rainy days.
The property sits on an acre plot and boasts a large pirate ship climbing frame, with swings, slide and a playhouse. There are football goals, a trampoline, scooters and a large wooden cabin containing table tennis and snooker tables.
For the adults, there is a large heated Gazebo which seats ten people, and a BBQ sited just next to it.
Large Groups, Family and Hen Party Friendly
The accommodation is also open to those who want to plan the family occasions or hen party on the south coast of Ireland. The owner has an experience of welcoming families for gatherings and hen parties, and previous guests have said that he is very accommodating.
This house is also perfect for families. While the parents enjoy Kinsale views, the kids can play on the trampoline, play area, watch TV or play with the toys in the playroom.
The House Sleeps 20
The house is accessed via large electronic gates, so the property is secured for your safety.
The house itself is a modern 6-bedroom 5-bathroom house, large modern kitchen, dining room and lounge.
Bedroom 1 is located upstairs; it has two double beds in it plus two-floor beds, as well as an en-suite bathroom and sky tv. There's workspace available in this bedroom.
Bedroom 2 is located upstairs and has a super king bed plus two-floor beds, as well as an en-suite bathroom and a bathtub which is located in the bedroom, which looks out on to the old head of Kinsale. There is a balcony off this bedroom plus sky TV.
Bedroom 3, has a super king bed and one floor bed, as well as an en-suite bathroom, Sky TV
Bedroom 4, has a king bed plus sky TV
Bedroom 5, has a king bed plus Sky TV
Bedroom 6, has a super king bed and 1 floor bed, as well as en-suite bathroom, sky TV
The main bathroom with Jacuzzi bath is located on the ground floor.
The dining room seats 28 people for dinner in armchair style seating and the kitchen area seats 16 people.
There is a large children's playroom in the attic which is accessed from outside, and it is full of toys and books, it also has a TV.
Kinsale is a 10-minute drive, and Garrettstown beach is approximately a 5-minute drive.
Book early to avoid disappointment.
Contact the host and book this property
You can book this house for just 1 night so it's very flexible. Simply get in touch with the host via phone, email or Airbnb.
Ryan Oleary who is the host of this fantastic property has had some amazing reviews as expected.
Email: [email protected]
Mobile: +447961415467
Airbnb: https://abnb.me/eDPQaFG1nT
Ryan also has two other beautiful properties in Kinsale in the event that this home is booked:
A Kinsale Town House
A House with River views
Sponsored By Kinsale Holiday Rentals
This feature was commissioned by the owner of the property, Ryan from Kinsale Holiday Rentals, who wanted us to feature his beautiful house on Ireland Before You Die.
If you'd like a feature like this for your business on Ireland Before You Die, find out more on our Add Your Business page.
Get featured on Ireland Before You Die
Do you want to get your Irish business more online exposure? Especially to those interested in travelling the best places in Ireland? Then why not get a dedicated feature on Ireland Before You Die. Find out more 
here.