Throughout history, Hollywood films have offered us an escape to far-off places seldom seen by the masses. Whether you're being transported to Neverland or swept away to a fairy tale realm fit for princes and princesses, the power of setting can be significant.
For those of you keen to get caught up in the Wild West, check out this epic log cabin which is available to rent on Airbnb – an online marketplace where homeowners can rent out their properties.
This utterly unique stay which lives along the shores of Lough Derravaragh in Westmeath is certain to be one of the most unusual you've yet to experience on the Emerald Isle.
Given the five-star reviews from past guests, it is safe to say that this log cabin is a winner. Let's have a look see what all the fuss is about!
The Property
This log cabin in Westmeath is an experience in itself. The handcrafted property was purpose built in 2005 with design and concept at the forefront of intention.
Like something lifted from the stills of a Western cowboy film, this cabin is as characterful as they come.
Expect traditional features through and through. This is not a replica cabin with modern comforts – this is the real thing. There is no electricity or contemporary amenities. Forget Wi-Fi, a television or air conditioning.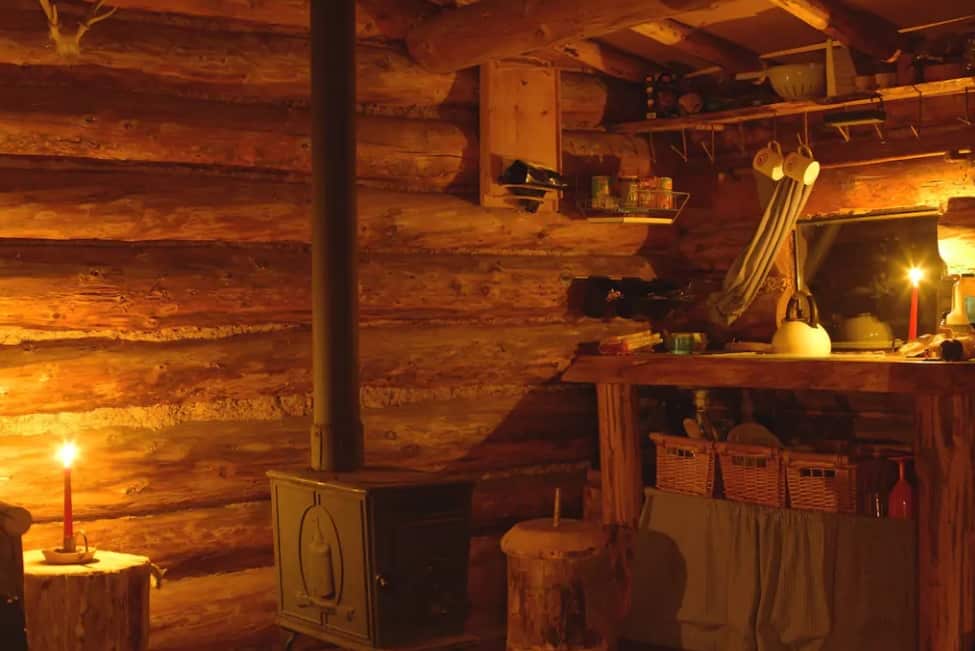 The cabin sits in the remote countryside area of Coole, Country Westmeath. Sleeping in serenity beside the shores of Lough Derravaragh, this cabin is as romantic and rugged.
Those who revel in the outdoors will have a field day; the surroundings are brimming with things to do!
From sitting by the lakeside to fishing and walking, cycling, bird watching and relaxing by the fire with a good book – this unique Airbnb offers a slower pace of life.
Public transport can be used to get to Coole. From there you will need a car to access the cabin. Taxis can be organised from the town if guests do not have their own car.
It is important to note that bedding, linen, essentials, torches and flashlights are not supplied by the hosts.
Dogs are welcome to the log cabin, but this must be cleared in advance with the hosts Brian and Sarah.
The listing summarises the benefits of this remote location, "What makes this property unique is its location, the setting is truly beautiful, watch the stars and listen to the wildlife all around you, leave the real world at the gate and enjoy."
Expect simple, authentic décor through and through. This no-frills experience is sure to be one of the most memorable to be had on Airbnb in all of Ireland.
The Fine Details
The cabin itself has one bedroom with two bunk beds, sleeping a total of four guests.
There is a kitchenette equipped with basic amenities for cooking, as well as a dining area, a wood-burning stove for heating and a wrap-around porch that is perfect for watching the sunset.
In the garden, a BBQ area and fire pit with surrounding benches allow for guests to enjoy the setting well into the late evening as they warm their bones around a bonfire.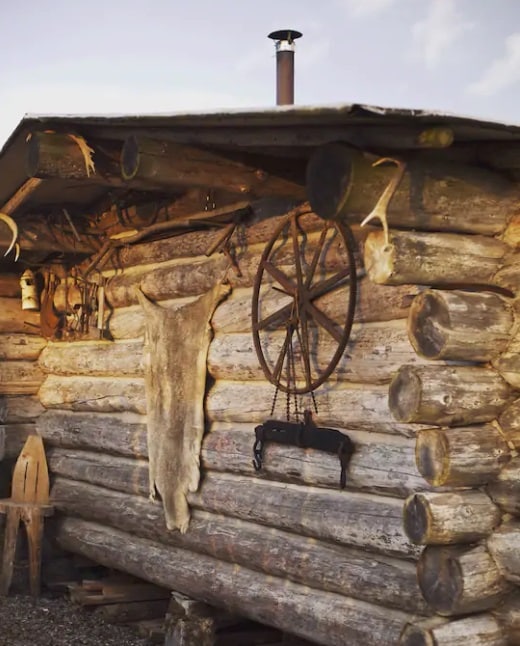 An outdoor toilet hut and washroom complete the property and keep the experience in line with an authentic Western stay.
Although guests will have to bring much of their own supplies (bedding, linen, blankets, torches) the hosts explain that, "Guests have access to gas, fresh running water, firewood, kitchen equipment, sufficient candles and nightlights".
Boats are also available to rent on the nearby lake, and life jackets will be provided for all.
The Reviews
Airbnb reviews are written by past guests and based on the following six aspects: accuracy, communication, cleanliness, check-in, location and value. This log cabin has received five-stars across the board!
One recent guest was delighted with their stay, "This is a great place to get away from all life's stresses and pressures. To rest and read etc. We went to spend family quality time together without any tech, we brought nurf guns, archery, board games, cards fishing etc and the dog of course and our teens loved it"
Another guest shared in a similarly positive experience, "If I could give 6 stars for this place I would! Absolutely stunning hand-carved house, in a beautiful setting. A perfect slice of paradise for those who appreciate getting away from it all. This will become a regular getaway for us, we absolutely loved it!"
You can check out the listing HERE.
Note: our travel articles should be used only to plan future trips. Please stay at home until the government has advised otherwise.