As more people take an interest in living life without meat for environmental, health and compassionate reasons, Belfast's vegetarian and vegan food scene is steadily growing.
Where some may argue the city lacks innovation when it comes to its vegan food in comparison to other Irish and UK cities, others express content satisfaction with vegan options here.
Belfast is yet to provide the same amount of strictly vegan eat-outs as it does vegetarian, but Jumon is currently a key competitor in Belfast's vegan food scene.
The Atmosphere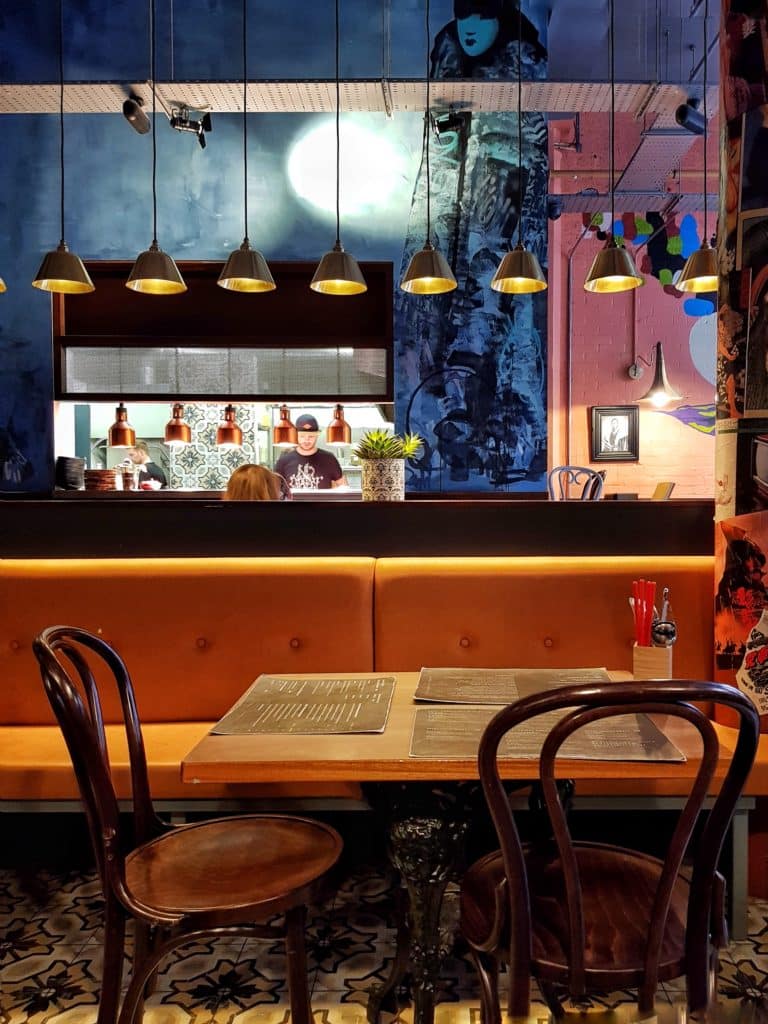 Occupying the end of Fountain Street in the city centre, Jumon brings Far Eastern cuisine to Belfast city.
From the outside, Jumon provokes curiosity with its warm lit interiors and dark exteriors.
This continues inside with the restaurant's enticing artwork, open kitchen and bar. It's perfect for a lunchtime indulgence, date night or dinner with friends before a night on the town.
Thanks to the fantastic artwork, moody lighting, exposed brick and industrial ceiling features, Jumon combines city chic with Asian funk.
The décor wholly adds to the intimate dining experience and satisfies visual senses in between meals.
The Menu
Boasting the use of fresh ingredients, the menu is full of stunning vegetarian and vegan food.
Some may argue the menu to be difficult to understand given all the exotic ingredients and menu items listed. However, the staff are there to help explain and answer any questions you have.
The menu offers a broad spectrum of dishes from around the south-east Asian region. Expect to see the likes of Korean kimchi, Thai noodles, Sichuan rice and Cambodian curries. All of which aim to create an addictive tasting experience.
All of the recipes are cooked up by head chef and owner Tamsin. She strived to make everything on offer entirely authentic.
You have tonnes of choice to delight your palette, and as a result of Tamsin's efforts, the purity of flavours and textures are no doubt a pleasant surprise to most.
What We Had
Pok Pok (vegan) – Papaya, pickled pineapple, carrot, tomato, avocado, nut & seed
If you've ever been to Asia, you'll have tried (or at least heard of) the infamous Papaya Salad.
Often served on its own or as a side, it's one of the most delicious dishes, packed full of flavour. Jumon's Pok Pok would be their unique take on this Asian classic.
It perfectly pairs sweet fruity pineapple and papaya with chilli undertones.
The rocket added a peppery dynamic, whilst the creamy avocado and peanut crumb added different elements of texture.
Last but not least, the crystalised tomato garnished the dish beautifully. Overall, a refreshing and light starter to begin dinner.
K.F.B (vegetarian) – Kimchi, pickled ginger and miso mayo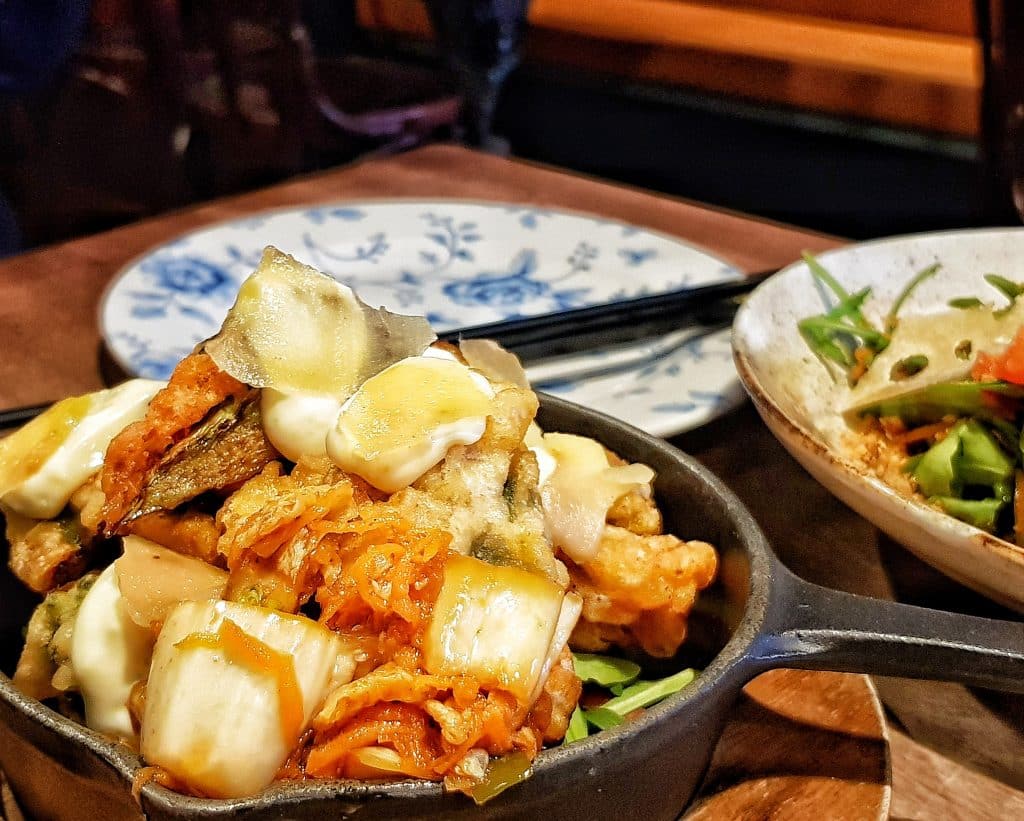 Perhaps the most enticing starter of the two was the K. F. B. The main star of this dish was the battered broccoli and cauliflower.
New food trends have seen cauliflower used to mimic meat dishes in vegetarian cooking, e.g. cauliflower 'steaks' and bbq 'wings', so we were intrigued to see Jumon's use of this vegetable.
We were pleasantly surprised by the 'meaty bite' of each piece, which we put down to the crispy batter coating the vegetables in a way which creates a satisfying chew.
Topped on each battered vegetable was pickled ginger and miso mayo, then subtle kimchi on the side. All combined, the dish had the most moreish and inviting flavour – bloody gorgeous!
Sayur Lodeh (vegan) – Jack fruit curry, Asian green, pickle lychee & carrot, brown rice
A relatively spicy dish, but one of the most flavoursome and delicious we've had at Jumon.
The only disappointment to this dish on this occasion was that tofu replaced the jackfruit.
It was still lovely, but we were a bit disappointed not to be able to try the jack fruit given it's another common ingredient used in vegetarian cooking. Next time we hope they have it in!
Either way, we were still blown away by this main. The creamy coconut sauce comes served in a wee authentic Asian teapot – loved that idea! This also means you can add your own sauce according to your personal preference and spice pallet!
The green wholegrain rice had a gorgeous flavour on its own which explodes when fused with the curry sauce.
The crispy tofu was a little bland on its own, but one great thing about tofu is its ability to soak up all the flavour of a dish, and it did just that.
The caramelised courgette and pickled carrot were beautiful additions but my god, the pickled lychee fruits were the rock stars of this show.
You need to save these bad boys for when you want magnificent bombs of sweet and spice to explode in your mouth.
A mouthful of these paired with the rice, sauce and veggies will no doubt make your eyes pop and mouths drool for more.
We highly recommend this dish purely for its taste experience.
Jumon Ramen (vegetarian): £11.50 Kimchee & egg drop broth, crispy cheese wonton & Asian green
The Jumon Ramen was milder and less adventurous with flavour, but no less satisfying and tasty.
What made this dish unique was the 'egg drop'. The dish is served with a raw egg in its shell on top. All you have to do is pour the egg in and swirl it around in the hot broth for it to cook – we liked the engaging nature of this.
The broth itself was fragrant and tangy and somewhat herby. Perhaps the latter element of taste came from the Asian green.
The bite-size mushrooms and crunchy kimchi added great texture, and overall, it was a delightful dish – perfect for fans of ramen and pho soup alike.
Service
We dined early evening on a weekday which meant it was relatively quiet. Therefore, the service was efficient and speedy. As time went on, the place began to get busier and pick up pace, which only suggests the restaurant's popularity among the locals.
The staff are so warm and welcoming with a friendly and relaxed approach to hosting. They take time to explain the menu at the beginning of your sitting which is really helpful.
They're also happy to answer any mad questions you might have – whether that be about the food or how to eat something you're about to try for the first time.
FYI, Tracy is a great waitress – she gives off positive vibes all round.
The Damage
We would describe Jumon to be one of the higher-end options of vegetarian and vegan cuisine in Belfast city.
Starters range from £6 – 7.50 and mains around the £11.50 mark. Considering the location, portion sizes and quality of ingredients, Jumon is excellent value in our eyes.
 Overall
Would we go to Jumon again? YES! And we highly recommend you do too when you next visit Belfast.
And for the record, anyone who is a fan of Asian food (whether meat-eater or not) would thoroughly enjoy this place.
More Info
Address: Unit 6 McAuley St, Fountain St, Belfast BT1 5ED
Website: https://www.facebook.com/jumonbelfast/
Note: our travel articles should be used only to plan future trips. Please stay at home until the government has advised otherwise.