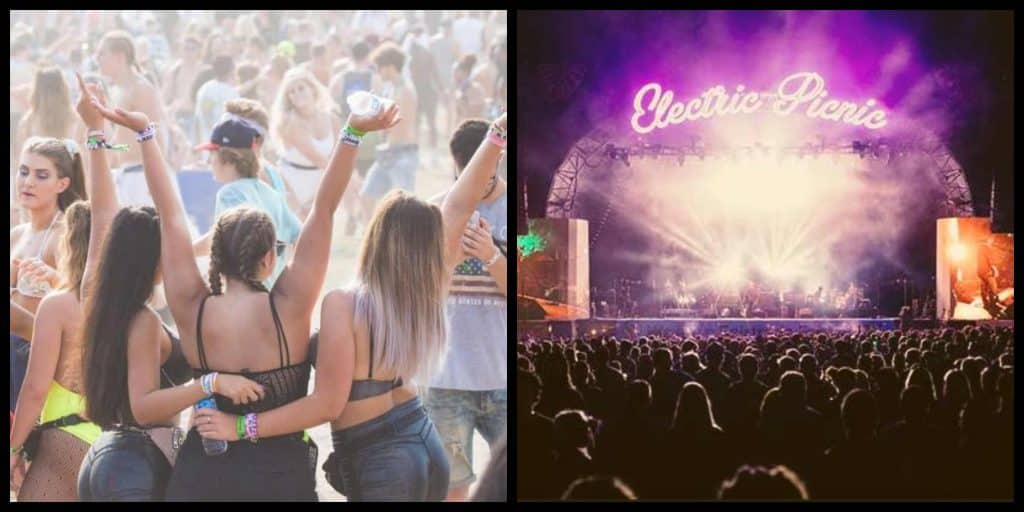 Music festivals are a trend that kicked off in Ireland in the 2000s. The primary catalyst for this fad was Oxegen (formerly Witness), which was held in Punchestown Racecourse in County Kildare. After that, more followed.
Today, the small- and large-scale music festivals which pepper the Summer calendar are many. If you're looking for mega mainstream artists, you have Electric Picnic. Should you be hoping to be immersed in an alternative environment, check out All Together Now. If hard-core raving is what you're after, look no further than Life Festival.
Now as Summer starts to heat up and the events begin to kick off, you just may be asking yourself some very simple questions, as to how to make the most of your experience. Here are the ten things you need to know before going to an Irish festival this Summer.
10. Take Note of Your Surroundings
Going to a festival is like stepping foot into a mini-city, a sea of people, stages and tents. Our tip: take note of your surroundings!
It can be easy in the excitement of day one to walk off without acknowledging your setting, but it'll turn out to be a nightmare when wandering endlessly in search of your tent or car down the line. This is one of the top things you need to know before you go to an Irish festival this Summer.
9. Choose Your Tent Wisely
In the run-up to a festival, you may feel the burn as you watch your savings diminish; festivals can be a pricey affair. And while we may suggest scrimping on some things, a tent is not one of them!
Bring a tent large enough for you and your belongings, and make sure it is waterproof. For example, if there will be two people in your tent, we suggest getting a four-man with a separate porch for muddy wellies!
8. Watch Your Belongings
While most festival-goers have positive experiences in Ireland, reports of theft and tents getting broken into are not uncommon. The rule of thumb is don't leave anything valuable in your tent.
More so, although some people choose to put a lock on their tent, often these are the tents which are targeted. The mere presence of a lock suggests that there are valuables inside. Just to be safe, we recommend you carry your phone, money, identification on you (see #5).
7. Check the Festival's FAQs
Many festivals have different rules. Some allow attendees to carry alcohol into the arena where you see live music, others only permit it in the camping area. Some festivals allow cooking on the grounds, others not all
We suggest that you read the frequently asked questions (FAQs) for each festival attending beforehand. These should be easily found on its website.
6. Pack For All Types of Weather
If you're attending a festival in Ireland this Summer, there is one fact that must be faced: it will probably rain. Keep an eye on the weather forecast in the run-up to the festival, yet regardless pack for all types of weather!
You will need wellies, waterproof boots or other heavy duty waterproof footwear to navigate a wet and muddy festival. Also, don't forget the sunscreen and sunglasses though; if the sun does choose to rear its head, you will want to be ready for it.
5. Bring a Backpack AND a Money Belt
Do yourself a favour and go hands-free at a festival this Summer in Ireland. A backpack is more comfortable to carry for an extended period with your back (not arms) taking the weight.
A money belt is also a fantastic idea to store your phone and money safely for the duration of the festival. These are lightweight, slim and can fit under most clothing.
4. Don't Forget the Essentials
Essentials for an Irish festival include a rain jacket, wellies, baby wipes, hand sanitizer, toilet roll (they always run out), a torch and a head torch, eye mask and ear plugs, sunscreen, sunglasses and food (see #3).
Also don't forget the absolute necessities such as a tent, sleeping bag, foam mat and camping chair. Although most festivals will have outlets and shops for you to stock up on these, prices will be inflated to the max so plan ahead.
3. Food to Bring and Food Not to Bring
It's essential to bring a good selection of food and snacks to a festival with you. Although the idea of partying for three days straight may not faze you, it would be impossible to do so without sustenance.
Foods to bring include nuts, cereal, energy bars, apples, oranges, crisps, bread, nut butter (peanut butter, Nutella), tinned food (think beans, spaghetti), popcorn and pasta salad.
Avoid dairy, egg or meat products unless they are going to be stored in a cooler. Dips such as houmous also are egg-based and should be avoided, as should butter. Cooked rice is also a no-no.
2. Water & Rest
Following on from #3, we are going to say that water and rest are also fundamental to you having a successful festival experience. Without a doubt, this is one of the top things that you need to know before you go to an Irish festival this Summer.
Every year, thousands of festival-goers end up in first aid due to exhaustion and dehydration. Make sure to drink water throughout the day and try to get at least five hours of sleep per day. Bring an eye mask and earplugs as this will increase the likeliness of you catching some shut-eye.
1. HAVE FUN
Most importantly: HAVE FUN! Festival are never-ending parties filled with live music, activities and events, cool and curious performers and all-around awesome people. Be safe, be accountable and most importantly have the time of your life!
Get featured on Ireland Before You Die
Do you want to get your Irish business more online exposure? Especially to those interested in travelling the best places in Ireland? Then why not get a dedicated feature on Ireland Before You Die. Find out more 
here.