The Irish are known for their undisputed appetite for merriment. Whether you're in a pub or at the match, dancing in a club or chatting to random people, quintessential Irish craic has defined the nation. So, have you ever wondered the top things that happen at every Irish wedding?
Well, just imagine a party with all of your mates dressed up to the nines, giving it socks (translation: going wild/going for it) on the dance floor, and all in the name of love.
Besides the charming ceremony, a bucketload of guests and delicious food, here are the top things that happen at every Irish wedding!
10. Riverdance – the dance floor number
No Irish wedding would be complete without one drunken member of the bridal party taking to the dance floor to share their utterly woeful impersonation of a Riverdancer.
Note: Riverdance is a theatrical show that showcases Irish dance and music. It has become a worldwide phenomenon and tours globally.
9. Hook-Ups – the temperature's rising
At an Irish wedding, love is in the air. The result of this is that, amidst the "rounds" of drinks and unavoidable shots, lousy dancing and general banter, some two guests are bound to hook up. Generally speaking, this is a pairing of a bridesmaid and groomsman.
8. Sing-alongs – leaving us all with hoarse voices
No matter where in Ireland a wedding is, it wouldn't be a truly Irish wedding without a massive sing-along involving just about everyone.
Songs most likely to steal the show include Galway Girl, Country Roads and Tell Me Ma. Expect strained vocal cords the following day.
7. Beware of the Fascinator – watch your eyes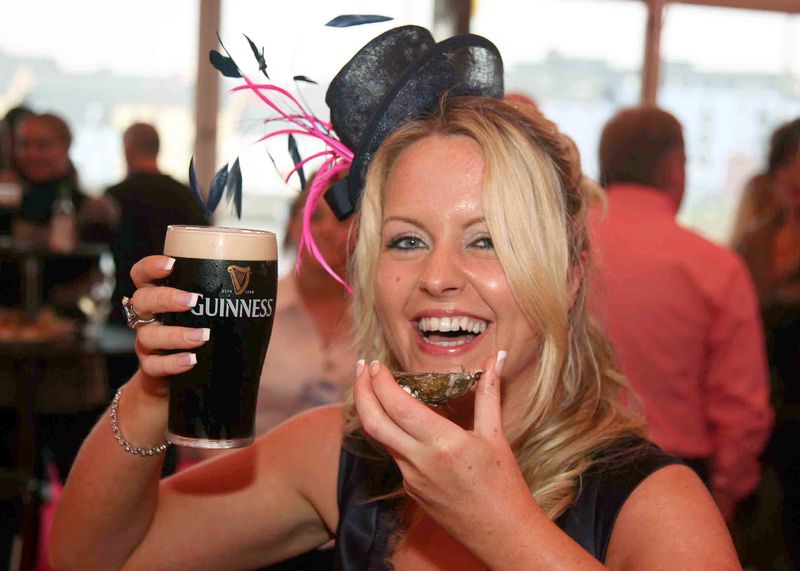 An Irish wedding would not be complete without a copious amount of feathered fascinators worn by the vast majority of middle-aged women.
Often seen as the height of sophistication, this regal headpiece can be soft on the eyes but a danger if poked by one. Aunties who lunge in for unexpected hugs are the biggest offenders, so take it from us: cover those corneas.
6. Shots Shots Shots – the rocket fuel
There is something about the Irish and shots that is only magnified when a wedding takes place. Whether you like shots or not, expect to be downing a lot of them.
The most common shots on the go at an Irish wedding include Jägerbombs (Jägermeister and energy drink) and Baby Guinness (which contains no Guinness, but instead coffee liqueur and an Irish cream liquor).
5. Falling Down – the bound to happen
Without a doubt, someone at an Irish wedding will fall down during the night's festivities. This will, most likely, turn out to be someone directly related to the wedding party, for example, a mother, father, aunt or uncle.
This usually takes place on the dance floor during one of the classic sing-alongs, as outlined in #8.
4. Dancing Barefoot – the status quo
Irish weddings usually take place in the early afternoon, meaning the ceremony is out of the way by lunchtime, and the party runs through the evening, late into the night (see #1).
By about 9pm there will be a pile of high-heels discarded in the corner by women who have given up on trying to walk in the impossibly-shaped shoes and want to give it their all on the dance floor.
Ultimately, one shoe always goes missing, and then it becomes a mission to locate said lost slipper. It's almost like a modern-day Cinderella story, except you're at an Irish wedding and have a fair amount of drinks on you.
3. Newlywed Pints – the couple photo-op
Without fail at every Irish wedding, it is a tradition for the bride and groom to have a pint of "the black stuff" (aka Guinness) together.
Often, the groom will go for a round of pints with his entourage pre-ceremony to quash any jitters, and the bride will have champagne with her team of ladies in waiting.
However, once the ceremony is done and dusted, a pint of Guinness for the happy couple is a top priority.
2. The Weather – the biggest variable
What would an Irish gathering be without heavy emphasis on the weather? And never is this truer than at an Irish wedding.
It is no secret that Ireland doesn't have the best weather. In fact, it's pretty miserable most of the time. Saying that there can be some pretty beautiful days if you're in luck! Truth is: weddings and weather in Ireland is a game of roulette – you never know what's going to happen.
Regardless, it wouldn't be an Irish wedding without excessive reference to the weather. Expect to hear either "thank god it didn't rain" or "Christ almighty, it's bucketing down out there".
1. A Never-Ending Party – the only way to go
One of the top things that happen at every Irish wedding is its never-ending nature.
Expect to be still dancing at sunrise. Yep, Irish weddings are a cut above the rest!