Witness Christmas lights with a fantastical twist this year at the Dublin Zoo's impressive Wild Lights exhibition.
The spectacular Wild Lights exhibition has returned to Dublin Zoo in the Phoenix Park, and it is brighter than ever.
The festive season is the perfect time for some family fun, and this event is enough to wow anyone young at heart.
Presenting a brand new theme of 'Stories, Myths and Legends', Dublin Zoo will be transformed into a winter wonderland from now until January 5, 2020 and we urge you to take a look.
Bedtime stories – for a touch of magic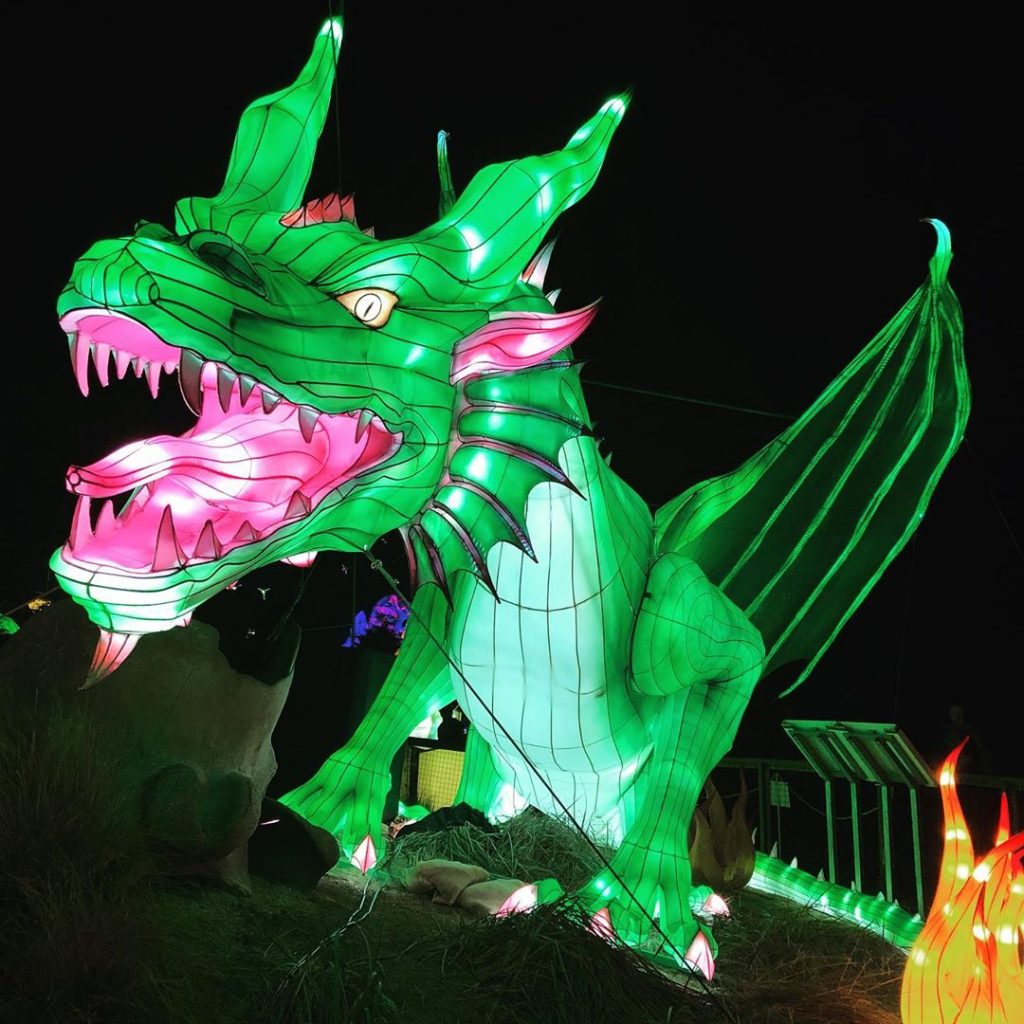 Dublin Zoo is offering a chance for fairytale fans to take a night walk through their favourite story with this year's fantastic Wild Lights. The new theme is 'Stories, Myths and Legends' and showcases over a thousand giant silk lanterns to brighten up the cold winter nights.
Characters from much-loved stories and nursery rhymes including The Wizard of Oz, Peter Pan, and Alice's Adventures in Wonderland can be found among the display.
In addition, mythical legends from Irish folklore, like "The Salmon of Knowledge" and "The Children of Lir," come to life in the form of stunning illuminations for everyone to enjoy.
There are lots of special scenes to take treasured snaps of your children in the warm glow of their favourite storybook idols.
Chief organizers of the event at Dublin Zoo are delighted with this year's production and claim Wild Lights 2019 to be "better than ever." When asked about the new theme, they said it is "sure to capture the hearts and imaginations of the young and old alike." Bedtime will never be the same again!
Educational experience – wildlife past and present
Along with the heart-warming experience of being surrounded by your childhood heroes, the Wild Lights at Dublin Zoo provide an educational experience.
The fascinating Tree of Life exhibit highlights the vital role conservation plays in extinction prevention. It is just one of the ways Dublin Zoo will use the illuminations to celebrate wildlife past and present.
Dublin Zoo director Leo Oosterweghel was thrilled to announce the opening of Wild Lights 2019.
He said, "We are delighted to announce the return of the award-winning Wild Lights event to Dublin Zoo for 2019 and we think visitors will be particularly enamoured with this year's theme which focuses on animals in literature.
"We're so proud to be able to hold such a magnificent family event which highlights the importance of the conservation of animals."
Grab your tickets – for the ultimate family night out
Tickets for The Wild Lights illumination are available to buy at DublinZoo.ie and are priced at €20 for adults and €15 for children.
Annual pass holders for Dublin Zoo can buy tickets at the reduced price of €18 for adults and €12 with children under the age of three allowed in for free on the condition their place is booked online.
Wild Lights opened to the public on Friday, November 1 2019 and will continue running from 5pm to 9pm until Sunday, January 2020.
Throughout November, Wild Lights will be open every Thursday, Friday, Saturday and Sunday evening. From December 1 until January 5, opening times will be extended to seven days a week (excluding Christmas Eve, Christmas Day and St Stephen's Day).
The website warns that anyone under the age of 16 must be accompanied by an adult and teenagers may be asked to produced ID.
Get featured on Ireland Before You Die
Do you want to get your Irish business more online exposure? Especially to those interested in travelling the best places in Ireland? Then why not get a dedicated feature on Ireland Before You Die. Find out more 
here.