Ireland's 'sunny south-east' is a great spot to visit with a weekend in Waterford well worth the trip. Waterford is Ireland's oldest city so you can imagine how much history can be discovered.
From eighth-century Viking invasions to 19th-century theatricals, Waterford is a playground for history enthusiasts. Fine dining is also high on the agenda with lots of adventure pursuits to explore outside the city.
Here are some suggestions for a fun-packed weekend in Waterford.
Day 1
Breakfast at The Granary Café
There are lots of great places to eat in Waterford with The Granary Café high on the list. They serve a delicious full Irish breakfast with locally sourced ingredients or a big bowl of porridge with fruit, grains and honey for a very satisfying alternative.
Located in a lovely quayside spot in the heart of the city you can sit outside on sunny days and watch the world go by.
Address: The Granary Café, Hanover Street, Waterford City
Waterford Viking Triangle – for the history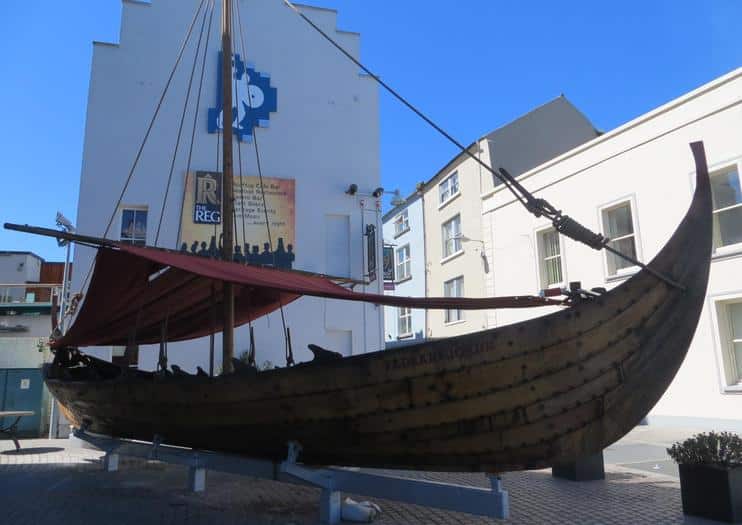 Why not start at the beginning and visit where the 1000-year-old Viking walls once surrounded the city. Listen to fascinating stories about battles, conquests and how it all began with a fleet of Viking ships arriving in Waterford in 914.
There are often planned events held at the Viking Triangle during the summer months so check online and be a part of this great story. Visit the Viking Museum in Reginald's Tower before exploring the Medieval Museum and the Bishop's Palace Museum also located in the Viking Triangle.
Address: The Quay, Waterford City
The Clock Tower
Head for Meagher's Quay to see Waterford's most iconic landmark, The Clock Tower. Built in 1863, it is one of six surviving towers in the city. Previously known as the Fountain Tower, it has troughs that were used for working horses passing through the city.
The clock still keeps time while the tower will be of particular interest to those enthused by both stone masonry and gothic revival architecture.
Address: Meagher's Quay, Waterford City
Lunch at No.9
Enjoy a casual city lunch at the No.9 Café. It serves a great choice of fresh dishes and has lots of gluten-free options. The atmosphere is relaxed and welcoming and the perfect spot to plan your next move.
The shopping centre is also a great spot to browse or stock up on any essential items you may have forgotten for your weekend in Waterford.
Address: 9 Barronstrand Street, Georges Court Shopping Centre, Waterford
Off to the Seaside – great for kids
Your next stop will start at Waterford Bus Station and end at the seaside town of Tramore less than 20 minutes from the city. There is something for everyone in Tramore. The Japanese Gardens are perfect for any botanical girls while the beach is a 3 miles stretch of clean sand with a surf school, dunes and a nice promenade.
For children, there is Tramore Amusement Park, Splashworld for the water babies and Copper Coast Mini Farm for the animal lovers. From bike rides to pony treks or simply by foot there are so many ways to explore this pretty fishing village.
Enjoy fish and chips in Doolys on Strand Road followed by a nice pint of Guinness to round off the day. Raglan Road is a classic Irish pub in Tramore West with a great pint and a traditional vibe, while O'Neill's in Summerhill is a bigger and often busier venue.
Day 2
Breakfast at Gallwey's – for chocolate lovers
Start your second day in Waterford with a sweet breakfast treat at Gallweys Chocolate Café. This is a little hidden gem on one of the oldest streets in the city and serves THE best hot chocolate you will taste on your travels.
The menu is extensive and has something for everyone and the staff is super friendly. It is a great place to start your day and will go down particularly well for any fellow chocoholics.
Address: Gallweys Chocolate Café, 10a Henrietta Street, Waterford
House of Waterford Crystal
Waterford is famous for producing the most beautiful crystal cut glass and a trip to where they make it is a must-see on our list. You can book a tour of the factory and witness each step taken to carefully make each piece by hand.
You can chat with the designers about each unique crystal cut, shop in the gorgeous store and have coffee or lunch in the café.
Address: 28, The Mall, Waterford
Take a hike – for stunning scenery
After lunch, leave the city behind and prepare for a stunning hike up the Comeragh mountains to Coumshingaun Lough. The starting point is best reached by car and the walk is not suitable for young children.
But once you are fairly fit and old enough to negotiate the terrain, the 'Loop' trek, which is just over 7Km long, is well worth the beautiful views of the lake.
Address: Coumshingaun Lough, Co. Waterford
Dinner in Dungarvan – the perfect ending
After the challenging hike, you will be very much in the mood for a tasty dinner and Dungarvan is just 20 minutes drive from Coumshingaun Lough. The Tannery Restaurant and Wine Bar is a gorgeous spot to relax and enjoy delicious food prepared by one of Ireland's finest chefs, Paul Flynn.
A delectable choice of fresh seafood, locally sourced meat and mouth-watering desserts are on offer with a selection of fine wines. The chilled atmosphere will be just what you need to raise a glass to a wonderful weekend in Waterford.
Please note the restaurant and wine bar is closed every Monday.
Address: The Tannery Restaurant, 10 Quay Street, Dungarvan, Co. Waterford