A visit to Ireland would not be complete without a weekend in Kerry. A fantastic county crammed with natural beauty and Irish charm, there is plenty to see in the Kingdom.
Situated in Ireland's southwest province of Munster bordered by Cork and Limerick, Kerry is where a million shades of green meets the Wild Atlantic Way. It is home to friendly locals not to mention Fungie the dolphin, the rare Kerry cow and Puck, a mountain goat crowned King of Ireland once a year.
Here is our ultimate 2-day itinerary for a weekend in Kerry. Prepare for a trip jammed with outdoor excursions, craic-packed evenings and immeasurable beauty.
Day 1
Breakfast in Desire Kitchen, Killarney National Park
Killarney National Park must be explored on a weekend in Kerry and a great place to start your adventure. Desire Kitchen is a cosy little spot that serves a delicious full Irish breakfast as well as granola, pancakes and other meat-free options.
The restaurant is tastefully decorated with lovely staff, and the prettiest tea set I've seen in a while. The menu will leave you satisfied right up until lunch.
Address: Desire Kitchen, 58 New St, Monearmore, Killarney
Killarney National Park
Killarney National Park has so much to discover that packing it into one morning may be a challenge in itself but definitely worth a go.
It is the first national park in the country and is a place of stunning natural beauty and a haven for flora and fauna.
You might want to hire a bike from the town to explore the park on two wheels or book a kayaking adventure on the lakes to take it all in on the water.
Torc Waterfall, Muckross House and Ladies View are all landmarks in Killarney National Park and equally wonderful sights.
Address: Killarney National Park, Co. Kerry
Pub Lunch in Kenmare
To take in some of the best Kerry has to offer it is a good idea to follow the Ring of Kerry. Presuming you have a hire car at your disposal, drive it clockwise to avoid getting stuck behind tour buses travelling the opposite direction.
Pause to admire the view of MacGillycuddy's Reeks, the highest mountain range in Ireland, from Molls Gap before heading to Kenmare (the Head of the Sea) for some pub grub.
There are lots of great pubs in Kenmare but PF McCarthy's has a fantastic lunch menu.
Their traditional Irish Stew is perfect for rainy days or a choice of battered cod or poached salmon are deliciously fresh seafood options.
Address: PF McCarthy's, 14 Main Street, Kenmare
Skellig Islands
For Star Wars fans or Puffin enthusiasts, a trip to the Skellig Islands is a must during your weekend in Kerry.
Back on the Ring of Kerry, drive to the marina in Portmagee to catch a boat to the islands. Walk in Luke Skywalker's footsteps and explore the fascinating Skellig Michael.
For nature lovers try to visit between April and early August to witness the colony of Puffins nesting there.
It is also home to many other seabirds, as well as being a stunning place of natural beauty and historical landmarks.
Address: Casey's Skellig Islands Tours, The Marina, Portmagee
The Ring of Kerry
Continuing back along the ring road there is so much more to admire. Skellig's Chocolate Factory has tasting sessions during high season that may be just the ticket after your island adventure.
There are some gorgeous beaches along the way for a brisk walk or Ross Castle for any budding historians.
The road will take you through Killorglin, host of Ireland's Puck Fair in August before you arrive back in Killarney.
Boxty House dinner in Killarney
There is a high chance you will be pretty hungry by the time you get back to base and dinner at Bricín Restaurant and Boxty House will bring the first day of your weekend in Kerry to a perfect end.
A menu of delectable Irish favourites in a chic atmosphere, it is the perfect spot to raise a glass to your weekend in Kerry. The food is superb and the décor is the perfect fusion of tradition and modern style.
Address: Bricín Restaurant and Boxty House, 26 High Street, Killarney
Day 2
Breakfast to go!
Make the most of the last day of your weekend in Kerry and grab a delicious brekkie to go from Jam Cafe. It has something for everyone, a fantastic selection of fresh bread and tastes to suit little people too.
Chose an array of snacks and drinks before hopping back in the car and on to the next part of your trip.
Address: Jam Cafe, Old Market Lane, Killarney
Road trip to Dingle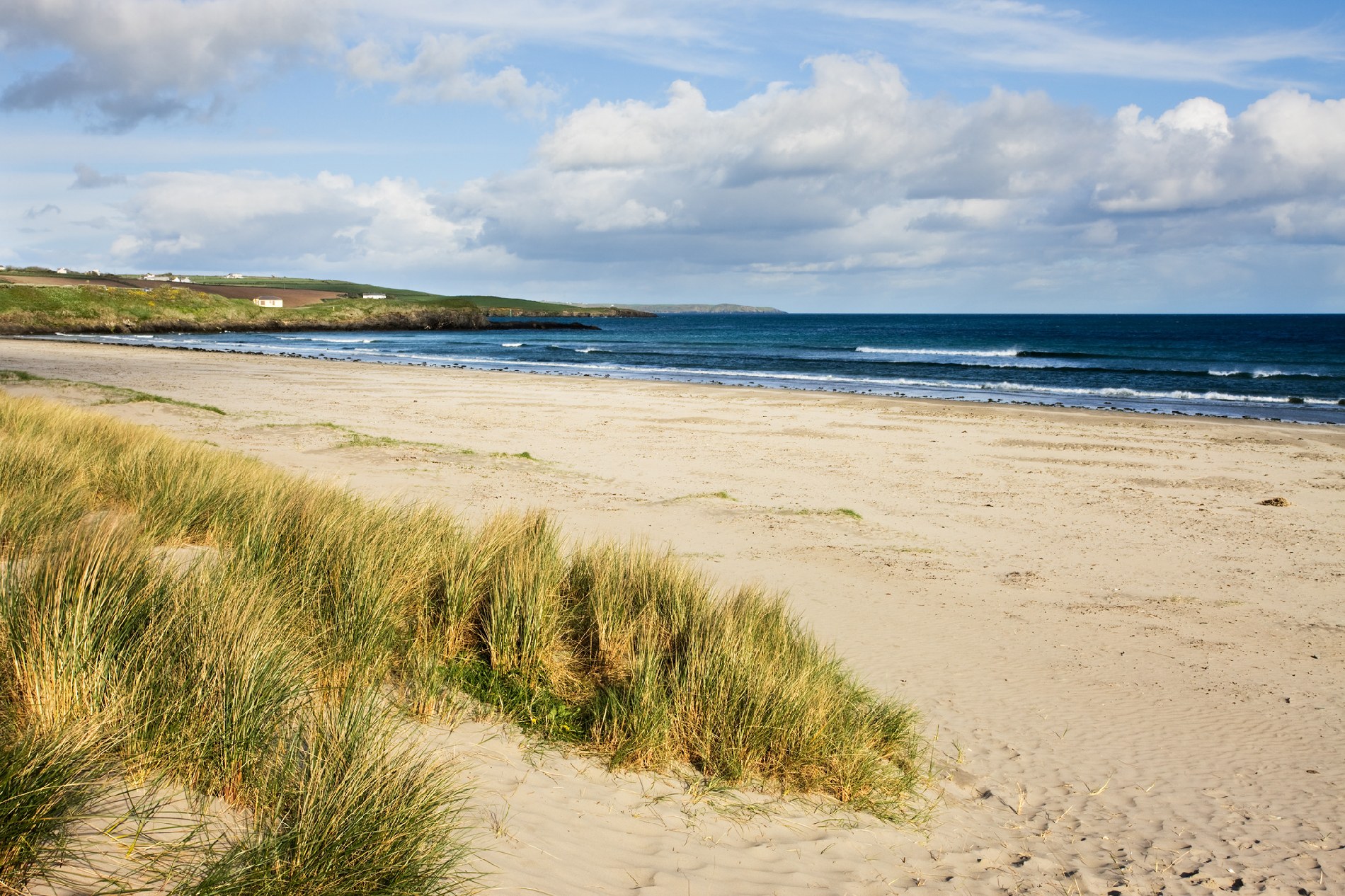 You might think another road trip is not what you fancy during your weekend in Kerry but once you start taking in the sights along the way you will see it from a whole new perspective.
Take time to stop at Inch Beach to stretch your legs. Enjoy the beautiful stretch of sand made famous in the opening scene of the film, Ryan's Daughter.
The 5km beach is great for a surfing lesson or simply for a spot of paddling, sand castle making or a cheeky ice-cream.
Address: Inch Beach, Dingle Peninsula, Co. Kerry
Fungie the Dolphin
A day in Dingle would not be complete without visiting local celebrity, Fungie.
Boat tours leave from Dingle Harbour and give you a chance to enjoy the famous dolphin in his natural habitat.
They are so convinced you will see him that they give a money-back guarantee.
Address: Dingle Dolphin Tours, Dingle Harbour, Co. Kerry
Lunch in Dingle
After a 'fin-tastic' experience at sea enjoy a spot of souvenir shopping in Dingle before deciding on where to lunch.
Sheehy's Anchor Down restaurant will keep you in the nautical mood with a great selection of fish dishes including an incredible Fisherman's Pie.
Address: Sheehy's Anchor Down Restaurant, 3, The Colony, Dingle
Tralee
Once lunch has finished and you have waved one last goodbye to Fungie, drive across the Dingle peninsula and back towards Tralee. Famous for its 'lovely girls' the town hosts the international festival, The Rose of Tralee every year.
That aside, there is lots to do in Tralee for visitors all year round and it's a great place to spend the last afternoon of your weekend in Kerry.
Tralee Bay Wetlands has lots of outdoor activities while the Kerry County Museum is perfect for rainy days. It is a pretty town great for a ramble and has art galleries and churches to saunter through and pass the time perfectly.
Enjoy dinner at Croi either for their reasonable early bird menu or for a late supper. They have a great vegetarian menu but also superb seafood.
Their wine list has been chosen carefully, not to mention their delicious cocktails to end the evening.
Address: Croi Restaurant, 14 Prince's Street, Tralee
One for the Road!
Once back at base (assuming you are staying in Killarney and you have a designated driver) head to Murphy's bar for one final drink to end the ultimate weekend in Kerry.
A pint of the Guinness here is hard to beat and they usually have live music during high season. Sláinte!
Address: Murphy's Bar18, College Street, Killarney