Ulster is Ireland's most northern province, and it is full of places to explore. Here is the Ultimate Ulster bucket list of things you must do here before you die.
From stunning sandy beaches to historic castles, scenic drives to magnificent mountains, Ulster is full of lots of sights to discover.
One of Ireland's four provinces, alongside Leinster, Munster, and Connacht, Ulster is made up of nine counties.
From Donegal to Down and everywhere in between, here are 18 things you need to add to your Ulster bucket list.
18. Portsalon Beach, Co. Donegal – a stunning stretch of sand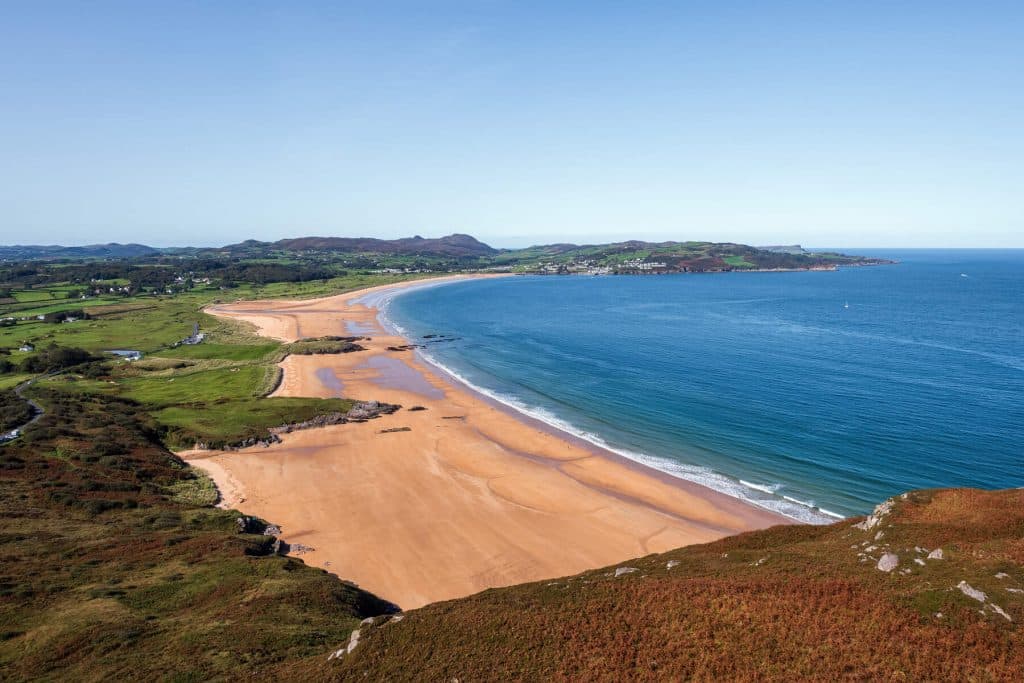 A very extensive sandy beach on the shores of Lough Swilly, Portsalon Beach gently slopes towards the Atlantic ocean.
It is located in a Natural Heritage Area (NHA). You can reach the beach at Portsalon by travelling northeast in the R246 from Carrowkeel to Portsalon.
Address: R268, Killavee, Co. Donegal, Ireland
17. Atlantic Drive, Rosguill Peninsula, Co. Donegal – a must for your Ulster bucket list
The route onto the extremely beautiful and very manageable Rosguill Peninsula starts by the side of the church in Carrigart, 13 km (8 miles) northeast of Creeslough. It passes rabbit-infested dunes at the back of a tremendous and usually deserted beach.
At the top of the strand is Downings, a sprightly holiday centre patronized mainly by Northern Irish tourists. Caravan sites hug the rear end of the beach and holiday chalets creep up the hillside behind the village.
Downings' main street heads northwards to become the panoramic Atlantic Drive, which runs around the headland and makes for a stupendous 13 km (8 miles) walk.
The range of views encompasses the essence of Donegal – rugged landscapes in a constant tussle with the Atlantic Ocean. Sadly, however, this is becoming increasingly blighted by large numbers of new-build houses and caravan sites.
Address: The Atlantic Dr, Crocknamurleog, Co. Donegal, Ireland
16. Slieve League, Co. Donegal – some of the highest sea cliffs in Europe
Slieve League is a mountain on the Atlantic coast of County Donegal, Ireland.
At 1,972 ft (601 m), it has some of the highest sea cliffs on the island of Ireland. Although less famous than the Cliffs of Moher in County Clare, Slieve League's cliffs reach almost three times higher.
Address: Shanbally, Co. Donegal, Ireland
15. Mussenden Temple, Co. Derry – a historic temple on the coast
Mussenden Temple is located in the beautiful surroundings of Downhill Demesne near Castlerock in County Derry.
It perches dramatically on a 120 ft (37 m) cliff top, high above the Atlantic Ocean on the north-western coast of Northern Ireland.
Standing here, you can enjoy spectacular views westwards over Downhill Strand towards Magilligan Point and County Donegal.
To the east, you can see Castlerock beach towards Portstewart, Portrush, and Fair Head. A must-visit on your Ulster bucket list.
Address: Sea Coast Rd, Coleraine BT51 4RH
14. Dunluce Castle, Co. Antrim – one of the most iconic sights in Northern Ireland
Dunluce Castle is located dramatically close to a headland that plunges straight into the sea, along the North Antrim coast. It was historically the headquarters of the MacDonnell Clan.
Archaeological evidence suggests a village surrounded the castle, which was destroyed by fire in 1641.
The site also witnessed the sinking of a colony ship that broke upon the rocks off Islay in 1857 with the loss of 240 lives.
Address: 87 Dunluce Rd, Bushmills BT57 8UY
13. Giant's Causeway, Co. Antrim – one of Ireland's most popular attractions
The Giant's Causeway is proof that Mother Nature provides the most dramatic tourist attractions.
The natural wonder is comprised of around 40,000 polygonal basalt rock columns, formed by the ancient volcanic landscape and stretching along the coastline like a series of gigantic stepping stones.
A Giants Causeway day trip from Belfast is one of the country's most popular excursions, with visitors taking the unique opportunity to walk one of nature's most peculiar pathways.
Address: Bushmills BT57 8SZ
12. Glens of Antrim, Co. Antrim – a stunning piece of countryside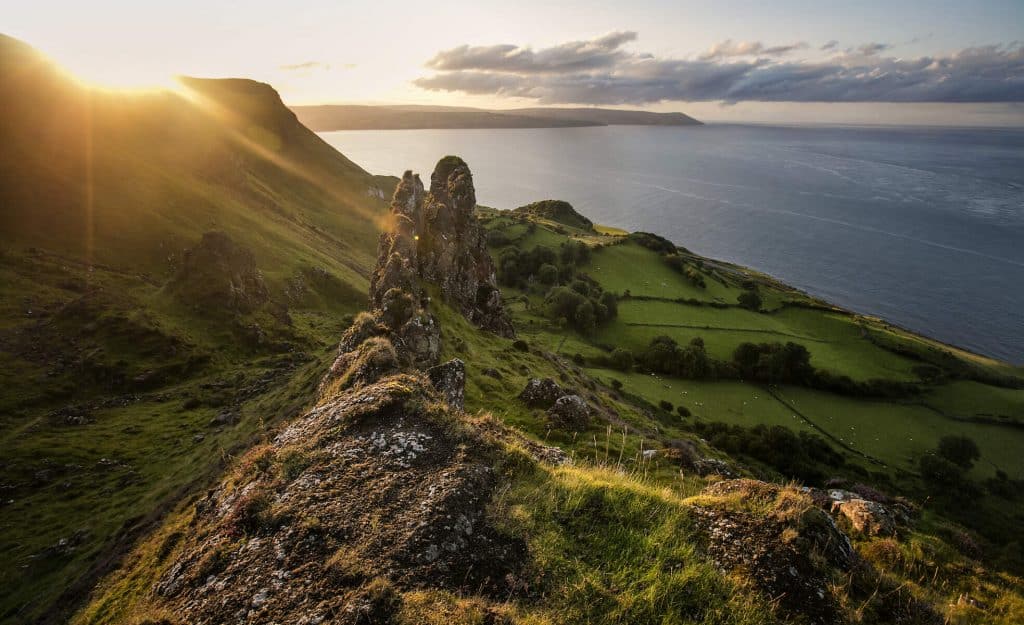 The Glens of Antrim, known locally as simply The Glens, is a region of County Antrim, Northern Ireland. It comprises nine glens (valleys) that radiate from the Antrim Plateau to the coast.
The Glens are an area of outstanding natural beauty and are a major tourist attraction in north Antrim.
The main towns and villages in the Glens are Ballycastle, Cushendun, Cushendall, Waterfoot, Carnlough, and Glenarm.
The inhabitants of the glens are descended mainly from native Irish, Ulster-Scots, and Hebridean Scots. The Glens are mentioned in the song, 'Ireland's Call'.
Address: 4, 8 Shore St, Cushendall, Ballymena BT44 0NA
11. Carrick-a-Rede Rope Bridge, Co. Antrim – are you brave enough to cross?
Carrick-a-Rede Rope Bridge, County Antrim, is a famous rope bridge near Ballintoy.
The bridge links the mainland to the tiny island of Carrick-a-rede. It spans 66 ft (20 m) and is 98 ft (30 m) above the rocks below.
The bridge is mainly a tourist attraction and is owned and maintained by the National Trust. In 2009, it welcomed 247,000 visitors.
The bridge is open all year round (subject to weather), and people may cross it for a fee.
Address: Ballycastle BT54 6LS
10. Crawfordsburn Country Park, Co. Down – a stunning natural attraction
Located on the southern shores of Belfast Lough, Crawfordsburn Country Park plays host to two excellent beaches, spectacular scenery, tranquil walks through wooded glens, and a stunning waterfall.
Crawfordsburn Country Park provides a relaxing natural retreat. Hedgehogs, squirrels, and badgers are just some of the animals that make their home in the woodland glen and when walking along the coastal path, look out for seals frolicking in the waves.
Address: 32 Bridge Rd S, Helen's Bay, Bangor BT19 1JT
9. Mourne Mountains, Co. Down – a hiker's dream come true
The Mourne Mountains are a granite mountain range in County Down. They include the highest mountains in Northern Ireland and the province of Ulster.
The highest of these is Slieve Donard at 2,790 ft (850 m), another one to add to your Ulster bucket list.
The Mournes are an Area of Outstanding Natural Beauty and have been proposed as the first national park in Northern Ireland.
The National Trust owns part of this area, which thousands of visitors travel to every year.
Address: Newry BT34 5XL
8. St. Patrick's Grave, Co. Down – discover Ireland's patron saint
Down Cathedral is a Church of Ireland cathedral located in Downpatrick, County Down. It stands on the site of a Benedictine Monastery, built in 1183.
Saint Patrick's remains are buried in the graveyard. Magnificent stained glass windows, box pews, and a beautiful organ case enhance this interesting building.
Address: 35 English St, Downpatrick BT30 6AE
7. Silent Valley and Ben Crom, Co. Down – magnificent mountain reservoirs
An easy family walk in landscaped parkland with a spectacular mountain backdrop. There is even a restaurant and information centre close to the dam wall.
The walk is steep in places. Walkers can walk another 4.8 km (3 miles) up to Ben Crom reservoir and return on the same route back to Silent Valley reservoir. A regular bus service operates in the summer season to Ben Crom.
Address: Head Rd, Ballymartin, Newry BT34 4PU
6. Beaghmore Stone Circles, Co. Tyrone – discover Ireland's Neolithic heritage
Discovered during peat cutting in the 1940s, the site at Beaghmore consists of seven stone circles. All of the rings are associated with cairns, and a stone row runs towards these cairns.
It is possible that Neolithic occupation and cultivation preceded the erection of burial cairns and ceremonial circles and alignments.
Some irregular lines and heaps of boulders resembling field-fences or field-clearance may predate the ritual structures.
At some stage, peat started to form over the site. The cairns and rows may have been erected in a futile propitiatory attempt to restore fertility to the soil by attracting back the fading sun.
Address: 64-62 Blackrock Rd, Cookstown BT80 9PA
5. Enniskillen Castle, Co. Fermanagh – a historic castle and museum
Enniskillen Castle, situated beside the River Erne in County Fermanagh, was built almost 600 years ago by the ruling Gaelic Maguires.
Guarding one of the few passes into Ulster, it has been strategically important throughout its history. Today, the historic site houses two museums: Fermanagh County Museum and The Inniskillings Museum.
Address: Enniskillen BT74 7HL
You can find this iconic place in the beautiful lake county that is Fermanagh. Devenish Island contains one of the finest monastic sites in Ireland.
A round tower thought to date from the 12th-century is situated on the island. You can also visit the walls of the Oratory of Saint Molaise, who established the monastery in the 6th-century on a pilgrim route to Croagh Patrick in County Mayo.
It became a centre of scholarship and, although raided by Vikings in 837 and burned in 1157, it later flourished as the site of the parish church and St Mary's Augustinian Priory.
Address: Enniskillen
3. Dún na Rí Forest Park, Co. Cavan – Cavan's number one tourist attraction
Voted Cavan's number one tourist attraction on TripAdvisor, the 565-acre Dún na Rí Forest Park is a must-add to your Ulster bucket list.
Located just outside Kingscourt along the banks of the River Cabra, this forest features a dramatic gorge embracing part of the Cabra Estate, formerly owned by the Pratt family.
The Romantic Glen of the Cabra River, stretching the full length of the park, is an area steeped in history and legend.
It is said that Cuchulain camped there at night. While, by day, he conducted his single-handed defence of Ulster against the armies of Maeve. The Normans were also here, and, in later years, the glen echoed to the sounds of Cromwell's armies.
Address: R179, Mullantra, Kingscourt, Co. Cavan, Ireland
2. The City Walls, Co. Derry – take a walk around the Walled City
The Derry City Walls rank number one attraction on Trip Advisor to date for scenic/historic walking areas.
Customers write, "We were very moved by the way our guide was implacably neutral in his description of the causes of the troubles, and we left having our views changed for good.
"This is a complicated part of the world, and our guide brought it to life for us. He was very articulate, had a great sense of humour, and answered our questions in an intelligent manner. This tour is a must."
Address: The Diamond, Londonderry BT48 6HW
1. Castle Leslie Estate, Co. Monaghan – a magnificent country house
Castle Leslie Estate, home to an Irish branch of Clan Leslie, is both the name of a historic Country House and a 1,000-acre estate adjacent to the village of Glaslough.
You can find this Ulster bucket list spot 11 km (7 miles) northeast of Monaghan town in County Monaghan.
Address: Castle Leslie Estate, Glaslough, Co. Monaghan, Ireland