If you want to experience a traditional Irish night in Belfast then look no further than this page. We have put together a pub crawl with some of the best traditional pubs where you can drink the best Guinness whilst listening to traditional music! Make sure you have a good feed before attempting this and stay hydrated. And, most importantly, enjoy yourself!
1. Lavery's
Starting at Lavery's, this is a Belfast classic suitable for people of all genres. Downstairs is a traditional pub with Sports on TV and usually acoustic sessions by local musicians. Whilst upstairs, there is pool tables, a roof terrace and on the weekends it opens into a nightclub venue.
2. The Five Points
Moving on from Laverys, walk down the Dublin Road to The Five Points. This bar is one of Belfast's newest venues in the city centre but has quickly established itself as an excellent place for a drink. It is an exceptional place to catch a traditional Irish band play while you sip a cold pint of the black stuff.
3. The Crown Bar
Moving on from The Five Points, head to The Crown Liquor Saloon. Located on Great Victoria Street, this is probably Belfast's most famous bar. Enjoy a drink here and take in the excellent atmosphere.
4. Robinsons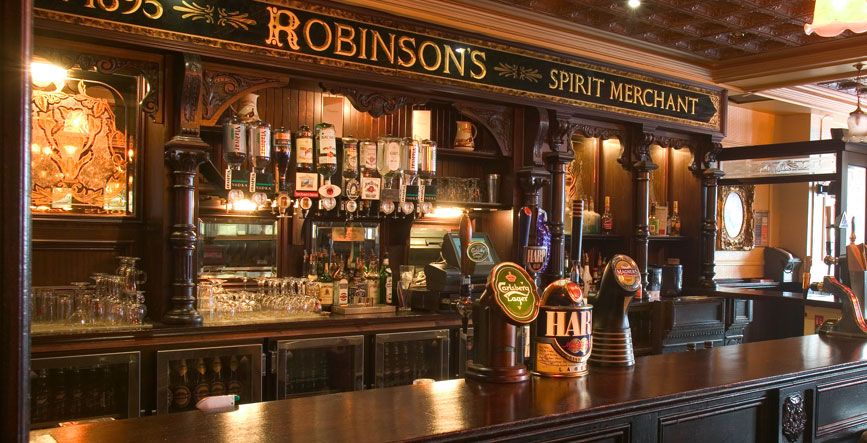 Just meters away from The Crown, Robinsons Bar is one of Belfast's longest established bars and provides great choice with a number of different themed rooms in the venuw. Grab a seat and one of the many drinks on offer.
5. Maddens Bar
Moving on from Robinsons, we head for Maddens. This little off-the-beaten-path bar is quite the find in Belfast. Non-touristy and incredibly local, you'll see all sorts of local wall decorations. The atmosphere has just the right amount of grunge and there is live Irish music every night. It has a great range of drinks and has an amazing fireplace to add to the atmosphere.
6. Kelly's Cellars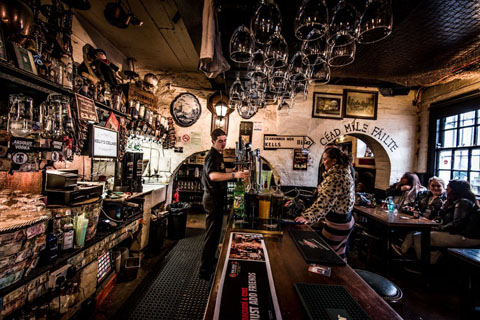 Just round the corner from Maddens is Kelly's Cellars. This is one of Belfast's most historic and best pubs. It remains resolutely old-fashioned, with a vaulted ceiling and elbow-worn bar and is crammed with bric-a-brac.
7. Whites Tavern
Moving on from Kelly's, we find this historic 17th-century tavern, Whites Tavern. It enjoys an established reputation for fine home cooking. Live music. Listed in A Taste of Ulster Guide, Whites Tavern proudly lays claim to being the oldest tavern in Belfast. The atmosphere is easy going and friendly, with traditional peat burning fires and many old Belfast artefacts on display.
8. The Duke of York
Moving on from Whites, head towards the Cathedral Quarter and find The Duke of York. The Duke offers a traditional Belfast welcome of craic, music and humour in contrast to the modern fashionable establishments currently blowing into the surrounding streets. It is one of the most popular bars in Belfast so you might not find a seat here but there is loads of room outside in the amazing cobbled street.
9. The Harp Bar
Just round the corner from The Duke is The Harp Bar. It is a proper public house for the mature drinker selling crisps, dulse, coffees, independent draught beers and extensive whiskies and at all times "Belfast Craic" with a huge heart. Enjoy the live music venue on two floors while you enjoy a pint of the black stuff.
10. The Dirty Onion
Just down the street, you will find The Dirty Onion. The Onion is one of the newest bars in the Cathedral Quarter but located in one of Belfast's oldest buildings – dating back to 1780. Celebrate the end of your bar crawl here in the amazing outdoor beer garden.
Get featured on Ireland Before You Die
Do you want to get your Irish business more online exposure? Especially to those interested in travelling the best places in Ireland? Then why not get a dedicated feature on Ireland Before You Die. Find out more 
here.