For golfers who enjoy a majestic backdrop, we've rounded up the top 10 most scenic golf courses in Ireland.
With around 300 courses spanning the far stretches of the Emerald Isle, golfing enthusiasts are spoiled for choice as to where to play.
The island of Ireland's small size and dramatic scenery make it a great place for golf trips. Being super accessible and offering some of the most stunning course-side backdrops you could imagine, golfers are in their element when playing in Ireland.
For those of you who revel in the majesty of a dramatic backdrop while taking a swing, here are 10 scenic golf courses in Ireland.
10. Royal County Down Golf Club – for a postcard-worthy landscape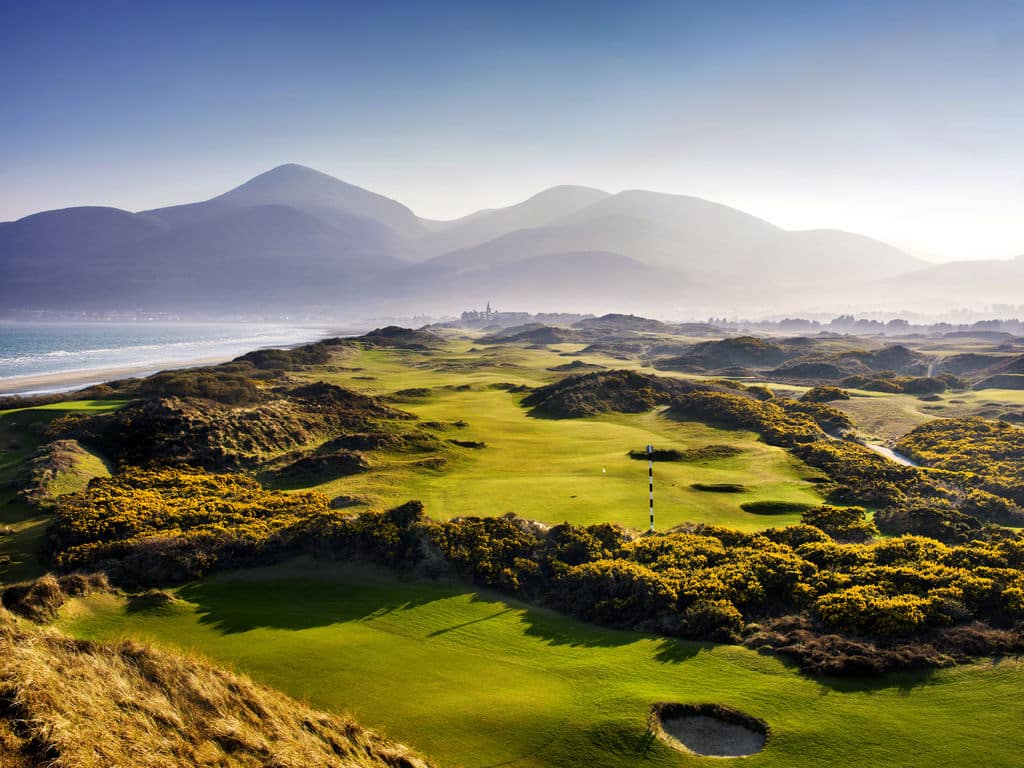 Located in Northern Ireland, this striking golf club is as postcard-worthy as they come.
As one of the oldest golf clubs on the island of Ireland, this course is steeped in heritage and has seen some world-class players take a swing or two.
Address: 36 Golf Links Rd, Newcastle BT33 0AN, UK
9. The County Sligo Golf Club – for an oceanside backdrop
Founded in 1894, this stunning 18-hole stretch is the perfect backdrop to play against on a sunny day on the Emerald Isle.
Located on Rosses Point, which stretches out into the Atlantic Ocean, this course is blanketed by endless views of the wild sea.
Address: Rosses Point, Co. Sligo
8. Waterville Golf Club – for a wild and weathered terrain
Waterville is one of Ireland's most celebrated golf courses. Located in South Kerry, this world-ranked course has attracted top names in the world of golf.
Expect a challenging terrain, which is wild and weathered by nature and the elements over centuries, while overlooking the Atlantic Ocean, which laps the shores beyond the green.
Address: Murreagh, Waterville, Co. Kerry
7. Adare Manor – for a luxurious castle setting
This five-star castle estate may be one of the more salubrious settings for a weekend away, but its golf course is truly the icing on the cake.
The luxurious appeal of this hotel extends far past its hospitality and offers a premium golfing experience to those keen for the sport.
The course is set against the backdrop of the enchanting manor, which sits on an impressive 840-acre estate. Needless to say, this is one of the most scenic golf courses in Ireland.
Address: Adare, Co. Limerick, V94 W8WR
6. Lahinch Golf Club – for nature enthusiasts
Lahinch Golf Club in County Clare is a haven for nature enthusiasts who love to enjoy awe-inspiring scenery while taking a swing.
The 18-hole course is considered one of the finest in Ireland, too. It is home to the Irish Dubai open in 2019 and has been ranked time and again as being a champion course.
Address: Dough, Lahinch, Co. Clare
5. Portmarnock Golf Club – for a serene seaside course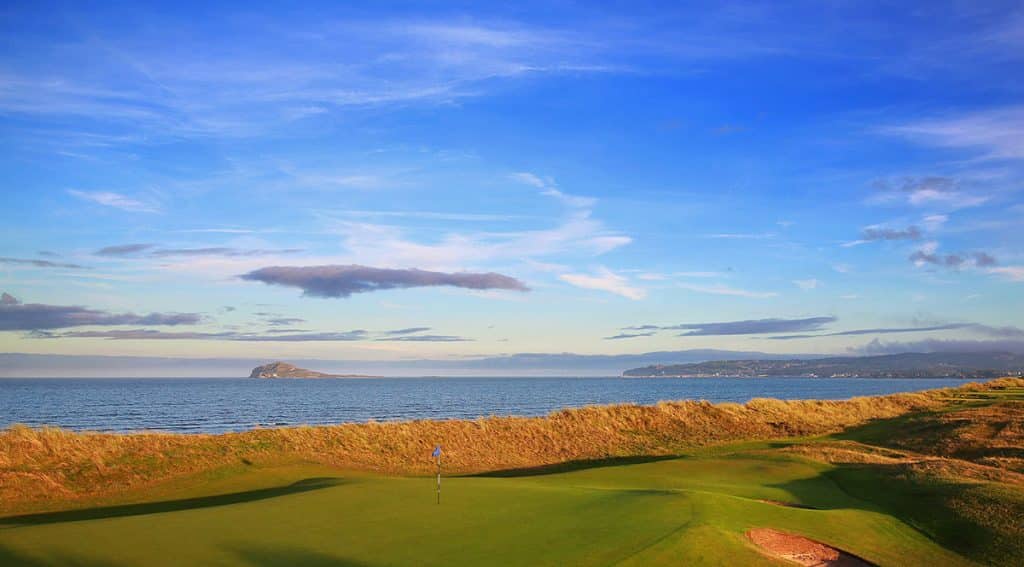 If spellbinding views of the sea, which sits snug beside the course, sounds like your cup of tea, the Portmarnock Golf Club in Dublin is bound to impress.
The scenic and serene setting is the perfect place to hit some balls and enjoy the beauty of a sunset over the Irish Sea.
Address: Golf Links Rd, Stapolin, Portmarnock, Co. Dublin, D13 KD96
4. Ballybunion Golf Club Kerry – for sand dunes and breathtaking scenery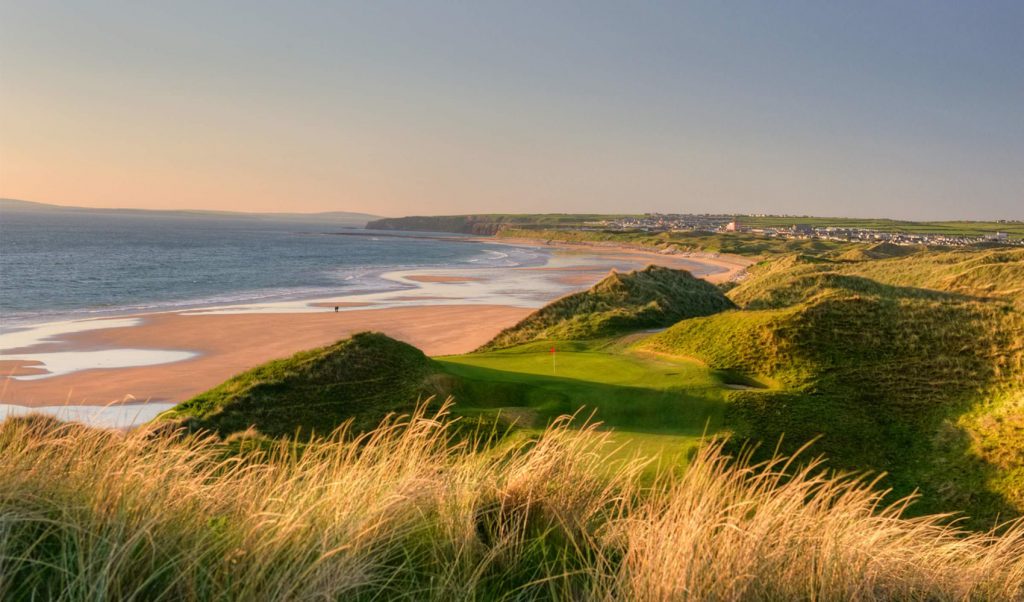 This epic golf course is located in County Kerry. Offering nature and beauty in abundance, golfers will revel in their surroundings of sand dunes and a course that overlooks the wild Atlantic Ocean.
With breathtaking views stretching as far as the eye can see, this is definitely one of the most scenic golf courses in Ireland.
Address: Sandhill Rd, Ballybunion, Co. Kerry
3. Royal Dublin Golf Club – for panoramic views of Dublin Bay
Located in the lush surroundings of Bull Island in Dublin is the Royal Dublin Golf Club.
This 18-hole private members' club sits in one of the most stunning settings and offers panoramic views of Dublin Bay, the surrounding leafy suburbs and the sparkling Irish Sea.
Address: Clontarf East, Dublin
2. The European Golf Club – for dreamy surroundings
This 20-hole golf course in County Wicklow prides itself "as one of the last great links courses to be built in the 20th century."
Set in striking surroundings in the "garden of Ireland" (the colloquial nickname for Wicklow), this course has been ranked time and again as one of the island's best.
Not to mention it is also dreamy, with rugged landscapes, sea views, and nature in full bloom.
Address: Ardanairy, Brittas Bay, Co. Wicklow
1. Old Head Golf Links Cork – for the ultimate scenic golf course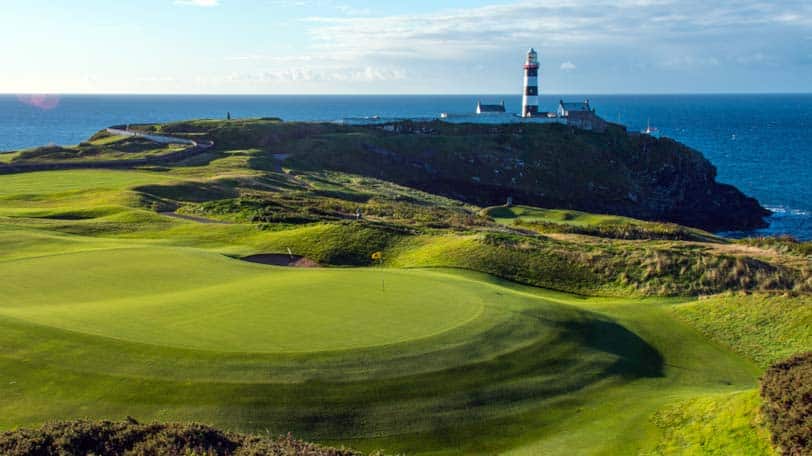 The Old Head Golf Links Cork has got to be the ultimate scenic golf course in Ireland. Recognised as a world-class course, the course draws big names in the sport and is certainly bucket-list material for golfing enthusiasts.
Expect stunning views as this course sits on a peninsula that juts out into the wild Atlantic Ocean, offering awe-inspiring views of the surrounding cliffs as the sea crashes below.
Address: Downmacpatrick, Kinsale, Co. Cork
Get featured on Ireland Before You Die
Do you want to get your Irish business more online exposure? Especially to those interested in travelling the best places in Ireland? Then why not get a dedicated feature on Ireland Before You Die. Find out more 
here.