The best Irish rock bands of all time have historically punched far above their weight in the music world.

Over the decades, there have been many Irish bands who have successfully transcended to worldwide stardom thanks to their incredible musical talents.
They have wonderfully and successfully represented Ireland in the world music scene. In this article, we will list what we believe are the top ten best Irish rock bands of all time.
10. Skid Row − introduced some famous musicians to the world
While today most people remember this band for introducing Gary Moore before then 'donating' their name to the more successful American band, they are still deserving of attention.
This is thanks to their excellent albums Skid and 34 hours, which were recorded with original vocalist Phil Lynott of Thin Lizzy.
9. Therapy? − a band that has experimented with different musical genres
Therapy? are an alt-metal band that has never been afraid to be experimental as they have regularly expanded their sound. They have taken on board gothic, grunge, and punk instincts over the years.
Their albums Troublegum, Infernal Love, and Suicide Pact are all well worth a listen for any rock fans out there.
8. Them − the band that launched Van Morrison's career
While the band was quite short-lived, they certainly left their mark on the musical world as they were credited with launching Van Morrison's career.
They were also cited as a big influence on The Doors thanks to the band's combination of R&B, Pop, and an Irish showband style.
7. Stiff Little Fingers − pure punk awesomeness
For six years from 1977, the band Stiff Little Fingers perfectly captured and encapsulated the true essence of punk anger in all its awesome musical glory.
Their albums Inflammable Material and Nobody's Heroes have stood the test of time, and the message within the songs remains as clear and relevant today as it did back then.
6. The Boomtown Rats − a band that found popularity in both Ireland and the UK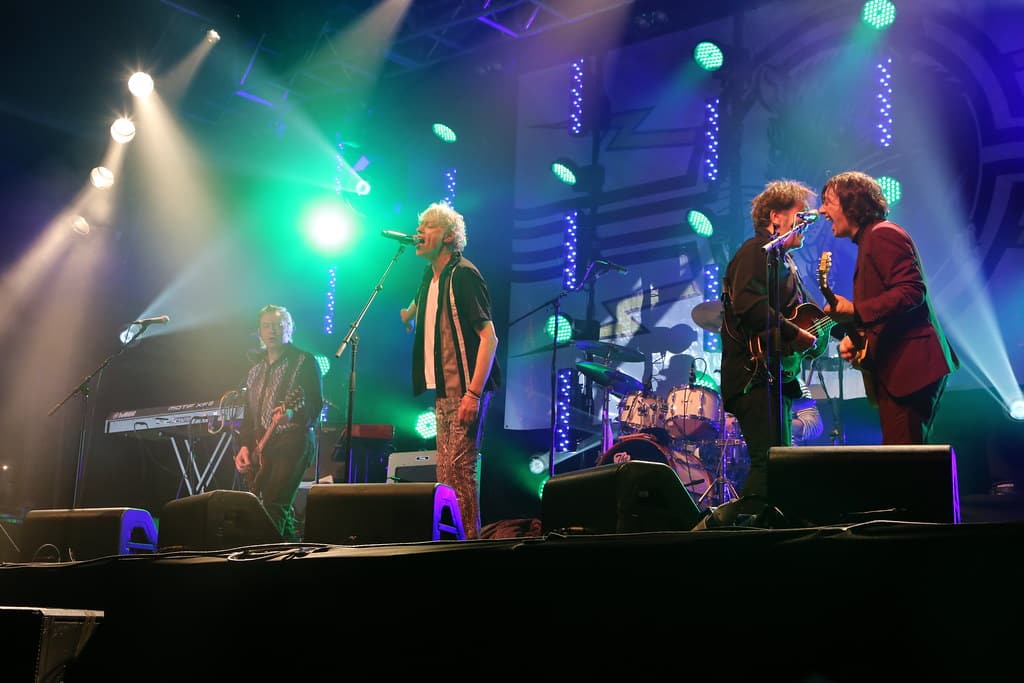 The Boomtown Rats originally formed in Dublin in 1975, and between 1977 and 1985, they had several successful hits in the UK and Ireland.
This was thanks to songs such as 'Like Clockwork', 'Rat Trap', 'I Don't Like Mondays', and 'Banana Republic'. While they broke up in 1986, they have since reformed in 2013.
5. The Undertones − famous for 'Teenage Kicks'
While they went on to have a reasonable amount of success, they never recaptured the heights of their hit 'Teenage Kicks'.
Regardless, the other tracks on their first two albums, The Undertones and Hypnotised, are still well worth listening to. If for nothing else than to simply appreciate the quality of frontman Feargal Sharkey's performance.
4. Horslips − the fathers of Celtic rock music
Horslips are often regarded as being the fathers of Celtic Rock, and while they released eight albums in eight years, they only had limited success during their initial time together.
Their music was often a fusion of both rock and folk, which made their sound quite distinctive.
They were also unique for using legendary tales from Irish history to create themes for each of their records. 'Dearg Doom' continues to be one of the most iconic tracks of the rock era.
3. The Cranberries − a brilliant alternative rock band
The Cranberries are without a doubt one of the best Irish rock bands of all time, known all around the world.
While the band was initially formed in 1989 by lead singer Niall Quinn, it became more established and popular when the late great Dolores O'Riordan took over the role of lead singer in 1990.
The Cranberries class themselves as an alternative Irish rock band who also tend to incorporate aspects of post-punk, Irish folk, Indie pop and pop-rock into their sound to produce brilliant results.
2. U2 − one of the most famous bands in the world
While Bono, who is one of the most famous Irish people of all time, can be somewhat of a polarising figure, there is no denying the influence that he and his band U2 have had on the music scene not just in Ireland but the whole world as well.
They have produced some electrifying music over the decades that have been popular all over the world.
While they initially had quite a bit in common with punk, they have since gone on to explore many different musical genres and produced quality albums.
These include Boy, War, The Unforgettable Fire and The Joshua Tree, plus the live album, Under A Blood Red Sky.
1. Thin Lizzy − the best Irish rock band of all time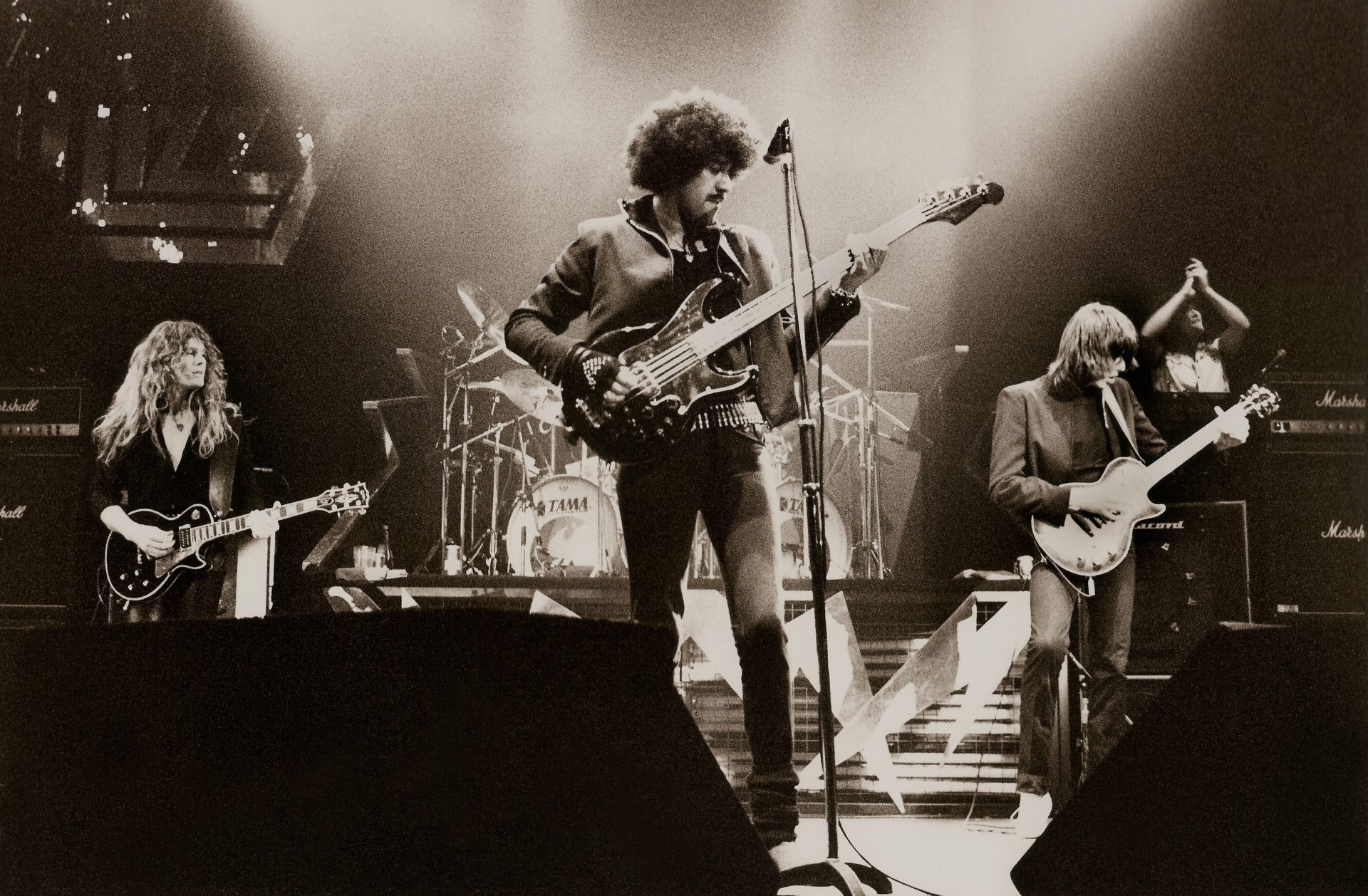 In first place in our article of what we believe are the top ten best Irish rock bands of all time is the incredible Thin Lizzy.
With a plethora of great albums such as Johnny The Fox, Jailbreak, Black Rose and Thunder and Lightning, amongst many more, there is no doubting the talent and genius of the band, which was expertly led by the legendary Phil Lynott.
Lynott is considered by many to be one of the best Irish musicians of all time. His talent cannot be understated.
That concludes our article on what we believe are the top ten best Irish rock bands of all time. How many of them were you familiar with, and which is your favourite?
Other notable mentions
The Frames: Irish rock band The Frames owes a lot to its enigmatic frontman, Glen Hansard.
Fontaines D.C: Fontaines D.C. is an Irish post-punk band formed in Dublin in 2017.
The Pogues: With Shane MacGowan as their frontman, The Pogues are legendary in the world of Celtic punk and rock bands. Shane MacGowan is a legendary Irish singer known all over the world. Who doesn't sing 'Fairytale of New York' at Christmas?
Little Green Cars: Conor O'Brien told Gigwise that Little Green Cars, an indie-rock band formed in 2008, are one of the most exciting bands currently working in Ireland.
FAQs about Irish rock bands and musicians
Who is the most famous solo Irish singer?
Many people believe Enya to be the most famous solo Irish singer.
What is Ireland's most famous band?
The most famous Irish band around the world would be U2.
When was Thin Lizzy's 'Whiskey in the Jar' released?
The very popular song by Thin Lizzy was originally released in 1996.