Is there anything better than a full Irish breakfast? Here are the facts and history you didn't know. Now, who else is feeling hungry?
Few things in the world can make an Irish person feel like they are at home as a full Irish breakfast can. Some people call it a full Irish and some people call it a fry, but if you are hungover after a night of drinking, or you need some comfort food to remind you of home, there is no other food an Irish person would ask for.
On the outside, it might just seem like a bunch of pork products on a plate with some eggs and other random veg, but, when prepared by an Irish Mammy, these seemingly simple ingredients are combined into a dish bursting with flavour, happiness, and memories.
History
The full Irish breakfast was traditionally designed as a meal to keep farmers full throughout the day and to provide them with enough energy to tackle all the challenges they may face on a cold, wet Irish winter's day. However, it is also cold and wet in the summer, but I digress.

The full Irish breakfast is traditionally prepared all in one pan and cooked in a healthy lump of real Irish butter. The ingredients used were traditionally either homemade, straight from the farm, or else sourced from the local area.
Ingredients
When it comes to the ingredients of a full Irish breakfast it will vary a lot from household to household, depending on what part of the country you are from, and what you have grown up with, but here are the generally considered staples of the full Irish breakfast:
Bacon or rashers
Sausages
Fried eggs
Black pudding
White pudding
Mushrooms
Tomato
Baked beans
Fried potatoes
Soda bread
Real Irish butter
Breakfast tea (Barry's or Lyon's)
Orange juice
How to cook
The method for cooking a traditional full Irish breakfast is relatively straightforward. Everything is cooked in the one pan, one at a time. Once each piece of the meal is cooked, it is placed on a warm plate in the oven to be kept warm.
The meat is generally cooked first and then the veg, the potatoes, and finally, the eggs. The only piece of the meal that gets special treatment is the beans as they are thrown into a separate small pan and left to heat up on the side.
Possible variations
At the end of the day, it is all down to personal preference. The above are the traditional ingredients of a full Irish breakfast. Some variations of the classic recipe include grilling instead of frying. Some people will grill the food instead of frying it to try and make it healthier. Some people fry their bread, some people toast it, and some don't have any bread at all.
Some people replace the tea with coffee and juice with water. Controversially, some people also replace the fried potatoes for chips, but others will see that as a crime against Irishness, so be careful who you say it around.
What not to do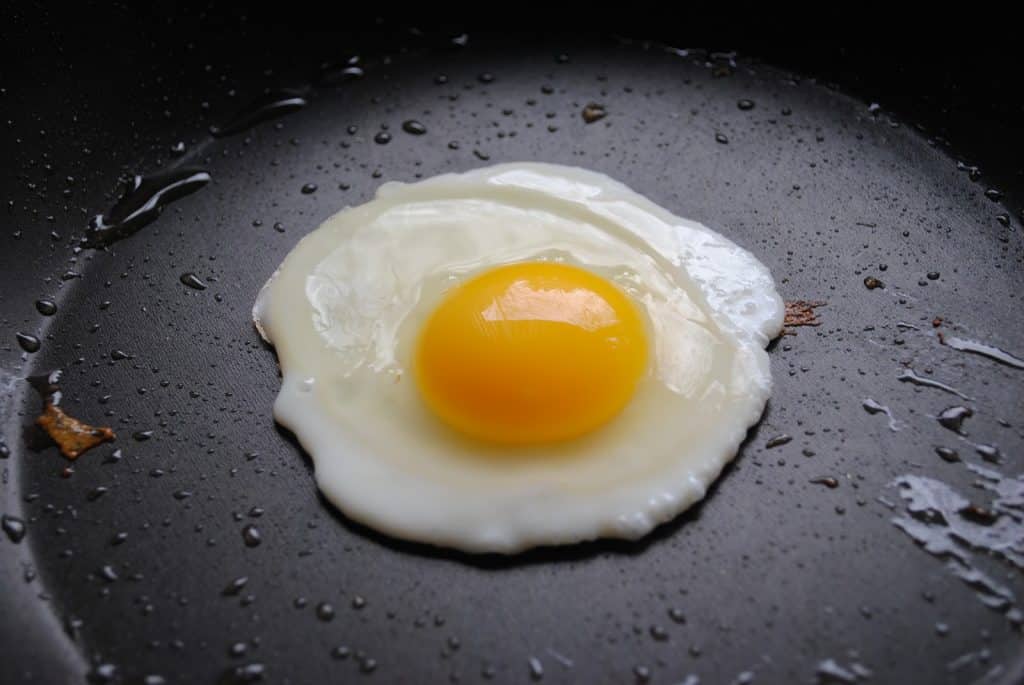 Even though there is a lot of personal preference when it comes to a full Irish breakfast, there are also a few things that are considered morally wrong.
The first thing is that the yoke of the fried eggs should always be runny. There is no place for hard eggs, scrambled eggs or any other type of egg when it comes to a traditional full Irish.

Another big sin regarding full Irish breakfast is if you are making it for someone else, don't let their beans touch their eggs unless you are sure that they are okay with that. For some people, the baked beans touching the fried eggs on their plate is enough to ruin the whole fry!
Where to get
Now that you are hungry and dreaming about a full Irish breakfast, you will be dying to know some of the best places in Ireland to get a fry. Here are our top picks.
Tony's Bistro, North Main Street, County Cork

Shannon's Corner, Ballyshannon, County Donegal
Matt the Rashers, Kimmage, Dublin

Brendan's Café in Smithfield, Dublin

The Snug, Bantry, County Cork
Primrose Cafe, Derry

Stradbally Fayre, Stradbally, County Laois
Frequently Asked Questions (FAQs)
1. How many calories are in a full Irish breakfast?
An average full Irish breakfast can contain up to a whopping 1,300 calories or more depending on how the ingredients are cooked and the portion sizes.
If you're aiming for a more calorie-controlled dish, we suggest you grill opposed to fry ingredients and go for one of each item (e.g. one sausage) opposed to two!
Meat-free Irish breakfasts can contain similarly high calories, so again opt for healthier cooking methods and smaller portion sizes if you're looking to keep the calorie content down.
2. What is the difference between a full Irish breakfast and a full English breakfast?
Irish and English breakfasts follow a similar suit with little differentiation. One clear contrast, however, is that while white pudding is seen as an optional addition to an English breakfast, it is considered an essential in an Irish breakfast.
3. What other names are there for a "full Irish breakfast"?
In Ireland, we commonly refer to an Irish breakfast as "a fry", "a fry up" or in the north, "an Ulster Fry".
4. Is a "full Irish breakfast" the most common thing to eat for breakfast in Ireland?
No! The most popular breakfast meal consumed by Irish people is simply bread or toast (most commonly served with butter or jam).
Although full Irish breakfasts are wildly popular, we can see why they may not be the most frequently consumed due to their calorie count!
5. Where can I learn more about Irish breakfasts?
Luckily, we have lots of content on full Irish breakfasts; read on to learn more!
If you are looking to learn more about traditional Irish breakfasts, you will find these articles really helpful:
10 things you need to know in order to make the perfect Full Irish Breakfast
5 Best Places For A Full Irish Breakfast In Galway
The 5 Best Places For A Full Irish Breakfast In Athlone
5 Best Places For A Full Irish Breakfast In Skibbereen
The 20 best places to get a Full Irish Breakfast in Ireland