Ah Kilkenny! A Medieval city of castles, cathedrals and folklore, it also has strong GAA connections and is one of the 'big three' in hurling. Not only that, it is home to some of the best beers in the country and some cracking nightlife.
In a nutshell, Kilkenny is a thriving community full of character and adventure and it would be a shame not to stop by on a visit to the Emerald Isle. With lots of festivals and parties all year round we look at the best places to take a breather over a simple (yet tasty) pizza and mull over your bucket list.
There are so many great restaurants and gastro pubs to visit, you will be spoilt for food choice but here are our top five places to grab a pint and a slice.
5. The Garden Room, Langton's
This is not your everyday pizza place I know, but you can't visit Kilkenny without eating at Langton's at least once. It is always top notch and never disappoints.
The Garden Room Restaurant serves a charming lunch and yes, it has traditional stone baked pizza on the menu. They may be slightly over pizza budget but you won't regret spending an afternoon here.
A legendary spot in the heart of the city this charming space is ideal for groups. It is bright and airy inside with the option of eating al fresco on the terrace. The food is always delicious and served with a smile. Just make sure to leave room for some brown bread ice cream for desert.
4. Italian Connection
You can't beat a family run restaurant for good food and an Italian family run restaurant for good pizza! Italian Connection speaks for itself and serves fresh authentic Italian food for a very reasonable price.
As you step in, leaving the brisk Irish air behind, you are transported into something resembling a movie set. Large portraits of influential Italians adorn the walls and the dark wooden tables set the scene with dim lighting.
Once your eyes adjust you can sit back and relax (you're still on Irish time after all!) and decide which tempting pizza to choose from the menu. A Connection salad makes a great side dish to share and the coffee? Well, let's just say, nobody does it like the Italians!
3. La Rivista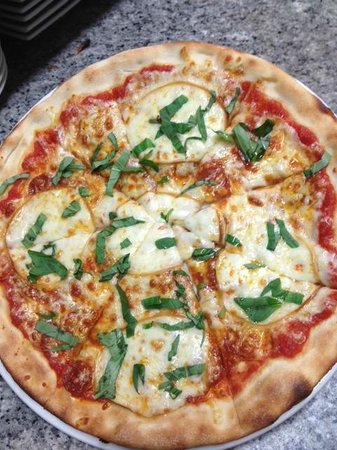 Many people visit Kilkenny for the Smithwick's experience on Parliament Street. This is often followed by a strong urge to 'make a day of it' and hit the pub but wait! To avoid making the terrible mistake of lining your stomach with nothing but ale why not drop into La Rivista down the road for some super soakage?
They are very proud of their fusion of Italian and Irish cuisine and so they should be. They bring some of the freshest ingredients together to produce a mouthwatering choice of dishes.
Their pizzas are no exception and have a lovely thin base and juicy toppings. And for those with a sweet tooth, the Crunchie Bar Cheesecake is a must … it is the chef's own creation so it would be rude not to.
2. La Trattoria
A favourite among locals this authentic little Italian is a very popular pizza stop. And if it's good enough for them, well you know the rest. An Italian chef, super fresh ingredients, authentic recipes and enough garlic to keep the vampires away for a very long time, this tantalising menu is hard to pass in Kilkenny.
Nominated for Best World Cuisine in this year's Irish Restaurant Awards, La Trattoria certainly gets the thumbs up from us. The pizzas are delicious and the vegan option goes perfectly with one of their crisp salads.
So for a real Italian experience and food cooked by Kilkenny's only true Italian chef, then check out this gem of a spot. You are sure to bump into some locals to guide you on where to go next.
1. Sullivan's Taproom
This fantastic eatery takes pizza and beer to a whole other level. They have an enormous wood fire oven to cook their tasty creations to perfection and a selection of craft beers, not to mention Sullivan's own Ale. This perfect combination makes the Taproom our number one.
Dating back more than 300 hundred years Sullivan's brewery is steeped in history and certainly knows a thing or two about ale. The Maltings Red Ale is brewed by local experts and is lip-smacking good. Check out its 'Best Ale in the World' award if you don't believe us!
The courtyard is the perfect spot to enjoy a super deal of pizza and a pint for just 13euro while soaking up the atmosphere of Kilkenny at its best. The staff are bursting with fascinating facts so you are sure to leave feeling the love for this medieval city. Not just a pizza stop, Sullivan's Taproom gets the whole package just right.