These are the best Christmas Markets you can go to in Ireland.
Silly season is upon us which means its time to don your best Christmas jumper and embrace the festive mood at one of the many magical Christmas markets on around the country right now.
With so many to choose from, we've picked 5 of the best which guarantee a good time full of incredible food to feast on, delicious eggnog that will bring out the festive side even in the biggest grinch you know and lots more seasonal activities. Only those who've been good will meet Santa though so make sure you're on your best behaviour!
1. The Galway Christmas Market 'Christmas in Galway'
Eyre Square is in the heart of Galway City and is full of atmosphere and craic all year round but make sure you're there to witness it transform into a magical Winter Wonderland this Christmas. The Galway Christmas Market attracted over 350,000 visitors last year alone and is something you don't want to miss this festive season.
The highlights this year include the 32m high Ferris Wheel and other amusements along with live music performances, puppet shows and carol singing. The Food lovers among us can feast on a wide choice of artisan treats.
Literally drink in the atmosphere with a traditional German Beer or a warming cup of Mulled Wine. Take the little ones to see Santa in the Grotto which is being run this year by the Galway branch of ISPCC and Enable Ireland.
The market runs from the 16th November until the 22nd December and doors are open from 12pm-8pm Monday to Wednesday and 10am to 10pm Thursday to Sunday. Entrance is free.
2. Belfast Continental Christmas Market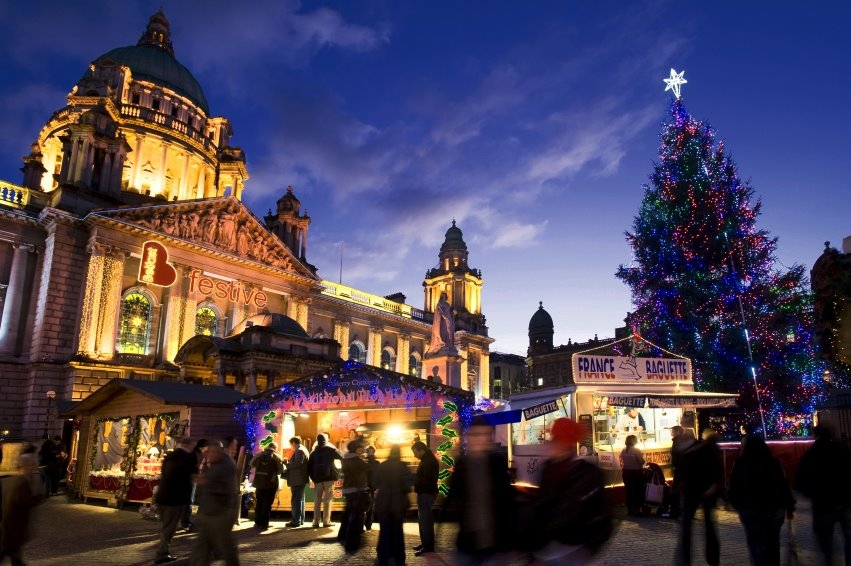 A visit to this beautiful Christmas Market at City Hall Belfast feels like stepping into an Austrian Alpine village. The market is dotted with over 90 little wooden chalets, each serving wonderful cuisine from a different corner of the globe as well as delicious hot chocolate and handmade goods.
Take the kids to Santa's Grotto where they can pass on their Christmas wish and meet the man himself before he heads back to the North Pole. All proceeds go to local charity Pretty 'n' Pink.
This market runs from November 12th until December 22nd and opens 10am-8pm Monday to Wednesday, 10am-10pm Wednesday to Saturday and 12pm-6pm on Sundays.
3. Winterval Waterford
Ireland's oldest city hosts transforms into a Christmas Festival extravaganza every year packed with lots of fun events for everyone to enjoy, including their exciting Christmas market. This is not just a market however as the festival includes ice skating, light shows, an interactive sleigh, the 'Waterford Eye', Santa's Grotto, the Winterval Express train and much more.
For something a little bit different, visit the exploration dome and experience a series of Digital 360° movies about everything from the stars and the moon to the creation of snow. This is not something every Christmas Market has to offer.
The Market, full of amazing food, drink and Christmas present ideas, is located in Arundel Square Market and is open from 12noon until 7pm. It is open on all weekends from the 17th November until the 23rd December and other select dates which you can check out on their website.
4. Glow: A Cork Christmas Celebration
The Rebel county's capital city is a must see at any time of the year, but there's something special about the atmosphere that this wonderful Christmas celebration brings. As the name of this festival suggests, the city really does light up and embrace the joy of Christmas.
The City's Grand Parade and Bishop Lucey Park host the seasonal markets and an illuminating light installation that must be seen to be believed. Visitors can also take in Cork City at new heights on the special Christmas Ferris Wheel, and when they are ready to come back down to earth, they can enjoy a vintage carousel ride, fine foods and plenty of musical entertainment.
The festival begins on the 30th of November and runs on selected dates until the 22nd December. Check out their website for more details.
5. Wicklow Christmas Market
Wicklow Christmas is set within the magical and historical Abbey Grounds in the Town Centre and is packed full of exciting stalls to put you in the Christmas mood. The market offers everything from fine food, beverages, artisan crafts and decorations, an opportunity to meet Santa and lots of fun-filled workshops.
The highlight of this market if you ask us is the unique Alpaca experience. Adults and Children will get the opportunity to meet and mingle with some fluffy little Alpacas. Sounds like fun!
The market runs every weekend throughout December starting on the 8th December and opens from 12-6pm. This is a non-ticketed event, so everyone is welcome to along and enjoy a day to remember!