Dublin, the capital of Ireland, is a vibrant city. It is famous for its love of Guinness, friendly locals, literary folk and its dynamic pub scene. With history and heritage, culture and cool things to do, you'll be spoiled for choice.
A trip to Dublin can be overwhelming when there are so many things tagged as "must-see" spots. In order to make it easier, we've gone ahead and made an ultimate Dublin bucket list.
Here are the ten things you really need to experience in Dublin!
10. See a Match at Croke Park – for sports heads
Croke Park is a mega sports stadium and often entertainment venue in Dublin. With a whopping capability of holding 82,300 visitors, it is Ireland's largest stadium in terms of capacity.
The venue has seen some of the country's most memorable sports matches. And, one thing you really need to experience in Dublin is an All-Ireland match at this much-loved local venue!
Address: Jones' Rd, Drumcondra, Dublin 3
9. Cocktails at the VCC – for trendsetters
While Dublin is often associated with its pub scene, its trendy bars should not be overlooked. Cocktails at the Vintage Cocktail Club (or commonly referred to as the "VCC") are some of the best in the city, and well worth a try, too.
The bar is accessed via an unmarked door in the heart of Temple Bar. What lies beyond is a speakeasy-style hangout with decadent décor and Dublin's cool-crowd.
Address: 15 Crown Alley, Temple Bar, Dublin, D02 E229
8. Learn A Lot at Glasnevin Cemetary – for setting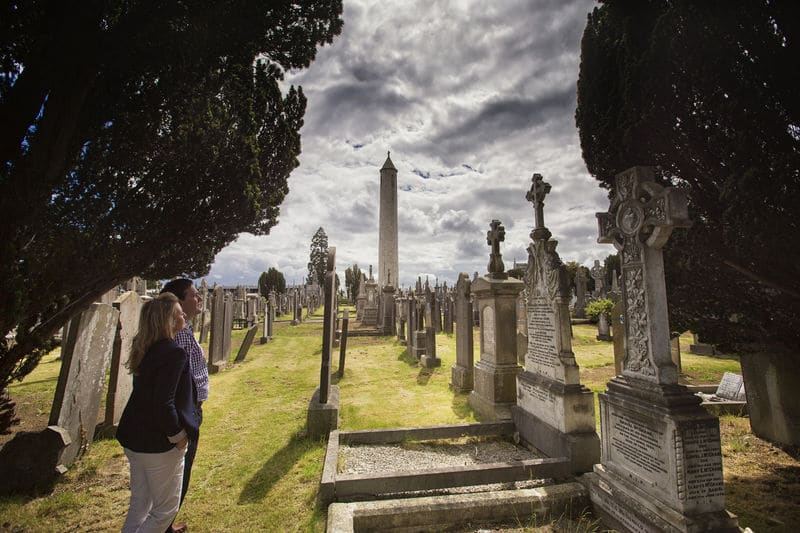 Time and again Glasnevin Cemetery is listed as one of the best things to do in Dublin, and we're not going to argue.
Feel free to wander on your own time or catch one of its tours which regale stories of many leaders of the Irish rebellion, literary greats and cultural icons – many of whom are buried here!
Address: Finglas Rd, Botanic, Glasnevin, Co. Dublin, 11
7. Enjoy Tasters at Irish Whiskey Museum – for the whiskey-lovers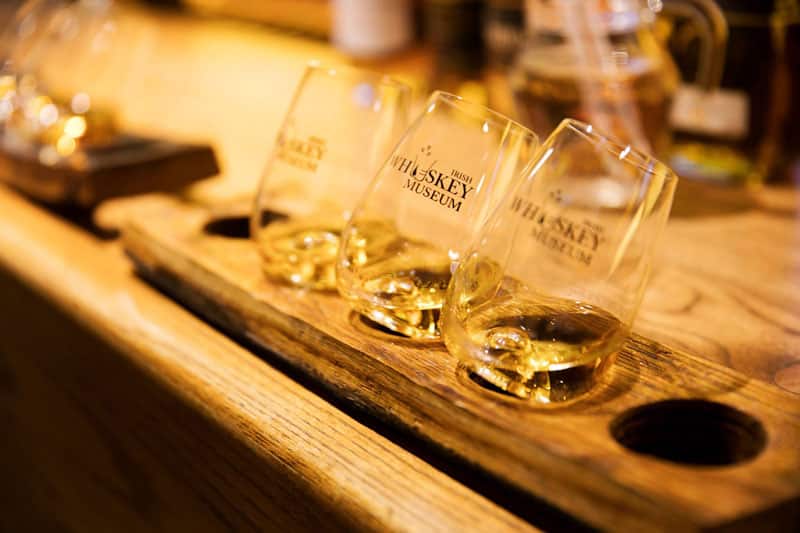 One thing you really need to do in Dublin is to check out the Irish Whiskey Museum.
Expect tonnes of tasters and to leave with a little spring in your step, (as well as a new love for Irish whiskey) making it a must on our Dublin bucket list.
Address: 119 Grafton Street, Dublin, D02 E620
6. Explore Irish History at Kilmainham Gaol – for history buffs
A top thing to do when visiting the capital city of Ireland has got to be Kilmainham Gaol. This much sought-after guided tour is a favourite of tourists and locals alike who have a keen interest in Irish history.
Address: Inchicore Rd, Kilmainham, Dublin 8, D08 RK28
5. Party in Temple Bar – for the ultimate party night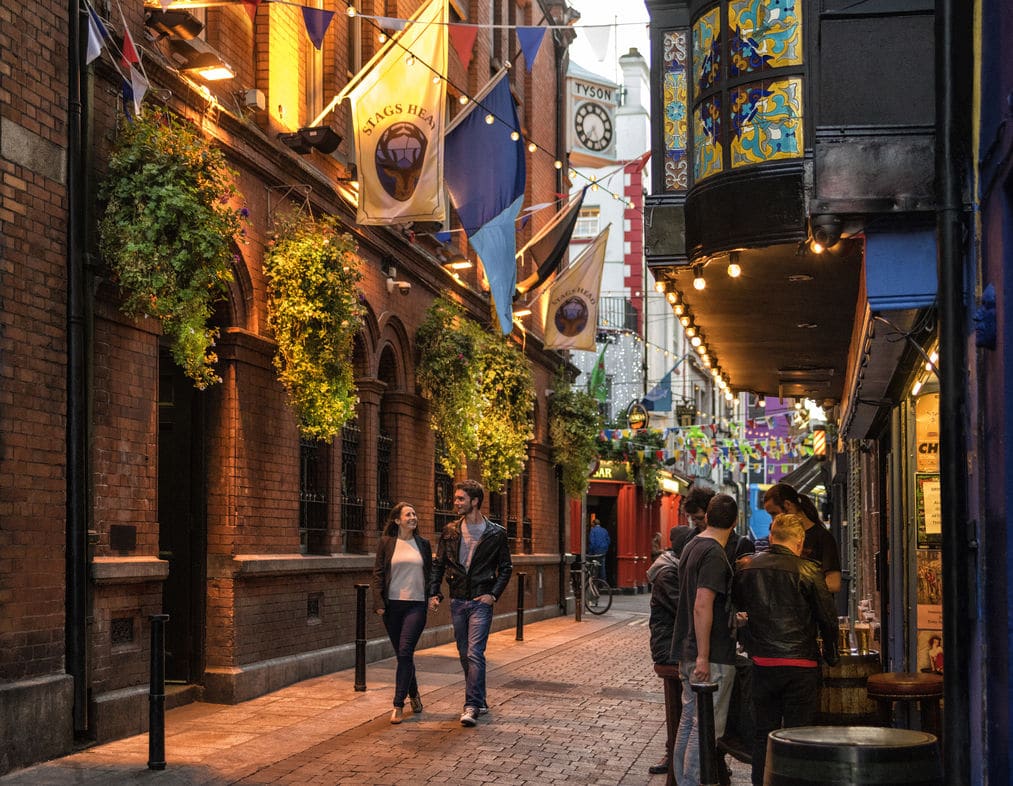 A visit to Dublin city wouldn't be complete without a night out in Temple Bar. This area, commonly known as the "cultural quarter", can be a bit of a tourist trap. Saying that it also boasts some of the best bars in all of the city.
Expect to dance all night long to Irish trad and cheers pints of Guinness with people from all over the world.
4. Enjoy Summer Pints at The Barge – for Summertime vibes
A Summer in Dublin city calls for a visit to The Barge. This pub is all about location. Sitting on the side of the Dublin canal, on the outskirts of the city, this is the place to be when the sun rears its head.
Expect bodies en masse milling around in front of this Dublin pub lapping up the Summer rays on a sunny day.
Address: 42 Sráid Charlemont, Saint Kevin's, Dublin 2, D02 R593
3. Get Lost in The Long Hall in Trinity College – for Instagram-worthy photos
One top thing you really need to experience in Dublin on your next visit is a trip to The Long Hall in Trinity College.
This library is brimming with history and Harry Potter vibes and makes for one of the most Instagram-worthy sites in all of the city.
Make sure to go on a weekday during work hours to avoid the peak time crowds. This is undoubtedly one of the biggest tourist attractions in all of the city but is bucket list worthy to no end.
Address: Dublin
2. Indulge at Eatyard – for food
Eatyard is an alternative outdoor food court located beside the Bernard Shaw, one of the trendiest bars in the city and pure Dublin bucket list gold.
Offering an array of excellent food trucks (think veggie and vegan heaven!), as well as free fairground games. There are a free pool table and a karaoke caravan, too, making it a fantastic date-night spot or place to hang out with friends.
Address: Richmond St S, Saint Kevin's, Dublin
1. Pull a Pint at the Guinness Storehouse – for the love of Guinness
No trip to Dublin would be complete without a trip to the Guinness Storehouse.
At this state of the art experience, visitors will get a chance to explore the drink of a nation, its history and heritage. On top of that, you will also learn (in six simple steps) how to pour your own pint of the "black stuff" (also known as Guinness)!
Address: St James's Gate, Dublin 8