The Connemara pony is a native horse breed to the island of Ireland. We've laid out everything you need to know about these amazing animals.
The rugged landscape of the Wild Atlantic Way is just one reason why people love Ireland. There are so many spots to admire on the trail with the Connemara pony a unique gem found along the way.
This hardy equine breed brings beauty and elegance to Ireland's west, where it roams free among wildflowers and stunning coastlines.
Lush green fields make perfect grazing ground for ponies, and there is no shortage of these in Connemara.
Ireland's extreme weather can bring strong winds and heavy rain to this part of the world. Still, the Connemara pony is tough, with strong muscles and a stocky build to help them withstand the harsh Irish elements.
Breed information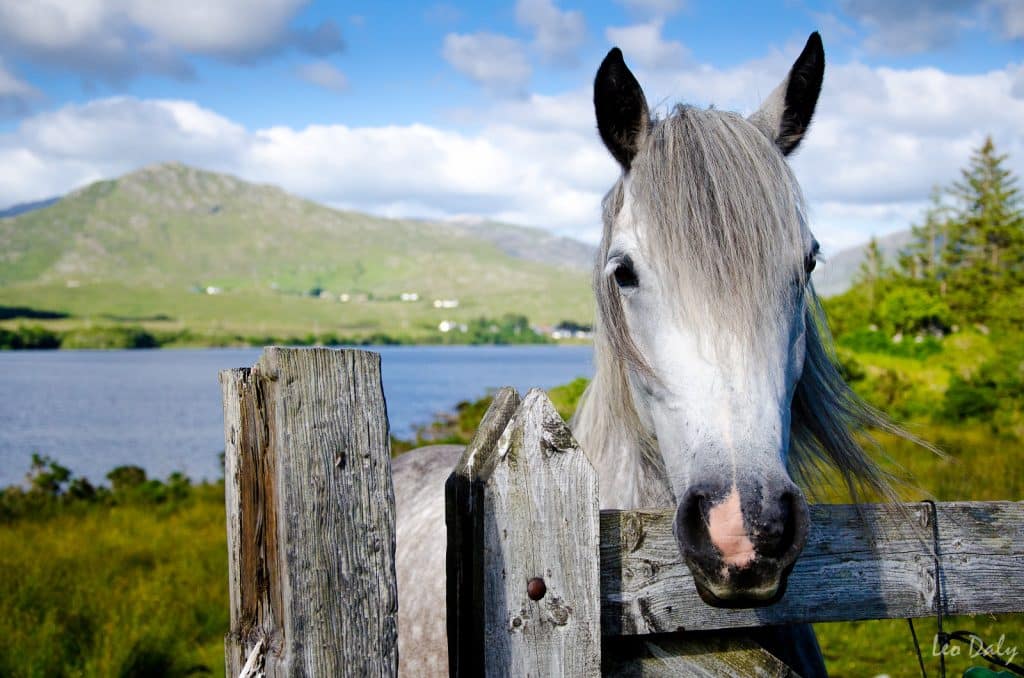 Like much of Irish beauty, the challenging weather and rough terrain helped evolve the Connemara pony into a tough, resilient breed. A muscular back, short, strong legs, and hard feet all lend well to the pony's natural environment.
It is an agile equine that can navigate quickly across rugged ground and along dangerous coastlines, often in torrential rain. Generally shorter than similar breeds, the Connemara pony stands around 13 to 15 hands high.
The Connemara pony comes in a variety of colours and piebald patterns. Gray, brown, bay (a light brown), and palomino (this can vary from cream, yellow or gold) are all possible colours for this breed.
Black Connemara ponies are rare but cremello, a beautiful blue-eyed cream is common and looks stunning against the backdrop of the rugged Irish landscape.
But what makes this Irish horse so attractive to us is that it is unique to Ireland and represents so much wild beauty found on this island.
History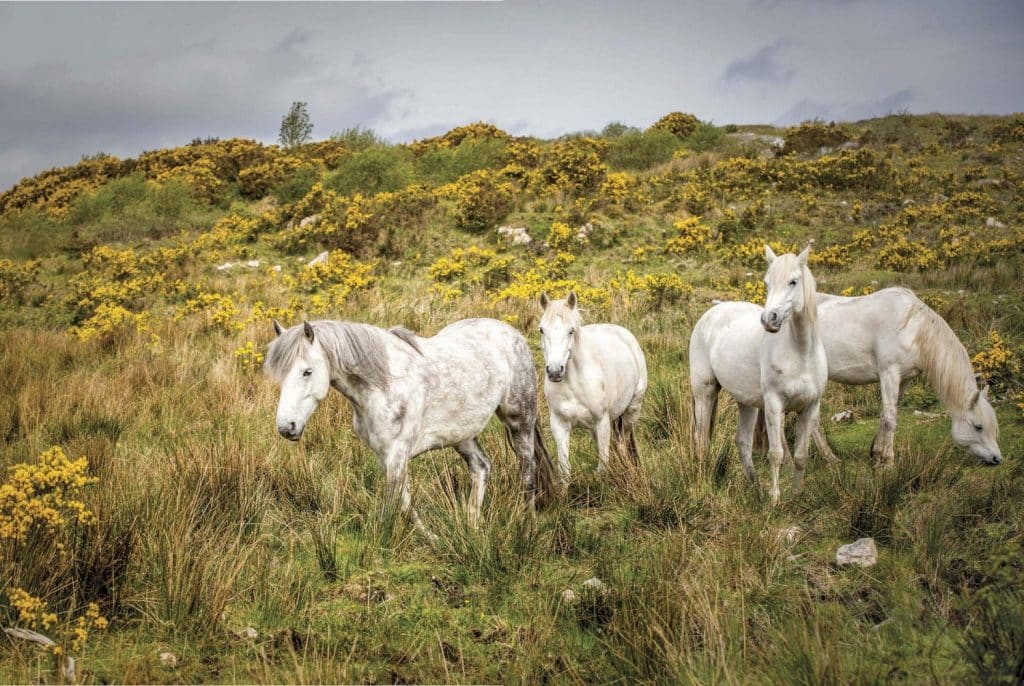 Irish folklore suggests the Connemara pony dates as far back as the Celts. Horses played a vital role in the Celtic lifestyle, and they used them for transport, trade, and battle.
The Celts were skilled in the handling of horses and are thought to have developed the breed from Scandinavian ponies brought into Ireland by the Vikings.
Others believe that a Spanish breed of horse contributed to some of the traits of the Connemara pony. In 1533 the Spanish Armada, carrying several Andalusian horses, crashed off the west coast of Ireland (a spot now known as Spanish Point).
It has been suggested that most of the horses swam to shore and ran free into the Irish hills. They interbred with the wild Irish ponies to create the stunning yet hardy breed that is this Irish horse: the Connemara pony.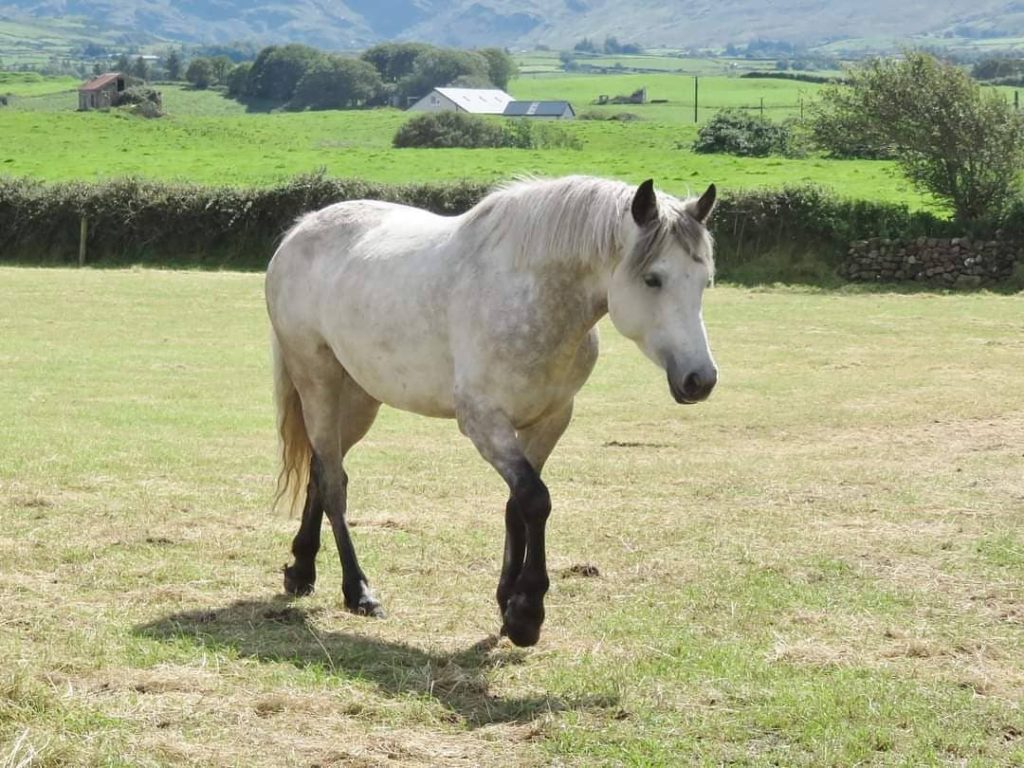 It is also believed that Arabian blood was added to the breed in the 1700s and that contributed to the pony's impressive strength for its size.
Early Irish farmers were generally poor, with a lot of mouths to feed. One strong pony was essential to run the farm successfully, which led to the Connemara pony building up stamina and determination over the years.
The breed was generally used as a work pony in rural Ireland. It was only recognised as an official breed of equine in 1923 after the Connemara Pony's Breeders' Society was founded to protect the genetic history of the breed.
Following this, only the best stallions from Connemara were used to reproduce the Connemara pony, leaving today's breed as hardy and reliable as some of the earliest ponies in the west.
Personality traits
The temperament of the Connemara pony is what it makes it so popular with riders of all ages. They are very gentle yet intelligent, making them easy to handle and train.
Their willingness to learn and trusting nature often gives the Connemara pony a significant advantage in show jumping and dressage.
The breed is great to help young children build confidence in the saddle and learn about pony management and welfare. Their short body and kind nature make them easy to mount and ride, making them one of the safest ponies for little equine enthusiasts.
They also love to be groomed, brushed and generally adored, making them the perfect pony companion. Their "kind eye" means they will usually get on well with other ponies, horses or other animals they might have to share a field with.
The cool, calm character of Connemara ponies give them fantastic personalities, and there is nothing better than having a soft, warm pony nose pop over a stone wall to greet you.
This Irish horse loves attention (and carrots), so be sure to stop and say hi.
Frequently Asked Questions (FAQs)
1. What is the Connemara Pony Society?
Established in 1923, the Connemara Pony Breeders Society is dedicated to the preservation and improvement of the Connemara Pony.
2. Are there any Connemara Pony shows?
Each August, the Connemara Pony Breeders host their annual pony show in Clifden, County Cork.
3. Connemara Pony sales: where to buy a Connemara Pony?
There are many places you can purchase a Connemara Pony, but we strongly advise opting for a certified breeder such as Diamond's Equine Breeder in Galway, or Gloria Nolan in Carlow.
4. Are Connemara Ponies good for beginners?
Yes, their kind nature, responsiveness and willingness to learn make them a perfect fit for new riders.
5. How long do Connemara Ponies live?
Although Connemara Ponies reach fully maturity around five years of age, they can live well into their 30s.
If you would like to learn more, you will find these articles really helpful:
10 amazing animal species native to Ireland
10 AMAZING Types Of Fish And Wildlife You Can Find In Ireland
5 historic places in Connemara that you need to visit
Top 10 Beautiful Places in Connemara You NEED To See Before You Die
Five Amazing Places YOU NEED to See in Connemara, County Galway