Connacht is a province of Ireland with a lot to offer. From beautiful scenery to unforgettable cultural experiences, you won't regret a visit.
The smallest of Ireland's four provinces, Connacht comprises only five counties. However, taking in some of the most scenic spots from the west of Ireland, it really is small and mighty.
From the natural attractions of Mayo to the sandy beaches of Sligo, the history of Leitrim and Roscommon to the culture of County Galway, there is much to explore.
We would highly recommend going to this region! So, here are some of the best places to visit that you need to add to your Connacht bucket list.
20. Doo Lough Pass, Co. Mayo – the dark lake
The Doo Lough Valley was the most beautiful scenery we have ever seen in Ireland. Doo Lough means dark lake, and the lake that lies at the southern end of the valley does look quite dark on the surface.
The valley is bogland and is uninhabited except for the intrepid sheep who seem quite content to have it to themselves. The bog grass has a beautiful reddish hue.
Many small waterfalls flow down both sides of the valley, making this a must to include on your Connacht bucket list.
Address: Co. Mayo, Ireland
19. Aasleagh Falls, Co. Mayo – a picturesque waterfall
Located 1 km (0.6 miles) north of the Galway/Mayo border, this location provides views over Aasleagh Falls, a picturesque waterfall located on the River Erriff just before the river meets Killary Harbour.
Two laybys located on either side of the R335 Regional Road provide formal parking. A pathway exists, allowing visitors to make the short walk to the waterfall. Salmon fishing is very popular at this location.
Address: River, Erriff, Co. Mayo, Ireland
18. Ashleam Bay, Co. Mayo – for brilliant panoramic views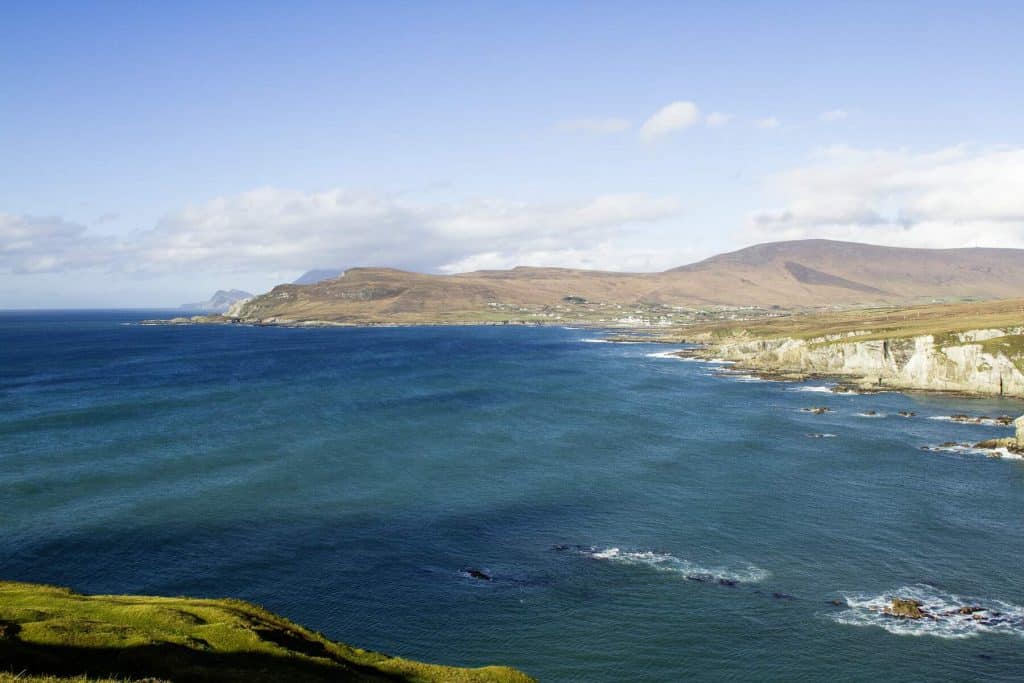 This Discovery Point, set along the southern coast of Achill Island that looks down onto Ashleam Bay, is a small pebbly cove sometimes known as Portnahally.
A series of hairpin bends descend from this point to the inlet of Ashleam Bay, which is enclosed by rock cliffs some 100 ft (30 m) high.
This vantage point boasts a series of exceptional panoramic and elevated viewpoints. It offers one of the most breathtaking views on Achill Island.
Address: Claggan, Irska, Co. Mayo, Ireland
17. Achillbeg Island, Co. Mayo – the lesser-known Achill Island
Acaill Bheag (Achillbeg) is a small island in County Mayo, just off the southern tip of Achill Island. Its name means 'Little Achill'.
Acaill Bheag was evacuated in 1965, and the inhabitants were settled on the main Achill Island and the nearby mainland. The main settlement was in the island's centre, bounded by two hills to the north and south.
There are a small number of holiday homes on the island, but they are empty for most of the year. The local arrangement allows access to the island from Cé Mhór, in An Chloich Mhór (Cloghmore). A lighthouse on Acaill Bheag's southern tip was completed in 1965.
Address: Achillbeg Island, Co. Mayo, Ireland
16. Knockmore Mountain, Clare Island, Co. Mayo – for spectacular landscapes
This is an amazing spot in Clare Island, lying off the west coast of Ireland at the entrance to Clew Bay.
It is the largest of the Mayo offshore islands, and it has a varied terrain. Spectacular cliffs with large numbers of nesting seabirds and a rich 'inland' topography of hills and bogs and small pockets of woodland make it ideal for hill-walking.
Address: Knockmore, Co. Mayo, Ireland
15. Mullaghmore, Co. Sligo – a must-visit spot on your Connacht bucket list
Mullaghmore, County Sligo, is a noted holiday destination, characterised by ocean views and a skyline dominated by the monolithic shape of Ben Bulben mountain.
In Irish, it is called An Mullach Mór, meaning 'the great summit'.
Address: Mullaghmore, Co. Sligo, Ireland
14. Ben Bulben, Co. Sligo – a remarkable sight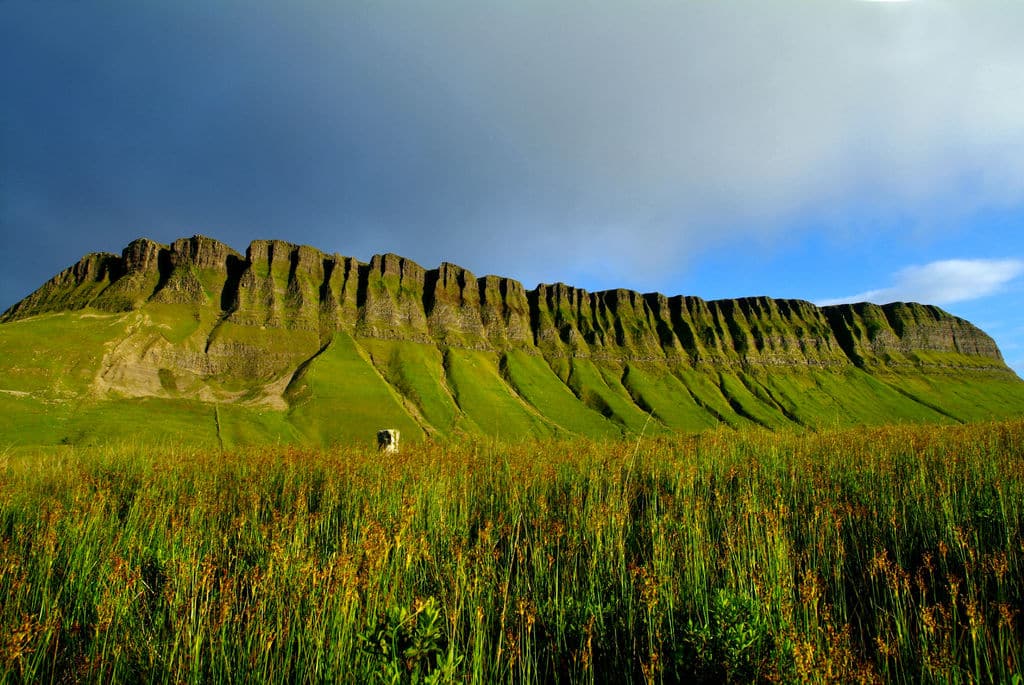 Sometimes spelt Ben Bulben or Benbulben, this landmark is a large rock formation in County Sligo, Ireland. It is part of the Dartry Mountains, in an area sometimes called 'Yeats Country'.
Ben Bulben is a protected site designated as a County Geological Site by Sligo County Council.
In fact, one might describe what is easily Ireland's most distinctive mountain as being the nearest that Ireland gets to having its version of Ayres Rock in central Australia or Table Mountain near Cape Town, South Africa!
Address: Cloyragh, Co. Sligo, Ireland
13. Glencar Waterfall, Co. Leitrim – a beautiful waterfall
Glencar Waterfall, which is one of the waterfalls in Ireland you can swim in, is situated near Glencar Lake, 11 km (6.84 miles) west of Manorhamilton, County Leitrim.
It is particularly impressive after rain and can be viewed from a lovely wooded walk. There are more waterfalls visible from the road, although none are quite as romantic as this one.
Address: Formoyle, Glencar, Co. Leitrim, Ireland
12. Castle Island, Boyle, Co. Roscommon – an interesting sight
The Ruins On Castle Island, Lough Key, Boyle are beautiful and interesting sights from the water.
Address: Castle Island, Lough Key, Ireland
11. Kylemore Abbey, Co. Galway – discover the history
Kylemore Abbey is a Benedictine monastery founded in 1920 on the grounds of Kylemore Castle in Connemara, County Galway.
The abbey was founded for Benedictine Nuns who fled Belgium in World War I. The current Mother Abbess of the Benedictine Community is Mary Margaret Funk.
Address: Kylemore Abbey, Pollacappul, Co. Galway, Ireland
10. Connemara Lakes, Co. Galway – a stunning spot
Connemara is a district in the west of Ireland, the boundaries of which are not well defined. Some define it as the land contained by Killary Harbour, the Maam Valley, or Lough Corrib, a line from there to the sea at Barna and the Atlantic Ocean.
Others draw the eastern boundary line from Killary Harbour to Kilkieran Bay in the west of County Galway. Wherever it is, however, a visit to Connemara is a must to include on your Connacht bucket list.
Address: Letterfrack, Co. Galway, Ireland
9. Hill of Doon, Lough Corrib, Co. Galway – popular among anglers
The Hill of Doon is on Lough Corrib, about 7 km (4.35 miles) outside Oughterard, County Galway. The lake is famous among anglers for its trout and salmon.
Address: Curraun Beg, Co. Galway, Ireland
8. Clifden, Co. Galway – the capital of Connemara
Clifden is a town on the coast of County Galway and, being Connemara's largest town, it is often referred to as 'the capital of Connemara'.
It is located on the Owenglin River, where it flows into Clifden Bay. The town is linked to Galway city by the N59 and is a popular tourist destination for those touring Connemara.
Address: Clifden, Co. Galway, Ireland
7. Sky Road, Clifden, Co. Galway – take a scenic drive
The Sky Road drive in Clifden is a popular route in the Connemara region and has been described as the most impressive coastal drive in the country.
The steep ascent along the coastal edge provides a wonderful vantage point with panoramic views of Clifden Bay and its many islands.
Address: Sky Road, Clifden, Co. Galway, Ireland
6. Bunowen Bay, Co. Galway – dip your toes in the sand
This is a lovely sandy beach in Bunowen Bay on the Slyne Head promontory.
Set in a typical rocky landscape of Connemara, the area is home to the Connemara Golf Club. The Connemara Smokehouse is also situated at the harbour 656 ft (200 m) from the beach.
Address: Bunowen Bay, Co. Galway
5. Connemara National Park, Co. Galway – for spectacular scenery
The National Parks and Wildlife Service of the Department of Arts, Heritage, and the Gaeltacht manage Connemara National Park and five other national parks in the Republic of Ireland.
Located in the west of Ireland within County Galway, no Connacht bucket list is complete without a trip to Connemara.
Address: Letterfrack, Co. Galway, Ireland
4. Dog's Bay, Co. Galway – one of the most beautiful beaches in Ireland
Just a short drive from Roundstone, County Galway, on the road to Clifden, are two of the finest beaches in Ireland. Gurteen Beach and Dog's Bay lie back to back, forming a tombolo jutting out into the Atlantic Ocean.
Dog's Bay is located closer to Roundstone village and has a spectacular horseshoe shape with more than a mile-long stretch of white sandy beach.
Like Gurteen Bay, which is also one of the best caravan and camping parks in Galway, the sand is not traditional limestone but rather made entirely of fragments of seashells, giving it a pure white colour.
Address: Ervallagh, Roundstone, Co. Galway, Ireland
3. Galway City, Co. Galway – for Ireland's Capital of Culture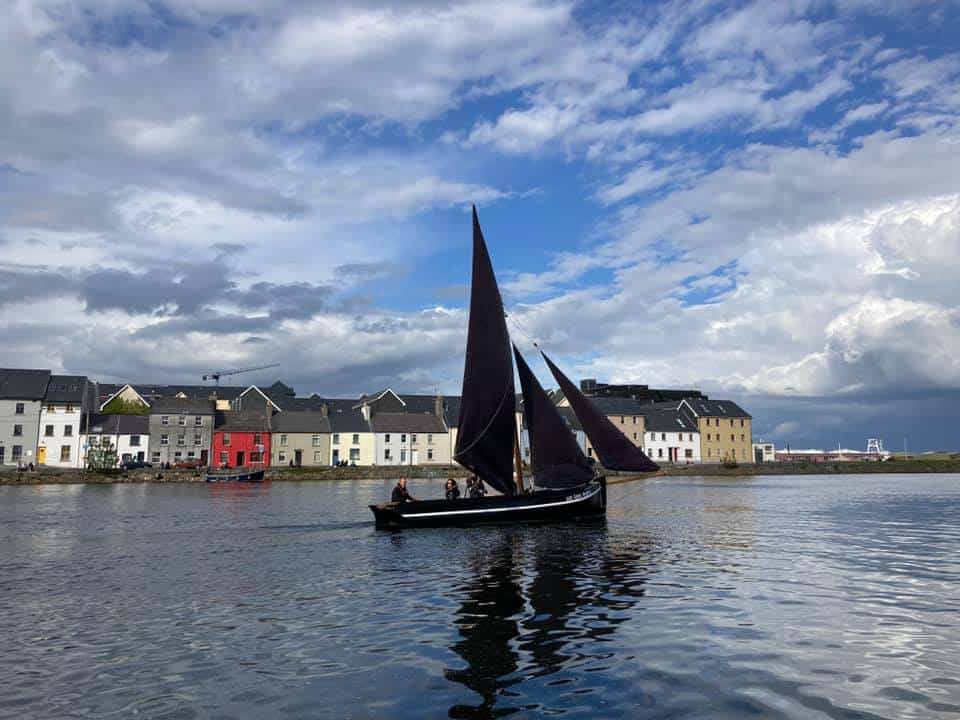 This magical city is one of the most popular destinations in Ireland, and for good reason.
As the country's Capital of Culture, you can be sure there is always something fantastic to discover here. From live trad sessions to an incredible culinary scene, you'll be spoilt for choice. Discover magic by walking through Galway at night.
Address: Galway, Co. Galway
2. Dunguaire Castle, Kinvara, Co. Galway – a historic castle
This 16th-century tower house sits on a rocky outcrop on the shores of Galway Bay. Its architecture is simple yet magnificent.
Enjoy a short stroll from the village as the castle is just 300 yards outside the lovely Kinvara.
Address: DUNGUAIRE CASTLE, Dungory West, Kinvarra, Co. Galway, Ireland
1. Parke's Castle, Co. Leitrim – one of the top spots for your Connacht bucket list
Parke's Castle is a restored plantation castle of the early 17th-century picturesquely situated on the shores of Lough Gill. It was once the home of Robert Parke and his family.
The courtyard grounds contain evidence of an earlier 16th-century Tower House structure once owned by Sir Brian O'Rourke, who subsequently was executed at Tyburn, London, in 1591.
The castle has been restored using Irish oak and traditional craftsmanship. Access for visitors with disabilities is available to the ground floor.
Address: Parke's Castle, Kilmore, Fivemilebourne, Co. Leitrim, F91 FP71, Ireland