Today, cafes, pubs, and restaurants across Ireland can reopen for outdoor dining for the first time in 2021.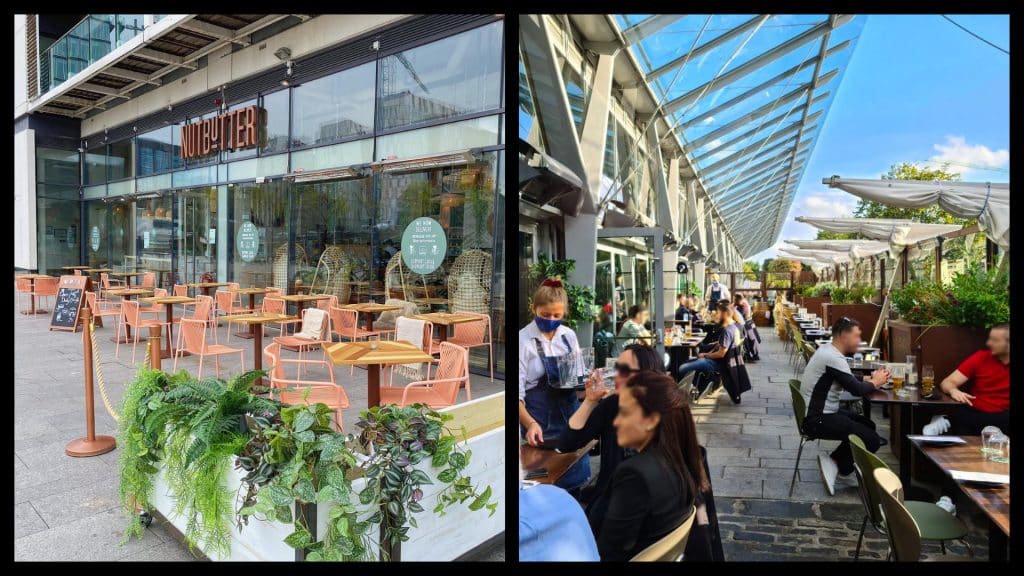 As lockdown restrictions ease and outdoor dining opens across Ireland, EPIC The Irish Emigration Museum has compiled a list of the best outdoor dining options in Dublin's Docklands.
After months of lockdown restrictions, Ireland's cafes, pubs, and restaurants are finally able to reopen for outdoor dining.
In a city like Dublin that has so much to choose from, you may find it hard to decide where to go first. Whether you want to return to an old favourite or try something new, you'll be spoilt for choice.
So, to make your decision that little bit easier, here are some of the top spots offering outdoor dining in Dublin's Docklands.
The Chq Building – dining with a view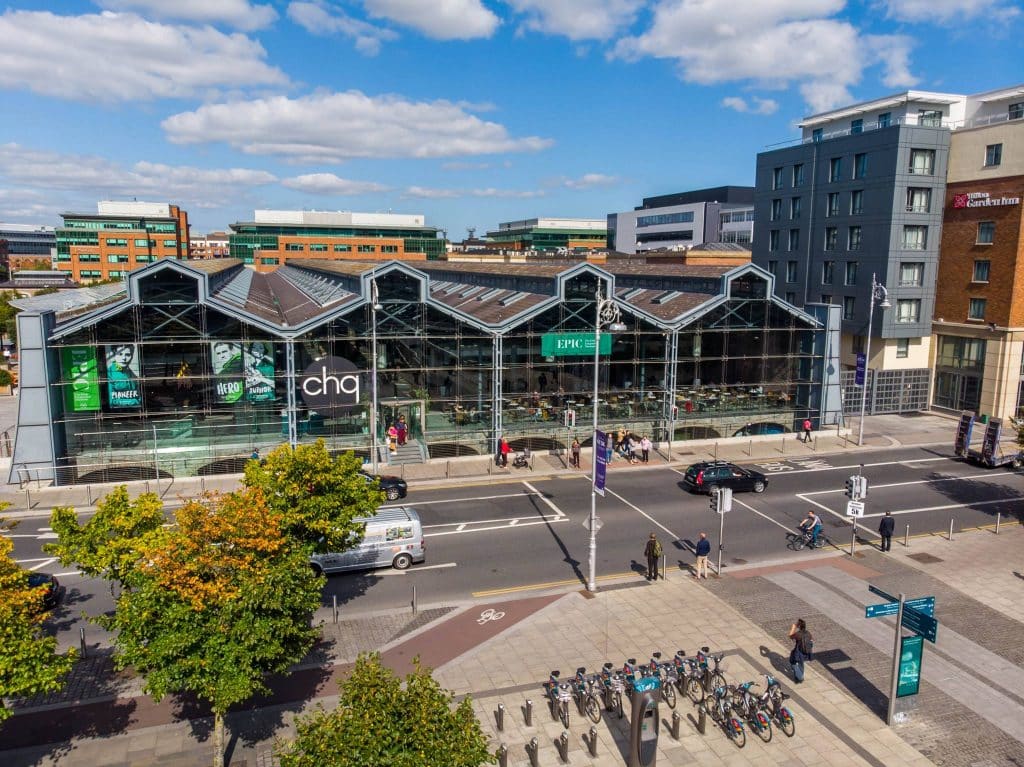 The Chq Building is definitely up there with the best options for outdoor dining in Dublin's Docklands.
If you choose to book a table in this beautifully restored Georgian warehouse, you'll get to enjoy fantastic views out over the River Liffey and George's Dock.
With plenty of outdoor seating and an array of cafes and restaurants, including TOSS'D Noodles and the Bakehouse, you'll have plenty to choose from here.
The Chq Building is open Monday to Friday from 8 am to 7 pm and on weekends from 9.30 am to 6.30 pm. Take out is also available in all of the cafes and restaurants in Chq.
Urban Brewing – for tasty tapas and raciones
Urban Brewing is a trendy microbrewery and restaurant offering an exceptional dining experience.
Their Hop Garden Terrace is open seven days a week from 5 pm for bookings only.
Their Suntrap Terrace offers walk-in dining only and is the perfect place to grab a drink with friends. It is open from Wednesdays to Saturdays from 4.30 pm to 9.00 pm.
Harbourmaster Bar and Restaurant – for a diverse and delicious menu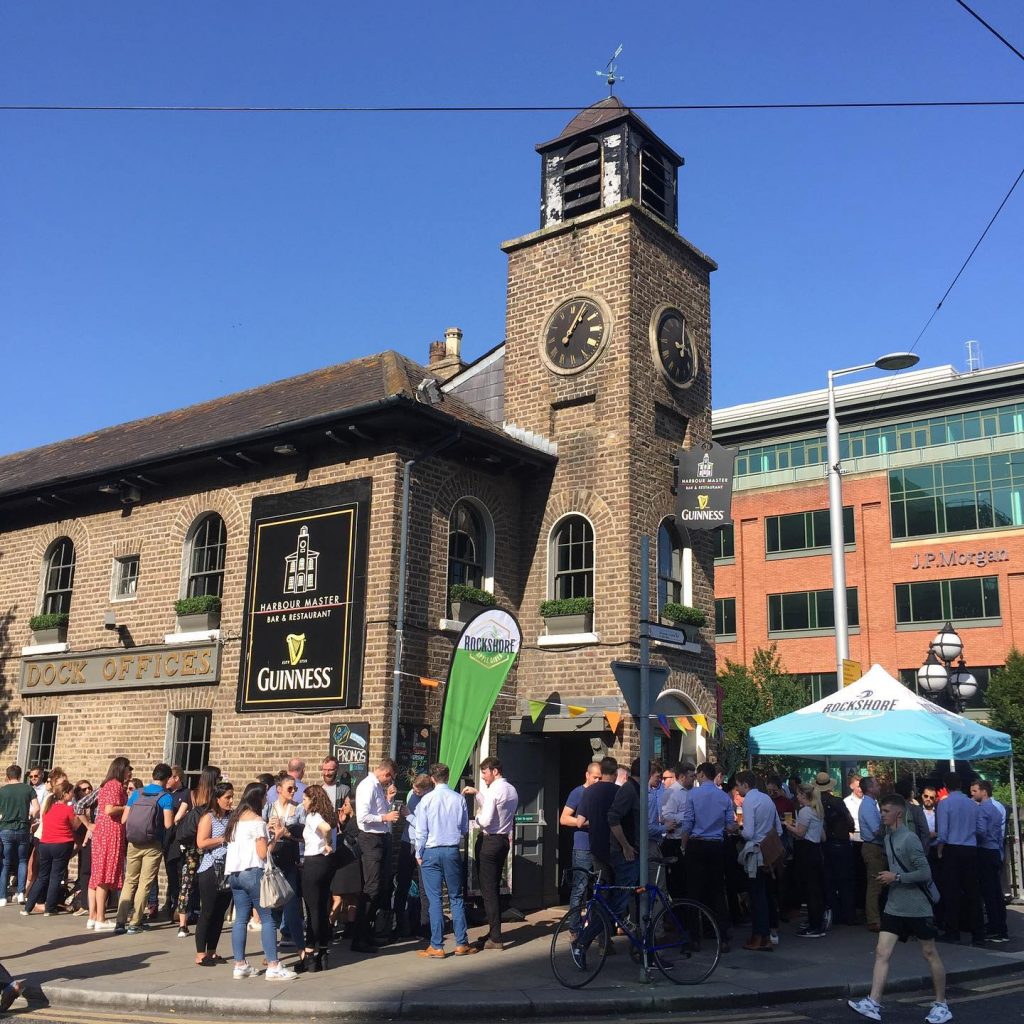 The Harbourmaster, located at Customs House Dock, is another iconic building in the Docklands.
Their restaurant offers a diverse and delicious menu, which makes it a must on this list of the best outdoor dining in Dublin's Docklands.
They reopen on 7 June and are now taking email bookings for their outdoor areas.
Brewdog Dublin Outpost – for fantastic views of Dublin Bay
If you are looking for the perfect spot to catch up with friends over a few drinks, then Brewdog is your best bet.
Offering unrivalled views of the river looking out to Dublin Bay, the bar features an incredible array of craft beers and a mouth-watering food menu.
They will be taking a limited amount of bookings, with walk-ins also accepted. Their covered outdoor seating area is dog-friendly and can host a maximum of six people per group.
MV Cill Airne – for a unique dining experience
MV Cill Airne is a floating restaurant and bar located on North Wall Quay.
Offering breathtaking views of the Convention Centre and Samuel Beckett Bridge while you dine, this is an experience like no other.
Table bookings for the MV Cill Airne are available on their outdoor deck, which is the perfect place to spend a sunny June afternoon.
The Mayson – for some of the best views in Dublin
The Mayson is a brand new boutique hotel located just minutes away from the 3 Arena.
Home to two restaurants offering outdoor dining options, this is a great spot for all types of diners.
Elephant & Castle, located on the ground floor, has an inventive menu that brings together old world and contemporary food styles. Their outdoor covered courtyard is a great place to enjoy a meal as you sit on the gorgeous waterfront.
For a dining experience with panoramic views, head up to the sixth floor and discover Ryleigh's Rooftop Steakhouse. Their outdoor terrace offers fantastic views of the Docklands and as far away as Dun Laoghaire when the weather is good.
Mackenzie's – for the ultimate American dining experience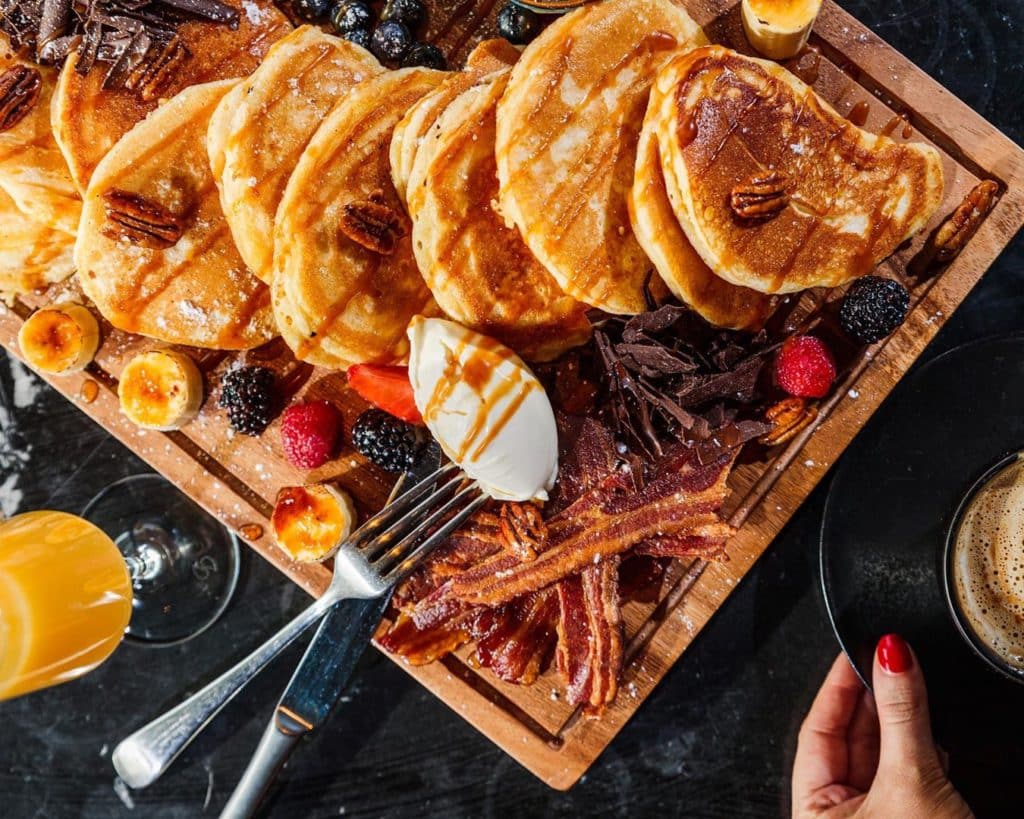 Located on Hanover Quay, Mackenzie's promises a delicious American-style menu. With everything from burgers and steaks to sandwiches and wood-fired pizzas, you'll be spoilt for choice.
Their dining space is perfectly situated, overlooking Grand Canal Docks and offering beautiful views of Dublin's unique Bord Gáis Energy Theatre.
If brunch is more your thing, Mackenzie's offer incredible pancake and French toast platters. Complete with bacon, fruit, mascarpone, maple syrup, candied pecans, and salted caramel, you'll leave with a full belly.
Mackenzie's are welcoming walk-ins, but to avoid disappointment, we recommend booking in advance.
Nutbutter – for a healthy option
If you're looking for a healthy option for outdoor dining in Dublin's Docklands, you have to check out Nutbutter.
Located at Grand Canal Quay, Nutbutter's menu comprises dishes made from locally sourced Irish ingredients. Offering high-protein plant-based meals, vegan options, and other tasty treats, there is something to suit every appetite.
For a great way to start your day, you can grab breakfast on their outdoor terrace overlooking the Docklands.
The Marker Hotel – for a luxurious treat
Offering a creative outdoor dining experience for both guests and visitors this summer, the Marker Hotel is a must-visit.
The Marker Bar extends to an alfresco terrace on Grand Canal Square so you can soak up the energy of the 'Silicon Docks'. They are open from 12 pm to 10 pm each day, serving an a la carte dining menu, a set three-course menu, and an array of delicious desserts.
For the ultimate in trendy dining experience, grab your friends and head to the Rooftop Bar and Terrace. With a cocktail bar and panoramic views of Dublin, the Rooftop Bar will make for a memorable summer night out.
They are open Thursday and Friday from 5 pm to 11 pm, Saturday from 3 pm to 11 pm, and Sunday from 3 pm to 9 pm.
Make a day of it – EPIC The Irish Emigration Museum
To make the most of your day at Dublin's Docklands, plan a trip to EPIC, The Irish Emigration Museum.
EPIC was voted Europe's Leading Tourist Attraction 2019 and 2020, making it one of the best museum experiences in Ireland.
Build up an appetite by exploring their interactive exhibitions before heading for a meal in Dublin's gorgeous Docklands.