Prepare to swoon, book lovers: We've rounded up the 6 most beautiful libraries in Ireland.
Often called "the land of saints and scholars," Ireland has birthed epic myths, timeless folktales, and classic works of literature that are known around the world. It's no surprise, then, that this island is ripe with bookish sites—from museums like the Dublin Writers Museum to literary landmarks like C.S. Lewis Square.
Ireland also holds some of the most enchanting libraries in the world. Especially on a rainy day (which happens in Ireland more often than we'd like), a visit to an old Irish library can be good for the soul.
Whether you want to feel like Belle in Beauty and the Beast or you just love books and bookish places, you'll find many historic libraries open to the public on the Emerald Isle. Narrowing them down is no easy task, but when it comes to the most beautiful libraries in Ireland, here are our top six.
Be warned, though: Each library's interior is so aesthetically pleasing that you won't know whether to reach for a book or your camera.
6. Linen Hall Library (Co. Antrim)
A bibliophile's dream, the Linen Hall Library is the oldest library in Belfast, the capital city of Northern Ireland, and no doubt the most beautiful. Founded in 1788, the library is housed in a Victorian former linen warehouse (hence its name) and is free to enter.
In fact, a look around the Linen Hall Library is one of the best free activities in the city.
Tip: During your visit, enjoy a scone and tea at the library's charming café, which offers a picturesque view of Donegall Square.
Address: 17 Donegall Square North, Belfast, Co. Antrim
5. The National Library of Ireland (Co. Dublin)
One of the most elegant buildings, let alone libraries, on the Emerald Isle is certainly the National Library of Ireland in Dublin. Be sure to check out the stunning domed Reading Room (pictured above), which includes shelves of reference books and is nearly 50 feet high in the centre.
Note: Reading Room visiting hours are currently restricted to Saturday mornings.
Address: 7-8 Kildare Street, Dublin 2, Co. Dublin
4. Armagh Robinson Library (Co. Armagh)
Southwest of Belfast in Northern Ireland is the city of Armagh, where one of the most beautiful libraries in Ireland resides: the Armagh Robinson Library. Founded in 1771, this gem has a classical feel; when you open the Georgian door and climb the staircase, you'll think that you've stepped back in time to the eighteenth century.
Note: Admission is free, though donations are welcome.
Address: 43 Abbey St, Armagh Co. Armagh
3. The Russborough House library (Co. Wicklow)
This cosy library is located inside Russborough House, a historic mansion built in 1755 in the heart of County Wicklow. Though this library is smaller than the others (just one room) and you can't borrow books from it, we had to include it for its aesthetically pleasing presentation. You'll see it and think two words: library goals.
Note: Entrance to the house, and thus the library, costs €12 per adult (with discounts for students, senior citizens, and kids).
Address: Russborough, Blessington, Co. Wicklow
2. Marsh's Library (Co. Dublin)
Located just next to St. Patrick's Cathedral, this lesser-known Dublin gem opened in 1707 and stands today as a well-preserved library of the early Enlightenment period. You may feel that you're in a dream here, wandering amongst original oak bookcases.
Note: Visitors are asked to pay an entrance fee of €5, or €3 for students and senior citizens. People under 18 enter for free.
Address: St Patrick's Close, Wood Quay, Dublin 8, Co. Dublin
1. The Long Room at Trinity College (Co. Dublin)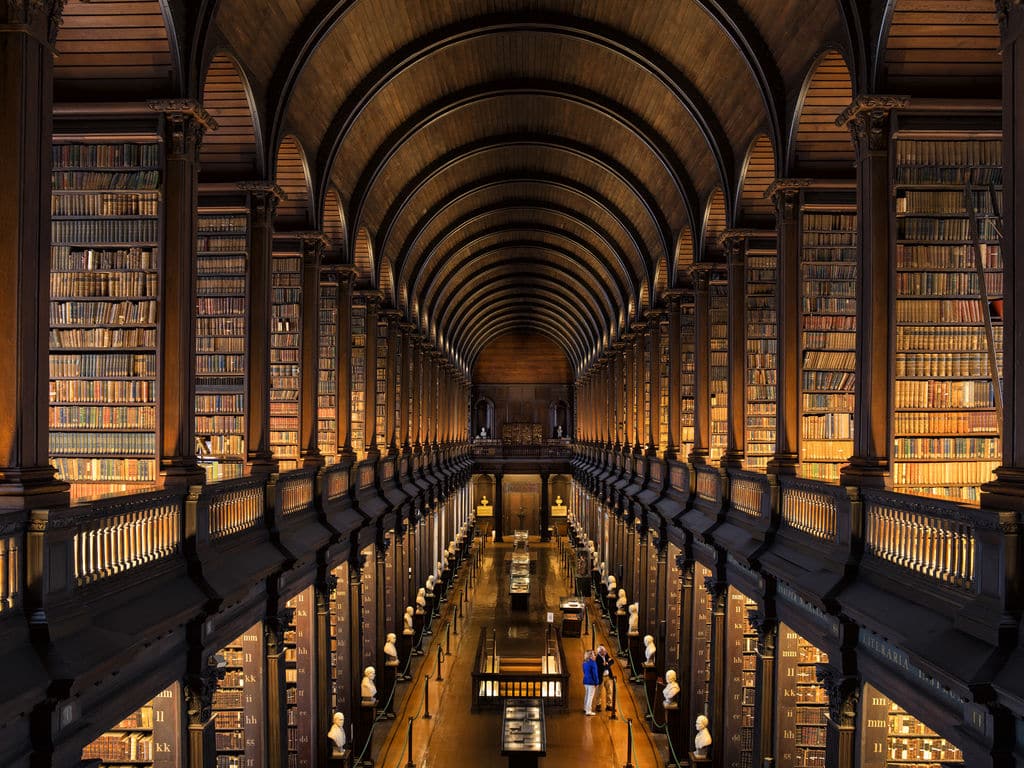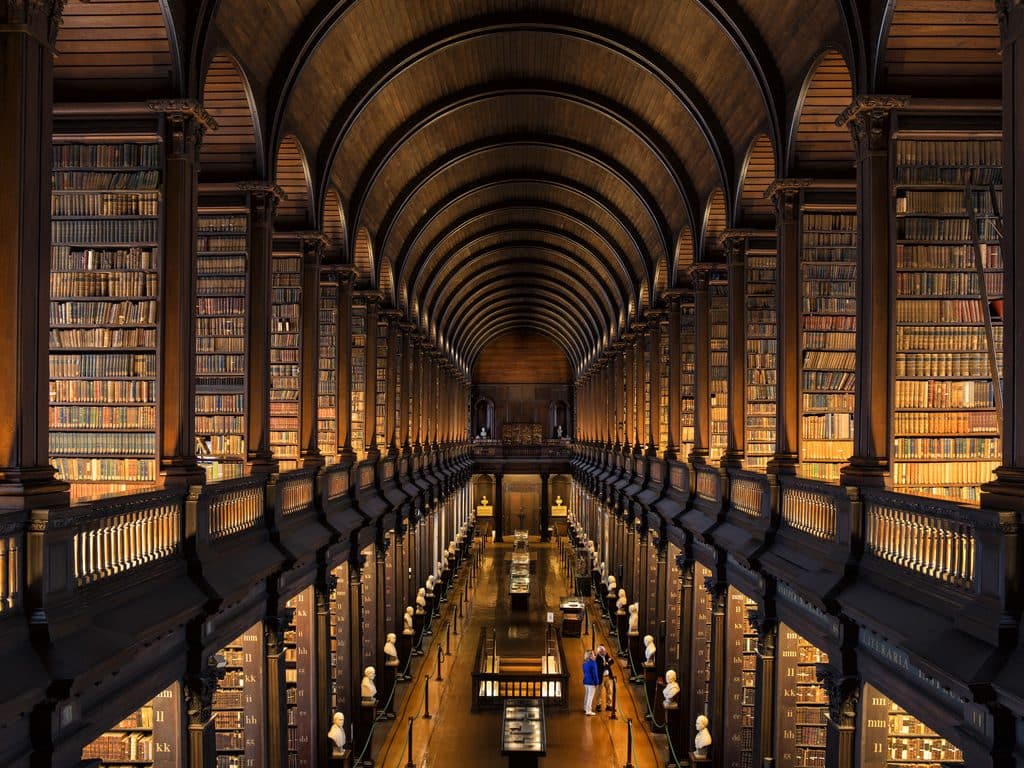 Out of the six most beautiful libraries in Ireland, the top stunner has got to be the Long Room—the main chamber of the Old Library at Trinity College Dublin. Stretching before visitors like something out of a storybook, it is filled with 200,000 old books and often displays temporary exhibitions as well.
The Long Room is considered to be one of the most picturesque libraries in the world, let alone Ireland. Trust us—you'll want your camera for this one.
Note: Admission to the Long Room is included in a ticket to the Book of Kells exhibition (€11-14 per adult; kids enter for free). Visitors view the iconic Book of Kells first and then exit into the Long Room. While the Book of Kells is supposed to be the main attraction, many people admit that they find the Long Room more impressive!
Address: The University of Dublin Trinity College, College Green, Dublin, Co. Dublin