Looking the best pubs in Killarney? Look no further than this list. There may be some choices that surprise you!
Killarney is full of life, colour, and activity. Many people come to Killarney because it is one of the stops on the Ring of Kerry, and also because it's the start and finishing point of the 200-km Kerry Way walking trail. Many people stay in Killarney because of the incredible people, food, scenery, and pubs.
There are many ice cream shops, sweet shops, and a wide variety of restaurants to be found here, but the real soul of the town is its pubs. With over 50 pubs in Killarney, there is a lot to choose from.
It's incredibly hard to pick just five, but someone has to do it. All of the pubs selected are in the town centre and within walking distance of each other. It's incredibly handy if you're walking into the town or getting a taxi. Enjoy!
5. The Lane Café Bar – creative cocktails make it one of the best bars in Killarney
The Lane Café Bar features both great food and creative cocktails, what more could you want? Adjacent to the Ross Hotel, it's right in the town centre, perfect if you want to go bar hopping or be sure of finding a taxi at the end of the night.
It's a brilliant place to meet up with the girls for some food and drinks. You can also chill out and people-watch at their giant window overlooking the street. As well as fantastic food and drinks, there's great atmosphere and service to be had in this trendy bar.
Address: East Ave, Killarney, Co. Kerry, Ireland
4. The Laurels – it doesn't get more traditional than this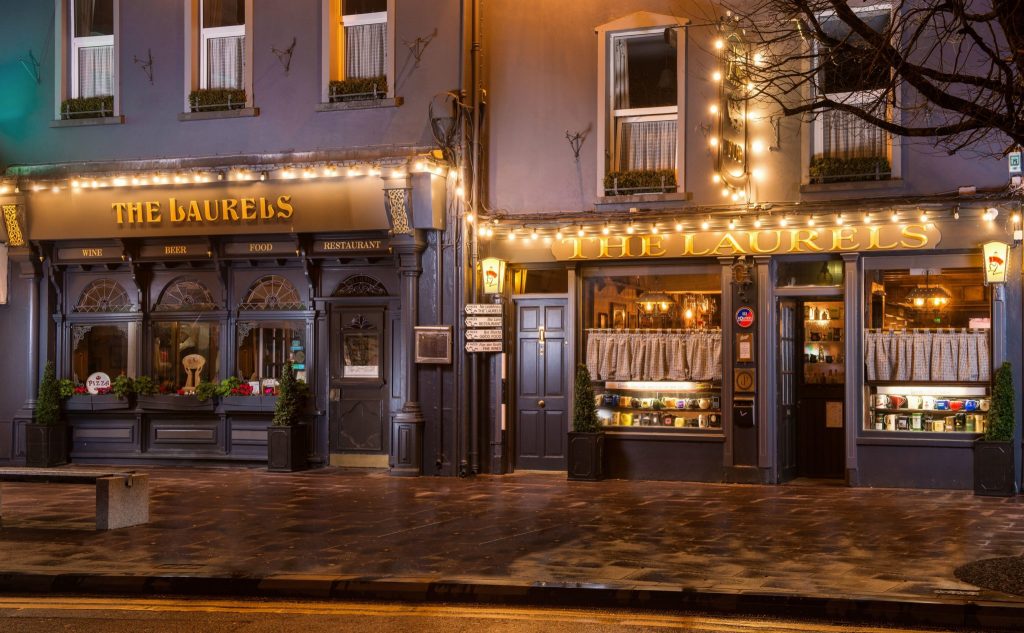 The Laurels is your typical Irish pub. It's a very traditional pub, having been owned by the O'Leary family for almost a century. Entering The Laurels, you're greeted with the happy buzz of good conversation between friends.
They host regular live Irish music/dance nights, so if you're looking for some entertainment here, you won't be disappointed. If you're in the mood for some food before or after your drinks, The Laurels' restaurant is just adjacent to the pub so you won't have far to go.
The restaurant is sure to have something to suit everyone with their extensive menu, and it's very popular with tourists and locals alike.
Address: Main St, Killarney, Co. Kerry, Ireland
3. Tatler Jack – the perfect pub to grab a pint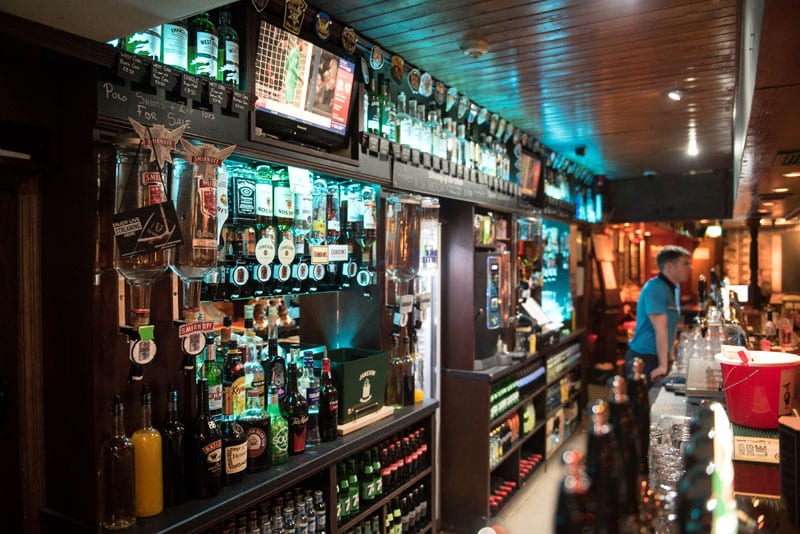 Tatler Jack is another of the best bars in Killarney. It looks quite small and unassuming from the outside but don't let that fool you. Inside, it's quite a big busy pub with excellent live music and a friendly atmosphere.
The long narrow pub also serves food and is a great late-night bar. Jerseys line the wall above the bar, making great conversation starters as you wait for your drinks. You'll be delighted to hear that Tatler Jack is also just a few doors down from a takeaway chipper, which is just perfect after a great night out.
Address: 25-26 Plunkett St, Killarney, Co. Kerry, V93 D431, Ireland
2. Murphy's Bar – one of the best pubs in Killarney
Walking into Murphy's, you're met with a real sense of warmth and community. On first entering, you can't help but smile. It's a busy little pub, full of character.
Dollar bills stick to the bar and walls, signed and left there by content patrons. It's a narrow, cosy space, but there is also a restaurant upstairs and your eyes will be kept busy studying all the memorable hurling photographs lining the walls.
You could easily pass an hour just examining the decorated walls and marvelling at the attention to detail. If you're in the mood for live music, look no further than Murphy's, a great place to have a pint and listen to some talented musicians. Truly one of the top best bars in Killarney.
Address: 18 College St, Killarney, Co. Kerry, V93 EFP1, Ireland
1. John M. Reidy – kick back in a traditional sweetshop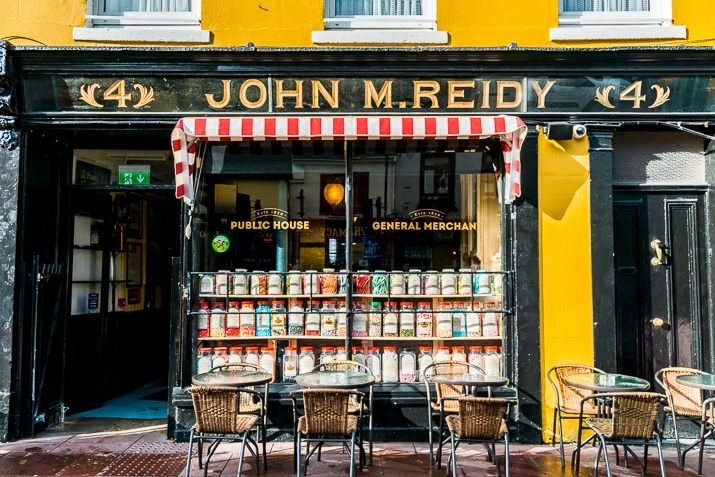 It would be criminal to compile a list of best pubs in Killarney and not give Reidy's a mention. Opened in 2017, it used to be a sweet shop, but they converted it into a pub. The shopfront remains the same old-style design, and sweet jars line the front window. It's over 21s only, but there's a great mix of people inside, both young and old.
What's excellent about Reidy's is there are lots of nooks and crannies. There are so many long side rooms, and booths you could nearly get lost. It is excellent at giving your group a sense of privacy. Despite the length of the pub and its many rooms, it's very cosy.
The attention to detail is sublime, we would describe it as a hipster-bar-meets-an-old-Irish-farmhouse. The exposed rafters across the high ceiling and a menu boasting a large selection of cocktails sum up Reidy's perfectly. There's also a stunning outside area which is decorated to make you feel as if you are sitting out in the middle of a tiny Irish village on a warm day – one of the best things to do in Killarney, without a doubt.
Address: 4 Main St, Killarney, Co. Kerry, Ireland
Written by Sarah Talty.
Get featured on Ireland Before You Die
Do you want to get your Irish business more online exposure? Especially to those interested in travelling the best places in Ireland? Then why not get a dedicated feature on Ireland Before You Die. Find out more 
here.