Belfast is a city decorated by some stunning buildings and architecture, while landmarks such as the Samson and Goliath cranes embody what the city is about.
However, what can't be overlooked about the city is its vast areas of green and public parks, which are great for an outdoor walk, a leisurely stroll, or a place to run.
A bird's-eye view of Belfast shows not only its urban stronghold, but also its rural expanse. Overlooked by mountain and encircled by green, Belfast has over 3,000 acres of parkland, perfect for a walk.
Need to stretch your legs? Here are the five best places to take a walk in Belfast.
5. Ormeau Park – for a leisurely stroll
Located on the Ormeau Road in South Belfast, Ormeau Park is the oldest municipal park in the city, open to the public since 1871.
The park is perfect for a brisk walk or jog, or you can join one of the many people who take their dogs for their daily exercise.
The walkways are spacious and enveloped in green spaces and protected by the overarching trees above, while beautiful flower displays pepper the park.
It is one of the biggest parks in Belfast and is also extremely suitable for children, with two playgrounds nestled within its grounds.
Address: Ormeau Rd, Belfast BT7 3GG
4. Colin Glen Forest Park – for the adventure
Situated near Dunmurry at the foot of the Belfast Hills, Colin Glen has emerged to become one of the best places to take a walk in Belfast.
It has become a hotspot for kids and families, who are regularly seen walking the "Gruffalo Trail," while the Adventure Centre's zip line has become a massive attraction.
Colin Glen is a beautifully wooded park, dissected by a river and crossed with bridges, walkways, and self-made tracks that adventurers have made on their own journeys to guide you off the beaten track.
Colin Glen is ideal for walking and running, and to supplement your leisure, take a trip to Mona's Cafe at the Park's entrance and enjoy a coffee, a sweet, or some hot food.
Address: 163 Stewartstown Rd, Dunmurry, Belfast BT17 0HW
3. Sir Thomas and Lady Dixon Park – for the scenery
Located on the outskirts of Belfast and covering 128 acres in all, Sir Thomas and Lady Dixon Park is filled with woodlands and meadows to ensure a scenic walk, while the kids are taken care of in the abounding playground.
Don't forget to see the International Rose Garden, with its large reserve of beautiful flowers, which attracts thousands of visitors per year.
Make your way along the footpaths, or venture around the little ponds that are scattered across the park. A walk in Lady Dixon guarantees a little bit of everything.
Address: Belfast BT17 9LA
2. Lagan Valley Regional Park – for nature and history
Taking second place on our list of the best places to take a walk in Belfast, this park is situated on the outskirts of South Belfast near the Malone Road and is recognised as the North's only regional park.
Start off at the Shaws Bridge, a stunning five-arched stone bridge built in 1709. You are spoilt for choice as the River Lagan splits the park and ensures you can start from either of the two main routes.
The park covers a huge 4,200 acres and runs 11 miles long. It is no surprise that it was designated as an Area of Outstanding Natural Beauty, owing to the towpath, trees, wildlife, vast park-space, and meadows.
The park includes a variety of historical sites, such as the Giant's Ring, an ancient Neolithic site. Make a day of it by walking side by side with nature and history.
Address: 3 Lock Keepers Ln, Belfast BT8 7XT
1. The Belfast Hills (Black Mountain and Cave Hill) – for the views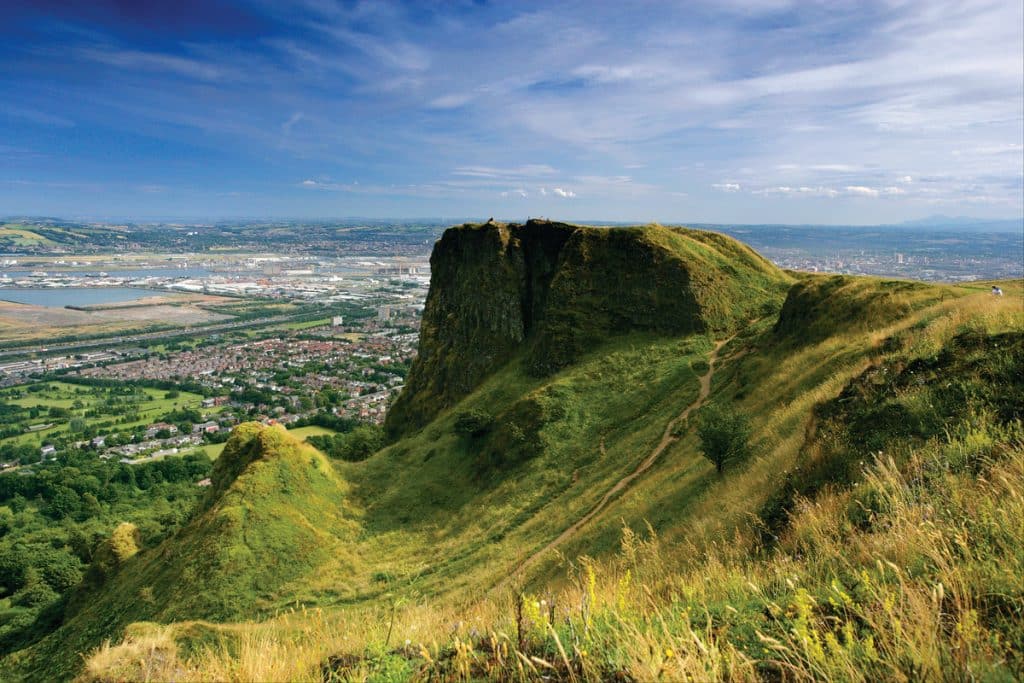 Undoubtedly Belfast's top place for a walk is the Belfast Hills area, namely the Black Mountain and Cave Hill Country Park.
Start at the foot of the Black Mountain via West Belfast and make your way along the winding roads, or begin at the heel of Cave Hill via the north of the city and set off through the forests.
Prepare for breathtaking views of Belfast in its entirety. From the top of Napoleon's Nose on
Cave Hill, you will have unrivalled views of Belfast's coast. Glance directly at the city centre and beyond from the summit of the Black Mountain.
If the Cave Hill walk wasn't enough, stop by the Belfast Castle. It is located at the bottom of Cave Hill Country Park and is ideal for those that have a love for castles and views of Belfast and (on a clear day) Belfast Lough.
Address: Divis Rd, Belfast BT17 0NG (Black Mountain)
Address: Antrim Rd, Belfast BT15 5GR (Cave Hill)