Skydiving is a hair-raising sport that is not for the faint of heart. Otherwise known as parachuting, this activity entails jumping from a very high point and free-falling before parachuting back down to Earth.
The first recorded parachute jump took place in 1797, by French inventor André-Jacques Garnerin. Over the centuries, the activity has gone on to become a worldwide obsession and classified as an extreme sport due to the risks involved.
In modern skydiving, participants usually jump from a plane at 10,000 to 18,000 feet. The parachute normally opens about 2,500 feet from the ground.
Between jumping and opening the parachute, skydivers can free-fall at up to 200 kilometres per hour. While this sounds scary, free-falling only lasts for about 60 seconds before the parachute is deployed. The remainder of the activity is a scenic ten-minute drift back to Earth.
If this sounds like your thrill-seeking cup of tea, then maybe it's time to give this extreme sport a try. Check out these top five places to skydive in Ireland.
5. We Are Vertigo (Co. Antrim)
If you feel you need to ease yourself into this adrenaline sport, check out We Are Vertigo in Northern Ireland. This activity centre offers indoor skydiving for those who want a taste of the good stuff before fully committing to the big jump!
This is the sole indoor skydiving centre on the Emerald Isle, and it recreates the feeling of free-falling to a tee with 120 kilometres of powered wind to suspend you in the air.
Located in the Titanic Quarter of Belfast, this adventure centre is truly one of the best places to skydive in Ireland, so book in advance to avoid disappointment. Those aged four to 94 are welcome to participate!
Address: Newtownbreda Industrial Estate, 1 Cedarhurst Rd, Belfast BT8 7RH, UK
4. Moonjumper (Co. Derry)
Another place to skydive (but for real) is Moonjumper. This skydiving centre is located north of Belfast and offers a variety of airborne activities.
There is tandem skydiving where participants are strapped to instructors, ensuring the highest level of safety, as well as a ram air canopy course—a more recent development in skydiving pursuits.
Moonjumper offers charity dives as well as vouchers that make for unique presents. It is also a top activity for those looking for a memorable corporate party, birthday celebration, stag party, or hen do.
Address: 12-14 Knocklynn Rd, Coleraine BT52 1WT, UK
3. Irish Skydiving Club (Co. Kilkenny)
At the Irish Skydiving Club in County Kilkenny, tandem skydives are the biggest draw. The jump costs €235 on the website, although they offer an option to pay only €75 up front and the rest at a later date.
According to the Irish Skydiving Club, the tandem dives promises up to 200 kilometres of free fall from up to 10,000 feet (for a first skydive). The club is also said to be the "#1 skydiving club for Tandem Skydiving Safety" and promotes itself as having "the best prices in Ireland for Tandem Skydiving".
Address: Kilkenny Airport Airfield Road, Holdensrath, Co. Kilkenny
2. Wild Geese (Co. Derry)
For those of you looking to experience the thrill of your life in Northern Ireland, check out Wild Geese skydiving. This centre is located in County Derry and is certainly the finest institution for airborne activities up north.
They offer premium parachute training courses for those hoping to make this into a hobby, as well as providing their services as a trained display team who can perform at events, festivals, and so on.
Tandem skydiving is also a big offering at Wild Geese, and divers can choose to raise funds for charity while enjoying the thrill of their life at the same time!
Address: 117-135 Carrowreagh Rd, Coleraine BT51 5LQ, UK
1. Irish Parachute Club (Co. Offaly)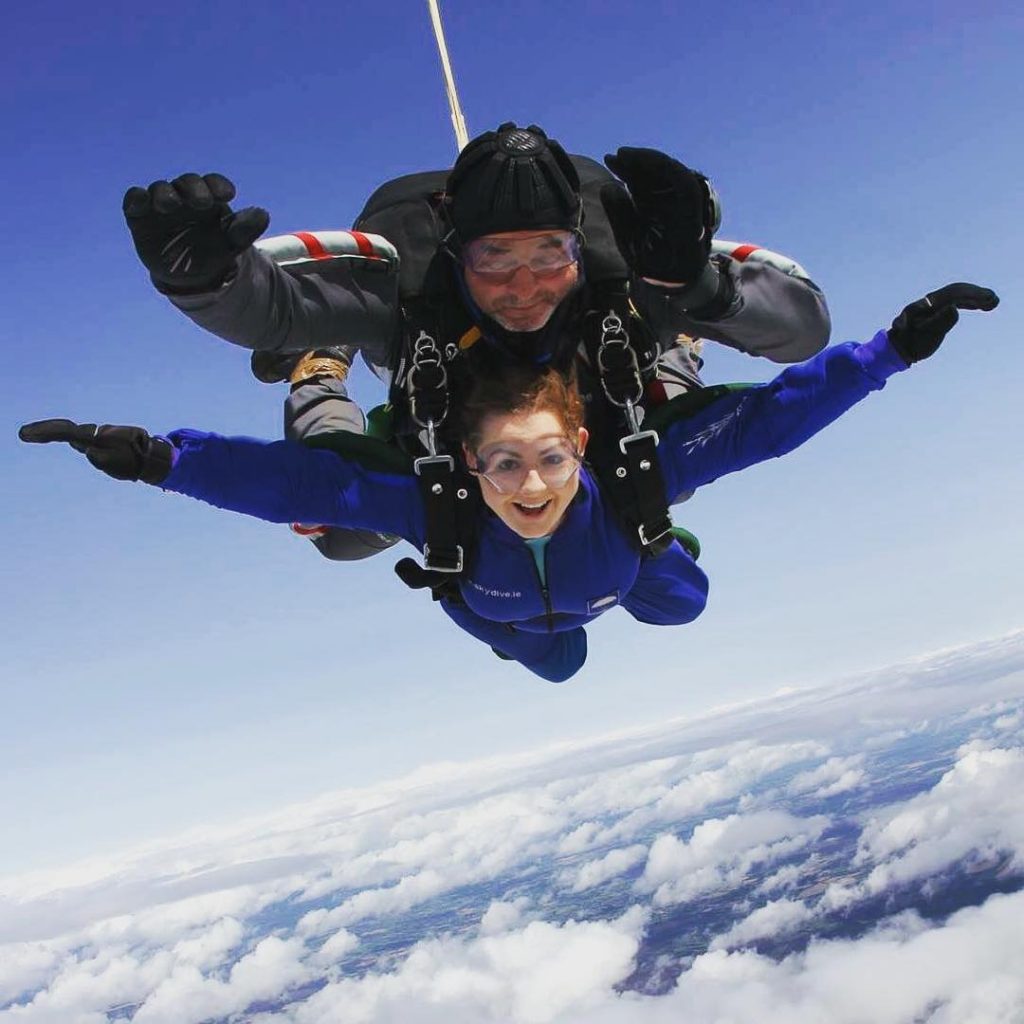 Located in Offaly, the Irish Parachute Club is one of the finest places to skydive in Ireland, if not the finest place.
As of 2019, divers will be dropping from a whopping 13,000 feet for the first time, so prepare to enjoy one hell of an unforgettable experience. The club also offers training for everyone from beginners all the way to advanced.
Address: Clonbullogue Airfield, Clonad, Clonbullogue, Co. Offaly