A pub, a Guinness, and some joyful Irish tunes—is there no better combination here on the Emerald Isle? Many say that you haven't experienced Ireland properly until you've had a night out experiencing traditional live music, and we couldn't agree more.
If you are heading west, you are in for an especially unforgettable treat. Galway is the sixth-largest city on the island of Ireland, after Dublin, Belfast, Cork, Limerick and Derry with roughly 80,000 inhabitants, is a popular hub for musical talents and fans alike.
During the day, dozens of buskers fill the streets, while at night, musicians get their harps, flutes, and fiddles out at the city's numerous pubs for the so-called "trad sessions."
If you love a live gig as much as we do, tuck into this list of our five favourite places to experience live Irish music in Galway, and get ready for a very Irish sing-a-long.
5. An Púcán
Ask an Irish person in Galway for an authentic pub experience, and chances are they will point you straight to An Púcán on Foster Street. Just a stone's throw from the train station (very convenient if you have just arrived in town), this is one of the oldest pubs in the area, guaranteeing a craic any day of the week.
An Púcán is a pub, restaurant, sports bar, and music venue all in one, with multiple bars and stages for daily live gigs. For the traditional Irish session, head to the front bar section, and expect the crowd to clap, sing, and dance along the whole time.
While we are well aware that a pint of Guinness is on the bucket list for almost every visitor to Ireland, at An Púcán, whiskey is the real deal. They have more than 150 different whiskeys that will surely take you through your Irish party night.
Address: 11 Forster Street, Galway
4. Taaffes Bar
With the first traditional music session starting as early as 5.30 PM (the second one kicks off at 9.30 PM), Taaffes on busy Shop Street is ideal both for an early craic session and a rainy day in Galway.
Little has changed since the cosy pub first opened its doors over 150 years ago. The rustic wooden decor and the pictures and framed newspaper articles on the walls bear testament to its long-term popularity.
The trad nights feature local as well as travelling Irish talents seven days a week, and the crowd is always up for a spontaneous sing-song. We especially love that Taaffes attracts music fans of all ages; it's not uncommon to find families with kids joining in the fun.
The later the time, the more packed the place gets. Needless to say, though, you will always find room for some frisky dance moves.
Address: 19 Shop Street, Galway
3. The Quays
A favourite watering hole for almost 400 years, The Quays in the heart of the Latin Quarter is an institution for pub fun as well as live Irish music in Galway. Up to three bands a night take the stage on the upper floor, singing and playing their hearts out in front of a giant organ that previously sat in a French church.
The trad nights are as legendary as the venue itself: The Quays has been awarded "Best Music Pub 2018" and "Live Music Venue of the Year 2017." Easily recognizable by its bright blue facade, the pub attracts a mix of locals and visitors every day, getting especially crowded towards the end of the week.
Fancy some local tastes before the sing-a-long? The menu features all the hearty favourites, such as Guinness Stew, along with plant-based alternatives for veggie guests.
Address: 11 Quay Street, Galway
2. The Crane Bar
The Crane Bar is a bit further out in the west, but the popular drinking spot is well worth a walk. Tucked away from the main street crowds, this is the place where locals gather to enjoy trad music seven days a week.
The Crane Bar is a rustic Irish pub in the best sense. The staff still knows its (many) regulars by name, and their favourite drinks are magically refilled until closing time. Newcomers are welcomed with a warm smile and will soon find themselves joining in conversations over shared pints.
Every night at 9:30 PM, the traditional Irish music session kicks off in the main downstairs room while the so-called Listeners Club upstairs features live music from country to rock in an intimate setting. The latter sessions are sometimes ticketed, but the trad music is always free.
Address: 2 Sea Road, Galway
1. Tigh Coili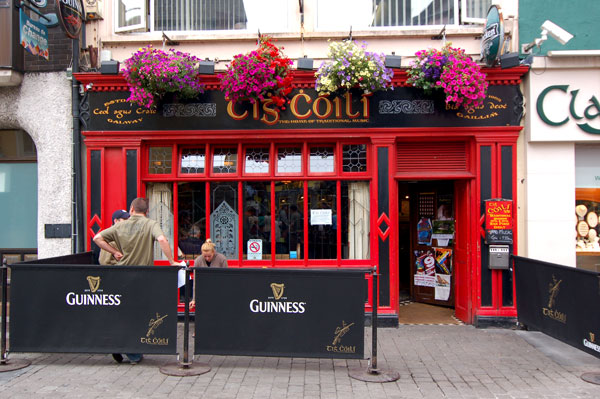 We won't lie: Tigh Coili Pub is high up on pretty much every visitor's bucket list. But don't confuse popularity with "tourist trap" in this case. Locals love the small, family-run pub in the Latin Quarter just as much as city newbies do—especially because it's a grand place for live Irish music in Galway.
Traditional sessions take place twice a night, seven days a week, with the musicians casually squeezing in on a side table near the bar. Places fill up quickly, so it's best to arrive early to secure a good spot. And why not mingle with the locals over a pint (or two) while waiting for the Irish tunes?
Make sure to have a look around before you settle at the bar: The walls are plastered with pictures of musicians past and present who have played at the pub. While the owners themselves love to play the fiddle and flute in between serving pints, it's not uncommon to see prominent faces popping in. Sharon Shannon is a regular.
Address: Mainguard Street, The Latin Quarter, Galway