Ireland's unique charm doesn't just idly dwell on spectacular scenery, formidable cliffs, bruised skies, and magnificent pastures.
It is here on the Emerald Isle that some of the most celebrated novelists, poets, and playwrights were born, endowing Ireland with an unparalleled literary legacy.
For the most voracious of travellers wanting to embark on a literary odyssey, Ireland might be just the right place.
Not only can you escape the crowds and immerse yourselfin some of their masterpieces but you can also follow closely in their footsteps.
Here's our rundown of five literary attractions you should check out when you are here.
5 – The Patrick Kavanagh Trail in Inniskeen
As one of Ireland's most beloved literary figures, Patrick Kavanagh is rightfully commemorated on the National Patrick Kavanagh Day in July and the Annual Patrick Kavanagh Weekend in November.
It is these months that Kavanagh admirers typically spend in taking literary tours and appreciating the readings held in Inniskeen, a small rural town where the author was born. Along the Kavanagh Trail, visitors can look around the local sites that spurred the writer's imagination and compelled him to write some of his most famous works, The Green Fool and Terry Flynn.
4 – The C.S. Lewis Trail in Belfast
It's not only Game of Thrones that makes Belfast so treasured amongst the tourists. The fans of Narnia Chronicles flock to Belfast to embark on extensive tours around all the significant spots connected with its author – C.S. Lewis.
The tours are a god's blessing for Lewis devotees looking for an awesome chance to relish all-things-Narnia.
The trail usually commences at Holywood Arches Library where fans can admire The Searcher Statue depicting Lewis himself as Professor Digory Kirke, grasping the knob to enter Narnia's wardrobe portal.
Very close by is C.S. Lewis Square, displaying bronze sculptures of his most notable characters – The White Witch, Aslan, The Beavers, Mr. Tumnus, The Stone Table, and The Robin.
Narnia admirers fancying a cup of hot Irish tea can savour one at the Lamppost Café – a family run bistro featuring Lewis' quotes and Narnia decor.
Before bringing the trail to a close, Narnia enthusiasts should definitely visit Belmont Tower housing one of the most extensive C.S. Lewis exhibitions composed of his letters and first editions of the Narnia books.
3 – Seamus Heaney's Road to Derry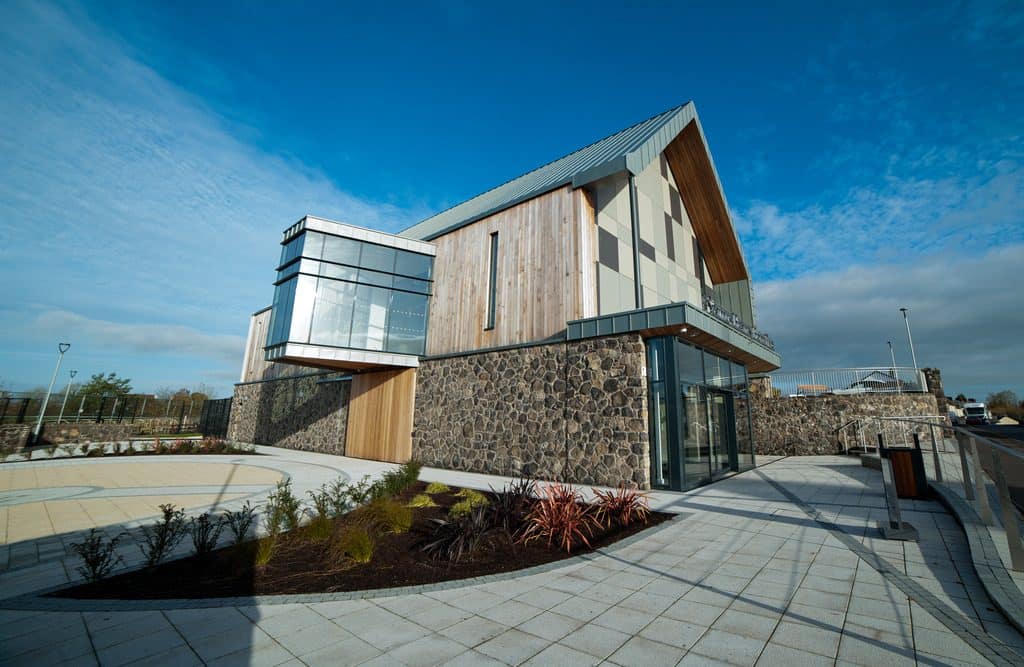 Located in the village of Bellaghy, at a mere 45-minute drive from Derry City and Belfast, one can visit the Seamus Heaney HomePlace.
The Nobel Laureate Seamus Heaney chose Bellaghy as his final resting place, having dedicated a great many poems to this nostalgically attractive village and its surrounding elements.
Today, visitors to Heaneyland can set off on Heaney-themed literary trails and amble through the landscapes and places that inspired this literary genius.
Undoubtedly spectacular is the Devil's Glen and Seamus Heaney Trail, also called the Yellow Walk.
It is en route that one can absorb the scenery Heaney drew inspiration from or revel in the famous poet's stanzas carved into a series of wooden benches.
2 – The Literary Gems of Dublin
If there's anything Oscar Wilde and James Joyce have in common, it has to be Ireland's capital – Dublin.
The charm of this splendid city inspired the two of the world's greatest wordsmiths to immortalize every inch of it through their works. After all, it's called the city of literature for a reason.
If you decide to visit Dublin on June 16th, you can assume the character of Leopold Bloom and take the Ulysses route through Dublin.
Listen to the bells Leopold heard from his home as they chimed from St. George's church, animate his musings as you stroll down St Stephen's Green Park, and most importantly, have a gorgonzola sandwich and a glass of Burgundy at Davy Byrnes.
In the same spirit, pay a visit to the James Joyce Centre and revel in permanent Joyce exhibitions bringing the author's life and works closer to modern readers.
In case you want to take a walk on the Wilde side, you can catch a glimpse of the writer's iconic stone sculpture in Merrion Square, portraying the artist reclining against a granite rock, a curious smirk ghosting around the corners of his mouth.
1 – Yeats County
Seldom will you see the shades so radiant and vivid as the ones around Lough Gill, the most famous lake of Sligo but also the one that inspired Yeats to eternalise it through his rhymes.
Spending his youthful years in Sligo, W.B.Yeats grew increasingly fond of the surrounding scenery and serenity.
If you follow in his footsteps, you will discover Rosses Point – one of the finest European beaches overlooking the spectacular Coney Island and the majestic Benbulben's tabletop.
This is where Yeats's final resting place is, in the Drumcliffe Churchyard. Back in Sligo Town, the poet was awarded his very own statue.
In order to pay homage to his legacy, Sligo's Yeats Society was founded too, preserving the poet's intellectual heirloom so firmly ingrained in these parts of Ireland.