Widen your circle of Irish exploration through day trips beyond Northern Ireland's capital! Here are the five best day trips from Belfast City.
One great thing about travelling in the north of Ireland is that you can hop in the car, and a few hours later, you could be on the other side of the island, passing through hundreds of historical sites on the way.
This makes Belfast City Centre an amazing launchpad for day trips to explore Northern Ireland. Whether you are looking for a dose of the seaside, a cultural experience, or a taste of the magic of the natural world, Ireland can offer all.
From fascinating history to scenic drives, Irish countryside to historic castles, Northern Ireland has it all. Here are five of the best destinations for day trips from Belfast City to satiate your travel itch.
Tips and advice for day trips from Belfast City Centre
Booking.com – the best site for booking hotels in Northern Ireland
Best ways to travel: Hiring a car is one of the easiest ways to explore if you're limited on time. As the capital, Belfast is the most well-connected place in the north of Ireland. So, you should easily enjoy day trips from the city using services such as Translink. However, travelling by car will give you much more freedom when planning your own journey and day trips. Alternatively, you can book guided luxury coach tours that will take you on some of the best day trips from Belfast, according to your preference.
Hiring a car: Companies such as Avis, Europcar, Hertz, and Enterprise Rent-a-Car offer a range of car rental options to suit your requirements. Cars can be picked up and dropped off at locations around the country, including at airports.
Travel insurance: Ireland is a relatively safe country. However, it is important to make sure you have appropriate travel insurance to cover unforeseen circumstances. If you're hiring a car, it's also important to ensure that you're insured to drive in Ireland.
Popular tour companies: Booking a guided tour is a great option to save some time planning. Popular tour companies include CIE Tours, Shamrocker Adventures, Vagabond Tours, and Paddywagon Tours. Game of Thrones fans will be delighted to hear there are plenty of dedicated Game of Thrones tours that will take you to some of the most famous filming locations from the show, including the Dark Hedges, Castle Ward, and many other stunning locations.
5. Causeway Coastal Route, Co. Derry/Antrim – the perfect day trip for stunning coastal views
Total drive time: 2 hours 45 minutes (182 km / 113 miles) to drive from Belfast and along the coastline
Consider this one a beach crawl. If you plan this well and set off early in the morning, you can see a lot of the beautiful coastal path in one full-day trip.
Drive to Downhill Beach and work your way along the coast. Stop off at Portstewart, Ballycastle, Portballintrae, or any other coastal towns that make up this scenic road trip along the Derry and Antrim Coast road.
This can be modified for all fitness levels, making it suitable for all the family. In the summer, you can try your hand at surfing or paddleboarding in the coastal town of Portrush or play a few holes of golf in the home of the Open.
Stunning locations on this route include Mussenden Temple and the UNESCO World Heritage Site of the Giant's Causeway. We also recommend Dunluce Castle and Carrick-a-Rede Rope Bridge.
Game of Thrones fan? Check out the Dark Hedges and Ballintoy Harbour, where Game of Thrones was filmed (home of Theon Greyjoy).
Grab a coffee in Bob and Berts for the road, stick on a good playlist, and enjoy the incredible views along the Antrim Coast.
Where to eat
Breakfast and lunch
Lost and Found, Coleraine: A great spot for delicious breakfast and lunch dishes. The minimalist vibe and creative menu are sure to please all.
Fidela Coffee Roasters, Coleraine: This unique coffee shop is new on the scene but has been a hit with locals since first opening its doors. Great coffee, delicious bakes, and filling dishes; yes, please!
Awaken, Portstewart: From banana bread to granola, cinnamon rolls, great coffee, and more, you'll be spoilt for choice.
Dinner
Ramore, Portrush: With several specialising in different cuisines, there's something for everyone at the Ramore in Portrush.
Morton's Fish and Chips, Ballycastle: Fish and chips beside the sea? We can think of no better way to end a day in Ireland.
Harry's Shack, Portstewart: Located on the beach in Portstewart, Harry's Shack is an idyllic location to enjoy an evening meal.
Where to drink
Harbour Bar, Portrush: Part of the Ramore Complex, the Harbour Bar is a great place for a pint on the Antrim Coast.
Central Bar, Ballycastle: This popular and traditional Ballycastle Bar has a vibrant energy, flowing drinks, and live music.
Villa, Portstewart: Modern and stylish, Villa is the perfect place for delicious cocktails with friends.
Where to stay on the Causeway Coast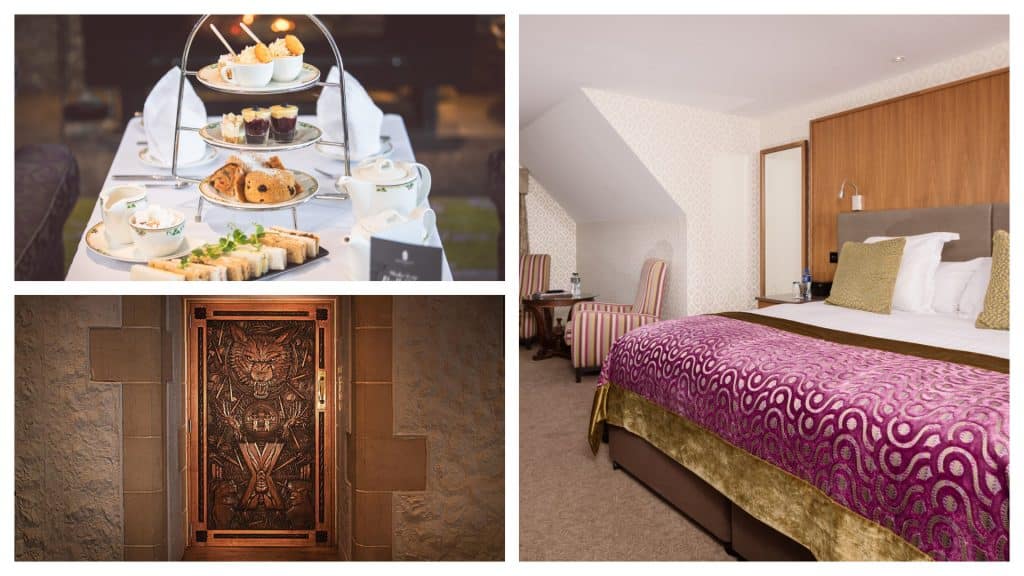 Located in the quaint town of Ballygally on the Antrim Coast, the Ballygally Castle Hotel offers a stay you'll never forget. Home to one of the doors from Game of Thrones, as well as comfortable rooms, an onsite restaurant serving Game of Thrones afternoon tea, and beautiful gardens, this beach-front hotel is a must-visit.
For a unique stay, we recommend booking into the wonderful Further Space Glamping Pods. With two locations along the Antrim Coast, you'll have plenty of choices when it comes to this unique accommodation choice. Pods are complete with pull-down beds, private bathrooms, private kitchen areas, and terraces.
The Marine Hotel in Ballycastle is a great option for a budget stay. Guests are guaranteed a comfortable stay with spacious ensuite rooms and a brilliant onsite bar and bistro.
4. Silent Valley Reservoir, Co. Down – for dramatic natural beauty amidst a famous mountain range
Total drive time: 1 hour 15 minutes (75.6 km / 47 miles)
A visit to this reservoir and parkland placed in the Mourne Mountains Area of Outstanding Natural Beauty is well worth it. Certainly one of the best day trips from Belfast.
See the dramatic mountainous skyline up close, and see the sparkling blue water of the reservoir. Take a walk up the hill, enjoy the natural beauty of the Mourne Mountains, and bring a picnic to enjoy the spectacular views.
It's a great place for kids to play and a great location for budding photographers to practice. On your way home, call into the seaside town Newcastle in County Down. Enjoy some ice cream on the beach or stop for some traditional fish and chips.
Where to eat
Breakfast and lunch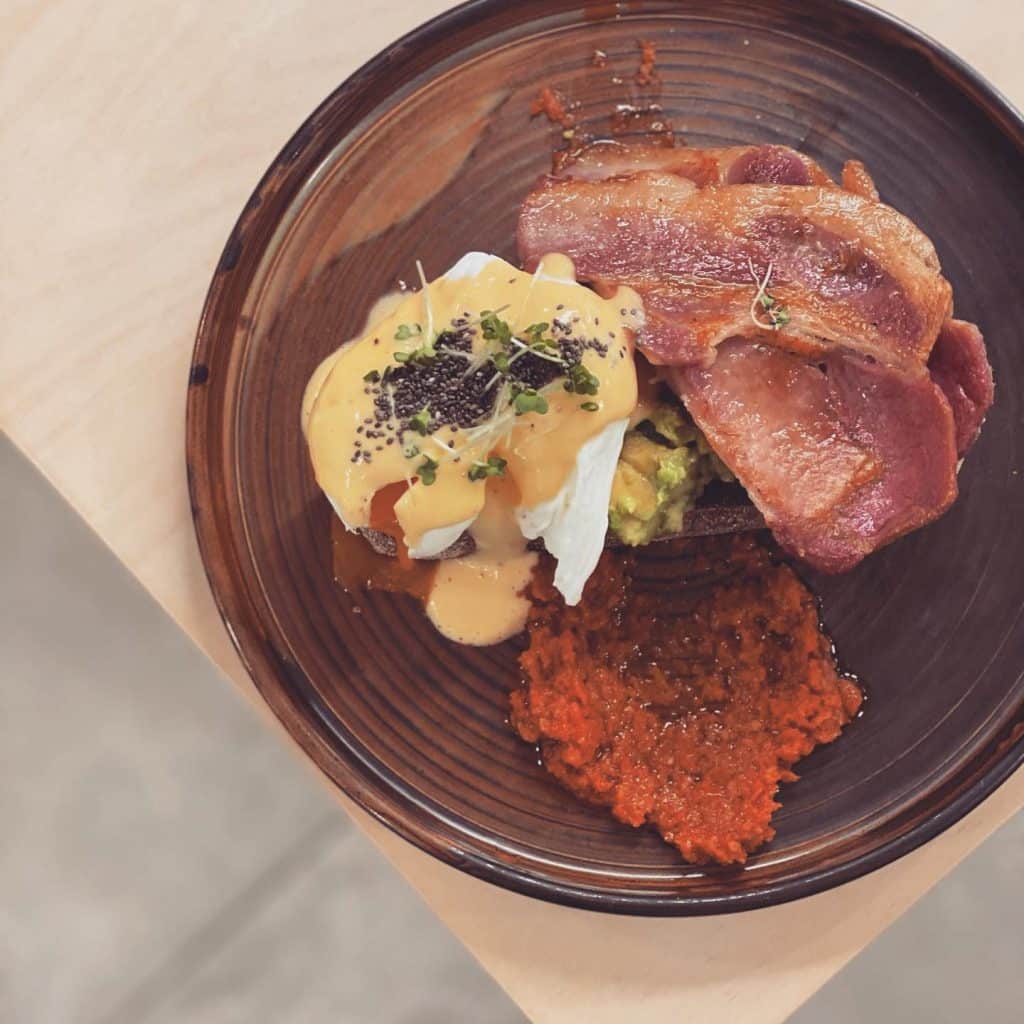 Railway Street, Newcastle: One of the most popular spots for breakfast, brunch, and lunch in the Newcastle, Railway Street has a wide and varied menu that caters for all dietary requirements.
Church Lane Coffee, Warrenpoint: Located in the small town of Warrenpoint in County Down, Church Lane Coffee is a fantastic independent coffee shop specialising in brunch and casual Mexican dining.
Carrick Cottage Café, Annalong: If you're planning a hike, then we highly recommend stopping off at the fantastic Carrick Cottage Café at the foot of Binnian. This traditional Irish cottage is the perfect place to fuel up pre-hike.
Dinner
Diamonds Restaurant, Warrenpoint: Are you after a good honest feed? If so, you can't go wrong with a meal at Diamonds Restaurant in Warrenpoint. This no-frills café offers everything from burgers and chips to roasts.
Great Jones Craft and Kitchen, Newcastle: Located in the heart of Newcastle, Great Jones Craft and Kitchen offers fantastic food, a unique casual dining experience, and options for all dietary requirements.
Villa Vinci, Newcastle: This fantastic Italian eatery is perfect for all the family. With plenty of pasta, pizza, and everything in between, the hardest part will be deciding what to pick.
Where to drink
Quinn's Bar, Newcastle: This popular bar in the heart of Newcastle town is the place to go for a lively night out.
O'Hares Lounge Bars, Newcastle: Overlooking the waterfront, O'Hares is a traditional Irish pub and beer garden. A great place to spend a summer evening!
The Rostrevor Inn, Rostrevor: Located in a restored 18th-century building, the Rostrevor Inn is known for great Guinness, live music, and a cosy atmosphere.
Where to stay near Silent Valley
Do you want an unforgettable stay in one of the most scenic parts of Northern Ireland? If so, we recommend booking a night at the iconic Slieve Donard Hotel and Spa. Overlooking the Irish Sea and the Mourne Mountains, guests can choose from various rooms, visit the onsite spa, dine at one of the hotel restaurants, and even take a dip in the pool.
To fully immerse yourself in nature, we recommend booking into the fabulous Leitrim Lodge Luxury Glamping Pods in the Mourne Mountains. With fantastic views from your bed, ensuite shower rooms, and tea and coffee making facilities.
Located on Rostrevor, East Coast Adventure Centre Glamping is the perfect budget accommodation choice near Silent Valley. Perfect for all kinds of travellers, these cosy glamping pods offer the perfect base from which to explore the Mourne Mountains and Carlingford Lough.
3. Armagh City, Co. Armagh – a historical and cultural hub for the history buff
Total drive time: 50 minutes (63 km / 39 miles)
Despite being extremely small, Armagh city has a lot to offer in terms of culture. Nestled near the border of Northern Ireland and the Republic of Ireland, Armagh is a historical hub.
The city boasts St Patrick's Cathedral and the Armagh Planetarium, two popular attractions worth visiting.
You should also visit the Navan Fort, a royal fort from pagan Ireland dating back to 2500 BC. If you climb to the top of the fort, you can see the lush green countryside for miles.
Where to eat
Breakfast and lunch
Bagel Bean: Bagel lovers, listen up! With a whole array of breakfast and lunch bagels to choose from, as well as a selection of other dishes, this is a must-visit.
Chapman's Farm Fresh: This fantastic farm shop, located just outside of Armagh, is the perfect place for a delicious homecooked breakfast or lunch. Afterwards, you can browse the local produce in the farm shop and get some goods to take home.
The Craic'd Pot Coffee House: This laidback café and coffee shop serves delicious freshly baked bread, sandwiches, pizza, and bakes.
Dinner
Uluru Bar and Grill: This Australian style eatery serves a mouthwatering menu with everything from carbonara to burgers, vegan options, and more.
Keegan's Bar and Restaurant: Keegan's Bar and Restaurant is a fantastic family-run bar known for its great quality and value for money.
Embers: Embers is a family-run all-day casual dining venue that serves everything from fajitas to burgers and tacos to lasagne.
Where to drink
Hole in the Wall: Claiming to be the longest pub in Ireland, Armagh's Hole in the Wall is a unique place to enjoy a drink.
Red Neds: Known as the home of one of the best pints of Guinness, Red Neds boasts almost 100 years of history, making it a great historic pub.
Mickey Kelly's Bar and Off License: This family-run bar and off-license is a popular choice among locals looking for a lively night out.
Where to stay in Armagh
Located in Scarva, between Armagh and Banbridge, Blackwell House is a great place to rest your head when visiting Armagh. Close to the new Game of Thrones Studio Tour, which is one of the most unique tourist attractions in Northern Ireland and one of the most exciting new attractions to visit in Ireland, this is also a great choice for fans of the show. Lie back in luxuriously comfortable super-king beds, enjoy a delicious afternoon tea, and stroll through the lush gardens around the house.
Located in the city centre, Armagh City Hotel is situated in the perfect location for those who want to discover Armagh's top attractions. With executive, standard, family, and adjoining rooms, there is something for everyone here. Plus, the onsite dining and leisure facilities make this a comfortable place to stay.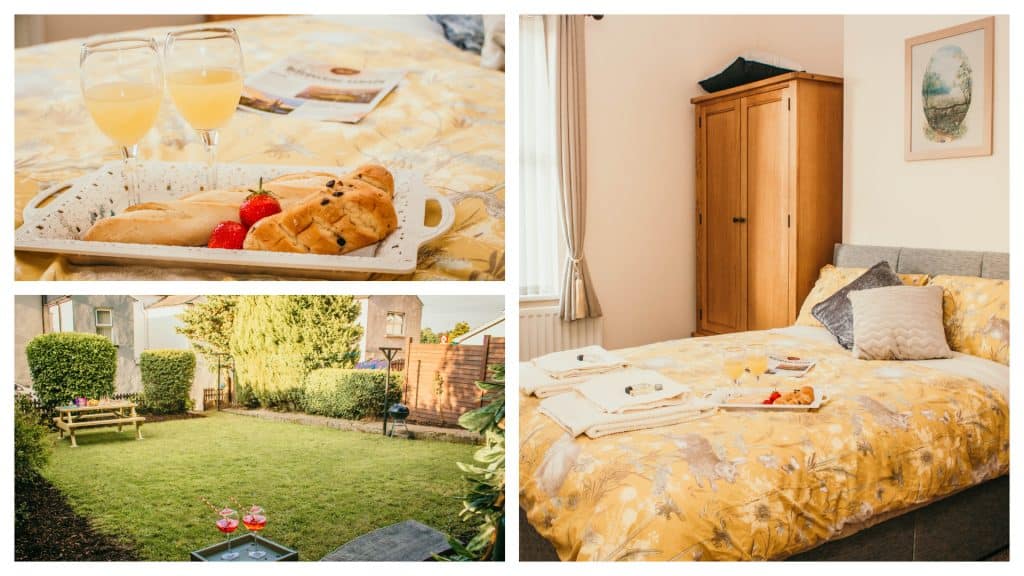 If you're visiting Armagh on a budget, then we couldn't recommend The Rose Luxury Self Catering Accommodation high enough. Conveniently located in the city centre, guests can relax in private ensuite rooms and use the shared lounge, garden, and kitchen.
2. Cuilcagh Boardwalk / Stairway to Heaven and the Marble Arch Caves, Co. Fermanagh – a fantastic day trip with panoramic views
Total drive time: 1 hour 50 minutes (147 km / 91.5 miles)
This one is a bit of a longer drive away, so you'll need to plan a full-day trip from Belfast City. However, the amazing views are well worth it.
This place is popular with hillwalkers for a reason; the Cuilcagh Boardwalk (or Stairway to Heaven) takes you through the peatland of County Fermanagh and up the side of the mountain, giving the most breathtaking views in the process.
Another big Irish bucket list location, this one requires a relatively active degree of fitness. So, bring your trainers, and get right into nature.
If you finish quickly and have time, the Cuilcagh Boardwalk is on the same site as the Marble Arch Caves, which are some of the best caves in Ireland. They are a unique Valentine's date idea in Ireland. See some stalagmites and stalactites, and learn the difference during this immersive experience on one of the best day trips from Belfast.
Where to eat
Breakfast and lunch
Moon and Back Café, Dungannon: The perfect stop on your way from Belfast City to the Cuilcagh Boardwalk, Moon and Back Café is a great spot for a delicious breakfast.
The Croft Farm Shop, Enniskillen: For delicious artisan produce and locally sourced food, you need to check out the Croft Farm Shop in Enniskillen.
The Bees Knees Café, Enniskillen: One of the most popular cafés in Enniskillen, the Bees Knees Café is known for delicious food made using fresh, locally sourced ingredients.
Dinner
Horseshoe and Saddlers, Enniskillen: The Horse and Saddlers is a classy award-winning restaurant at the heart of Enniskillen town.
The Taphouse Gastro Pub, Enniskillen: A relatively new addition to Enniskillen's dining scene, the Taphouse Gastro Pub has quickly gained an amazing reputation among locals for its delicious food and drinks.
Franco's, Enniskillen: Pizza lovers will be in heaven at Franco's, known for its vast pizza menu, which is available for sit in or takeaway.
Where to drink
Blakes of the Hollow, Enniskillen: As one of the most famous Victorian pubs in Ireland, no trip to County Fermanagh is complete without a pint from Blakes of the Hollow.
Charlie's Bar, Enniskillen: Established in 1944, Charlie's Bar holds the title of the oldest family-run bar in Enniskillen. A firm favourite among locals, you can rest assured you'll enjoy a fantastic pint here.
Granny Annies, Enniskillen: A more commercial-style bar than the others, the Enniskillen branch of Granny Annies is a great option for cocktail deals and a lively atmosphere.
Where to stay in County Fermanagh
This five-star resort hotel will provide an unrivalled stay right on the banks of the beautiful Lough Erne. Luxurious and opulent, guests can relax in the fantastic rooms and suites. Put your feet up in the Thai Spa, enjoy a meal at one of the onsite restaurants, and even partake in a round of golf on the 36-hole golf course.
Overlooking the beautiful Lough Erne, the Killyhevlin Lakeside Hotel and Lodges is the perfect four-star retreat in the scenic Irish countryside. Guests can choose from luxury hotel accommodation or self-catering lodges. You can even make the most of the Elemis Spa, dine at one of the best restaurants in Northern Ireland, and use the onsite health club.
Belmore Court and Motel offer fantastic four-star accommodation at budget prices in the heart of Enniskillen. To complement your stay, you can wake up to a delicious hot and cold breakfast buffet made of locally sourced produce.
1. Derry City, Co. Derry – a city of culture and home of Derry Girls
Total drive time: 1 hour 30 minutes (113.3 km / 70.4 miles)
Topping our list of best day trips from Belfast City is Derry, known for the famous City Walls and, of course, Derry Girls.
You can get the train direct from Belfast City with a day pass. After a scenic journey through the country, you'll arrive at one of the most historical cities in Ireland, the Walled City of Derry.
You can see the famous Peace Bridge, learn about the Troubles in the Bloody Sunday Museum, or hit up some of the bars and restaurants that make up Derry's cultural scene.
Voted City of Culture 2013, Derry's turbulent political past has been slowly incorporated into the fabric of the city. Thus, educating visitors on the conflict while also offering them entertainment in the arts, food and drink, and shopping.
Derry is a city to watch and a real cultural player in Ireland.
The cultural scene in Northern Ireland is growing every day. So, there are so many ways to enjoy the unique cultures and history from all over the country.
Steeped in mythology, politics, and traditions coupled with modern bars and restaurants, these five best day trips from Belfast City come highly recommended by us.
Where to eat
Breakfast and lunch
The Pickled Duck Café: With various locations across the city, the Picked Duck Café is a firm favourite among locals. They serve a delicious menu of quality locally sourced food.
Primrose on the Quay: This family-run waterfront bistro is the perfect place to start your day in Northern Ireland's second-largest city. From freshly roasted coffee to pancakes, toasties, and more, there is something for everyone here.
The Cottage Craft Gallery and Coffee Shop: Dine in Derry's adorable craft village at the old-timey Cottage Craft Gallery and Coffee Shop. Serving fresh coffee, scones, toasties, bakes, and more, this delightful little café provides the perfect spot for breakfast or lunch.
Dinner
Quaywest: This beautiful converted 18th-century boathouse offers an unforgettable dining experience.
Pyke 'N' Pommes: For delicious tacos, burgers, and fries, head to Pyke 'N' Pommes.
The Exchange: Located near the Peace Bridge, this family-friendly casual dining restaurant is a great place for delicious food in Derry.
Where to drink
The Walled City Brewery: Visit the award-winning Walled City Brewery for fantastic home-brewed beer.
Peadar O'Donnell's Bar: For a lively night in the city, check out this buzzing bar on Waterloo Street.
Where to stay in Derry
If you want to stay in style when visiting Derry, we highly recommend checking out the fantastic Everglades Hotel. Part of the iconic Hastings Hotels group, this luxurious hotel offers spacious rooms, Derry Girls afternoon tea, and a brilliant onsite restaurant.
With comfortable rooms, a convenient city-centre location, and plenty of amenities, Derry's City Hotel offers a luxury stay without the scary price tag. Make use of the fantastic onsite bar, waterfront views, roof terrace, and health club and pool.
The Saddler's House is a cosy 19th-century converted townhouse. This makes it the perfect place to stay in the city on a budget. Guests can enjoy comfortable rooms and a delicious breakfast the next morning.
Other notable mentions
There are plenty of other incredible day trips to enjoy from Belfast City. From Game of Thrones locations to fantastic views, famous attractions, and historical sights, you'll be spoilt for choice.
Antrim Coast: Once you've visited the UNESCO World Heritage Giant's Causeway with its mesmerising basalt columns, braved the walk across the Carrick-a-Rede Rope Bridge, enjoyed the stunning views and dramatic cliff faces from Dunluce Castle, and, of course, visited the Dark Hedges, perhaps the most famous attraction from Game of Thrones, we urge you to continue your journey along the County Antrim coast.
Along the remaining County Antrim coast, on your way back to Belfast, you can stop off at Glenariff Forest Park, Carrickfergus Castle, the Gobbins Cliff Path, and more. These are all great day trips from Belfast.
Strangford Lough: Right in the heart of County Down, it is well worth making a day trip to the fantastic Strangford Lough. With plenty of stunning towns dotting the lough shore and even some Game of Thrones filming locations, you won't regret a trip here.
Mourne Mountains: If you're visiting Silent Valley, you might as well make it a full-day trip and discover the majestic Mourne Mountains that sweep down to the Irish coast. Home to Slieve Donard, the tallest mountain in Northern Ireland, this is a must for lovers of the great outdoors. This is only a few of the reasons why it is one of the best day trips from Belfast.
Lough Neagh: Bordering County Antrim, County Derry, County Tyrone, and County Armagh, Lough Neagh is Northern Ireland's largest freshwater lake. Whether you want to enjoy some watersports or visit the towns around the lough, there are plenty of reasons to visit here while in Northern Ireland.
FAQs about day trips from Belfast
Where should I go for a day trip in Northern Ireland?
There are plenty of great day trips from Belfast to be enjoyed all across Northern Ireland. The Giant's Causeway in County Antrim or a Game of Thrones-themed trip to the Dark Hedges are some of the most popular.
How many days should you spend in Belfast?
Belfast is quite a small city, so you can see plenty in just one day. However, we'd recommend spending at least two or three days in the city, so you can fully enjoy the experience.
Is Belfast worth visiting?
Yes! There is so much to see across Belfast City, from the iconic Titanic Belfast, which tells the tale of the ill-fated ocean liner, to the dark but fascinating history of Crumlin Road Gaol, and so much more.