Discover historic and scenic wonders with these five incredible castles in County Kilkenny.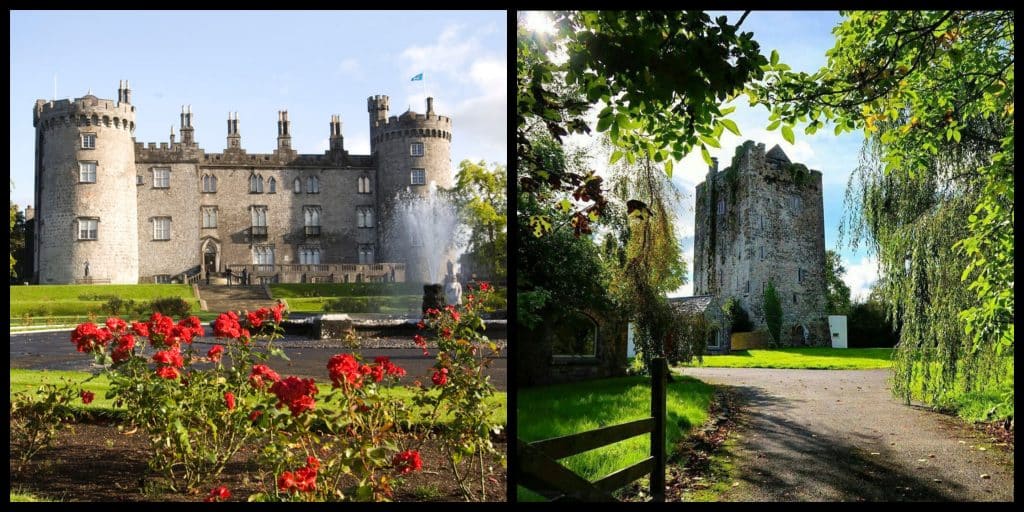 Ireland with its green rich countryside is an idyllic resting spot for historic castles to stand tall. This small but precious island hosts many cultural buildings admired by the rest of the world.
Some of the most striking castles in Europe belong to the Emerald Isle. In particular, the medieval county of Kilkenny and its historic city of the same name offer some of the most captivating castles on this island.
Here we reveal the five most incredible castles in County Kilkenny.
5. Grennan Castle – scenic ruins by the River Nore
Built in the 13th century by Anglo-Norman Thomas FitzAnthony, Grennan Castle sits on the west bank of the River Nore in Thomastown.
The twenty-metre long rectangular castle stood in good condition until the early 19th century. Today, the courtyard walls and outer buildings no longer remain, and sadly the windows, the doors, and most of the quoin stones have been stolen over the years.
However, it is still a sight to behold, especally if you love ruins, and a new walking trail from Thomastown to Inistioge passes by the castle.
Location: Grenan, Thomastown, Co. Kilkenny, Ireland
4. Shankill Castle – an artistic haven
Only a few miles down the road from Gowran Castle, Shankill Castle is a scenic wonder that was originally a Butler tower-house, situated near the ruins of an old church. The castle was reconstructed in 1708, and the newer Shankill Castle, in all its glory, was erected to be a Queen Anne home. Later, in the 1900s, the home was extended.
The garden, previously a neglected area, is today a beautiful and glorious spring garden. Its vivacious borders splash colour in abundance throughout the year. It is a stunning place to hide away from the hustle of modern life.
Adding to the mysterious ambiance is a large walled garden with a pleasant apple arch for maximum effect. Anyone who likes gardening or simply looking at the splendour of a well-maintained garden should spend a day here, absorbing the natural space that surrounds this mystic building.
Saturated in culture and heritage, Shankill Castle and its gardens inspire artists and are well worth a visit.
The Cope family have been in residence here since 1991. They are devoted to restoring the castle and all its history. The Cope family are artists and historians, so they reflect a natural love for the activities they offer at the unique castle. Exhibitions are hosted regularly attracting countrywide and international visitors.
Location: Shankill, Paulstown, Co. Kilkenny, Ireland
3. Burnchurch Castle – a monumental presence
A National Monument since 1993, this 15th-century Norman tower house with a round gate tower offers an element of mystery with its secret rooms and hidden passageways. Situated 6.5km southwest of Kilkenny, outside the town of Callan, it is easily accessed. The Fitzgerald family built this castle in the 15th century, and it was a residence up until 1817.
The 12.5m-high circular turret remains, along with a walled courtyard, which was once attached to the castle. If mystery is your thing, this is the place for you. Burnchurch Castle is made up of little narrow rooms in the walls, one of them a secret room, to heighten the intriguing presence of this master building.
Burnchurch Castle is a good example of the characteristic Irish style of stepped battlements.
Location: Burnchurch, County Kilkenny
2. Ballybur Castle – a self-catering retreat
Ballybur Castle is a five-story 16th-century tower house situated about 5 miles south of the city of Kilkenny. Standing 65 feet tall, Ballybur has larger rooms and wider stairs than most. Having been lovingly restored, it is now a luxury self-catering holiday home.

If it's a relaxing break you're after, the castle can be rented for self-catering holidays throughout the year. Catering for up to twelve people, with full catering and cleaning provided. Ballybur Castle caters for a variety of events and is an ideal location for special occasions, such as weddings, honeymoon, corporate function or gala dinners.
Ballybur Castle was built by Richard Comerford around 1588. It was a typical fortified house built to protect against rival factions. Frank and Aifric Gray bought Ballybur in 1970, by which time it had fallen into disrepair with the roof missing. The castle is now completely refurbished.
Location: Ballybur Upper, Ballybur Lane, Co. Kilkenny, R95 C6DD, Ireland
1. Kilkenny Castle – riverside bliss
Number one on the list best castles in County Kilkenny is none other than Kilkenny Castle, which holds a long history of continuous occupation. The beautiful castle was built back in 1195, originally to function as a crossing point for the River Nore and the meeting of many routeways.
Since then, the Castle has been rebuilt, extended and has evolved to meet modern needs and uses for a striking 800 years.
Situated in the heart of the city and serving as the home of the Butler Family since 1391, this castle is open to visitors in all seasons and is a remake of a Victorian of the thirteenth- century protective style Castle. If walking is your thing, you are sure to enjoy the fifty acres of rolling parkland with mature trees and an abundance of wildlife at Kilkenny castle.
Also, visitors can enjoy a magnificent formal rose garden; a lake occupied by ducks, geese and many of natures' creatures, woodlands; and a quaint little gem of a tearoom where you can sit and breathe the essence of this enchanting land.
For the little ones, there is a recently updated and remodeled playground where the laughter and screams of joy are echoed along the castle grounds. Orienteering trails are an essential part of the visit here if that's your thing.
Location: The Parade, Collegepark, Kilkenny, Ireland
While we think these are the best castles in County Kilkenny, they are also some of the best you will find anywhere. Steeped in history, culture, and arts, this county is the perfect place to start your adventure around the island. You never know where it may lead you!
By Anne Marie Fogarty