Boasting a fascinating history and vibrant culture, Dublin is a must on any traveller's bucket list. To fuel your adventures, these are the best restaurants in Dublin to suit all tastes and budgets.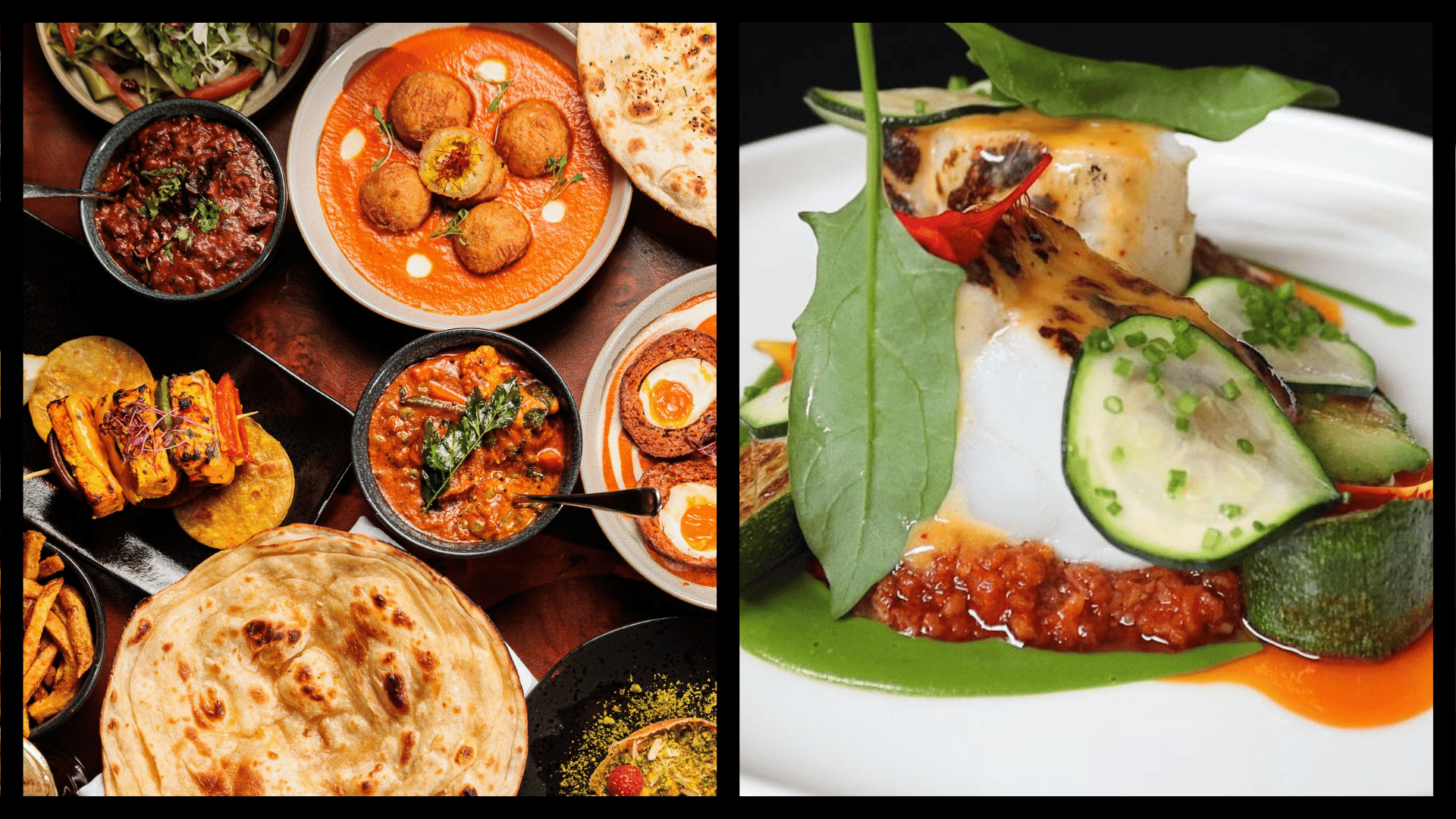 Dublin City is home to a thriving restaurant scene, with plenty of top-class eateries serving a range of local and world cuisine.
No matter what you're in the mood for or what your budget dictates, Ireland's capital city is sure to cater.
Whether you're celebrating a special occasion or are just looking for a quick and tasty bite to eat, the options are endless.
So, if you're wandering the city streets, trying to decide where to eat, check out our favourites below. Presenting the top 20 best restaurants in Dublin for all tastes and budgets.
IB4UD's top fun facts about the food scene in Dublin
Dublin offers a diverse culinary landscape featuring traditional Irish dishes, international cuisines, and fusion food.
The city's food scene extends beyond pubs and Michelin-stared restaurants, with trendy bars and restaurants in the Docklands area.
Dublin emphasizes farm-to-table dining, with many restaurants sourcing local ingredients from nearby farmers and producers.
The Dublin Food Co-op in the Liberties promotes organic, locally sourced food, making it a go-to spot for fresh produce and artisanal goods.
Smithfield Market is a historic and iconic marketplace offering a range of culinary delights, including seafood, meat, cheese, and baked goods.
Food festivals like the Dublin Bay Prawn Festival and Taste of Dublin celebrate local and international cuisine through tastings and demonstrations.
Dublin boasts a thriving café culture and has been named the coffee capital of Europe, with numerous cosy coffee shops and bakeries serving delicious breakfast options, coffee, and pastries.
Street food is a highlight of Dublin's culinary scene, with markets like Eatyard and the Dublin Flea Market offering a diverse range of flavours, from gourmet burgers to vegan treats.
20. Mulberry Garden – for exquisite outdoor dining

Credit: Facebook/ Mulberry Garden
Mulberry Garden is a beautiful restaurant serving a fine-dining menu and a unique atmosphere.
Their beautiful outdoor dining area and fantastic seasonal menus make this a really special place to enjoy a meal in the city. The perfect place to celebrate a special occasion, they also offer a range of delicious drinks and wines.
Address: Mulberry Ln, Dublin, Ireland
19. Sprezzatura – for tasty Italian dishes
If you're in the mood for Italian food, we recommend heading to Sprezzatura in Camden Market.
Combining the very best Italian produce and ingredients with Irish ideas and innovation, dining at this Italian restaurant will be an experience you won't forget. Known for their flavourful fresh pasta dishes, this fusion of Irish and Italian is truly incredible.
Address: Camden Market 5/6, Dublin 8, D08 FYK8, Ireland
18. Café en Seine – a fantastic city centre dining experience
Located in Dublin City Centre, Café en Seine is a relaxed restaurant offering a fantastic brunch and lunch menu, as well as delicious evening meals.
Specialising in European cuisine, dining at this art nouveau bar will make you feel like you've been transported to the streets of Paris.
Address: 40 Dawson St, Dublin, Ireland
17. Etto – for an award-winning casual dining experience
Meaning 'little', this cosy, rustic restaurant located close to the National Gallery is a great place for an intimate meal in the city.
Serving seasonal, locally sourced fare, Etto offers quality dishes and an extensive wine list. Having won numerous awards, this is a must-visit for a casual bite to eat.
Address: 18 Merrion Row, Dublin, D02 A316, Ireland
16. MV Cill Airne – for dinner on a boat
Perhaps one of the most unique dining experiences the city has to offer, MV Cill Airne offers breathtaking views of Dublin Bay.
Diners will be seated in a renovated training vessel and will enjoy a delicious menu of modern European cuisine.
Address: Quay 16 N Wall Quay, North Dock, Dublin 1, Ireland
READ ALSO: Top 10 restaurants with a view in Dublin, RANKED
15. Doolally Indian Restaurant – for delicious Indian food
If you're on the hunt for fantastic Indian cuisine in the city centre, you need to head straight for Doolally Indian Restaurant.
This is not only one of the finest Indian restaurants in Dublin, but all of Ireland, offering an array of authentic dishes full of spice and flavour.
Address: The Lennox Building, 47-51 Richmond St S, Saint Kevin's, Dublin 2, D02 FK02, Ireland
14. Angelina's Restaurant and Deli – for casual Italian dining
Angelina's Restaurant specialises in tasty Italian food, serving delicious pasta dishes, pizza, lunch, brunch, and more.
With a relaxed and casual atmosphere, this is a great place for a date or a catch-up with friends.
Address: 55 Percy Pl, Dublin, D04 X0C1, Ireland
13. Featherblade Steak Restaurant – a must for meat-eaters
When it comes to steak, Featherblade Steak Restaurant on Dawson Street needs to be on your radar.
Working to bring exceptional grass-fed Irish steak to everyone, delicious food is guaranteed here. If you're not a fan of steak, however, they serve plenty of other dishes that are just as tasty.
Address: 51B Dawson Street, Dublin, D02 DH63, Ireland
12. Clanbrassil House – for fresh, delicious Irish food
Specialising in fresh Irish food, Clanbrassil House is a great spot for exquisite flavours and creative dishes.
Guests can choose from a two, three, or six-course dining experience on Wednesday and Thursday or enjoy their fantastic set menu on Friday and Saturday.
Address: 6 Clanbrassil Street Upper, Dublin, D08 RK03, Ireland
11. Trocadero Restaurant – for Dublin's theatre restaurant
Having served the people of Dublin for over 65 years, Trocadero Restaurant enjoys a wealth of experience in the city.
Offering a vegan-friendly menu curated using locally-sourced Irish ingredients, this restaurant is a sure bet for group meals.
Address: No. 4, St Andrew's St, Dublin 2, D02 PD30, Ireland
10. Restaurant Patrick Guilbaud – for a Michelin star experience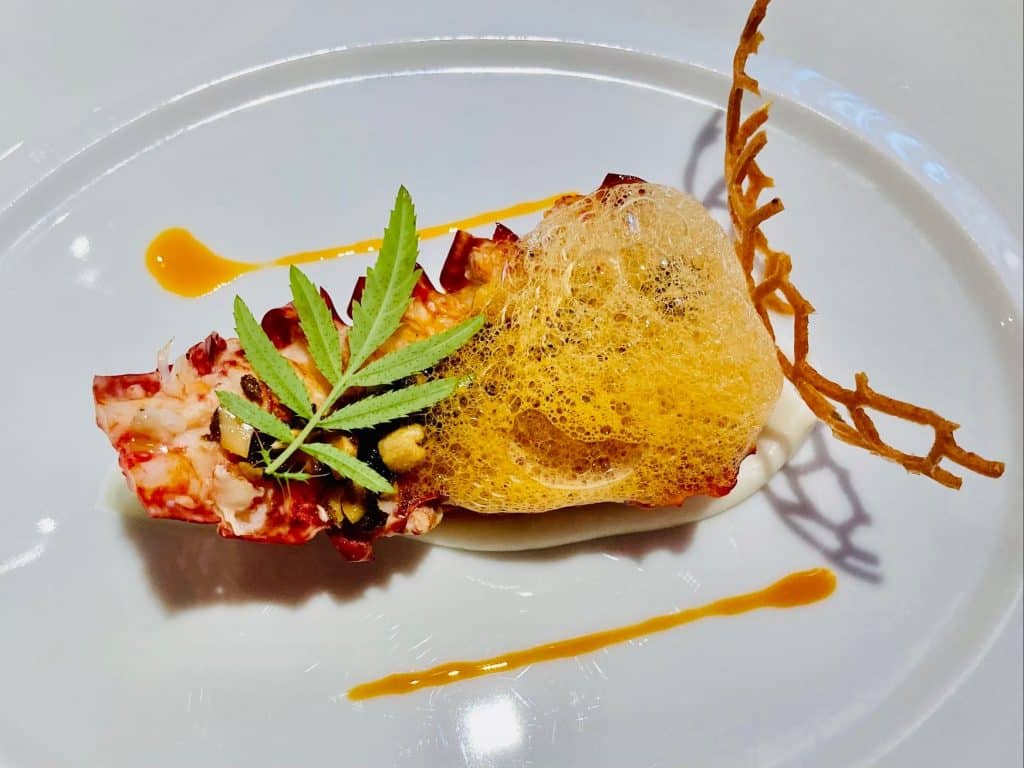 For those who enjoy fine dining, Restaurant Patrick Guilbaud has to be one of the very best restaurants in Dublin.
Specialising in French cuisine, the food here is genuinely full of flavour, and the service is top-notch. This restaurant also enjoys a convenient city centre location beside the popular Merrion Hotel.
Address: 21 Merrion St Upper, Dublin 2, D02 KF79, Ireland
9. Fade Street Social Restaurant and Cocktail Bar – a bustling restaurant in the city
Owned and run by Dylan McGrath, Fade Street Social and Cocktail Bar is one of the city's most popular restaurants.
Open four days a week, this place is always buzzing with energy, thanks to its fantastic food and drink menu. They also offer a great range of vegetarian, vegan, and gluten-free options, so all diets are catered for.
Address: 6 Fade St, Dublin 2, Ireland
READ ALSO: IB4UD's Top 10 best vegan restaurants in Dublin
8. Terra Madre – a quaint family-run café and restaurant
Terra Madre Café is located just north of the River Liffey on Bachelors Walk. Quaint and understated, this family-run restaurant serves up some of the most delicious food you'll find in Dublin.
Open for lunch and dinner, you can expect authentic Italian dishes and a great range of wines.
Address: 13A Bachelors Walk, North City, Dublin, D01 VN82, Ireland
READ ALSO: Top 10 best Italian restaurants in Dublin, ranked
7. Pickle – for authentic North Indian cuisine
Pickle on Camden Street is known city-wide for its fantastic North Indian regional cuisine, with authentic dishes transporting diners to the other side of the world.
Refining the way we think about ethnic cuisine, this fantastic restaurant is truly one of a kind. We can bet you'll want to keep coming back to try something else from their amazing menu.
Address: 43 Camden Street Lower, Saint Kevin's, Dublin 2, D02 N998, Ireland
6. Chai Yo – for unforgettable pan-Asian and Chinese cuisine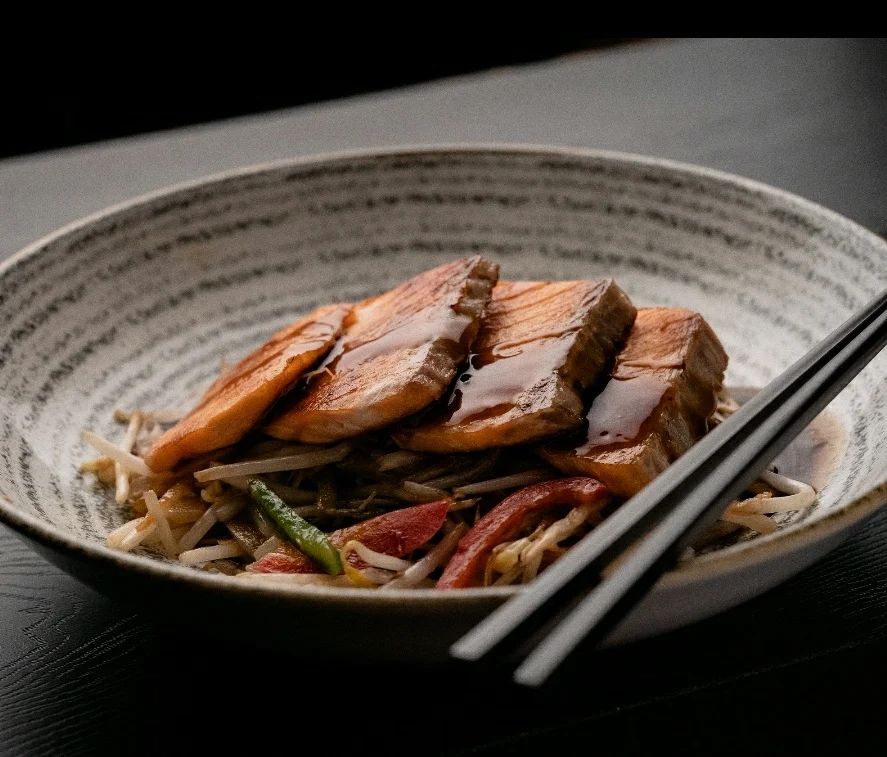 One of the most popular pan-Asian restaurants in the city, Chai-Yo offers a great menu of flavourful dishes inspired by the East.
With three teppanyaki cooking stations, diners will have plenty of choices when eating here. Known as the city's most 'entertaining dining experience', eating here is an occasion you won't want to miss.
Address: 100 Baggot Street Lower, Dublin, D02 X048, Ireland
READ ALSO: Top 10 best Chinese restaurants in Dublin, RANKED
5. 31 Lennox – a popular Portobello café and restaurant
This Portobello café and restaurant offers a stylish dining room and flavoursome Italian dishes. Open for breakfast, lunch, and brunch every day, diners can enjoy their extensive list of coffee, cocktails, and wines to accompany their food.
This is a great spot for those in search of a relaxed dining experience, as you can sit outside and look out across the river.
Address: 31 Lennox St, Portobello, Dublin, D08 W599, Ireland
READ ALSO: IB4UD's Top 5 unexpectedly EPIC restaurants in Dublin, RANKED
4. SOLE Seafood and Grill – a popular spot for award-winning seafood
This sister restaurant of FIRE Steakhouse and Bar, SOLE Seafood and Grill is known across the international restaurant scene for its spectacular food and top-notch service.
Sourcing the very best locally-caught seafood with chefs bringing their own creative flair to every dish, you will be amazed at the flavours on offer here.
Address: 18-19 South William Street, Dublin, D02 KV76, Ireland
3. Rosa Madre – one of our favourite Italian restaurants in Dublin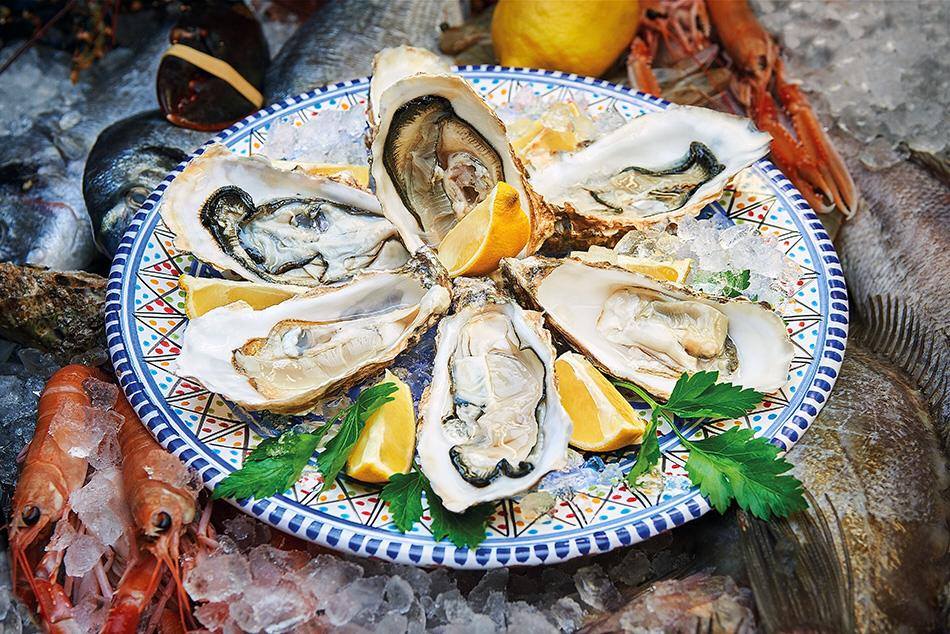 Located in the vibrant and bustling Temple Bar region, Rosa Madre is a great place to dine before taking advantage of the city's nightlife scene.
This authentic Italian restaurant is known for its delicious seafood dishes. They also offer a range of fresh pasta and meat dishes, as well as iconic Italian desserts to end your meal.
Address: 7 Crow St, Temple Bar, Dublin, D02 YT38, Ireland
2. Chapter One Restaurant – one of Dublin's most popular eateries
This elegant restaurant offers a fine-dining experience like none other in the city. Having recently switched ownership, various changes have been put in place, such as the discontinuation of the pre-theatre menu.
Michelin-starred chef Mickael Viljanen is the chef/patron at Chapter One. This popular restaurant offers a fantastic lunch and dinner menu and an extensive wine list.
Address: 18-19 Parnell Square N, Rotunda, Dublin 1, D01 T3V8, Ireland
1. FIRE Steakhouse and Bar – for the best steaks in Dublin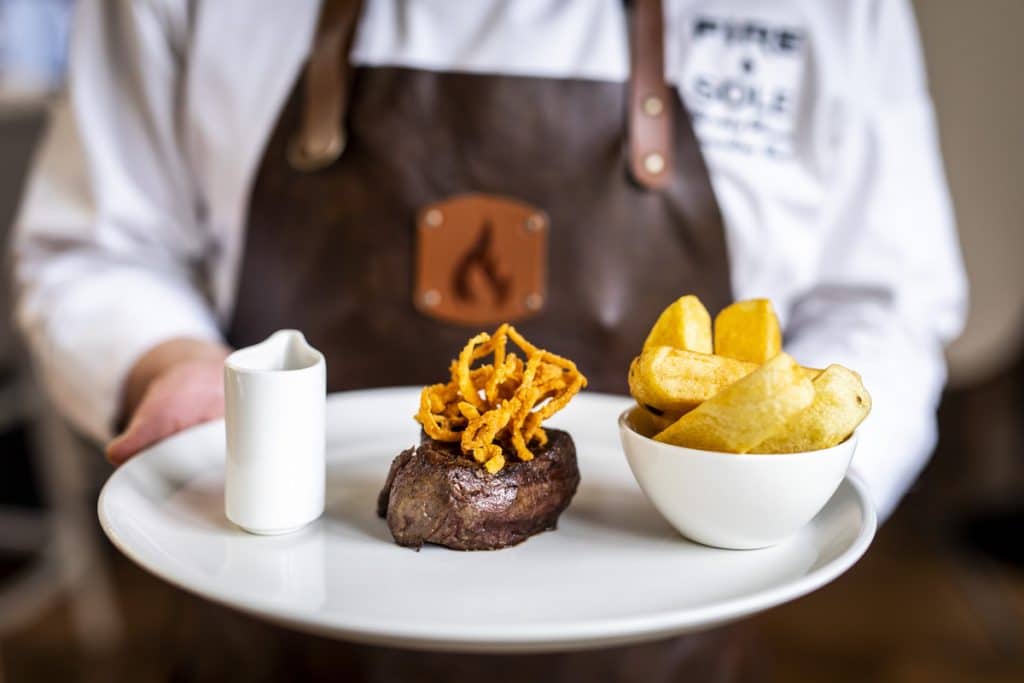 Topping our list of best restaurants in Dublin is the award-winning FIRE Steakhouse and Bar. Serving a luxurious a la carte menu, this restaurant and wine bar books up quickly, so make sure to book early if you want to visit.
Making the most of fresh, local ingredients and sourcing top-quality Irish beef, meat-eaters will be in heaven at this popular Dublin restaurant.
Address: The Mansion House, Dawson St, Dublin 2, Ireland
Notable mentions
Da Mimmo: Da Mimmo is an unmissable family-run Italian restaurant located on Dublin's North Dock.
Acapulco Mexican Restaurant: Offering up delicious Mexican food, with everything from tacos to chimichangas, Acapulco is one of the best Mexican restaurants in Dublin for delicious food.
Cirillo's: This Baggot Street restaurant serves delicious Italian cuisine, from fresh pasta to pizza and delicious Italian wines.
Arisu Restaurant: Located on Capel Street, Arisu is a fantastic Korean restaurant that was first established in 2010.
Seasons Restaurant: Seasons Restaurant in Ballsbridge is a two AA rosette award-winning restaurant known for its delicious food and elegant dining room.
The Vintage Kitchen: If 'bring your own' is more your style, The Vintage Kitchen on Poolbeg Street is a great option. Known for their casual atmosphere and delicious Irish food, you can't go wrong with a meal here.
Library Street: Library Street is a contemporary social restaurant space knocking out some exciting food.
The Bull and Castle: Located close to Dublin Castle, the Bull and Castle is a low-lit pub and steakhouse that offers one of Dublin's best dining experiences.
Hang Dai: Hang Dai restaurant on Camden Street is one of the best Chinese restaurants in Dublin.
Your questions answered about the best restaurants in Dublin
If you still have some questions about the best restaurants in Dublin, we have you covered! In this section, we've compiled some of our readers' most popular questions about the topic.
What are the best restaurants in Dublin?
Some of the best restaurants in Dublin, for us, are FIRE Steakhouse and Bar, Chapter One Restaurant, and Rosa Madre. However, the city has plenty of great restaurants to suit all tastes, dietary requirements, and budgets.
What are some cool restaurants in Dublin for a date?
If you're looking to impress a date in the city, we highly recommend The Blind Pig Dublin, Pacino's, Bow Lane, or The Ivy.
What is the famous food of Dublin?
The Dublin food scene has known various Irish foods and dishes. However, one of the most famous has to be the city's controversial Dublin Coddle.
This stew is traditionally made up of leftovers that often includes sausages, bacon rashers, chunky potatoes, sliced onion, salt, pepper, and various herbs.