Lace up your running shoes because its time to enjoy all the natural beauty the Emerald Isle has to offer. Here is our guide to the ten most scenic running routes in Ireland.
During lockdown, many people have taken up running to stay active, stay sane, and… well, there really wasn't much else to do, was there?
For anyone who has been running for a while, it comes as no surprise just how beneficial a good run can be for both your physical and mental health. In these times of uncertainty, there can be something cathartic in getting out there and putting foot to ground.
Choosing a running route with beautiful, scenic views can heighten the experience even more. Fortunately, Ireland has no shortage of natural beauty, and we have collated a list of the ten most scenic running routes for you to experience.
10. The Western Greenway, County Mayo – for great views across Clew Bay
The first running route on our list is best tackled by an experienced runner looking to up the ante.
Following the old Westport to Achill railway, which closed in 1937, this is the longest off-road walking and cycling route in Ireland. A run here offers stunning views across Clew Bay towards Clare Island.
Distance: 42km
Location: County Mayo, Ireland
9. Graiguenamanagh to St. Mullins, County Kilkenny – a great route for beginners
For those of us who would grimace at the thought of a 42km run, this running route is a more manageable choice.
With uninterrupted river views and a flat ground level, this route offers scenic views while you up your heart rate.
Distance: 12km
Location: High St, Brandondale, Graiguenamanagh, Co. Kilkenny, Ireland
8. Howth Head Cliff Loop – for a breathtaking cliff trail
Discover stunning views of Ireland's Eye and Lambay Bay on the Howth Head Cliff Loop route.
If you are comfortable running alongside a cliff-side, this is a breath-taking trail. Watch the sea crashing against the rocks beneath you as put in those steps.
Note: there is a bit of climb on this one.
Distance: 6km
Location: Cliff Bungalow, Balscadden Rd, Howth, Dublin, Ireland
7. The Great South Wall, County Dublin – for fantastic views of Dublin Mountains
The Great South Wall route offers stunning panoramic views of Howth, right up towards the Dublin Mountains.
Located in Irishtown, this is an entirely flat route, so it will be suitable for most runners. Plus, it's one of the most scenic running routes in Ireland.
Distance: 8km
Location: S Wall, Poolbeg, Dublin, Ireland
6. Causeway Coast Way, County Antrim – for some of the best views in Northern Ireland
This beautiful coastal trail, which runs from Portstewart to Ballycastle, is strictly for the experienced runner, and preferably one who likes a challenge. For perspective, people who choose to walk it will typically take two days to complete the full route.
However, you won't be complaining as you will get to enjoy the sites of the Giant's Causeway, the medieval Dunluce Castle, and of course, the stunning beach views.
Distance: 53km
5. Mussenden Temple and Downhill Demesne, County Derry – for a unique running route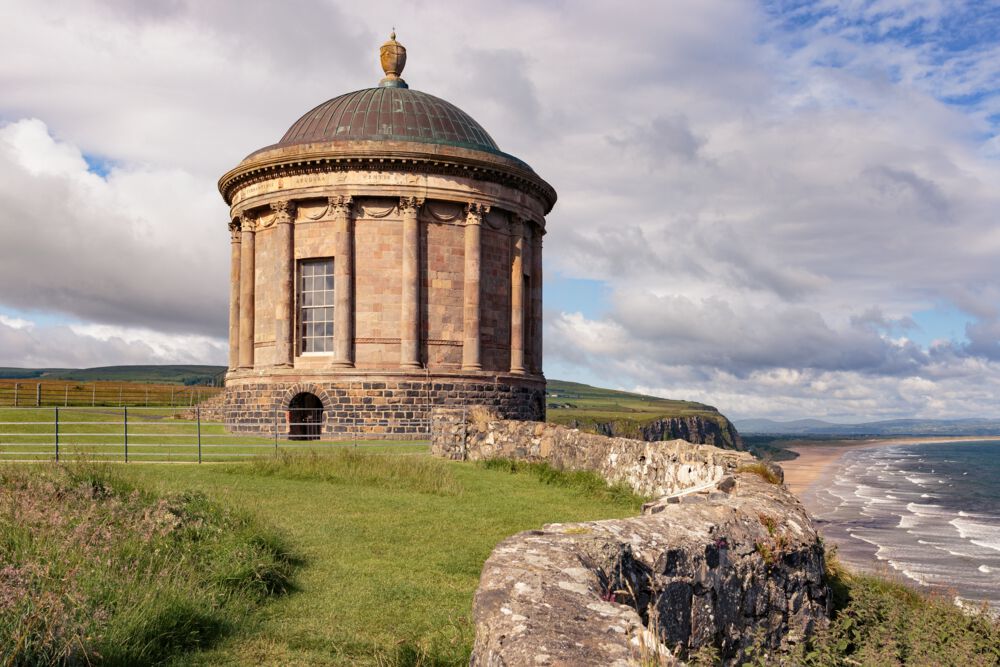 This underrated spot offers some of the most scenic running routes on the island.
You'll be treated to stunning cliff-edge views of Inishowen Peninsula, as well as the striking ruins of Downhill House.
As some of this trail teeters close to the cliff's edge, we recommend you exercise some caution on this route.
Distance: Varied
Location: Sea Coast Rd, Coleraine BT51 4RH
4. Phoenix Park, County Dublin – for a scenic run in the heart of the city
It's not very often you will find such an idyllic nature spot within a capital city, but Phoenix Park in Dublin is just that.
Holding the title of the largest walled park in any European capital city, Phoenix Park is a popular spot for local runners.
Along the way, you'll be treated to sights such as the Áras an Uachtaráin (the home of the Irish President), Wellington Monument, Farmleigh House, and, if you're lucky, you'll even spot the herd of wild deer, who have made the park their home.
Distance: 11.2km
Location: Northside, Dublin 8, Ireland
3. Waterford Greenway, County Waterford – for the history fanatics
An experienced runner who chooses Waterford Greenway as their running route will get to experience a view that will transport them back into Ireland's ancient past.
Traversing three viaducts and eleven bridges, you'll also spot Woodstown Viking Site and Kilmeaden Castle. A treat for any history buff!
Distance: 45km
Location: County Waterford, Ireland
2. Divis & The Black Mountain, County Antrim – for some of the best views in Belfast
If you're visiting Belfast, this running spot is well worth your time. Located not far from the city, you'll experience magnificent views of the city from above.
This route traverses across grassland and heathland bog, so make sure you've brought a pair of comfortable and sturdy running shoes.
Distance: 6.8km
Location: Divis Rd, Belfast BT17 0NG
1. Glenveagh National Park, County Donegal – for an incredibly scenic trail
Explore the Irish wilderness on your run at Glenveagh National Park in County Donegal.
Feast your eyes on tranquil lakes and majestic waterfalls as you choose from a variety of different routes. The most popular one is Lakeside Walk, which is a two-mile gravel path that functions as a window to local wildlife.
Distance: Varied
Location: Letterkenny, Co. Donegal, Ireland
Whether you are an experienced runner or have just recently taken up the hobby, Ireland is sure to have a scenic route to suit you, just waiting to be tread on your next session.