Looking for the perfect place to swing a club? Here are the 10 highest-rated golf courses in Northern Ireland.
Whenever the sun comes out on the Emerald Isle, we turn our attention to outdoor pursuits and try to get out in the fresh air. Indoor scenery just doesn't hold a candle to outdoor scenery!
Indeed, the island of Ireland is crawling with things to do for nature lovers and adventurers, but it is also some of the best golf courses in the world. If you're a golfer in the North, in particular, you're in luck.
Here are the ten highest-rated golf courses in Northern Ireland. (Note: courses have been rated according to the top-rated on TripAdvisor.)
10. Rockmount Golf Club – for a charming championship course
Located not far from Belfast is Rockmount Golf Club a highly regarded 18-hole course that embraces the wild countryside that thrives around it.
Perfect for a mini-break when visiting the nearby city, this championship course is the tenth highest rated golf course in Northern Ireland.
Address: 28 Drumalig Road, Carryduff BT8 8EQ, UK
9. Gracehill Golf Course – for majestic lawns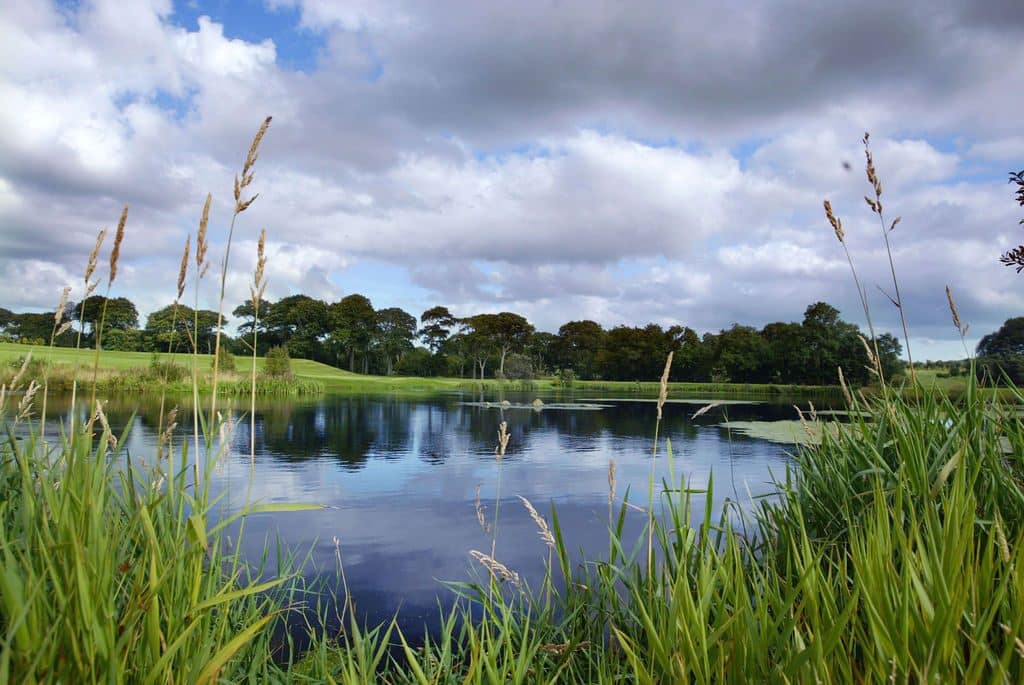 This stately club offers one golf course of 18-holes across majestic and manicured lawns in Ballymoney.
Located on the impressive Dark Hedges Estate, this course is also a neighbour to the Dark Hedges natural attraction that was immortalised in the HBO hit TV series Game of Thrones.
Address: 141 Ballinlea Rd, Stranocum, Ballymoney BT53 8PX, UK
8. Malone Golf Club – for lakeside golfing
Only moments from Belfast city is Malone Golf Club. Sitting on mature and leafy grounds that span over 330 acres, this is a popular place to take a swing for both locals and tourists.
This must be one of the most scenic courses in all of Northern Ireland as 27 holes surround a magnificent 20-acre lake.
Address: 240 Upper Malone Rd, Dunmurry, Belfast BT17 9GA, UK
7. Bushfoot Golf Club – for a sunny day
This is the seventh most highly-rated golf club in Northern Ireland, according to TripAdvisor. Founded in 1890, this course offers links and parkland elements and is the perfect place to hit a few balls on a sunny day up north.
Address: Bushfoot Rd, Portballintrae, Bushmills BT57 8WB, UK
6. Temple Golf and Country Club – for a pleasant family feel
Located in Lisburn in Northern Ireland is the Temple Golf and Country Club, a classic 18-hole course with a charming clubhouse and family feel.
Temple makes for a great place to catch up with friends after a long lazy game of golf on a Saturday afternoon.
Address: 60 Church Rd, Lisburn BT27 6UP, UK
5. Castlerock Golf Club – the coastal hidden gem
Named Ireland's "Hidden Gem" in 2015 by Golfer Guide, Castlerock is a perfect place to spend a sunny day. Sitting along the coast, the course offers breathtaking views of both land and sea.
Other impressive accolades include "Best Value Links" by Golfers Guide to Ireland in 2019 and "Best Golfing experience Ireland" at the Lifestyle Awards in 2018.
Address: 65 Circular Rd, Castlerock, Coleraine BT51 4TJ, UK
4. Portstewart Golf Club – for impressive views and sandy dunes
Founded in 1894, this prestigious course is home to three links golf courses and is considered one of the finest place to whack a ball up north.
Expect impressive views across sandy dunes and the far-off sea throughout your game before relaxing in the Strand Bar & Lounge or Members Bar.
Address: 117 Strand Rd, Portstewart BT55 7PG, UK
3. Ardglass Golf Club – for dramatic coastlines
Ardglass Golf Club is the third most highly-rated golf club in Northern Ireland. Located in the town of Ardglass on the along dramatic coastlines, this 18-hole courses is surely one of the most picturesque places to swing a club.
A unique layout that is challenging and varied is punctuated by majestic cliffs that hang over the wild Atlantic Ocean.
Address: Castle Pl, Ardglass, Downpatrick BT30 7TP, UK
2. Royal Portrush Golf Club – for breathtaking grounds
This prestigious club in Northern Ireland is considered time and again to be one of the best the island of Ireland has to offer. The championship course was home to the 2019 Open, and with towering dunes and a rewarding layout, top golfers will be in their element here.
The club offers two 18-hole links and it was even once voted the 12th best golf course in the world by Golf Magazine.
Address: Dunluce Rd, Portrush BT56 8JQ, UK
1. Royal County Down Golf Club – for the most highly-rated course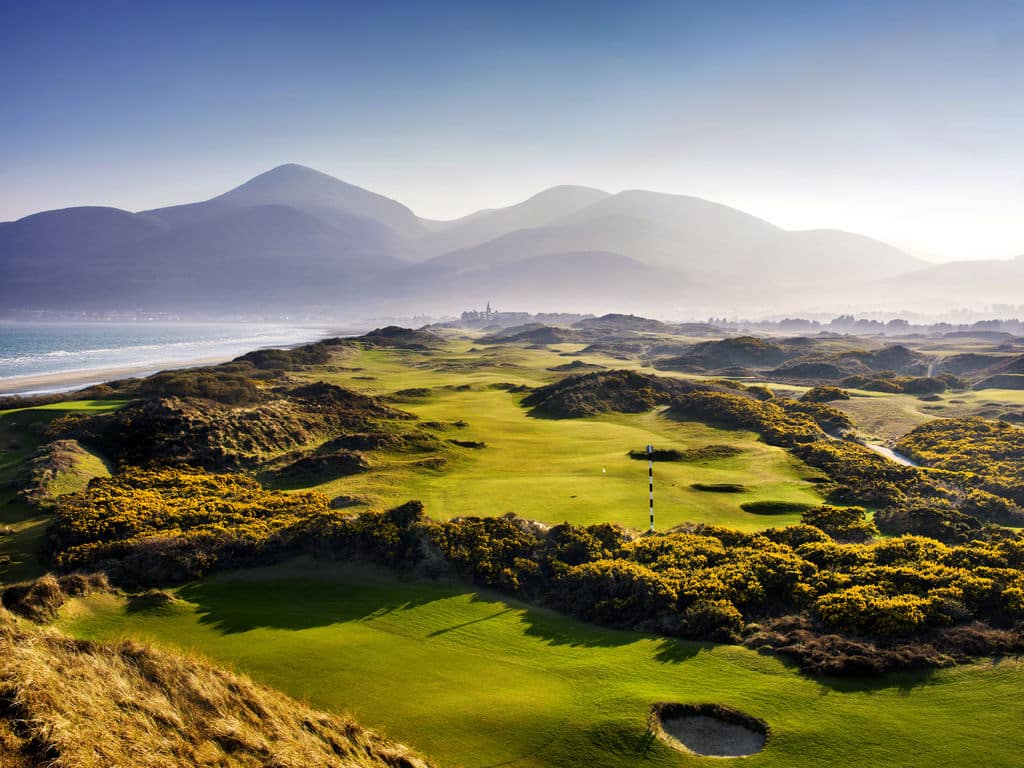 Having opened in 1889, the Royal County Down Golf Club is one of the most majestic and reputable courses on the entire island.
Two 18-hole courses are available and the layout offers breathtaking views over land and sea. According to TripAdvisor, this is the most highly-rated golf course in Northern Ireland.
Address: 36 Golf Links Rd, Newcastle BT33 0AN, UK
Get featured on Ireland Before You Die
Do you want to get your Irish business more online exposure? Especially to those interested in travelling the best places in Ireland? Then why not get a dedicated feature on Ireland Before You Die. Find out more 
here.