From city strolls and mountain-top vistas to cliff trails and challenging tracks, here are the best walks in and around Dublin.
Dublin is a vibrant city that offers the best of both worlds. On the one hand, Dublin is a thriving metropolis, and it is also the coffee capital of Europe.
On the other, it's a haven for nature lovers, with plenty of range to roam and opportunities for adventure.
If you're craving a good leg scratch in the capital, here are the best walks in and around Dublin.
Tips and advice – what to bring with you
Wear comfortable walking shoes. Some of the best walks in and around Dublin are quite long, so wearing the right shoes is essential!
Layer up. Dublin, and Ireland as a whole, has unpredictable weather. So make sure to wear or pack some layers.
Bring plenty of water and snacks. Certain walks are longer than others, and you'll definitely need to eat and hydrate.
Download offline maps so you always know which way you need to go.
10. River Liffey city stretch – the city stroll
The River Liffey is undoubtedly Ireland's most famous river, stretching 125 km (77 mi) in length across counties Wicklow, Kildare and Dublin.
While we are not suggesting tracing its entire route, the River Liffey runs through Dublin City. Start at Heuston Station and walk the riverbanks to the 3Arena.
This 4.5km (2.8 miles) easy route passes many fantastic sights, cafes, bars and pubs, making it a great daytime activity for locals and visitors.
READ MORE: IB4UD's Ultimate Guide to Dublin
Address: Heuston Station, St John's Rd W, Dublin, Ireland
9. Dún Laoghaire pier walk – the easy and accessible walk
If you're in search of a more relaxed affair, check out the Dún Laoghaire pier walk. This stretch takes only 30-minutes to complete, and it is entirely flat, making it largely accessible.
Try and fit this in on a sunny day; ice cream from Teddy's will be the cherry on the cake!
READ: everything you need to know when visiting Dún Laoghaire
Address: E Pier, Glasthule, Co. Dublin, Ireland
8. Ticknock walk – for views of Dublin
Ticknock is an area located on the cusp of the Dublin mountains. The area is only accessible by car, but there is free on-site parking for visitors.
There are many different trails and tracks to choose from, depending on fitness level and desired difficulty.
We suggest proper walking shoes regardless due to the rugged mountain terrain. The Ticknock Walk offers some of the top undisturbed views of Dublin City, so don't forget the camera.
Address: Ticknock Rd, Tiknock, Dublin, 18, Ireland
7. Grand Canal walk – for cans on the canal
When seeking a more serene stroll, we suggest you enjoy a walk along the Grand Canal in Dublin. Although this stretches 132 km (82 mi), starting in Shannon Harbour, it ends in Grand Canal Dock in Dublin City.
On a sunny day, stroll the canal in Dublin city, and there will be plenty of locals out lapping up the sun and enjoying a few drinks, making it one of the best walks in and around Dublin.
Address: Grand Canal Dock, Dublin.
6. Hellfire Club walk – for the adventurers
Not to be confused with Eddie's Hellfire Club in Stranger Things! For those of you seeking an uphill climb, check out the Hellfire Club walk.
This moderate-intensity walk is 4 km (2.5 mi) in length, and while mostly easy terrain, there is a steep ascent to the house.
If you're looking for something a bit meatier, add on the Massey Woods Nature Walk, which is just over 9 km (5.5 mi) and works out as a half-day excursion.
Address: Montpelier Hill, Dublin
5. Great South Wall walk – the secret city stroll
Another one of the best walks in Dublin has got to be the Great South Wall walk, on the outskirts of Dublin city.
Although this can be accessed on foot, we suggest a car due to its somewhat isolated location.
Stretching into Dublin Bay, the Great South Wall leads to the Poolbeg Lighthouse and, on turning back to the mainland, offers stunning views of Dublin City. You can start the Poolbeg Lighthouse walk from the city centre or Sandymount Beach.
Address: S Wall, Poolbeg, Dublin, Ireland
3. Howth Head Cliff Walk – the perfect day trip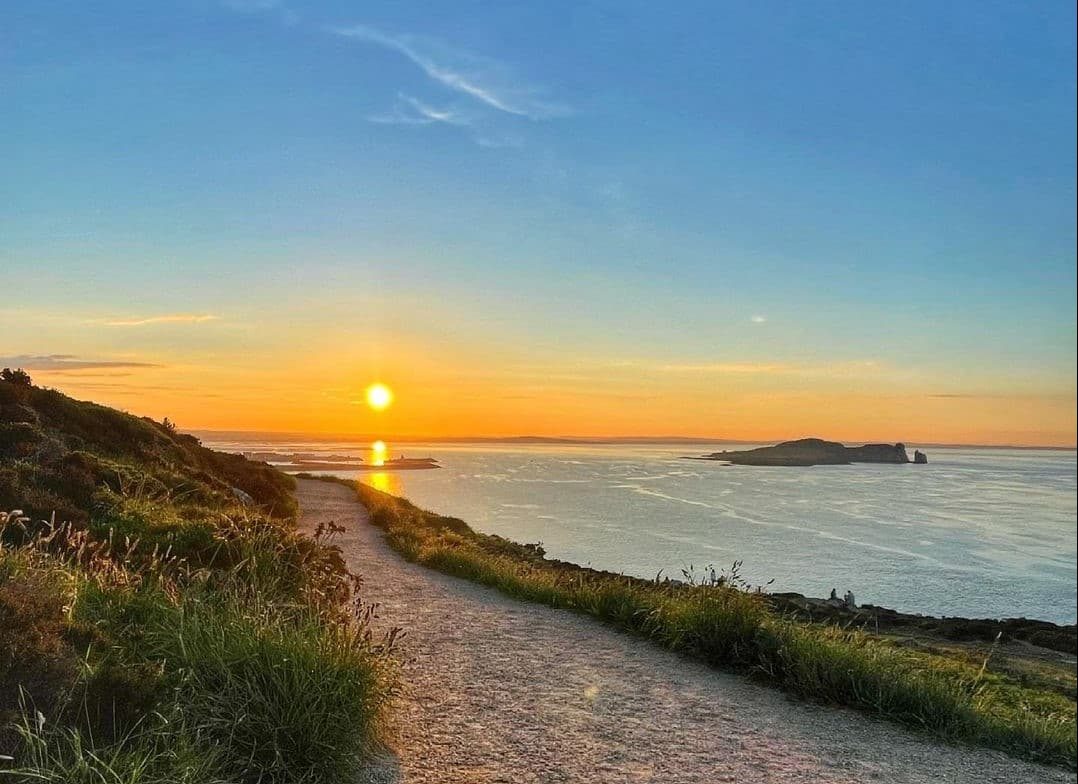 One of the most popular walking trails in Dublin is the Howth Cliff Walk. This is a track of easy/moderate intensity that is one of the best cliff walks in Ireland.
Start in Howth Harbour from the east pier and trace the cliffs towards Howth summit for a bird's eye view of the city.
Although this route is only 6 km (3.7 mi), Howth makes a fantastic place for a day trip, so make sure to allow time for lunch and a potter around the charming village.
MORE INFO: Ireland Before You Die's guide to the Howth Cliff Walk
Address: 23-21 Balscadden Rd, Howth, Dublin, Ireland
3. Bray to Greystones Cliff Walk – for cliff views
The Bray to Greystones Cliff Walk is approximately 7 km (4.3 mi) in length, and the route begins in Bray and ends in the neighbouring area of Greystones.
Above the walk is Bray Head, a 240 m above-sea headland that offers spectacular views. Alternatively, begin the walk in reverse.
Either way, both towns have a train station making them easily accessible. Expect cliffside vistas, stunning ocean views and all but a short train ride from Dublin City.
READ MORE: Our guide to the Bray to Greystones Cliff Walk
Address: Bray-Greystones Cliff Walk, Rathdown Upper, Greystones, Co. Wicklow, Ireland
2. Killiney Hill Park – for its impressive monument
Killiney Hill Park is one of the local's most-known attractions and one of the best walks in and around Dublin.
The summit is topped with an obelisk, and the peak offers stunning views over Dublin, the Irish Sea, and even the mountains of Wales on a clear day!
Address: Killiney Hill, Dublin, Ireland
1. Phoenix Park – the best walk in and around Dublin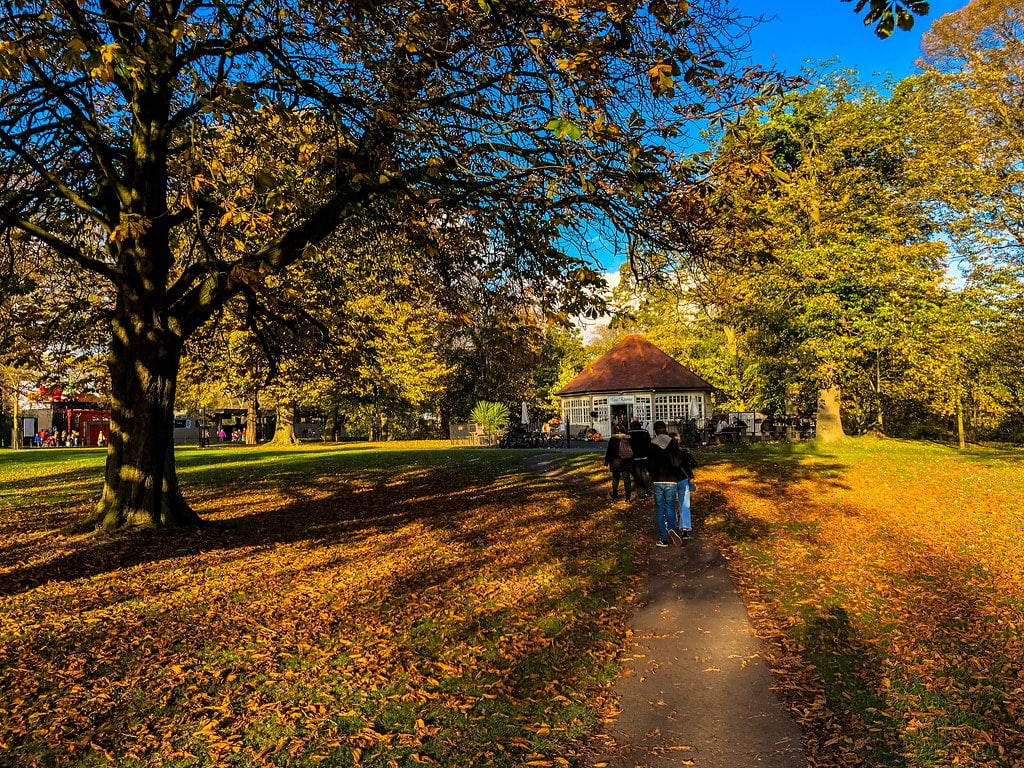 The ultimate walk in and around Dublin has got to be found in Phoenix Park. This is Europe's largest city park and offers a wealth of activities, sites to see, and things to do.
The park is not only home to a large herd of wild deer but also Dublin Zoo, ancient burial chambers, and even Áras an Uachtaráin – the home of the Irish president. This is one of the best things to do with kids in Dublin.
Address: Northside, Dublin 8, Ireland
Other notable mentions
Killiney Beach: If you are looking for a relaxing walk that doesn't require much effort, check out Killiney Beach. It is just less an hour's drive from Dublin city centre.
North Bull Island: Just a half an hours drive including the ferry over, take a leisurely walk around North Bull Island on a sunny day to truly appreciate the nature the island has to offer.
Portmarnock Beach: Another great beach walk close to Dublin, you can enjoy beautiful coastal views at Portmarnock Beach.
Cruagh Wood: Situated in south Dublin, Cruagh Wood is one of the three mountain summits along the Dublin Mountains Way. It is a gentle loop trail.
The Bohernabreena Reservoir: The Bohernabreena Reservoir is somewhat of a hidden gem when it comes to walks around Dublin. On this scenic route, you will be treated to views of the Dublin and Wicklow Mountains.
Your questions answered about the best walks in and around Dublin
If you still have questions, we have you covered! In this section, we've compiled some of our readers' most frequently asked questions and popular questions that have been asked online about this area.
What are some of the most stunning walks in and around Dublin?
There are so many stunning walks near Dublin. Some favourite walks for locals and tourists alike would be a walk around Phoenix Park or Killiney Hill. All of the walks above boast really beautiful views.
Where is a dog-friendly walk in Dublin?
There are loads of great places to take your pooch in and around Dublin. Try the Howth Cliff Walk, Phoenix Park, or North Bull Island for a great day out with your dog.
How long is the Ticknock walk?
Depending on fitness, it should take around 1.5 to 2.5 hours to complete this walk.