Our rundown of the ten best traditional pubs in Dublin, ranked in order of greatness.
Dublin is the capital of Ireland and the Number One spot where tourists will taste their first Guinness on Irish soil.
There is a vast range of nightlife in Dublin, but it is traditional bars that you must experience if you are in Dublin as they are famous worldwide!
Here is our rundown of the ten best traditional pubs in Dublin, ranked in order of greatness.
IB4UD's top things to expect in a traditional Irish pub
A Warm and Welcoming Atmosphere: Traditional Irish pubs often have dim lighting, wooden interiors, and comfortable seating arrangements. The cosy and friendly ambience will make you feel right at home.
Authentic Décor: Irish pubs are usually full of character with unique décor, such as old photographs, vintage signage, Gaelic road signs, and memorabilia that reflect Irish culture and history.
Traditional Irish Music: Irish pubs will usually play traditional music in the background and will often have live traditional music performances on certain nights of the week.
Friendly and Chatty Patrons and Locals: Every Irish pub has its "regulars" who are well-known at the pub. These characters usually welcome a good conversation and always have a story to tell.
Guinness on Tap: It wouldn't be a traditional Irish pub unless it had the black stuff on tap.
Traditional Pub Food: You won't have to travel far to find amazing Traditional Irish food in Dublin as most pubs usually serve hearty and wholesome dishes that go well with a pint.
10. McDaid's – a classic in the heart of Dublin city centre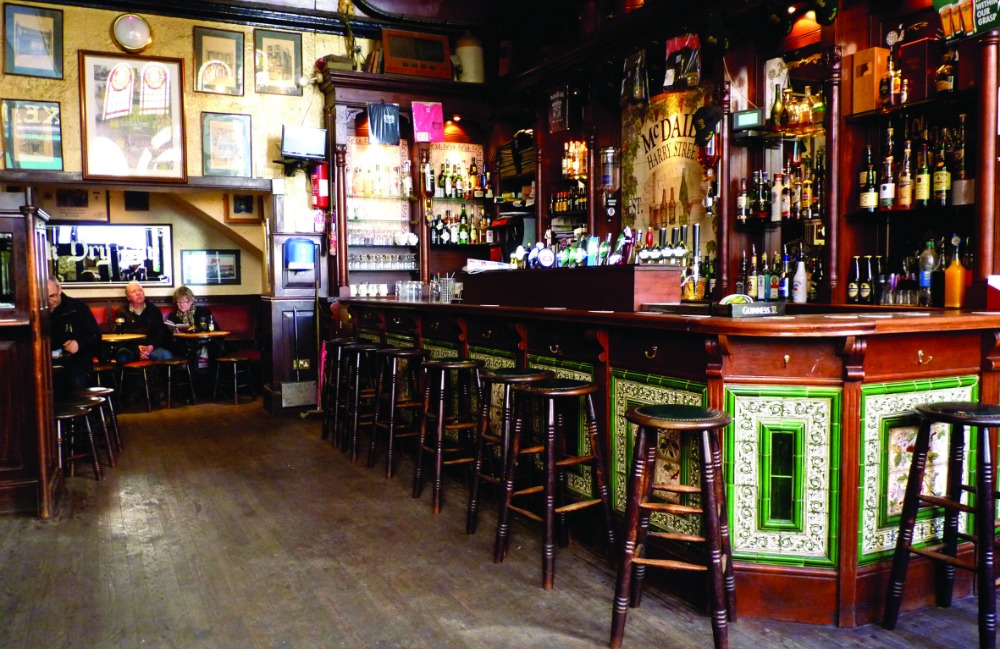 With a great city-centre location just off Grafton Street, McDaid's ornate high ceiling is one of the first things you'll notice as you walk in here (the more observant might notice the trapdoor behind the bar with steep stairs leading down into the cellars).
If you're settling in for the evening, head up the narrow stairs to one of the upper levels.
Address: 3 Harry St, Dublin, D02 NC42, Ireland
9. L. Mulligan Grocer – the best traditional pub in Dublin with craft beer
This is the place to go if you're looking for a Mountain Man, a Crafty Hen or a Belgian Blonde. Don't even think of trying to order a Guinness or a Budweiser here – it's Irish craft beer all the way, and these are some of the labels.
As the name suggests, L Mulligan Grocer pub in Stoneybatter once had a grocery shop in it and the rear section of the pub is now a superb restaurant serving Irish produce with a clever creative twist. Try the spiced potted crab or slow-roasted pork belly.
Address: 18 Stoneybatter, Arran Quay, Dublin 7, D07 KN77, Ireland
READ ALSO: Top 5 Best Spots for craft beer in Dublin
8. Toner's – a favourite of WB Yeats
One of the oldest and best traditional pubs in Dublin, Toner's on Baggot Street dates back to around 1818 and has an old wooden bar full of memorabilia and drawers which date back to its time as a grocery store.
One of the nicest features in the pub is the large 'snug' just inside the front window which has wooden benches and its own door. The poet WB Yeats is said to have liked drinking here.
Address: 139 Baggot Street Lower, Saint Peter's, Dublin 2, Ireland
READ ALSO: The Five Most Famous Literary Pubs in Dublin, Ireland
7. Johnny Fox's Pub – one of best traditional pubs in Dublin outside the city centre
Johnny Fox's is quite a legendary pub to visit and really not that well known. This is one of those "off the beaten paths" pub experiences to whisper to your mates about. There is a catch though, as this addition to the list of best Dublin pubs is a good distance outside of the city centre!
Johnny Fox's is famed as being the highest pub in Ireland, sitting on top of the Dublin mountains in Glencullen about a 25-minute drive from the city centre. Johnny Fox's is a unique and atmospheric Irish pub, and is well known for its entertainment, and famous visitors such as U2 and the Coors.
Address: Glencullen, Co. Dublin, Ireland
READ ALSO: 10 bars in Dublin that celebrities have been to
6. The Cobblestone – for live traditional Irish music
This is amazing for traditional Irish music. Although it's not exactly in the city centre, it's worth the trip if you get a bus or taxi. Traditional music is played in the front bar and creates a fantastic atmosphere. Be prepared for lots of foot-tapping and some thigh slapping!
Address: 77 King St N, Smithfield, Dublin, D07 TP22, Ireland
RELATED: Top 5 Best Live Music Bars and Pubs in Dublin
5. The Norseman – for good food and live music
Formerly Farringtons of Temple Bar which was known as one of the best traditional bars in Dublin, The Norseman is a lively pub located in the heart of party-central Temple Bar.
The staff regularly rotates the tasty brews on draught here and invite different breweries to do "tap takeovers," where large sections of taps are devoted to one brewery.
So, always ask the barman for recommendations of what to drink on the night (craft beer tasting selections are available). There is usually live music on the ground floor, so don't rule dancing out.
The Norseman is a great spot for craft beers and a good atmosphere and well worthy of a place on the list of 10 best traditional Irish bars in Dublin.
Address: 28E, Essex St E, Temple Bar, Dublin 2, Ireland
READ ALSO: The breweries of Ireland: an overview by county
4. Palace Bar – a Temple Bar classic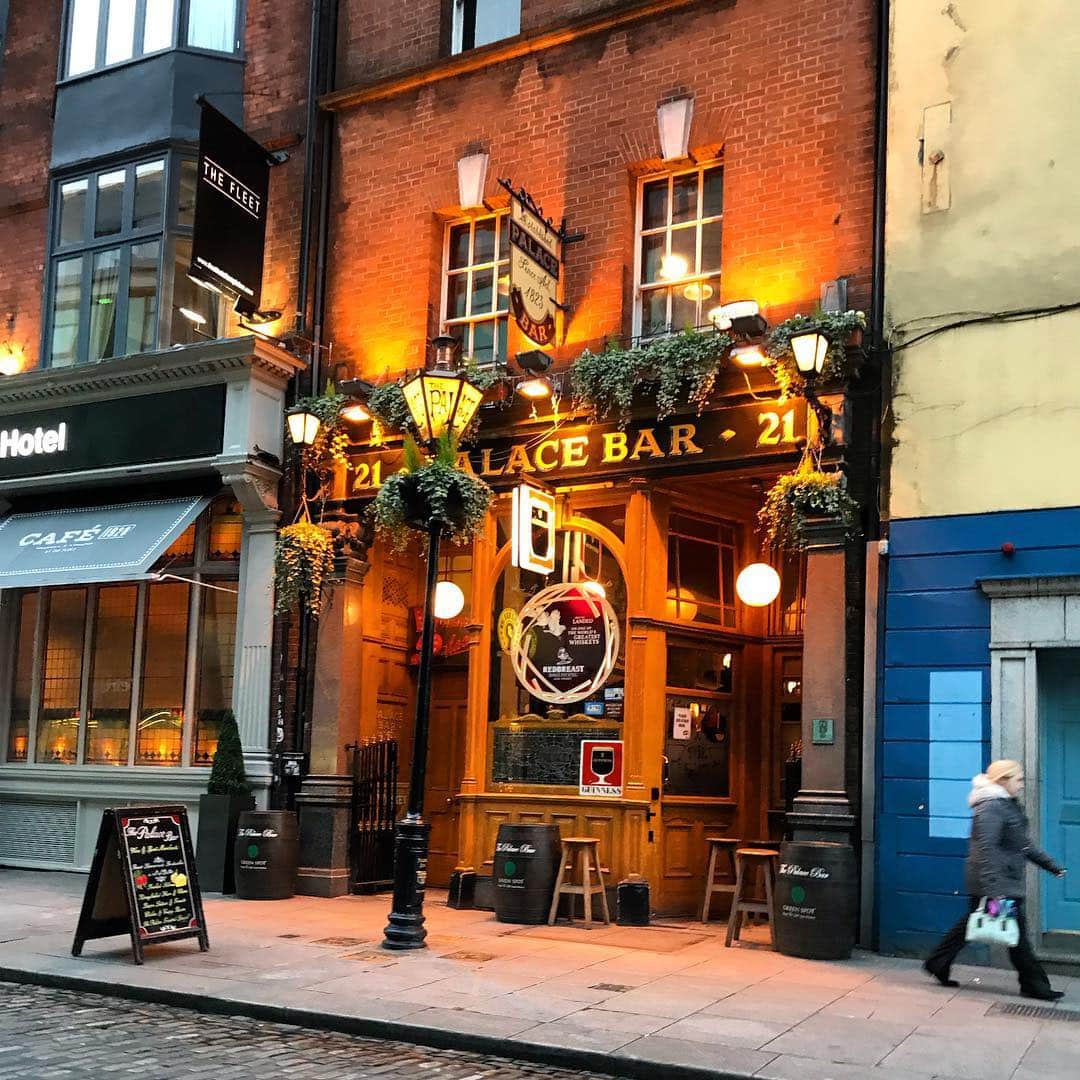 Another true Dublin pub just at the edge of the Temple Bar area, this is the sort of pub where you might meet a small selection of close friends, take a comfy chair in the backroom and enjoy a night of craic (the Irish word for "fun") and witty conversation. Or, drop in for a starter drink on your way into Temple Bar.
Address: 21 Fleet St, Temple Bar, Dublin 2, Ireland
READ MORE: The 5 BEST bars in Temple Bar, Dublin (for 2023)
3. O'Donoghue's – a traditional Irish music pub
A traditional Irish music session in this pub is a must if you are in Dublin! It is very busy and popular so make sure you go down at a reasonable time!
A selection of traditional musicians get together for a "session" each night, playing fiddles, tin whistles, bodhrans and uilleann pipes.
This is where famous traditional Irish folk band The Dubliners got its start and the members have come back to play here many times.
Address: 15 Merrion Row, Saint Peter's, Dublin, Ireland
2. The Long Hall – one of Dublin's most charming bars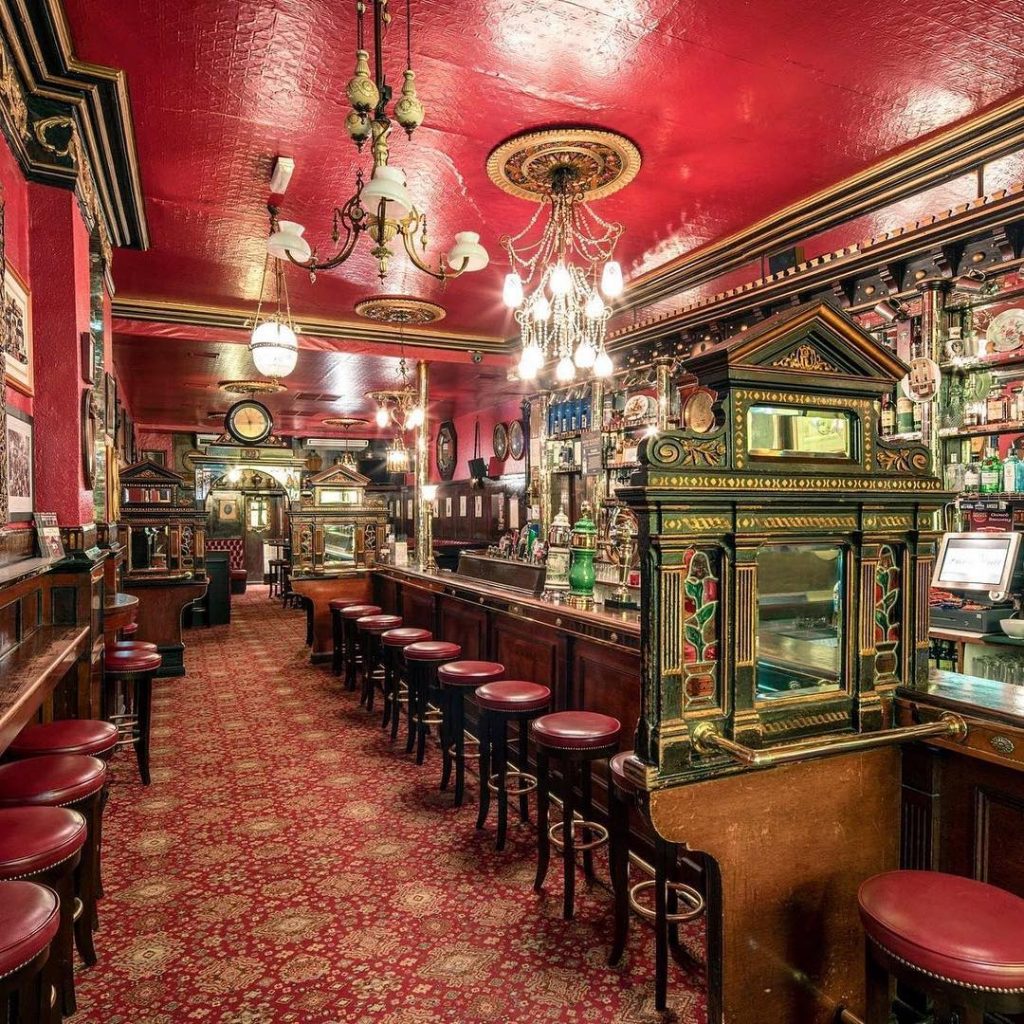 An original Dublin pub with a striking red and white exterior that has survived the complete reconstruction of the buildings around it during the Celtic Tiger boom.
It gets quite busy on weekends, so drop in for a quiet mid-week pint of Guinness to fully appreciate the classic wooden interior, mirrors and cozy décor.
Address: 51 South Great George's Street, Dublin 2, D02 CP38, Ireland
READ ALSO: 10 pubs for the best Guinness in Dublin (Guinness Guru's list)
1. The Brazen Head – the oldest pub in Dublin
This pub dates back to the year 1198. The Brazen Head is claimed to be Dublin's oldest pub and it's still a lively spot, with live music every night.
The building was originally a coach house (it's not known how much of the original remains) and walls are lined with old pictures, papers and ads from the past.
Famous names that supped a pint or two in the pub include James Joyce, Brendan Behan and Jonathan Swift. For food, tuck into beef and Guinness stew or a big bowl of steamed Irish mussels.
The Brazen Head may be the oldest but it is top of the list of the best traditional pubs in Dublin!
Address: 20 Lower Bridge St, Usher's Quay, Dublin, D08 WC64, Ireland
Your questions answered about Dublin City
If you want to know more about Dublin, we have you covered! In this section, we've compiled some of our readers' most frequently asked online questions about Dublin.
1. What time is it in Dublin?
2. How many people live in Dublin?
As of 2020, Dublin's population is said to be around 1.2 million people (2020, World Population Review).
3. What temperature is it in Dublin?
Dublin is a coastal city with a temperate climate. Spring sees balmy conditions ranging from 3°C (37.4°F) to 15°C (59°F). In Summer, temperatures rise to a range of 9°C (48.2°F) to 20°C (68°F). Autumn temperatures in Dublin are generally between 4°C (39.2°F) and 17°C (62.6°F). In winter, temperatures are usually between 2°C (35.6°F) and 9°C (48.2°F).
4. What time is sunset in Dublin?
Depending on the month of the year, the sun sets at varying times. On the Winter Solstice in December (the shortest day of the year), the sun can set as early as 4:08pm. On the Summer Solstice in June (the longest day of the year), the sun can set as late as 9:57pm.
5. What to do in Dublin?
Dublin is a dynamic city with tonnes of things to see and do! If you're keen to learn more about what to do in Dublin, have a look at the below articles for some inspiration.
If you are visiting Dublin, you will find these articles really helpful:
Where to stay in Dublin
The 10 best hotels in Dublin city centre
The 10 best hotels in Dublin, according to reviews
The 5 Best Hostels In Dublin – Cheap and Cool Places to Stay
Pubs in Dublin
Drinking in Dublin: the ultimate night out guide for the Irish capital
The 10 best traditional pubs in Dublin, ranked
The ultimate 5 best bars in Temple Bar, Dublin
6 of Dublin's Best Traditional Music Pubs Not in Temple Bar
Top 5 Best Live Music Bars and Pubs in Dublin
4 Rooftop Bars in Dublin You MUST Visit Before You Die
Eating in Dublin
5 Best Restaurants for a Romantic Dinner for 2 in Dublin
5 BEST places for Fish and Chips in Dublin, RANKED
10 Places to Grab a Cheap & Delicious Meal In Dublin
5 Vegetarian & Vegan Restaurants in Dublin You NEED To Visit
The 5 best breakfasts in Dublin that everyone should visit
Dublin Itineraries
One Perfect Day: How to Spend 24 hours in Dublin
2 days in Dublin: the perfect 48 hour itinerary for Ireland's capital
Understanding Dublin & its attractions
10 fun & interesting facts about Dublin you never knew
50 shocking facts about Ireland you probably didn't know
20 mad Dublin slang phrases that only make sense to locals
10 Famous Dublin Monuments with Bizarre Nicknames
10 things you should NEVER do in Ireland
10 Ways Ireland Has Changed Over The Last 40 Years
The history of Guinness: Ireland's beloved iconic beverage
TOP 10 Amazing Facts You Didn't Know About The Irish Flag
The story of Ireland's capital: a bite-size history of Dublin
Cultural & Historical Dublin attractions
Top 10 famous landmarks in Dublin
7 Locations in Dublin where Michael Collins Hung Out
More Dublin sightseeing
5 SAVAGE Things To Do On A Rainy Day In Dublin
The 10 best day trips from Dublin, RANKED
Get featured on Ireland Before You Die
Do you want to get your Irish business more online exposure? Especially to those interested in travelling the best places in Ireland? Then why not get a dedicated feature on Ireland Before You Die. Find out more 
here.