Indeed Ireland may not have the nicest weather in all of Europe, but that doesn't rule out year-round water sports.
In fact, the likes of surfing, wake boarding, and boating are all top notch along the coast of the Emerald Isle. Another big winner is scuba diving (along with snorkeling)!
If you want to discover the world below the surface, check out these ten best spots for scuba diving in Ireland.
10. Baltimore, Co. Cork – for the MV Kowloon Bridge shipwreck
For those of you who happen to enjoy underwater exploration, Baltimore in County Cork is the place to be! Off the coast of the stunning county lie treasures beneath the sea.
Divers can enjoy an up-close examination of the MV Kowloon Bridge that sank in Irish waters in December 1986. 295 metres in length, this ship is surely a sight for sore eyes.
9. Killary Harbour, Co. Galway/Mayo – for cinematic surroundings
Sitting between the border of County Galway and County Mayo is Killary Harbour, a natural fjord (a long narrow passage surrounded by cliffs). This spot makes for a great base to scuba dive as the sheltered nature of the waterway allows for an abundance of marine life.
With fantastic visibility, divers often come across eels, wrasse, lobsters and pollock.
Location: County Galway; County Mayo
8. Brandon Bay, Co. Kerry – for warmer water
Even though we're just off the coast of the Emerald Isle, the Gulf Stream (which originates in Mexico and stretches as far as Iceland) keeps the waters somewhat balmy.
This warmer water enables the vibrant waterways to be suited to a variety of sea life. Sharks, pilot whales, and giant tuna fish are often spotted in Brandon Bay.
7. Dalkey Island, Co. Dublin – the island dive
Only 16 kilometres (10 miles) off the coast of Dublin is Dalkey Island. This uninhabited landmass makes for a great day excursion, but it is also one of the finest places to go scuba diving in Ireland.
Its unspoiled waters and remote setting enable a tapestry of marine life to flourish. Just be wary: there are strong rip tides here, so plan in advance using tide tables. Plumose anemones, velvet crabs and dogfish can be spotted off Dalkey Island.
6. Carraroe, Co. Galway – for sheltered scuba diving
Well sheltered and offering good visibility year-round, Carraroe in Galway is an ideal place to go scuba diving in Ireland.
Carraroe offers beautiful reefs brimming with fish, lobster, and gigantic eels across unique rock formations.
5. Clare Island, Co. Mayo – for adventurers
Just off the coast of Mayo is a remote landmass called Clare Island. Divers will be spoiled for choice when it comes to sea-based sights!
Rumour has it that there's a World War II plane hidden under the water's surface (although it has never been found). There is also an amazing abundance of sea-anemone, Pollock, and wrasse.
4. Rutland Sound, Co. Donegal – for all levels
This must be one of the best places to scuba dive in all of Ireland due to its accessibility to all. It is safe for everyone from beginner divers to advanced underwater explorers and its sheltered nature makes it a great place to test your skills.
Yellow and orange sponges punctuate a plethora of marine life that thrives in Rutland Sound.
3. Tory Island, Co. Donegal – for the HMS Wasp Shipwreck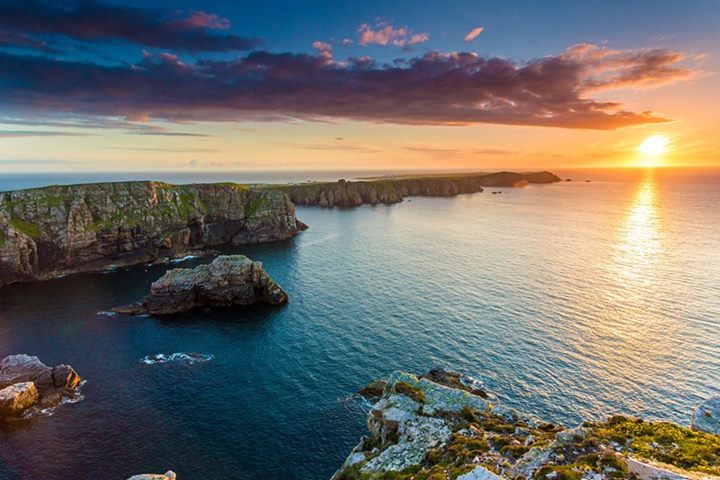 This epic dive site is just off the coast of Donegal. It is home to the HMS Wasp Shipwreck, which scuba divers can examine up close, and the area is frequented by whales, dolphins, and basking sharks.
2. Fanore, Co. Clare – for visibility
Visibility at this County Clare scuba diving spot has got to be one of its biggest draws. With caves, nooks, and crannies all worth a wander, there's much to explore. Dolphins frequent these waters, and fish and sea plant life thrive.
1. Diamond Rocks, Co. Clare – for utter enchantment
This unique place to scuba dive in Ireland has to be the top spot. Diamond Rocks gets its name from the rocks that surround the water. Due to their composition of quartz crystals, they sparkle in the sun!
Bottlenose dolphins and seals are just some of the friendly faces you're likely to see in this little slice of paradise.