Dublin is blossoming when it comes to its social scene. While London does underground vibes and Berlin is all about the clubs, Dublin is leading the pub scene.
The capital city of Ireland has in and around 772 pubs (accurate as of February 2018). More so, many of these are laden with history having survived the Victorian era. And, they are still as popular as ever.
Check out the ten best and oldest pubs in Dublin – you can thank us later!
IB4UD's top tips for visiting Ireland's best and oldest pubs
Begin your pub exploration with The Brazen Head, Dublin's oldest pub, where you will find a lively atmosphere and great live music.
Explore Temple Bar: Here, you'll find historic pubs like The Old Storehouse and The Auld Dubliner.
Embrace Traditional Irish Music: Many of the best and oldest pubs in Dublin feature live traditional Irish music sessions.
Engage with the Locals: Strike up conversations with locals and fellow pub-goers. Irish people are known for their friendliness and storytelling.
Respect the Pub's Heritage: Remember that these pubs are part of Ireland's cultural heritage. Follow pub etiquette, and embrace the sense of tradition and community.
Take a Pub Walking Tour: Consider joining a pub walking tour in Dublin. These guided tours provide insights into the city's pub culture, history, and famous establishments.
10. The International, Est. 1854 – for the craic
This trendy old pub in Dublin was founded in the Victorian era, and while times have changed, it still offers a lot of its original décor and ambience.
Today, The International is favoured for jazz sessions and comedy shows which run every night of the week.
Address: 23 Wicklow St, Dublin, D02 VH59
9. The Brazen Head Est. 1198 – the oldest in Dublin city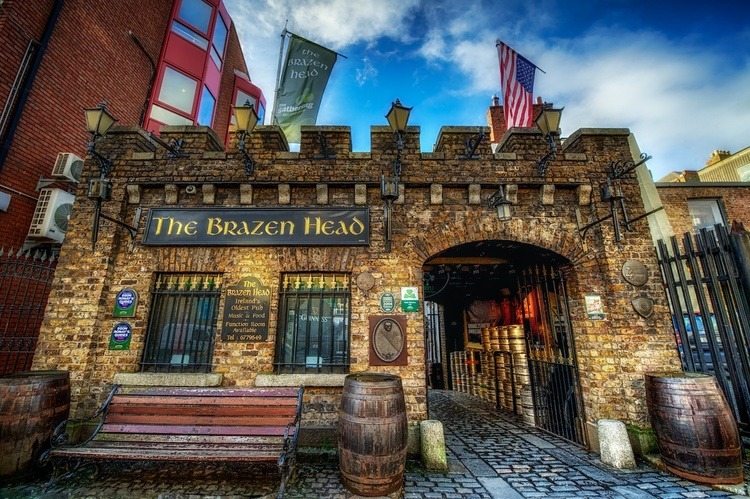 The Brazen Head was established in 1198. It claims the title of the oldest pub in Dublin city, having been founded in 1198.
Offering old-world charm and modern-day Irish pub banter, visiting a traditional Irish pub is one of the best things to do in Dublin, a real hot spot for tourists looking to enjoy some live entertainment and traditional fare.
Address: 20 Lower Bridge St, The Liberties, Dublin, D08 WC64
8. The Palace Est. 1823 – for a no-frills pub setting
The Palace is one of the best and oldest pubs in Dublin. This no-frills venue offers Irish pub vibes through and through.
Think locals and pints of Guinness in a Victorian venue, stripped of contemporary distractions (live sports and TVs, for example).
Address: 21 Fleet St, Temple Bar, Dublin 2
7. The Gravediggers Est. 1833 – for local vibes
The Gravediggers is a colloquial name for the John Kavanagh pub in Glasnevin.
The old-school pub got its name due to its close proximity to Glasnevin Cemetary. Expect a no-nonsense Irish vibe and tonnes of laid-back locals.
Is also well-known for a good pint of Guinness. Indeed, The Guinness Guru claims it is the best pint of Guinness in the world!
Address: 1 Prospect Square, Glasnevin, Dublin, D09 CF72
FIND OUT MORE: 10 pubs for the best Guinness in Dublin (Guinness Guru's list)
6. Johnnie Fox's Est. 1798 – for nature
While Johnnie Fox's is on the border of Dublin and Wicklow, it definitely deserves mention on our list of best and oldest pubs in Dublin.
It is famous for being "Ireland's highest pub". It is located up in the mountains and is best enjoyed after a day or wandering the nearby "garden of Ireland" (a local's term for County Wicklow).
Address: Glencullen, Co. Dublin
RELATED: All 32 nicknames for the 32 counties of Ireland
5. Mulligan's Est. 1854 – for post-work pints
Located on a side street running parallel to the River Liffey is Mulligan's. This no-nonsense pub in Dublin city is one of the best and oldest pubs in Dublin without a doubt.
Mulligan's is another local joint that offers buzzy vibes post-work and on the weekends.
Address: 8 Poolbeg St, Dublin, DO2TK71
4. Kehoe's Est. 1803 – for a date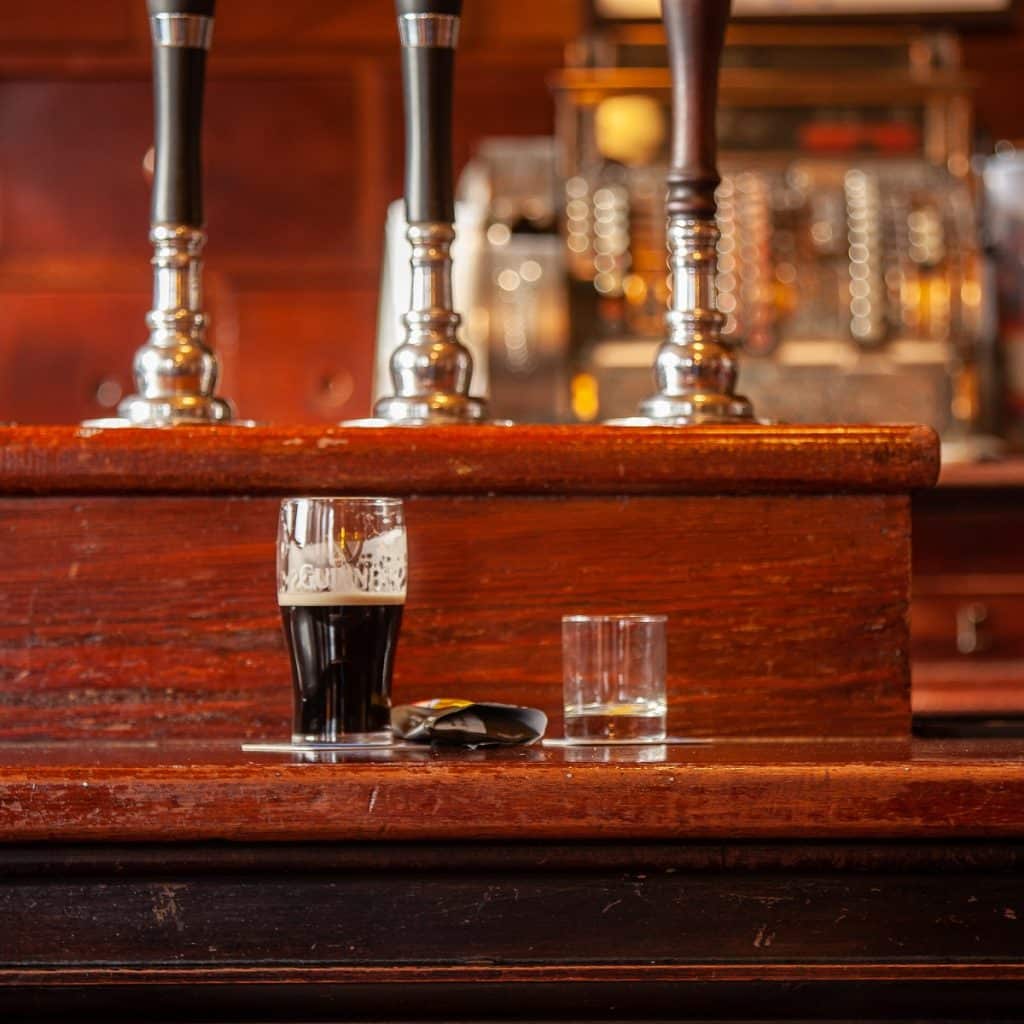 Kehoe's is another one of the best and oldest pubs in Dublin. This intimate venue offers little snugs which are perfect to pop into for a cosy date night. Arrive early to avoid disappointment though – Kehoe's fills up fast.
On a Summer's eve, bodies mill around the street out front sipping beers and enjoying the fine weather.
Address: 9 Anne St S, Dublin, D02 NY88
3. The Long Hall Est. 1766 – for the Guinness
This is one of Dublin's oldest pubs and has been licensed since 1766. Expect genuine Victorian interiors and some of the best pours of Guinness in all of Dublin city. Its cosy décor and low lighting also make for a top date night setting.
Address: 51 South Great George's Street, Dublin 2
2. The Stag's Head Est. 1780 – for a weekend
This Victorian pub is located on a side street in the heart of Dublin. Favoured by locals, this spot offers old-world charm and a young and vibrant crowd.
Décor oozing ambience – such as chandeliers, stained glass and weathered wood – only add to the atmosphere in this old Dublin pub. Live music and buzzing comedy nights are also reasons this Dublin pub has continued to stay at the top of the social scene.
Address: 1 Dame Ct, Dublin, D02 TW84
READ ALSO: The 10 Best Bars in Dublin for LIVE MUSIC (for 2023)
1. Toner's Est. 1818 – the best beer garden
Established in 1818, Toner's is one of the best and oldest pubs in Dublin. While the pub itself is small in size, the covered (and heated) beer garden is the focal point.
Vibrant and busy with after-work bodies every night of the week, this is the ultimate place to enjoy some end of day pints. Some say this is the best Guinness in Dublin, too!
Address: 139 Baggot Street Lower, Dublin 2
Check out the best beer gardens in Dublin, also!
Your questions answered about the best and oldest pubs in Dublin
If you've got more questions relating to Dublin's best and oldest pubs, you've come to the right place. We answer some of our readers' most frequently asked questions in online searches in the section below.
What is the most famous pub in Dublin?
The Temple Bar Pub is the most famous pub in Ireland's Capital and is often a must-stop location for tourists visiting Dublin.
How old is Dublin's oldest pub?
Dublin's oldest pub, The Brazen Head, was established as an inn in 1198, over 800 years ago!
What is the best pub in Dublin?
This depends on when what you're looking for in a pub, but one of the best bars and pubs in Dublin that locals swear by is O'Donoghue's.
Get featured on Ireland Before You Die
Do you want to get your Irish business more online exposure? Especially to those interested in travelling the best places in Ireland? Then why not get a dedicated feature on Ireland Before You Die. Find out more 
here.