Boston is said to have the largest and liveliest community of Irish people outside of Ireland.
The Irish famine from 1845 to 1849 saw mass emigration from Ireland. Boats sailed by the dozen from the Emerald Isle to the United States. Diaspora settled down in places dotted along the east coast of America: Philadelphia, New York, and most notably Boston.
Today, countless Bostonians share in Irish ancestry, and Irish emigrants continue to settle down in what can only be considered as Ireland's sister-city, the capital of the state of Massachusetts.
Looking to brush shoulders with the Irish in America? Check out the ten best Irish pubs in Boston.
10. The Kinsale Irish Pub – the pub with the most traditional décor
In a solid attempt to reflect the setting of a true Irish pub, the Kinsale is one of the Boston pubs which proudly boasts that much of its traditional wooden furniture was made in Ireland.
The classic bar is flanked by two marble pillars, which frame a back-bar filled with Irish whiskey and spirits. American influences shine through with screenings of all the top sports games and certain dishes on the menu, but all in all, this is a solid Irish pub.
Address: 2 Center Plz, Boston, MA 02108, USA
9. Lansdowne Pub – the Irish pub music venue
The Lansdowne Pub is a fantastic venue for Irish feels in Boston. Its space offers classic pub vibes, making it a great place to catch the match or listen to some live music.
The décor is on point too; impressive wooden panelling and light fixtures give a great sense of home (a.k.a. Ireland), and the Guinness isn't half bad either.
Address: 9 Lansdowne St, Boston, MA 02215, USA
8. Emmet's – the ultimate Irish pub-restaurant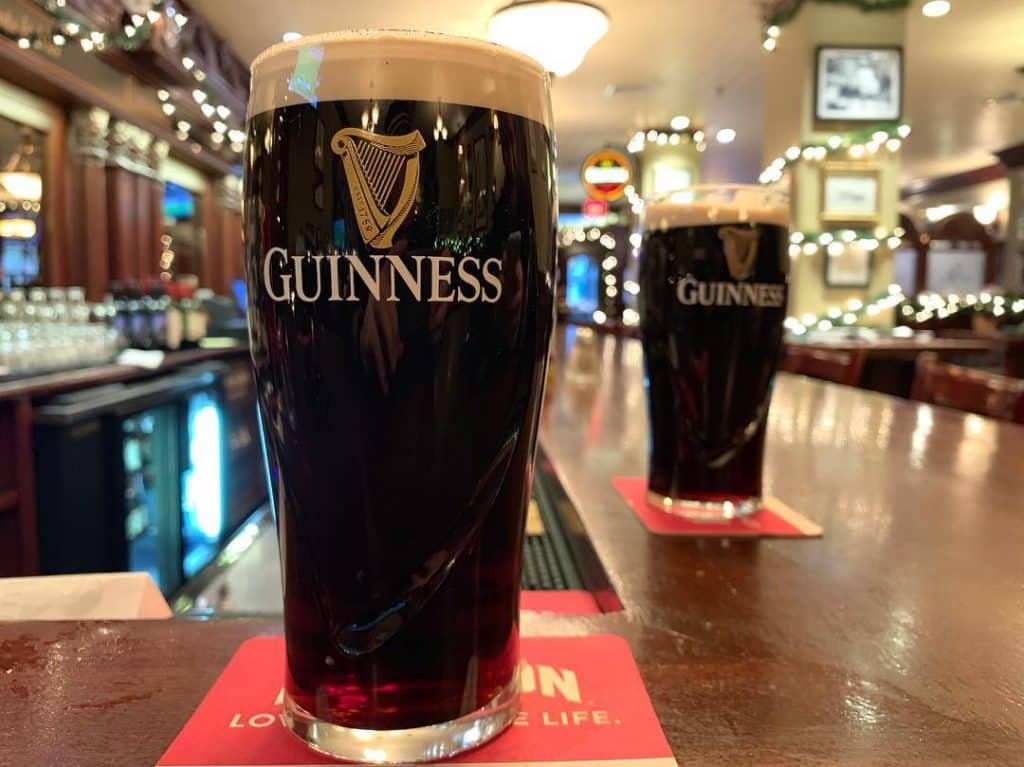 Located in Beacon Hill, Emmet's is a traditional pub and restaurant that prides itself on serving up quality Irish fare and the perfect pour of Guinness – and we're not gonna knock 'em!
A trip to Emmet's wouldn't be complete without trying the Guinness beef stew with a pint of the "black stuff" (slang for Guinness!). You can thank us later.
Address: 6 Beacon St, Boston, MA 02108, USA
7. The Banshee – the Irish sports bar
Another one of the top Boston pubs is the Banshee, located at 934 Dorchester Ave. Clad with novelty Irish signposts and sports jerseys, this sports bar is the ideal place to catch the match in the city.
The menu has a hearty offering of share-style food such as nachos, chicken wings, and sliders, making it the perfect place for game time and one of the best Irish pubs in Boston, hands down!

Address: 934 Dorchester Ave, Boston, MA 02125, USA
6. Brendan Behan – the no-frills Irish pub
This is your classic old and weathered Irish pub with charm and quirk to no end. Brendan Behan's is a no-frills kind of joint: it is cash only, no food is served (although you can bring in your own), and dogs are allowed.
This is the kind of place where a proper Irish music session will take you by surprise, making you feel just like you're all the way back in Ireland.
Address: 378 Centre St, Jamaica Plain, MA 02130, USA
5. The Druid – the cozy Irish hangout
This intimate Irish pub is located in Cambridge, Boston. Small and straightforward, this is the perfect date-night Irish bar due to its cozy demeanour, solid drinks, and pub grub too.
Stop by on Saturday from 11 a.m. for one of the best Irish breakfasts in the city—a meal bound to cure your hangover.
Address: 1357 Cambridge St, Cambridge, MA 02139, USA
4. Mr. Dooley's – the pub for an impromptu Irish music session
One of the biggest draws of Mr. Dooley's Irish pub is its penchant for impromptu Irish music sessions, which are oh-so-reflective of authentic Irish bars.
The spot itself is simple and straightforward, with a dining area and a mahogany bar fit for a few rounds of the "black stuff", and one of our favourite Boston pubs, without a doubt!
Address: 77 Broad St, Boston, MA 02109, USA
3. The Green Dragon – the historic Irish pub
This Irish pub is considered to be one of the best Irish pubs in Boston, and one of the most historic bars, too. Passed from hands to hands over generations, the pub is nicknamed the "Headquarters of the Revolution," as it was the meeting place of several secret groups who spearheaded the War of Independence.
In terms of space and design, it is your average Irish pub with a hearty Irish-American fusion menu and Guinness flowing freely.
Address: 11 Marshall St, Boston, MA 02108, USA
2. Doyle's Café – the neighbourhood Irish pub
This is your typical local neighbourhood spot. The staff and managers are friendly; visitors receive individual welcomes; a small selection of locally brewed ale is on tap; and the food is fresh off the grill.
Our tip: While you're in the locale, check out the Sam Adams brewery.
Address: 3484 Washington St, Jamaica Plain, MA 02130, USA
1. The Black Rose – the lively Irish pub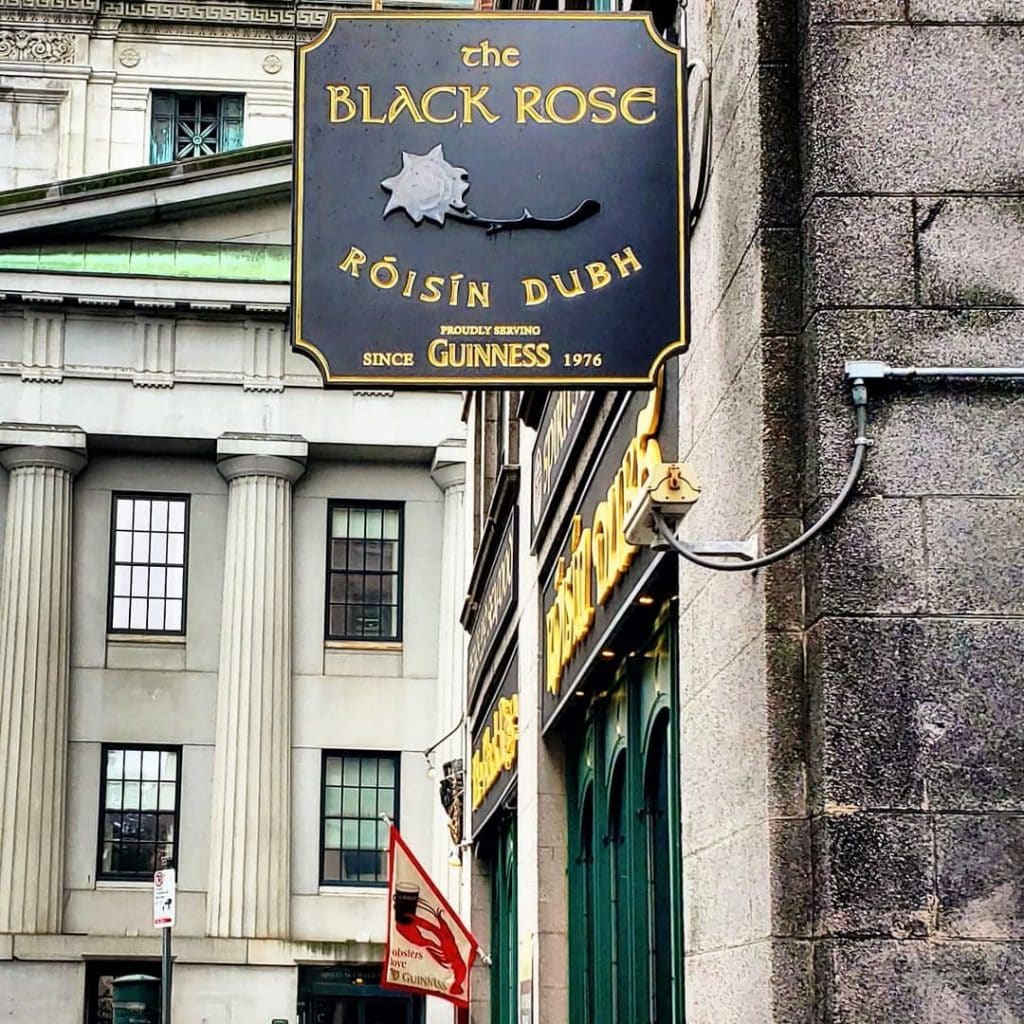 When it comes to the best Irish pubs in Boston, the Black Rose takes the cake. It marries a lively setting with live music, solid pints, and excellent pub grub.
This Irish pub in Boston is popular week-round, although it truly sparkles during the weekend.
Address: 160 State St, Boston, MA 02109, USA
Get featured on Ireland Before You Die
Do you want to get your Irish business more online exposure? Especially to those interested in travelling the best places in Ireland? Then why not get a dedicated feature on Ireland Before You Die. Find out more 
here.