Ready for a pint in the Dutch capital? Have a look at our list of the top ten best Irish pubs in Amsterdam – and thank us with a toast.
Amsterdam has attracted party-goers for decades, and if you want to start or end your night with a Guinness (or two or three), there are tons of options all over the city. However, we know that not every Irish pub lives up to its promises, so we've volunteered to have a round of pints.
No matter if you are into a cosy night with your partner or a handful of friends, want to watch a sports game with all your mates, or are in the mood for an Irish breakfast or a Sunday roast, the city has you covered.
Read our favourites of the best Irish pubs in Amsterdam below – and let us know which one you liked best!
10. O'Donnell's – the best Irish pub in Amsterdam for sports fans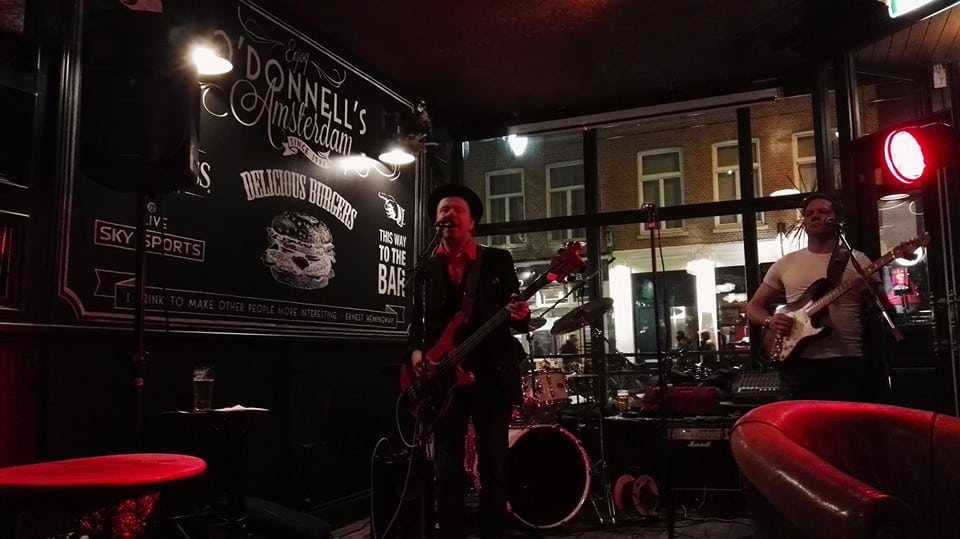 This pub is located just behind the Heineken factory, so think of it as an Irish bar with a Dutch twist. They have 12 beers on tap as well as 30 different types of whiskey.
Sport is a huge thing here, so if you want some company while watching a big match, you can't go wrong with this place.
Address: Ferdinand Bolstraat 5, 1072 LA Amsterdam, The Netherlands
More info: HERE
9. Hoopman – a typical Irish pub in the middle of the entertainment district
When out and about in Amsterdam, chances are you'll end up at Leidseplein at some point. And that's right where you find Hoopman.
The pub is as Irish as it can get with Irish staff, classic pub food, a cosy atmosphere, and a vast range of beers and ciders.
St. Patrick's Day is massive here, but it is a good starting point for a fun night any day of the year.
Address: Leidseplein 4, 1017 PT Amsterdam, The Netherlands
More info: HERE
8. O'Reilly's – an excellent place for food-loving pub-goers
This popular pub is perfectly located with views of the Royal Palace on Dam Square. This makes it one of the best Irish pubs in Amsterdam and a great spot to combine sightseeing and pints.
O'Reilly's is a chain with other branches in Germany and Belgium, but don't let that put you off.
The homemade Irish food is excellent, as is the selection of beers and spirits. Regulars also rave about the welcoming staff that make you feel like you're at home.
Address: Paleisstraat 105, 1012 ZL Amsterdam, The Netherlands
More info: HERE
7. Gunnery's – the most popular hangout for Irish ex-pats living in Amsterdam
If you are Irish and looking to hang out with fellow Irish or someone keen to meet the tribe, you can't go wrong with this popular ex-pat hangout.
And if you are into food and sports, even better, as that's what Gunnery's is all about. We especially recommend their Irish breakfast which for € 9.50 – great food at a reasonable price.
Address: Verdronkenoord 123, 1811 BD Alkmaar, The Netherlands
More info: HERE
6. The Wolfhound – a stylish Irish pub with an Instagram-able cellar lounge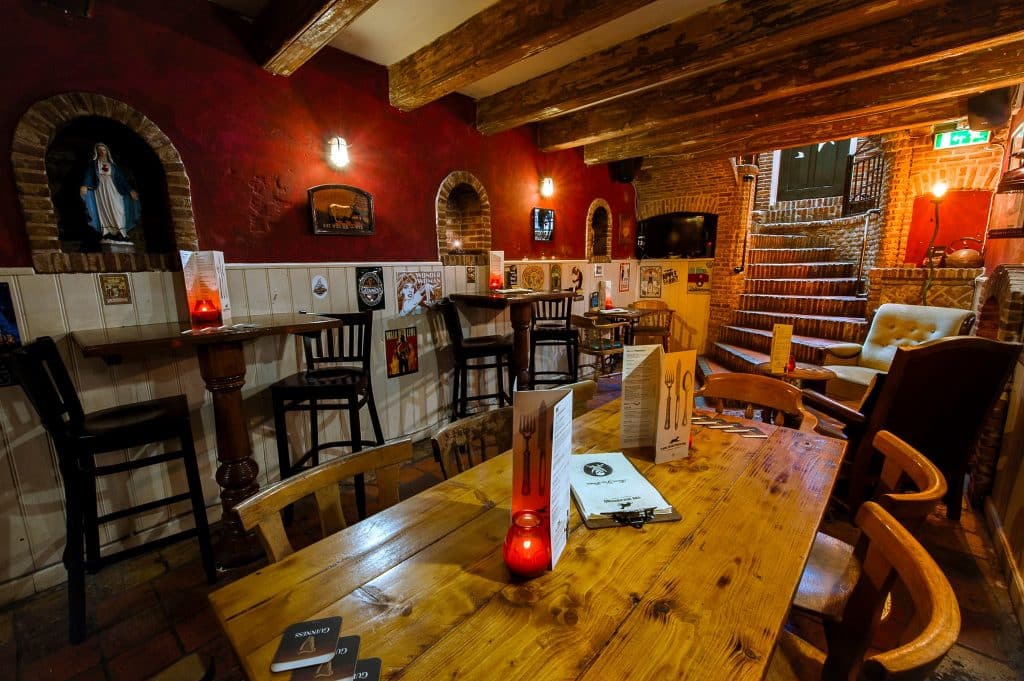 The Wolfhound (a nod to the famous Irish Wolfhound dog breed) has all the goodies of a traditional Irish pub including a massive menu for both food and drinks – but its stylish interiors are what really make it shine. We especially love their cellar lounge dating back to 1640.
They have tons of live gigs, so for music lovers, this is one of the best Irish pubs in Amsterdam. Also, they welcome new talents, so the stage could be yours.
Address: Riviervismarkt 9, 2011 HJ Haarlem, The Netherlands
More info: HERE
5. Durty Nelly's – where you'll meet folks from all over the world
This lively pub is attached to a hostel of the same name, so expect an international and youngish crowd. There are live music and sports screenings during the week, and regular parties themed around Irish and Dutch public holidays. Whilst this bar may not feature the best traditional Irish folk bands, you can still enjoy Irish folk music here.
Durty Nelly's is the kind of place where you can show up alone and certainly won't be by yourself for long. Want to meet some new people? Look no further!
Address: Warmoesstraat 117, 1012 JA Amsterdam, The Netherlands
More info: HERE
4. St. James' Gate – a popular Irish pub right on buzzing Rembrandtplein
Relatively new to the scene, St. James' Gate has quickly become one of the most popular Irish bars in Amsterdam, not least because of its prime location on Rembrandtplein near some of the best museums in Amsterdam on one of the busiest squares in the city. 
The pub is named after the Guinness Brewery entrance in Dublin and rumour has it, they serve the best Guinness in Amsterdam. They also have sports screenings and a massive terrace with heating devices in every umbrella.
Address: Rembrandtplein 10, 1017 CV Amsterdam, The Netherlands
More info: HERE
3. The Blarney Stone – the oldest Irish pub in town frequented by The Dubliners and the likes
This charming, family-run pub close to the Centraal Station has been around since 1989 and is Amsterdam's oldest pub.
It has everything you'd expect from a traditional pub, including a massive Irish breakfast, sing-along tunes, sports screenings, and welcoming bartenders.
The Blarney Stone has been frequented by quite a few celebrities, including The Dubliners, Dave Stewart from the Eurythmics, and Christy Moore.
Address: Nieuwendijk 29, 1012 LZ Amsterdam, Niederlande, The Netherlands
More info: HERE
2. Mulligan's – the best Irish pub in town for live music
Mulligan's is our favourite of the best Irish pubs in Amsterdam for live music.
Conveniently located on the Amstel river banks in the heart of the city, it opened over 30 years ago, and many of the regulars still remember the early days.
The pub hosts an Irish music session every Sunday with locals coming together to play classic Irish songs and Gaelic melodies, as well as regular concerts. And obviously, there's lots of Guinness, too.
Address: Amstel 100, 1017 AC Amsterdam, The Netherlands
More info: HERE
1. Molly Malone's – if you only visit one pub in Amsterdam, make it this one
Let's face it; every visitor to the Dutch capital will end up in the Red Light District at least once.
And the good news is, one of the best Irish pubs in Amsterdam is right in the heart of it. Just a short stroll from the train station, Molly Malone's is located inside one of the oldest buildings in the area and is as traditionally Irish as a pub can get.
Apart from the ales, there's more than 75 types of whiskey, massive screens for sports events, and a patio right at the canal overlooking St. Nicolas Church.
Are you coming with kids in tow? They have games to keep them entertained, too.
Address: Oudezijds Kolk 9, 1012 AL Amsterdam, The Netherlands
More info: HERE
Get featured on Ireland Before You Die
Do you want to get your Irish business more online exposure? Especially to those interested in travelling the best places in Ireland? Then why not get a dedicated feature on Ireland Before You Die. Find out more 
here.