Ireland has produced some great films over the years. Here are the ten best Irish films according to Rotten Tomatoes.
What do we do if we want to know if a film is worth watching? We head to Rotten Tomatoes of course! Why? Because it is the most trusted platform for film reviews, saving us hours and hours of our precious time, watching flicks that end up being awful. Do you wonder what the best Irish films according to Rotten Tomatoes are? We've got the article for you!
Thank the lord this site exists because it allows us to get a real honest review of a film and then decide from there. It is the world's most trusted resource for film recommendations, so it's no surprise that we have been guided by their fantastic 'Tomatometer'. Here are the ten best Irish films according to Rotten Tomatoes.
10. Michael Collins (1996) – 77%
With Liam Neeson – one of the Emerald Isle's finest Irish actors – playing the Irish revolutionary leader, Michael Collins, this film became a huge hit. It tells the true story of Collins, who sought to free Ireland from British rule.
9. In America (2003) – 89%
This is a story about an Irish family who emigrated to America. It depicts their life in New York, far from their homeland, and rings true to so many Irish abroad.
8. Philomena (2013) – 90%
A powerful, true story lead by Judi Dench, tells the tale of a woman in search of her adopted son. He had been born out of wedlock, something her Catholic family didn't approve of.
7. The Quiet Man (1952) – 90%
This classic, starring John Wayne and Maureen O'Hara, was filmed in Cong, Co. Mayo. Wayne follows his roots back to the Irish countryside, where he meets his love interest O'Hara. Cue the comedic romance.
6. The Wind that Shakes the Barley (2007) – 90%
A national favourite, one of patriotism, tells the story of Damien, a man who joins forces with fellow workers to oppose the 'Black and Tans', who were trying to stop Ireland's fight for freedom, starring Cillian Murphy.
5. The Magdalene Sisters (2003) – 91%
A true story of events that took place for many women sent to the infamous Magdalene Laundries, to atone for their sins. The last laundry closed its doors in 1996. Since then, more and more stories began to unfold, unveiling the harsh conditions and undeniable experiences, had by many women.
4. Bloody Sunday (2002) – 92%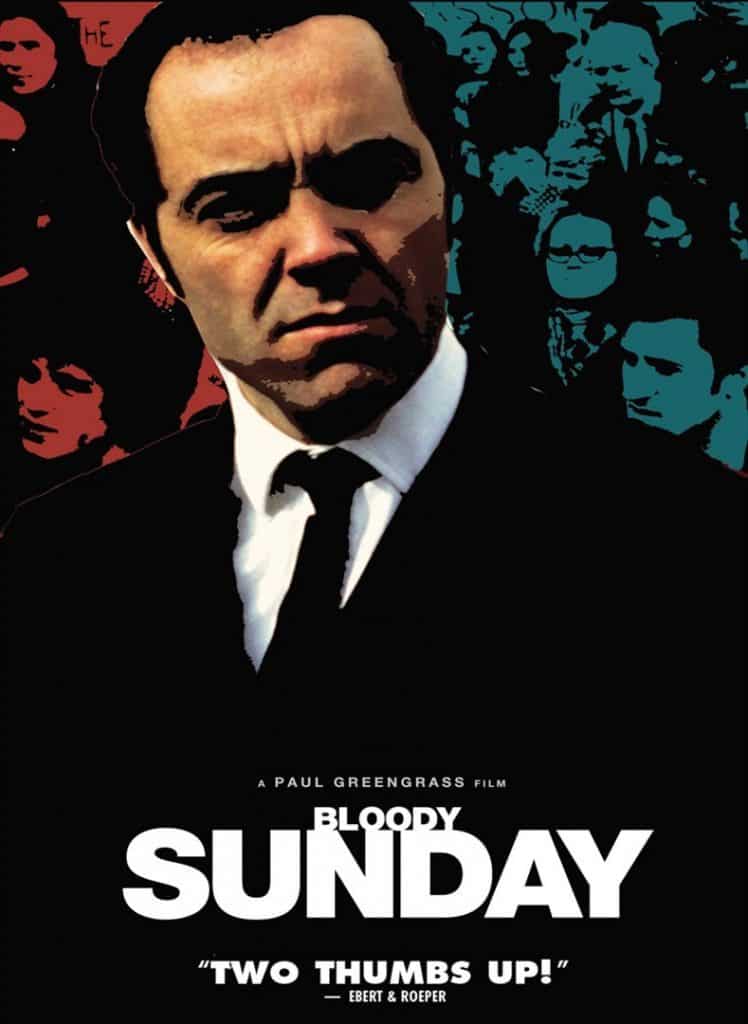 A film starring James Nesbitt, it depicts the horrific events of Bloody Sunday, which took place in 1972, Northern Ireland and saw 27 civilians shot dead on the streets of Derry.
3. In the Name of the Father (1993) – 94%
This is a harrowing true story that stars Daniel Day-Lewis. It is about a man and his father wrongly accused and convicted of the 1974 IRA bombing. The story follows their journey towards pleading their innocence. It is incredibly moving and captivating and another of the best Irish films according to Rotten Tomatoes.
2. Brooklyn (2015) – 97%
Lead by Saoirse Ronan, this is a film about a young girl who emigrated to New York, to create a better life for herself, leaving her family and friends behind. It follows her journey living in Brooklyn and is a story that many Irish immigrants, worldwide, can relate to.
1. My Left Foot (1990) – 97%
Truly one of the best Irish films according to Rotten Tomatoes. This award-winning classic stars Daniel Day-Lewis and tells the true story of Christy Brown, a man born with Cerebral Palsy and who only has use of his left foot. While the world had forgotten and given up on him, his mother pushed him to be his best creative self. An amazing performance!
Doesn't this just make you want to curl up with a duvet and just binge-watch all ten of these best Irish films? Each one is as harrowing as the next and depicts many stories that most of our nation has heard about, or grown up with.
The best thing about these films is that they are raw and touch many taboo subjects, some of which, many people around the world can relate to. We have produced some of the greatest actors and actresses in the world, including Liam Neeson, Maureen O'Hara, Cillian Murphy, and Saoirse Ronan to name but few. The films to come out of Ireland are just as great.
Sure, Ireland has had a tough past, but it has come out stronger than ever as a nation. With many stories still being told, and many more being made into films, the list of 'Best Irish Movies' will inevitably continue to expand as these are shared with the world.