Whether you're a seasoned cyclist or first-timer, outdoor enthusiast or adrenaline junkie, these are the ten best cycling routes in Ireland to tackle.
Ireland is an ancient island, brimming with mystique and majesty.
Its marvellous backdrops painted with grazing herds and dramatic coastlines, weather-worn cottages and wild flora are not merely a postcard feat; they thrive in abundance.
And, how better to explore this dynamic land than by bike?
From winding routes to leisurely looped trails, epic multi-day adventures to marathon experiences, these are the ten best cycling routes in Ireland.
10. Portumna Forest Park – the leisurely bike ride
If you're cycling with beginners or family in tow, we suggest you explore the Portumna Forest Park cycle track.
Located on the shores of Lough Derg in Galway, this marvellous park makes for a great day adventure by bike.
By combining the Rinmaher (green arrow) and Bonaveen (red arrow) trail, you can enjoy the 18-kilometre (11.1-mile) cycle route.
Address: 6 St Joseph's Rd, Portumna Demesne, Portumna, Co. Galway, H53 AH10
9. Great Western Greenway – the off-road adventure
If a west coast cycling adventure sounds up your alley, we suggest you take on the Great Western Greenway.
Working its way along the Mayo coastline, this 42-kilometre (26-mile) trail begins in the picturesque village of Westport and ends on Achill Island.
It is family-friendly with much of its track off-road. Bite-sized routes are available for those who seek a smaller cycle route, too.
Cycle route: HERE
8. Causeway Coast cycle route – the northern trail
Tracing the coast along the northern tip of the island, the Causeway Coast Cycle Route is one of the best cycling routes in Ireland, without a doubt.
The trail stretches from Castlerock to the Giant's Causeway, passing key heritage sites and impressive vistas along the route.
Cycle Route: HERE
7. Black Valley loop – for one of Ireland's most beautiful landscapes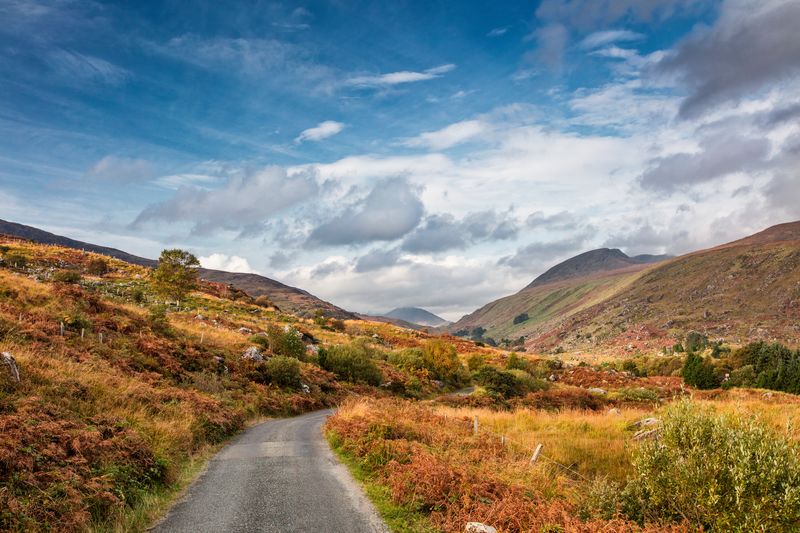 At 56 kilometres (34.7 miles), Black Valley Loop in Kerry, Ireland is one of the best cycling routes in Ireland, and one of the most popular trails.
Best suited for more experienced cyclists, you can indulge in dazzling views of the Lakes of Killarney, Moll's Gap, and the world-famous, Gap of Dunloe.
Expect to work up a sweat as you conquer one of the most beautiful landscapes in all of Ireland.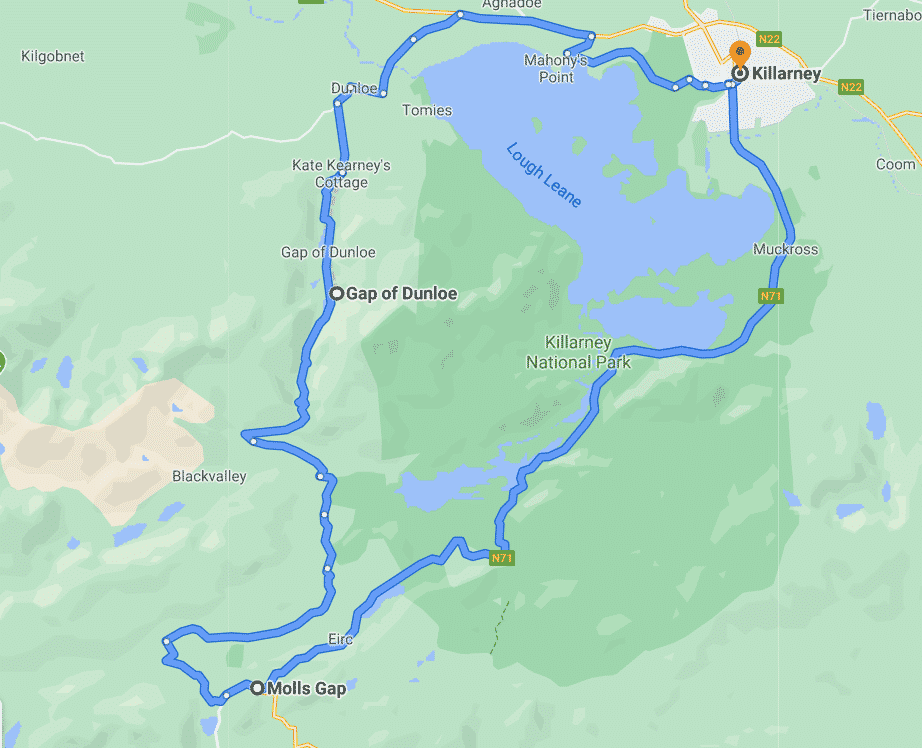 Cycle route: HERE
6. Inis Mór loop – the Aran Islands experience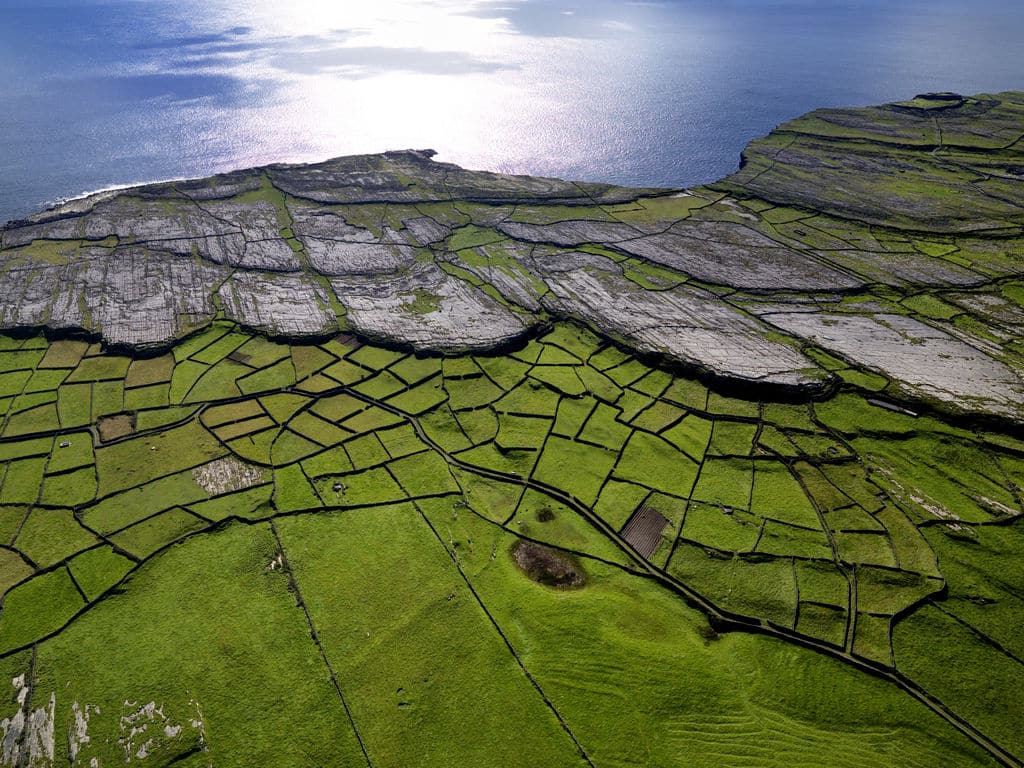 Set against the backdrop of the Aran Islands, this remote cycle route will have you revelling in the wild beauty of this ancient island off the coast of Ireland.
The looped route travels forgotten lands that are rich in heritage sites and traditional Irish culture.
Cycle route: HERE
5. Wild Atlantic Way – the marathon cycle route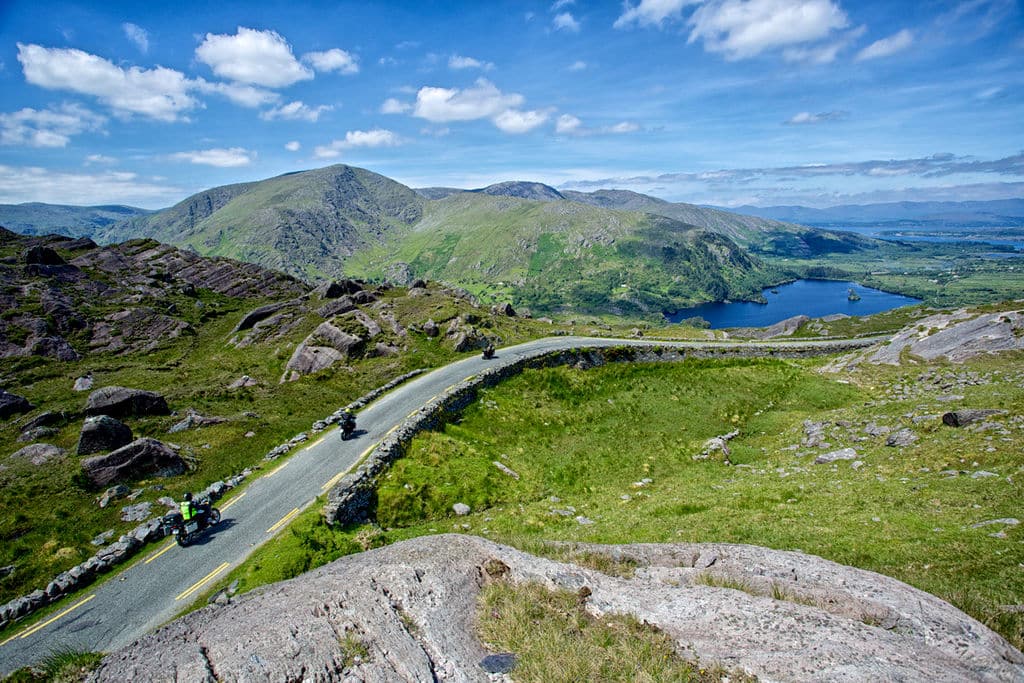 If you're keen to tackle one of Ireland's most epic cycle routes, look no further than the Wild Atlantic Way.
This is the world's longest defined coastal pass (2,500 km/ 1,553 mi), and tackling it by bike is a challenging suited for only experienced cyclists.
We suggest carving out at least three weeks to discover all this route has to offer! You can start from either Donegal or Cork depending on your preference.
4. Connemara cycle route – for a multi-day adventure
If you are longing for a longer endeavour, Connemara Cycle Route is a perfect fit.
With its endless wilderness acting as the stage for this multi-day adventure, you're bound to fall in love with Ireland's wild west.
Expect epic valleys, gentle lakes, wild ocean, towering trees, vast mountain ranges, and the sound of nature along this way, which so happens to be one of the best cycling routes in Ireland.
Cycle route: HERE
3. Blessington loop – The Garden of Ireland circuit
Blessington is known to be one of the most stunning areas in all of Ireland. Located in the "garden of Ireland" (aka Wicklow), the postcard-worthy setting is nothing less than spectacular, and how better to explore it than by bike?
This route should take an entire day, so if you're debating road bikes vs touring bikes, now's the time to invest in a touring bike, which will ease your load as you travel the long and winding roads.
Cycle route: HERE
2. The Ring of Kerry – for beauty beyond your wildest dreams
Travelling the scenic Ring of Kerry looped route (179km/111.2mi) is nothing short of spectacular.
Beginning and ending in Killarney town, adventurers will cover Killarney National Park and key sights, as well as winding the ocean road along the Atlantic Ocean.
Cycle route: HERE
1. Loop Head cycle route – the heritage trail
With cycle route options ranging from 50-90 kilometres (31-55 miles), there's a little something for everyone when biking Loop Head – not to mention breathtaking scenery along the way.
Cliffs, castle ruins, and lighthouses pepper the landscape, not to mention archaeological sites and impressive ancient history, making this easily one of the best cycle routes in Ireland.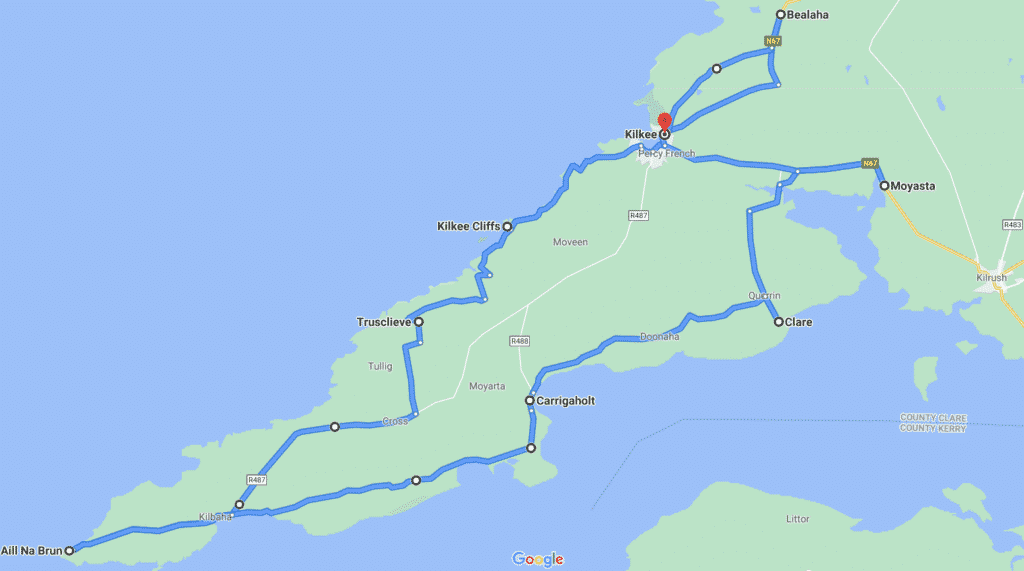 Cycle route: HERE
Get featured on Ireland Before You Die
Do you want to get your Irish business more online exposure? Especially to those interested in travelling the best places in Ireland? Then why not get a dedicated feature on Ireland Before You Die. Find out more 
here.
Legal Disclaimer
We cover articles relating to many activities. Some of our articles showcase gaming and gambling as activities. While we do not take money for bets or own any gambling venues, we feel it is important that our readers know the risks of such venues or sites that we may mention in our articles. Gambling involves risk. Please only gamble with funds that you can comfortably afford to lose. See our legal disclaimer for more info.