A visit to a castle is one of the most fascinating Irish activities. These are the best castles near Dublin you need to visit.
It may not come as a shock to you that Ireland is famous for its castles, but some of these castles we have listed are sure to blow you away. So if you are a lover of Irish history, then keep reading.
While many castle ruins can be found all over the country, others have been restored and well-maintained, enabling visitors to see inside, walk around the gardens and see what life was like within the walls of these historic buildings.
These days, it is certainly not uncommon for Irish castles to be used as the venues for weddings and special events, which makes for a magical and memorable experience, one that is truly unique to Ireland.
10. Clontarf Castle – a modernised castle and hotel close to Dublin
Just ten minutes from Dublin City Centre is Clontarf Castle. Clontarf Castle is a four-star hotel that has an intriguing past dating back to the 12th Century.
This was a key location as part of the Battle of Clontarf in 1014, which makes it a valuable and significant site near Dublin. It is believed to have been built by Hugh de Lacy or Adam de Phepoe.
Address: Castle Ave, Clontarf East, Dublin 3, D03 W5NO, Ireland
9. Ardgillan Castle – a castle near Dublin with magnificent views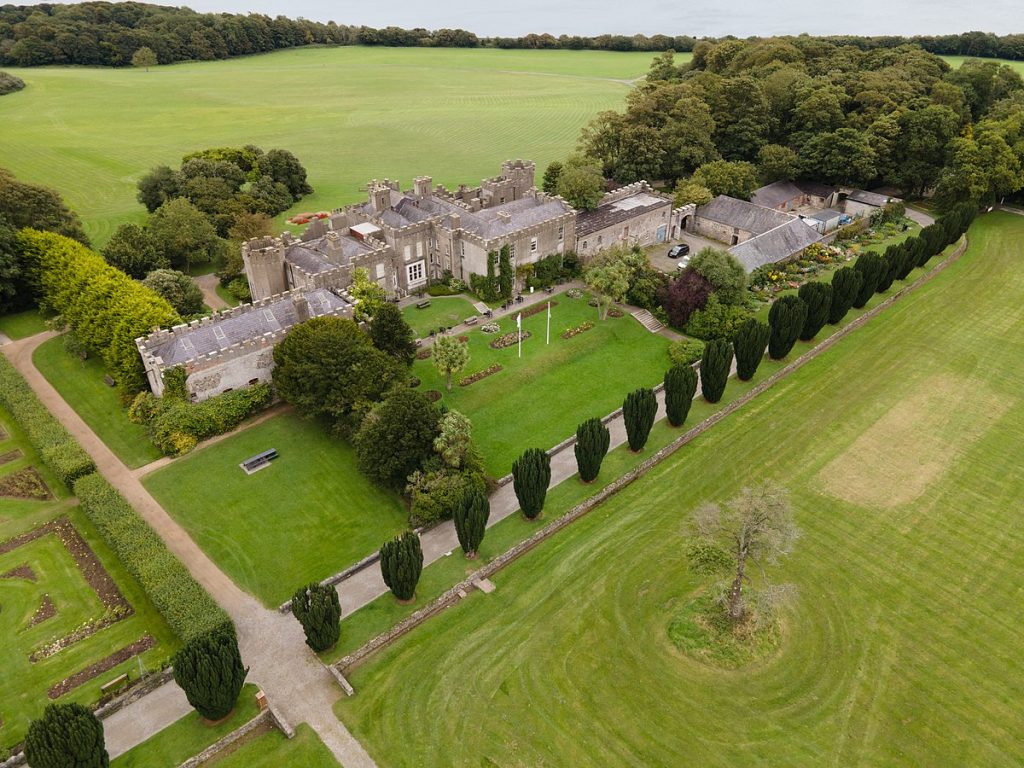 Located in the north of County Dublin between Balbriggan and Skerries, Ardgillan Castle is a magical coastal castle, ideal for panoramic sea views, tranquil walks, cycle paths, and its unique location.
You can not only enjoy the castle itself but make sure to look out for views of the Mourne Mountains on a super clear day, Rockabill lighthouse, Lambay Island, as well as Sliabh Foy.
Address: Ardgillan Demesne, Co. Dublin, Ireland
8. Charleville Castle – gothic castle
This Gothic-style castle in County Offaly is one of the best examples of this type in the country, making it a top attraction near Tullamore.
This is one of the best castles near Dublin, which takes just 1.5 hours and is a great day out for some Tullamore whiskey tasting paired with a historic visit to the castle itself, which dates back to the early 19th Century.
Address: Charleville Demesne, Tullamore, Co. Offaly, Ireland
7. Dromoland Castle – a five-star castle hotel near Dublin
Just a 2.5 hours journey from Dublin in west Ireland, you will come across Dromoland Castle, one of the best castles near Dublin.
It is famed for its five-star accommodation, 18-hole golf course, an extensive walled garden, as well as the building itself, which dates back to the 5th Century.
A visit to this castle, which is steeped in ancient history, could very well result in a luxury overnight experience or a round of golf.
Address: Dromoland, Newmarket on Fergus, Co. Clare, V95 ATD3, Ireland
6. Dalkey Castle – the heritage castle along the Dublin Riviera
Located on the south side, just a stone's throw from Dublin City Centre, Dalkey castle is a great place to discover Irish heritage at the interactive heritage centre.
The DART (train) ride to Dalkey is a stunning coastal journey and makes for a fabulous day trip from the city. While in Dalkey, don't miss a stroll around town to spot some of Ireland's most expensive houses.
Address: Castle St, Dalkey, Co. Dublin, Ireland
5. Bunratty Castle – the most authentic castle in Ireland
Bunratty Castle is one of the best castles near Dublin, with it being just a three-hour drive from Dublin, kind of far but totally worth it.
This is not only one of the biggest tourist attractions in Ireland, but it is a great way to spend a day trip from the capital, with many buses taking you to see this 15th Century iconic castle, which is steeped in history and charm.
Address: Bunratty West, Bunratty, Co. Clare, Ireland
4. Kilkenny Castle – a fantastic castle to visit near Dublin
Just over 1.5 hours from Dublin, you will find Kilkenny Castle in the city of Kilkenny. This fascinating castle is a top choice for visitors to Ireland.
People love to discover the various architectural styles, and the large grounds as well as learn about the stories which go back to 1195.
This stunning castle is easily accessed by bus, car, or train from Dublin and can be visited as part of a short-day trip.
Address: The Parade, Collegepark, Kilkenny, R95 YRK1, Ireland
3. Trim Castle – one of the best castles near Dublin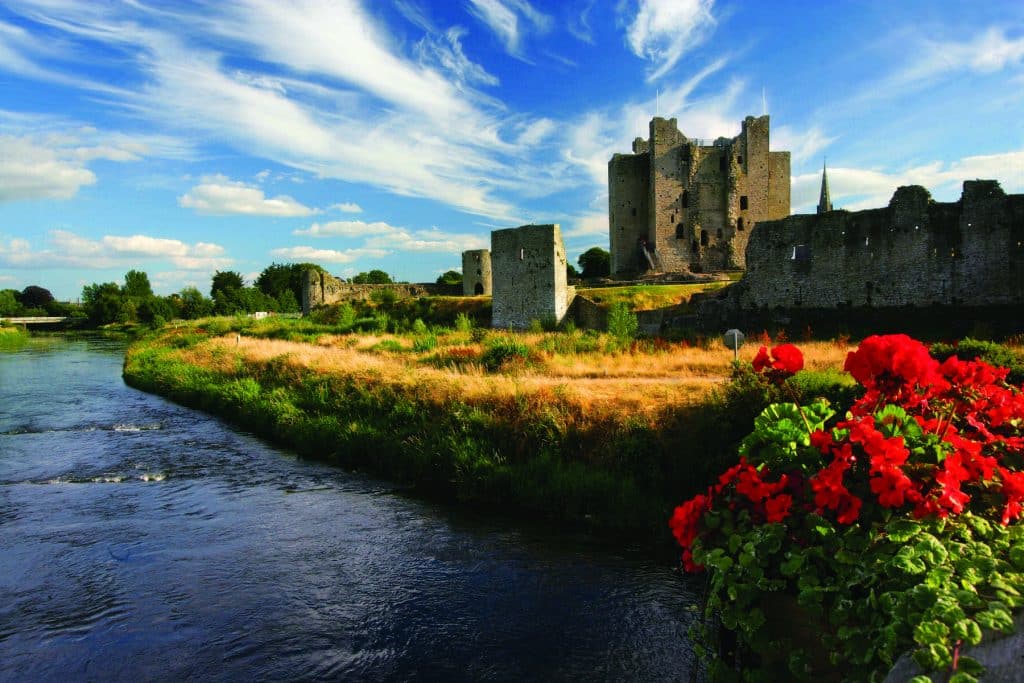 For any movie lovers out there, a trip to Trim Castle has to be considered when visiting Dublin, given that it is just a 50-minute drive from Dublin and was the film location of Braveheart in 1994.
This castle, the largest Normal castle in Ireland, is home to a hotel and a wedding venue, as well as the castle ruins, making it a great place for events or a historic day out.
Address: Castle St, Trim, Co. Meath, C15 FCY8, Ireland
2. Malahide Castle – a stunning place for a walk
One of the best castles near Dublin city is Malahide Castle, located on the north side. The castle dates back to the 12th Century.
This beautiful spot is a Dublin landmark, with its acres of beautiful gardens to be explored, not to mention that this is now a major venue for concerts.
Address: Back Rd, Broomfield, Dublin, Ireland
1. Dublin Castle – one of the best castles not to be missed
No list of castles near Dublin would be complete without Dublin Castle itself, located in the heart of the city.
Made up of several buildings, this impressive castle draws in tourists every year with its political significance, onsite museum, and its old-world charm, which dates back to the 18th Century. This is a must-see when in the capital!
Address: Dame St, Dublin 2, Ireland
Notable mentions
Drimnagh Castle: Ireland's only moated castle, located in the south of Dublin.
Dunboyne Castle: Located just outside of Dublin, in County Meath, this castle hotel is a great place to visit for an overnight stay, spa treatments, or afternoon tea.
Dunluce Castle: In County Antrim, you will find this Game of Thrones film location, which makes for a great day out.
Ashford Castle: Ashford Castle in County Mayo is stunning and well worth the trip from Dublin. A visit to this site is one of the most memorable and unique things to do in Ireland.
Lismore Castle: Lismore Castle is a 16th-century castle in County Waterford.
Swords Castle: An early medieval castle dating back to the 13th Century, located close to the airport and city centre.
Slane Castle: Slane Castle is just an hour from Dublin and is notorious for some of the world's most memorable gigs.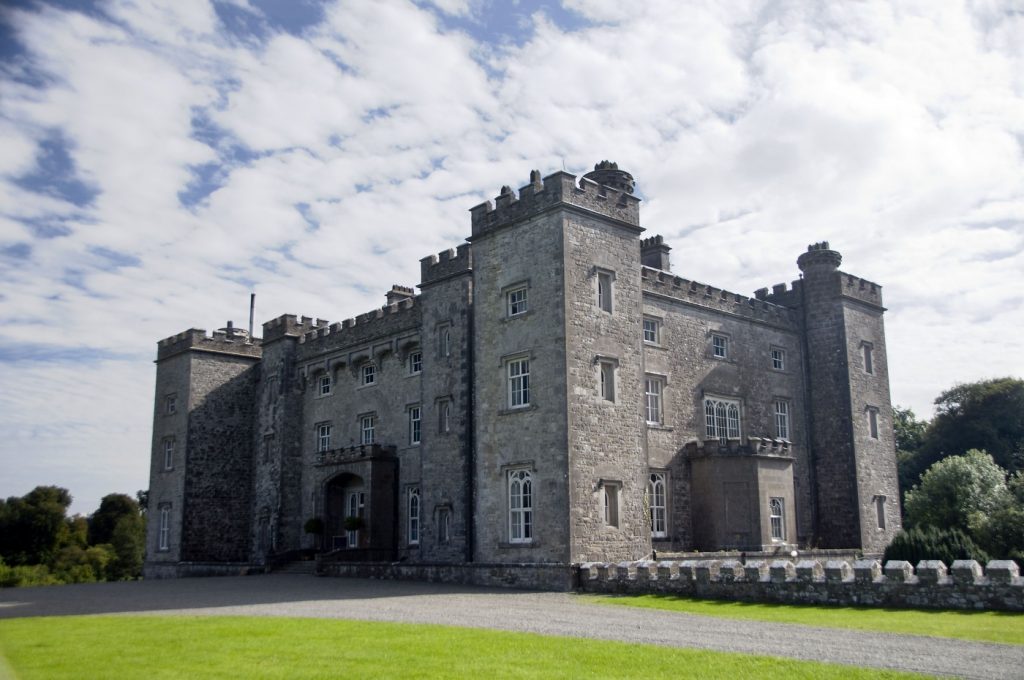 Bellingham Castle: Bellingham Castle is a beautiful castle in County Louth and is less than an hour from Dublin.
Birr Castle: Birr Castle is in County Offaly and was the home of the 7th Earl of Rosse and his family.
Cabra Castle: Cabra Castle is 1.5 hours from Dublin and is a beautiful castle hotel in Cavan.
Cahir Castle: Cahir Castle in Tipperary dates back to 1142 and is one of Ireland's largest castles.
FAQs about the best castles near Dublin
What are the most impressive castles in Dublin?
Malahide Castle, Ardgillan Castle and Dublin Castle are particularly impressive in looks and history.
What is the best castle in Dublin?
We think the 18th Century Ardgillan Castle is perhaps the best.
Should you visit Blarney Castle in Ireland?
You should absolutely visit Blarney Castle if you get the chance! It has charm, authenticity, and heritage to be discovered.