Ireland is home to beautiful wedding venues, especially its castles. Here are the top ten best castles for weddings in Ireland.
If you are looking for a beautiful wedding in breathtaking surroundings, Ireland is the place to be. Known for its abundance of historic castles, you will have plenty of locations to choose from for your big day. To narrow it down, we've picked the top ten best castles in Ireland for your wedding.
From 12th-century castles with an intimate feel and history at every turn to modern castle estates with lakes and woodland gardens, you'll be spoilt for choice for castles to choose from for a wedding in Ireland. Whether you are looking to have a big celebration or a more intimate ceremony, here are our top ten picks for a castle to suit every kind of wedding.
10. Luttrellstown Castle, Co. Dublin – perfect for that Gothic feel
This historic castle welcomes guests with its striking Gothic façade and 560-acre estate, you will feel like you're entering a set of Downtown Abbey. Luttrellstown Castle is filled with elegant period rooms, from glamourous dining halls to the impressive library room, so you will have plenty to choose from when you're deciding where to have your ceremony, reception, and photographs.
Address: Kellystown, Castleknock, Co. Dublin, Ireland
Capacity: up to 180 guests
9. Castle Leslie Estate, Co. Monaghan – set beside a glittering lake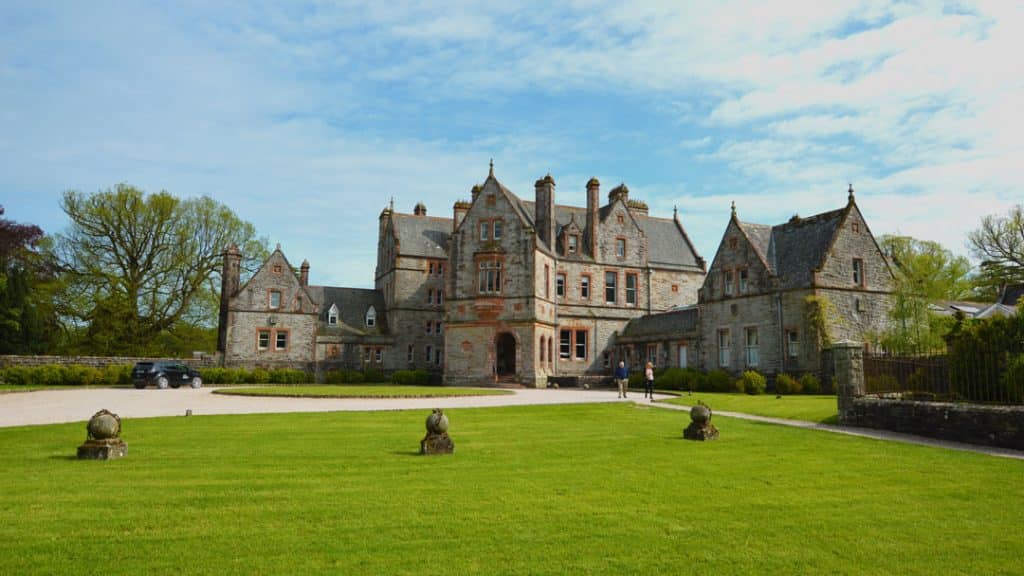 It's easy to see why Castle Leslie Estate in County Monaghan is one of Ireland's most sought after wedding venues, what with its stunning interior and accommodation to sleep plenty of guests, and is one of the best places for horse riding in Ireland.
This 17th-century castle is set on a 1000-acre site which hosts atmospheric woodlands and glittering lakes, so there is plenty of room to accommodate big wedding parties and lots of perfect photo locations.
Address: Castle Leslie Estate, Glaslough, Co. Monaghan, Ireland
Capacity: up to 260 guests
8. Belleek Castle, Co. Mayo – one of the best castles for weddings in Ireland
You will feel like you've stepped back in time at this stunning 19th-century Neo-Gothic-style castle hotel on the banks of the River Moy in County Mayo.
No matter your style, there is something to suit everyone at Belleek Castle, from the medieval-style Great Hall, featuring open fires and rustic wood panelling, or the 19th-century stables housing exposed beams and brickwork.
Address: Belleek House, Garrankeel, Ballina, Co. Mayo, Ireland
Capacity: up to 200 guests
7. Ballygally Castle, Co. Antrim – complete with a view of the Irish Sea
It's hard to think of a more breathtaking location for your wedding than the beautiful Causeway Coastal Route. This 17th-century castle sits right on the seafront overlooking the Irish Sea, and on a clear day, you can even see as far as Scotland in the distance.
As well as its beautiful location, interior, and courtyard, Ballygally Castle, which is one of the most haunted castles in Ireland, also practices a policy of one wedding per day so there is no chance of interruption on your big day.
Address: Coast Rd, Ballygalley, Larne, Co. Antrim, BT40 2QZ
Capacity: up to 150 guests
6. Kilkea Castle, Co. Kildare – known for its rose gardens
This impressive 12th-century castle has been hosting parties for over 800 years, so you are sure to have the perfect wedding day at Kilkea Castle in County Kildare.
Set on a 180-acre site home to a beautiful rose garden, you'll have plenty of options for stunning wedding photos if the weather stays dry. Depending on your preferences, the castle also has several versatile rooms to choose from, including the bright and spacious Hermione's Restaurant, which can accommodate up to 50 guests, or the Baronial Hall, which fits 270.
Address: Castle View, Kilkea Demesne, Castledermot, Co. Kildare, Ireland
Capacity: up to 270 guests
5. Durhamstown Castle, Co. Meath – quaint and tranquil
This secluded wedding venue offers guests a warm, welcoming atmosphere for the perfect winter wedding. Just a 50-minute drive from Dublin, it's in the ideal location no matter where you are travelling from.
This charming castle dates back to 1275, so it is steeped in history, from its vaulted kitchen, two-story hall, dining room, and two drawing rooms. The Great Barn is perfect for bigger weddings as it can comfortably sit up to 150 guests.
Address: Durhamstown Castle, Durhamstown, Bohermeen, Co. Meath, Ireland
Capacity: up to 150 guests
4. Clontarf Castle, Co. Dublin – full of atmosphere and history
With its breathtaking façade, and breathtaking gardens and woodlands, Clontarf Castle boasts 800 years of history. You are guaranteed an atmospheric wedding day at this 13th-century castle just outside Dublin's centre.
The castle caters for all kinds of weddings, from extravagant celebrations in the Great Hall to a more intimate feel in the medieval dining room- there is something for everyone.
Address: Castle Ave, Clontarf East, Dublin 3, Ireland
Capacity: up to 400 guests
3. Belle Isle Castle, Co. Fermanagh – set amongst breathtaking grounds
Belle Isle Castle is a stunning 17th-century castle offering two-day hire for intimate weddings in the heart of County Fermanagh. You will have the choice of three beautiful venues, including the Sunken Garden, the Abercorn Wing Drawing Room, or the Hamilton Wing Drawing Room, as well as the Great Hall for your reception.
The castle is set on a 470-acre site on the banks of Lough Erne, so you're sure to get some beautiful wedding pictures in the breathtaking surroundings.
Address: 10 Belle Isle Demesne, Lisbellaw, Enniskillen, Co. Fermanagh, BT94 5HG
Capacity: up to 60 guests
2. Darver Castle, Co. Louth – cosy and intimate
This 15th-century castle, located less than an hour from Dublin, is a popular option for weddings, close to the border between the north and south of Ireland.
Darver Castle, set on 50 acres of parkland amid the County Louth countryside, was recently restored with gorgeous period furniture, but still has a cosy and intimate feel. The newly refurbished ceremony room and the outdoor private courtyard are great options for a beautiful ceremony.
Address: Darver, Readypenny, Co. Louth, Ireland
Capacity: up to 240 guests
1. Dromoland Castle, Co. Clare – linked to the High kings of Ireland
Dromoland Castle is one of the most beautiful castles in Ireland for a picture-perfect Irish wedding. This 16th-century castle in County Clare is surrounded by beautiful scenery and welcomes guests with elegant interiors.
If you're interested in Irish history, you'll also be interested to know that this castle has links to the last high kings of Ireland.
Address: Dromoland, Newmarket on Fergus, Co. Clare, Ireland
Capacity: up to 450 guests