Often referred to as the "real" capital of Ireland, Cork is no stranger when it comes to unreal food and dining. Here are our 10 best brunch spots in Cork, ranked.
As the largest county in Ireland, Cork is home to a breath-taking coastline, vibrant city, tonnes of culture and some of the soundest people in Ireland.
Corkonians love good food, and fortunately, there is no shortage of places to grab a bite to eat while in the Rebel county. If it's gone past breakfast time, but not quite lunchtime there are countless eateries in Cork to enjoy a spot of brunch.
Here are our 10 best brunch spots in Cork city and county!
10. Good Day Deli – the sustainable way to start your day
Situated at the back of a newly converted convent, is one of the most unique locations in all of Cork for some brunch. Good Day Deli believes that eating sustainably is the best for not only our health but also the environment. They pride themselves in locally sourcing their produce.
Brunch is served until 12:30pm on weekdays and is served all day on the weekends. We suggest trying their GDD Smoked Salmon Benny for the ultimate way to kickstart your day.
Address: Nano Nagle Place, Douglas St, Centre, Cork, T12 PXV1
9. Lab 82 – a pancake lover's dream
For those with a sweet tooth, Lab 82 is the place for you when visiting Cork city. With six different types of pancakes on their menu, ranging from American style pancakes with streaky bacon and maple syrup to kinder bueno pancakes stacked with chocolatey goodness, there is something for all pancake lovers!
As if that is not enough, since opening in 2018 they have gone on to win awards for the Best Coffee in the Best of Cork Awards 2019.
Address: 82 Lower Glanmire Rd, Victorian Quarter, Cork, T23 TK20
8. Joe's + Bros – for atmospheric feeds
Set up by three friends with the ideal brunch experience in mind, Joe's + Bros is not to be missed when looking for the best brunch spots in Cork.
From smoothie bowls to chorizo and cheese-loaded tater tots there is so much to choose from. Their Notorious P.I.G is a must-try, with smoked streaky bacon, black pudding, a fried egg served on ciabatta along with tater tots and siracha mayo.
Address: 22 Gillabbey St, The Lough, Cork, T12 E104
7. Seasalt – a seaside delight
Situated in the seaside town of Cobh, Seasalt is a must-visit for locals and visitors alike for all your brunch needs. Using seasonal, local ingredients their menus changes weekly depending on what is in stock.
Our favourite has to be their Rosscarbery black pudding hash which comes with two beautifully cooked poached eggs, and some Gubeen chorizo. Absolutely mouth-watering!
Address: 17 Casement Square, Kilgarvan, Cobh, Co. Cork, P24 DW44
6. The Castle Café – brunch with history
Situated in the oldest surviving structure still in use in the city of Cork, this brunch spot is sure to delight foodies and historians alike.
Offering brunch every day until 12pm, this Mediterranean inspired café is sure to tickle your fancy. Try their potato and kale boxty which comes with poached eggs and some delicious, local black pudding!
Address: Blackrock Castle, Castle Rd, Blackrock, Cork
5. The SpitJack – one of the best brunch spots in Cork
Opened with the focus on quality and high standard of Irish meat, this popular brunch spot has won multiple awards. Although its focus is on meat, fear not as there are plenty of veggie options!
Brunch is served until 3:30pm each day, so it is perfect for those who had a nice lie-in! We suggest trying the Full Jack for their spin on the full Irish.
Address: 34 Washington St, Centre, Cork, T12 RY9
4. The Bookshelf – sophisticated brunch
This relaxed café offers speciality coffee alongside countless weekend brunch options. Inspired by food from around the globe there are so many amazing brunch dishes to try at the Bookshelf!
Their oat pancakes served with fresh fruit, crème fraiche and caramel sauce are a massive hit! Pair that with a cup of coffee and you will be set up for the day ahead, making The Bookshelf one of the best brunch spots in Cork.
Address: Unit 5, The Elysian, Eglinton St, Ballintemple, Cork, T12 KTD1
3. SOMA – a gem for weekend brunches
Along with having an on-site roastery, tasty espressos and delicious cakes SOMA also serves up some of the yummiest brunches in Cork. With a different brunch special every weekend alongside some incredible brunch cocktails, brunches in SOMA are not to be missed!
Address: 23 Tuckey St, Centre, Cork, T12 WD38
2. Dwyers of Cork – for bottomless brunch
What is better than brunch? Bottomless brunch! Head to Dwyers of Cork for one of the best bottomless brunches in the country. Pick any dish of their menu, we suggest the Swiss roti or shakshuka and have unlimited prosecco or mimosas all for €25!
Address: 27-28 Washington St, Centre, Cork, T12 WC93
1. Liberty Grill – for all-day brunch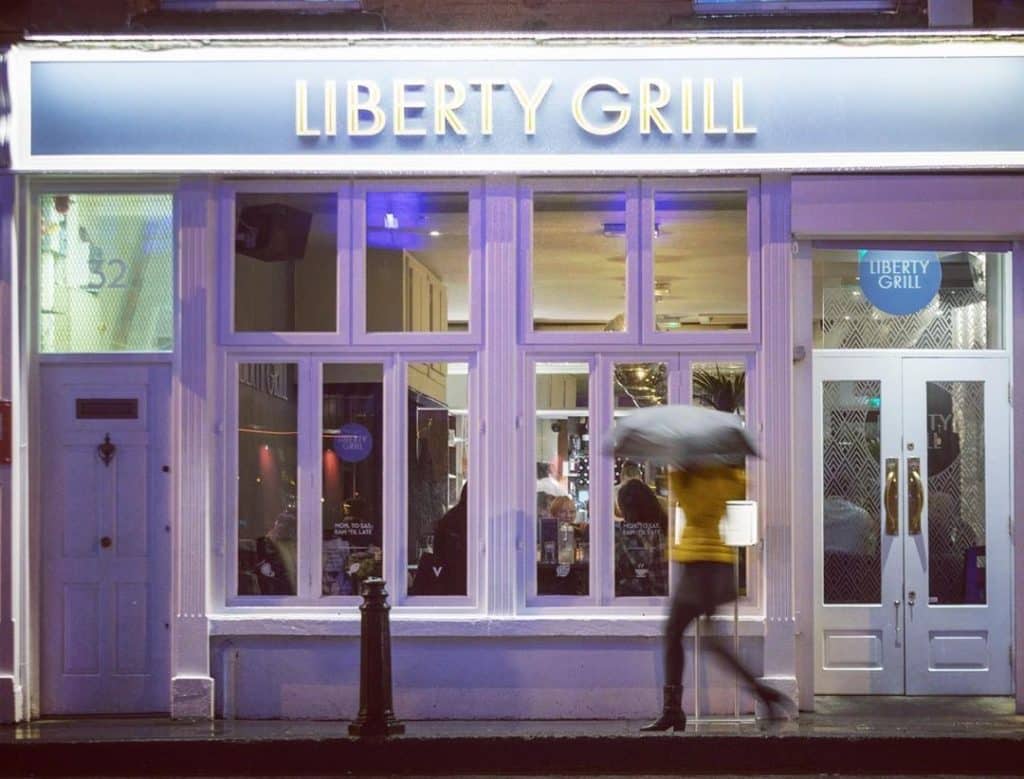 It is no surprise that one of the best brunches in Cork is no other than Liberty Grill. Serving brunch until 5pm every day it is a staple for all brunch lovers in Cork.
From a full stocked brunch menu to a "posh toast" menu there are so many options to try here. Our favourite is their quinoa and sweet potato fritters which comes with poached eggs for the ultimate pick me up!
Address: 32 Washington St, Centre, Cork, T12 T880