Dublin offers a tonne of bars and pubs to suit every sort of vibe, whether you're after a traditional Irish atmosphere, a hipster hangout or a lively beer garden to spend an evening with some friends.
Although Dublin doesn't boast the best weather in the entire world, it is not half bad either! When the sun finally does rear its head, you'll probably be wanting to head to one of these ten Dublin venues.
Here they are, the ten best beer gardens in Dublin!
10. The Hairy Lemon – the wild card
This wouldn't be considered to be the best beer garden in Dublin, but what it is, is central and never too busy. The Hairy Lemon is one of those quirky but classic, yet often forgotten pubs in the city centre which definitely deserves a mention here.
The beer garden may be small in size, but its located in the centre of Dublin, and somehow there's always a table free!
Address: Stephen Street Lower, Dublin 2
9. The Manhattan – the gastropub setting
This contemporary gastropub is located in Raheny, a Northside suburb in Dublin. While the interior is modern with eclectic décor and tonnes of craft beer, the beer garden offers picnic tables and funky lighting fixtures.
They also do some of the finest pub grub here – perfect for a weekend treat!
Address: 3-5 Station Rd, Donaghmede, Dublin 5, D05 T9K8
8. The Bloody Stream – for seaside vibes
Located in Howth, this pier-side pub is one of the most famous in the locale. As a favourite of locals, The Bloody Stream is buzzing nightly. Make sure to stop by on a Summer's eve (or when the weather allows) and sit in the beer garden.
With tonnes of seating and heaters, too, it is safe to say the Bloody Stream has one of the best beer gardens on the Northside of Dublin.
Address: Howth Railway Station, Howth, Dublin
7. No Name – for any weather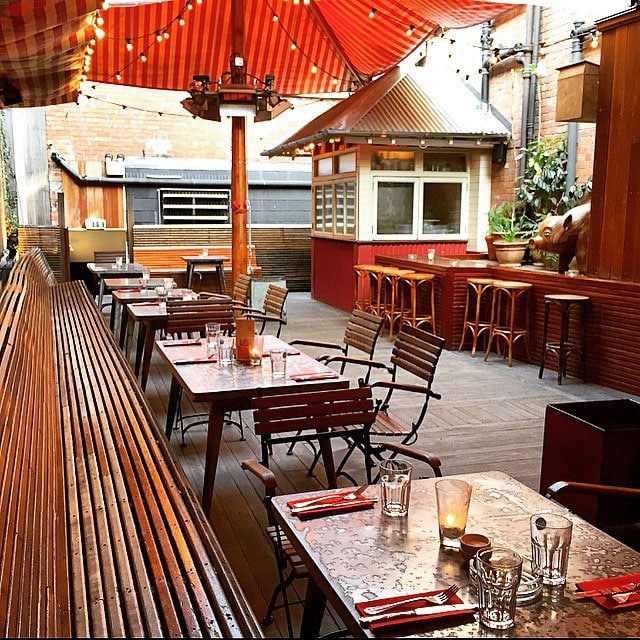 This beer garden is in No Name, a Dublin bar located on Fade Street in the "creative quarter" of Dublin city. Accessed via an unmarked door, visitors climb one flight of stairs to access the bar and beer garden.
City cool and utterly trendy, this covered and heated beer garden is perfect for all types of weather.
Address: 3 Fade St, Dublin
6. Blackbird – for hipsters
Located in the neighbourhood of Rathmines, only a stone's throw from the city centre is Blackbird. This trendy bar offers living room vibes, craft beer, retro board games, a pool table and one of the best beer gardens in Dublin.
Arrive early on a sunny day to snag a solid spot at one of the picnic tables and enjoy those rays!
Address: 82-84 Rathmines Rd Lower, Dublin Southside, Rathmines, Co. Dublin
5. The Living Room – for sports
Located just off O'Connell Street is The Living Room, a massive sports bar with a sprawling beer garden. This is the ultimate place to catch the match – just arrive in good time to steal a spot in front of the TV.
Address: Cathal Brugha St, Rotunda, Dublin 1
4. O'Donoghue's – for traditional vibes
The beer garden in O'Donoghue's may not be the biggest in all of Dublin but damn does it have character. This traditional Irish pub does a solid pour of the "black stuff" (AKA Guinness) and fills up fairly quickly.
Bonus points go for the impromptu trad sessions that spring up on occasion!
Address: 15 Merrion Row, Dublin
3. The Barge
The Barge is a pub located on the Dublin Canal, not far from the centre of the city. While this pub doesn't have one of the city's beer gardens per se, what it does have is proximity to the water, which locals love on a sunny day.
When the sun shines, you'll see the entirety of Dublin hanging out along the canal in front of this pub, drinking pints and talking, most likely, about the gloriously unexpected weather!
Address: 42 Sráid Charlemont, Saint Kevin's, Dublin 2, D02 R593
2. Toner's – for a pint of Guinness
Toner's is an Irish pub in Dublin which is all about the beer garden. In fact, the pub itself is tiny in comparison to the beer garden which is quite big.
This pub has also been named time and again as "best Guinness" in all of Dublin, and truth be told: that just might be so!
Address: 139 Baggot Street Lower, Dublin 2
1. The Bernard Shaw – for entertainment
The ultimate of all the beer gardens in Dublin has got to be The Bernard Shaw. This venue is hipster-friendly and offers fine tunes and funky vibes that are bound to keep you coming back for more. Like Toner's, this bar's beer garden outsizes the pub, no doubt.
The space itself is sprawling. To one side of the venue is the original beer garden, complete with a massive old bus serving artisanal pizza. To the other side is Eatyard, a trendy night food market with tonnes of veggie and vegan options, a karaoke caravan and a pool table.
Address: 11-12 Richmond St South, Saint Kevin's, Dublin 2
Get featured on Ireland Before You Die
Do you want to get your Irish business more online exposure? Especially to those interested in travelling the best places in Ireland? Then why not get a dedicated feature on Ireland Before You Die. Find out more 
here.