The best pubs and bars Belfast has to offer can easily match up in terms of quality and nightlife with any other major city in Ireland.
Belfast is one of the biggest and most popular cities in Ireland with a long and storied history.
Belfast regularly draws in a large number of tourists every year, and these tourists are always guaranteed to have a good time when they wish for a night on the town as Belfast has such a wide variety of great pubs and bars.
In this article, we will list what we believe to be the ten best pubs and bars Belfast has to offer.
Ireland Before You Die's top fun facts about bars in Belfast
Belfast is known for its vibrant pub culture, which is deeply ingrained in the city's social scene.
White's Tavern is the oldest bar in Belfast and was established in 1630.
Bars in Belfast often serve a wide range of locally brewed craft beers, including offerings from well-known breweries like Hilden, Whitewater, and Boundary.
The Cathedral Quarter in Belfast is a hub for pub-goers, featuring a variety of lively pubs, bars, and restaurants. It is one of the go-to areas in the city for a night out.
It is customary for bar in Belfast to serve amazing food daily, including traditional Irish dishes such as Irish stew, Guinness pie, and soda bread.
Many pubs and bars in Belfast feature live music performances, ranging from traditional Irish music to contemporary bands and artists.
Some pubs in Belfast have historic connections to famous figures and celebrities. For example, the Crown Liquor Saloon is believed to have been a regular haunt of author C.S. Lewis.
10. Muriel's Café Bar – one for all the cocktail lovers and gin connoisseurs
Muriel's Café Bar is renowned around Belfast for its delightful selection of drinks and spirits, which makes it great for any true cocktail lovers and gin connoisseurs.
Address: 12-14 Church Lane, BT1 4QN Belfast
READ ALSO: IB4UD's Top 5 best cocktail bars in Belfast
9. Fibber Magees – an authentic Irish pub
Fibber Magees is a truly authentic Irish pub. You'll find a traditional fireplace crackling away, Irish music being played, all while fresh and fantastic pints of Guinness are being poured.
Address: 38-42 Great Victoria St, BT2 7BA Belfast
READ ALSO: Top 10 old and authentic bars in Belfast
8. The Perch – enjoy a drink on a rooftop bar
If you want to take in some city views while enjoying a drink, then the rooftop bar at the Perch is the place to go.
Visitors to the Perch will be treated with many treats for the eyes. Here, you will take a vintage-style elevator up to the top floor of this converted Victorian warehouse, where you can take in the sights.
Address: 42 Franklin St, BT2 7GE Belfast
7. The Parlour – take a trip back in time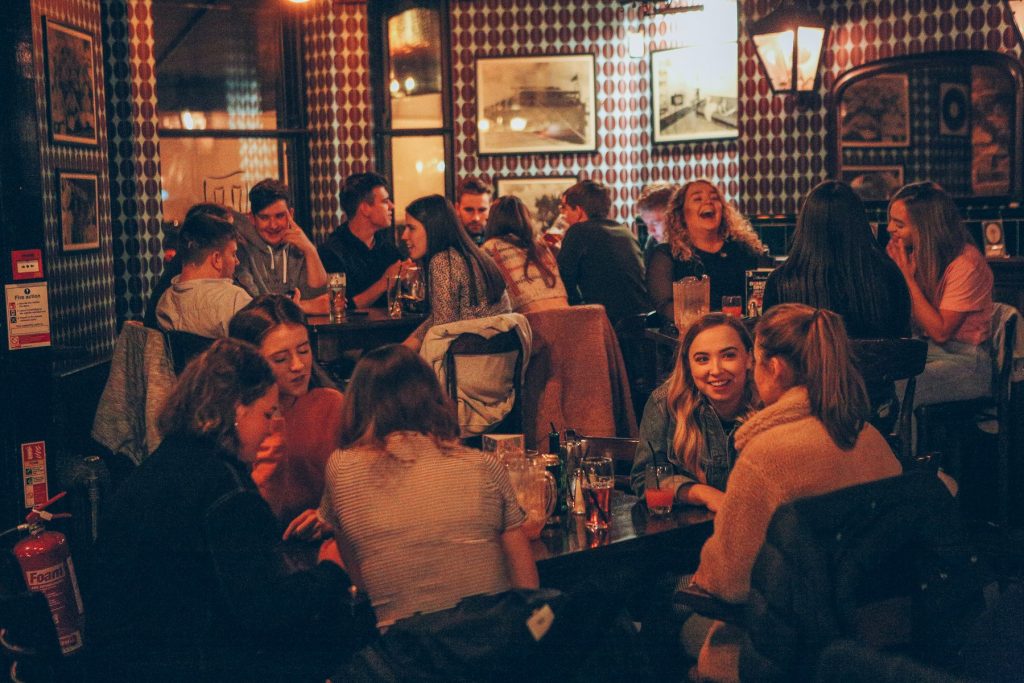 Often popular with students thanks to its cheap drinks, The Parlour is worth visiting for everyone.
With its unique style that includes many 1960s-style TVs that play in black and white, it can feel like taking a trip through time.
Address: 2-4 Elmwood Ave, BT9 6AY Belfast
6. The Deer's Head – a unique environment with a distinct feel to it
The Deer's Head is regarded as one of the best pubs and bars Belfast has to offer. It has a unique environment and feel to it.
You can enjoy amazing cocktails in a cosy booth while listening to great live music sessions every week.
Address: 1-3 Lower Garfield St, BT1 1FP Belfast
READ ALSO: Top 10 best bars in Belfast for live music and good craic
5. Filthy McNasty's – known for its quirky décor
Filthy McNasty's is quite recognisable thanks to its quirky interior décor that includes everything from unmatching furniture to vinyl and tall lamps.
The bar is quite popular during the summer season thanks to its two-tiered beer garden, which is perfect for enjoying a cold pint in the sunshine.
However, when it's cold in the winter, the bar also has you covered. They offer blankets, heaters and tasty warm drinks to heat you back up.
Address: 45 Dublin Rd, BT2 7HD Belfast
4. Sunflower – a pub with a large beer garden and huge dog-friendly area
While the Sunflower isn't the biggest bar in the city, it certainly makes up for the lack of size with its quality. This comfy bar offers friendly service with many unique drinks on offer that you may have never heard of before.
Besides this, they also have a large beer garden with a huge dog-friendly area so that you can bring your canine companion with you. Sunflower Public House is undoubtedly one of the best pubs and bars in Belfast
Address: 65 Union St, BT1 2JG Belfast
3. The National – a swanky bar with quality food and drink
While The National may be pricier than some of the other entries on this list, it is certainly worth every penny as you get more than you ask for in this pub.
With new swanky interiors and a sumptuous food and drinks menu, you will be very satisfied with a visit to The National.
Address: 62 High St, BT1 2BE Belfast
2. The Dirty Onion – a pub with a great music scene
If you're looking for a pub with a great music scene, then you have found it in the Dirty Onion.
This self-styled Irish pub's best selling point is the fact that they host quality music seven nights a week, exemplifying everything great about traditional Irish music.
Address: 3 Hill St, BT1 2LA Belfast
READ ALSO: 7 Belfast bars and pubs with the quirkiest names
1. Lavery's – the best bar in Belfast
In first place on our list of best pubs and bars Belfast has to offer is Lavery's.
Lavery's is the city's oldest family-owned bar. It is enormous, with six spacious areas to relax in that all offer everything from lovely décor to great cocktails and the biggest pool room in Northern Ireland, to mention but a few things.
The bar also regularly has comedy and music nights and offers a great menu full of hearty pub grub.
Address: 12-18 Bradbury Pl, BT7 1RS Belfast
That concludes our article on what we believe are the ten best pubs and bars Belfast has to offer. Have you been to any of them already?
Other notable mentions
Madden's Bar: Madden's Bar is often one of the most overlooked bars in Belfast, which is a shame as they happen to pull one of the finest pints of Guinness that you will find anywhere in the city.
Bittles Bar: An important hub for people on Belfast's theatre scene, Bittles Bar is one of the most visually unique bars in Belfast, thanks to the building's distinct flatiron shape.
Kelly's Cellars: One of the oldest pubs in Belfast, Kelly's Cellars dates to 1720 and amazingly remains largely unchanged ever since. With low arches, an open fireplace, and a peaceful ambience, Kelly's Cellars make for a great place to go to relax with a quiet pint or to enjoy an old sing-song like people loved to do in the past.
Your questions answered about Belfast
If you've still got questions about this bustling city, you've come to the right place. Below, we've answered some of our readers' most frequently asked questions on the popular topic.
What is the population of Belfast?
According to the latest statistics, the population of Belfast is 638,717.
What is the most popular tourist attraction in Belfast?
According to TripAdvisor, the most popular tourist attraction in Belfast is Crumlin Road Gaol, where visitors can take a guided tour of the prison and hear about its history.
Is Belfast safe to visit?
The same precautions should be taken in Belfast as in any other Irish city. However, Belfast is, in general, a safe place to visit.
Get featured on Ireland Before You Die
Do you want to get your Irish business more online exposure? Especially to those interested in travelling the best places in Ireland? Then why not get a dedicated feature on Ireland Before You Die. Find out more 
here.