Looking somewhere to celebrate your big day? We've picked the best wedding venues in Ireland that will make your wedding that extra special.
When most people think of Ireland, it is its Celtic mysticism, pub culture, and traditional music that tends to first come to mind. Yet, many associate the Emerald Isle with a lovers' paradise and a place to say, "I do". Finding the best and exclusive exclusive wedding venues in Ireland is easy.
Our island is rich in native flora and fauna with postcard-worthy backdrops bound to make the jaw drop. So, whether you are after a sophisticated affair, fairy tale castle, or city ceremony, here are the ten best and most exclusive wedding venues in Ireland.
Ireland Before You Die's top tips for choosing exclusive wedding venues in Ireland
Research more into the different venues we have provided below and arrange visits. This will give you a feel of the place and see if it is the spot for you.
Choose the spot that offers you the most exclusivity and privacy on your big day. The best options in Ireland for this would be a castle, a private estate or a secluded countryside retreat.
A big factor in choosing your exclusive wedding venue in Ireland would be its surroundings. So, pick the location that makes the most of Ireland's stunning landscape and countryside.
As the venue is in Ireland, it would also be very wise to choose a location that caters for both indoor and outdoor options.
Another list of considerations to take into account when choosing your exclusive Irish wedding venue would include what amenities are on offer, the capacity and layout and if the venue is comfortable with you using your own vendors.
10. Longueville House – for countryside charm
Longueville House is the type of venue that offers luxury while remaining charming and wholly unpretentious.
Escape to this 300-year-old Georgian Country House in the depths of the Cork countryside for an exclusive event that sees newlyweds exchange vows year-round.
Expect farm-to-fork style dining and the exceptional warmth of both staff and surroundings at Longueville House.
Address: Mallow County Hospital, Kilknockan, Mallow, Co. Cork, Ireland
9. Dromoland Castle Hotel – one of the best wedding venues in Ireland
For those in search of a grand castle wedding, look no further than Dromoland Castle Hotel. 
Located in County Clare, this 5-star castle resort offers every luxury and amenity one could imagine, from scenic grounds and expert sommeliers, to lavish settings and fine dining.
Guests will receive only the most enchanting experience from start to finish, making the Dromoland Castle Hotel one of the top wedding venues in Ireland. 
Address: Dromoland, Newmarket on Fergus, Co. Clare, V95 ATD3, Ireland
READ MORE: See where Dromoland Castle ranks in IB4UD's list of the 10 best castles for weddings in Ireland, ranked
8. Trudder Lodge – for bohemian newlyweds
Trudder Lodge markets itself not as a wedding venue, but as "your home for the weekend", offering a unique and welcoming approach to your big day.
Bohemian vibes win over at Trudder Lodge – undoubtedly one of best wedding venues in Ireland. Most majestic by dusk, guests can expect spellbinding surroundings and fairytale woodlands for parties of 140 or less.
Address: Trudder Ln, Trudder, Newcastle, Co. Wicklow, Ireland
7. Luttrellstown Castle – for fairy-tale surroundings
Exclusive weddings in Ireland are synonymous with Luttrellstown Castle. Dating back to the 15th-century, this venue boasts private hire and 12 ballrooms catering for wedding parties of up to 180.
Towering over an estate of 560-acres, guests are sure to be transported to your very own fairy tale in its stunning surroundings – and, it's only a 30-minute drive from Dublin. 
If that isn't enough to pique your interest, you may be keen to learn that Victoria and Beckham tied the knot here!
Address: Castleknock, Co. Dublin, D15 RH92
READ: See Ireland Before You Die's article on the top 20 best castles in Ireland, ranked
6. Clonwilliam House – for a spectacularly sophisticated affair
For couples in search of a spectacularly sophisticated wedding venue, look no further than Clonwilliam House.
Located in County Wicklow – also known as the "garden of Ireland" – Clonwilliam House is the epitome of exclusivity and elegance. 
A full wedding management team will ensure a bespoke service from start to finish, guaranteeing you the day of your dreams at Clonwilliam House.
Address: Clonwilliam, Arklow, Co. Wicklow, Ireland
5. Adare Manor – for a classic castle wedding
When 5-star luxury is the topic in question, Adare Manor is usually a venue of note.
Unapologetically exclusive, this enchanting setting exceeds all expectations. Guests are bound to feel like royalty, surrounded by only the most excellent service and stunning photo-ops, including sweeping staircases and stately castle architecture.
Address: Adare, Co. Limerick, V94 W8WR, Ireland
4. Kilshane House – the wedding venue with a pinch of punch
Tipped as one of the best wedding venues in Ireland, Kilshane House is a place for newlyweds to make their very own fairy tale come through on the big day.
Kilshane House offers everything from stately surroundings to singing waiters, from firework displays to magical conservatory. In fact, there is little this dream venue doesn't do.
Address: Kilshane, Tipperary, E34 C674, Ireland
3. Ballynahinch Castle – for those looking utter exclusivity
As one of the most exclusive wedding venues in Ireland, Ballynahinch Castle is sure to set expectations high and deliver across the board.
Only a handful of weddings take place each year at this venue, which sleeps along the shores of Connemara lakes, surrounded by mystic mountain ranges and ancient forests.
Understanding that each couple envisions their own unique wedding, Ballynahinch Castle goes above and beyond to tailor your wedding to your taste.
Address: Recess, Connemara, Recess, Co. Galway, Ireland
RELATED: 10 fairy-tale wedding locations in Ireland
2. The Westin Dublin – truly one of the best wedding venues in Ireland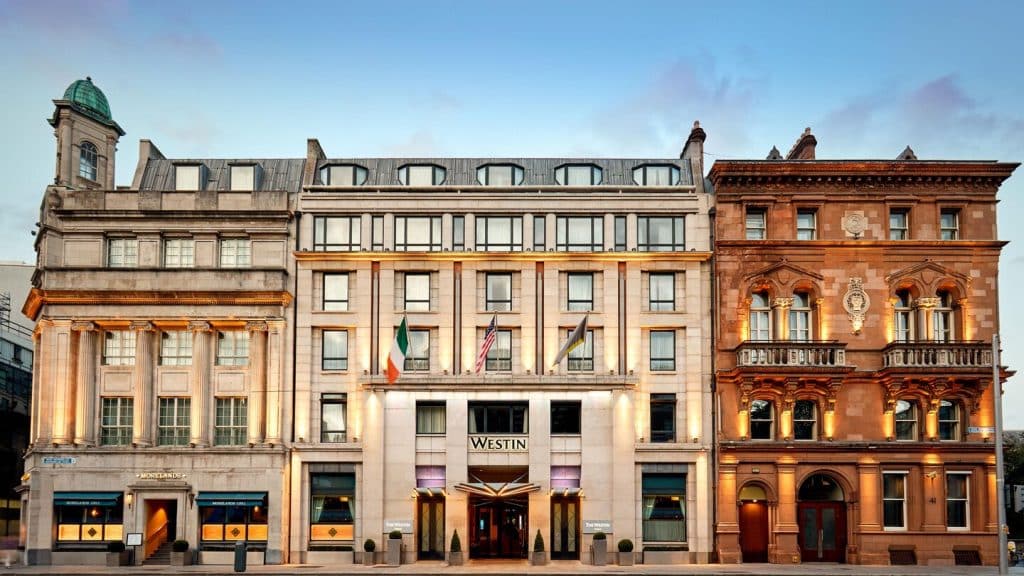 Utter exclusivity is found at this Dublin City venue, perfect for those who wish to tie the knot with the buzz of city life on its doorstep.
The Westin offers three spaces fit for a ceremony, depending on the size of your guest list. However, it is the Banking Hall (which holds up to 180 guests) that is truly the cherry on the cake.
Address: College Green, Westmoreland St, Dublin, Ireland
1. Gloster House – for those seeking the ultimate exclusive wedding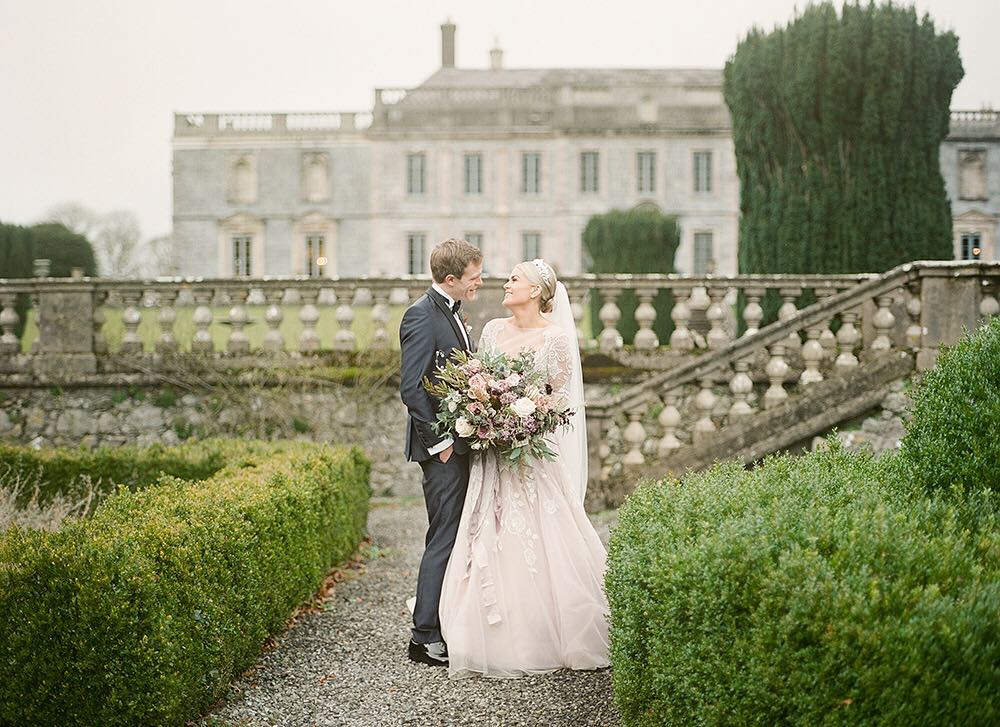 Those seeking a truly spectacular place to tie the knot, your search ends here. Gloster House is one of the most exclusive wedding venues in Ireland.
With soaring ceilings and Italianate terraces, landscaped gardens, and stunning fountains, magic and memories are made at Gloster House.
A dedicated team ensure that no two weddings will ever be the same, vowing to make your big day as personalised as possible.
Address: Gloster House, Brosna, Birr, Co. Offaly, R42 CH02, Ireland
Your questions answered about the best and most exclusive wedding venues in Ireland
Read our article on the best and most exclusive wedding venues in Ireland and still have some questions? Not to worry – we have you covered! Below are the most frequently asked questions about this topic.
What is the average price for a wedding in Ireland?
The average cost for a wedding in Ireland in 2023 with 100 guests is around 32,500 euros.
Where do Irish people get married?
People in Ireland get married in a number of different types of venues. The most popular include Castles, Manor Houses and hotels.
How far in advance should you book a wedding venue in Ireland?
Due to popularity with many venues and busy schedules, if you want to get married at a particular time of the year or date then it is recommended you book at least 18 months in advance.
Is it cheaper to get married in Ireland or Italy?
Weddings in Italy are cheaper than what they are in Ireland. However, one potential issue would be asking people to incur travel expenses.
MORE IB4UD ARTICLES ON WEDDINGS IN IRELAND
Top 10 hilarious jokes and lines to use in an Irish wedding speech, ranked
10 songs you'll hear at every Irish wedding
Ireland among world's top trending wedding destinations, report reveals
Planning a wedding in Ireland: 10 helpful tips
10 powerful Irish wedding blessings for lovers on their big day